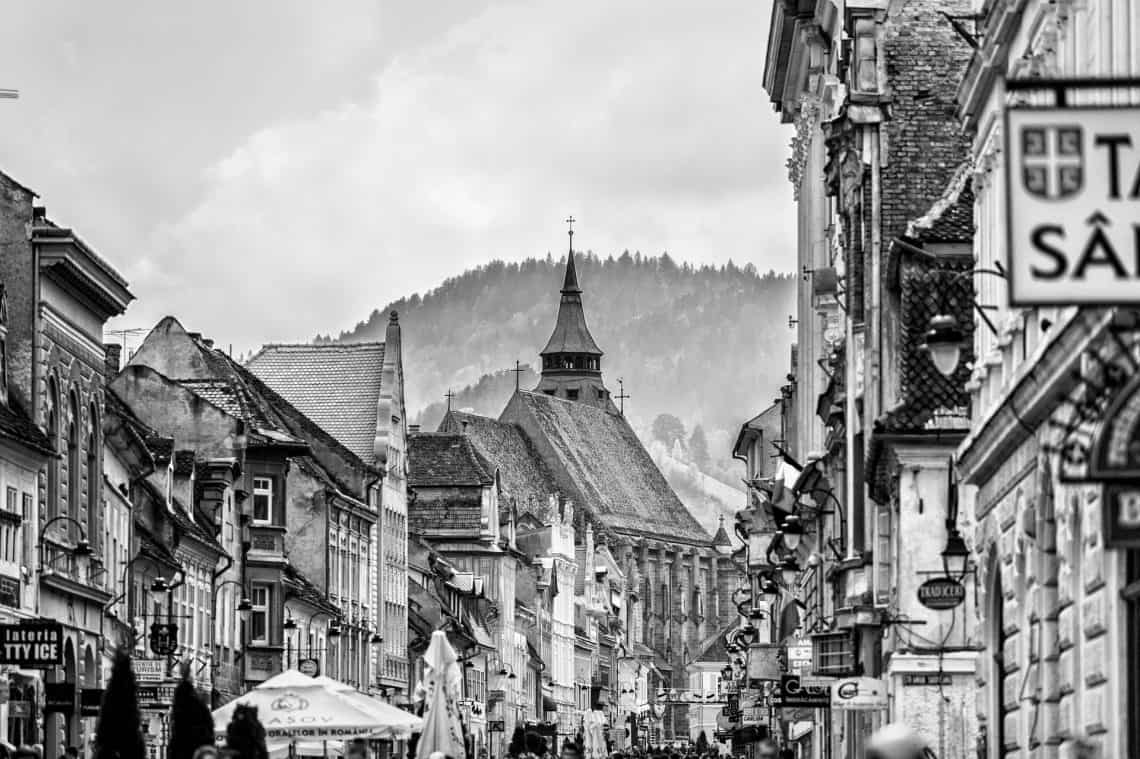 48 hours in Braşov: A comprehensive travel itinerary 
First of all, Braşov is pronounced 'Brashov'. And secondly, if you're coming from Bucharest, be prepared to fall in love. The town square is one of the prettiest I have seen, surrounded as it is by the lush Carpathian Mountains. Braşov is a beautiful mix of the old and the new, the quaint and the modern. The town is small enough to move around on foot, yet large enough to host some awesome restaurants, cafes, and shops. You should definitely plan to spend more than a night here.
About Braşov
Braşov is the 7th most populous city in Romania, located in Transylvania, surrounded by the Southern Carpathian Mountains. Transylvanian Saxons played a major role in Brașov's development and the city acted as a trade link between the Ottoman Empire and Western Europe. What works for Brasov thus is its central location: between the east and the west of Europe, the south and the north of Romania. It is a good base to explore the famous castles and also to easily reach other parts of the country. In fact, Braşov is so beloved and popular, it has its own Hollywood-style sign on top of Mount Tampa!
You will
Braşov. And to make the best of your stay here's an optimal two-day Braşov itinerary.
Day 1
Morning: Take a walking tour of Brasov with Walkabout
I always try and do a walking tour first thing in a city, to get an orientation and also get 'what's happening in the city' recommendations. Walkabout gave me a fantastic introduction to the city. The tour is about 2 hours long and takes place twice a day (10:30 a.m. and 6 p.m.) during the peak months of July-September. All through the rest of the year, the tour starts at 3 p.m. (Timings subject to change. Check the website)
As part of the tour you will see the following:
The beautiful Main Square or Piața Sfatului
Rope Street and museum
The Black Church
Yekaterina's gate
End at the Prima Scoala Romaneasca or the First Romanian School and St Nicolae Church
Timings: 10:30 a.m. and 6 p.m. daily in summer months, 3 p.m. rest of the year
Cost: In tips
Afternoon: Visit St. Nicholas and Prima Scoala Romaneasca
The First Romanian School or Prima școală românească is located on the grounds of the 16th-century church of St. Nicholas, a beautiful, tourist-free, gothic-baroque style Romanian Orthodox church. Both the church and the school are well worth a visit although they are a twenty-minute walk from the central square. Most of the treasures of the museum were unearthed from behind a hidden brick wall in the church. The school was functional as early as the 15th century. Today, it acts as a museum with old Slavic and Romanian books, the first Romanian Bible, old newspapers, the first set of school furniture, writing equipment, clothes, all from that era. The museum also houses the first Romanian printing press.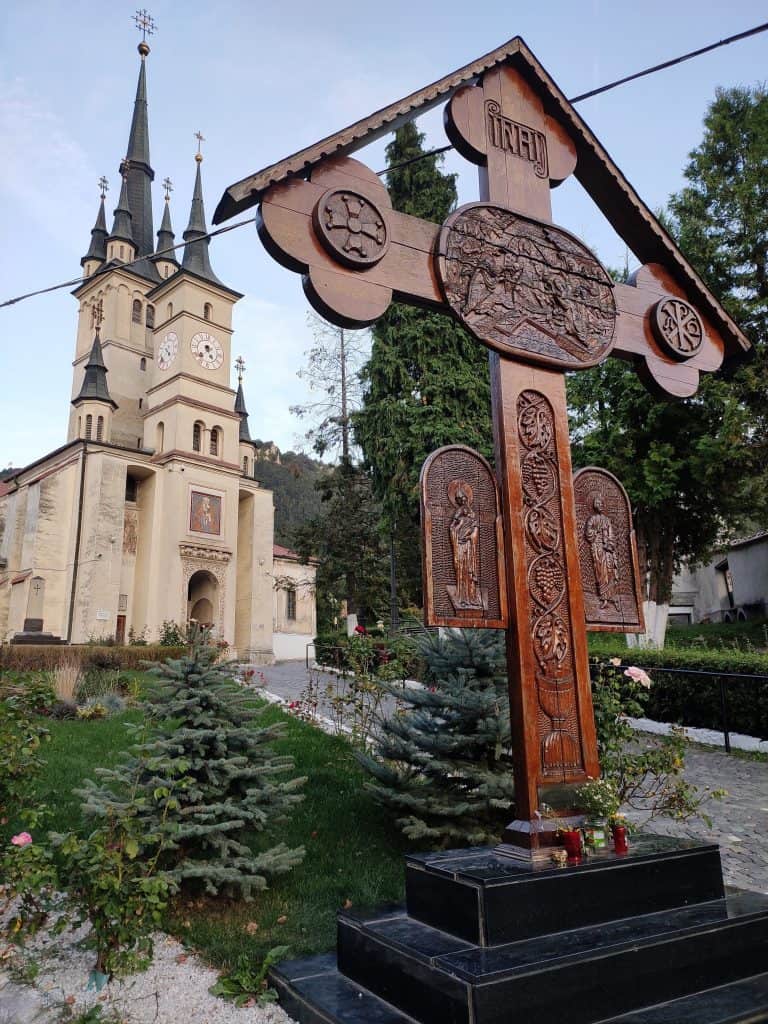 Where: 2-3, Unirii Square
When: 9 a.m. to 5 p.m. for the school
How: If you want a guided tour request Vasile Oltean (Phone +40-94-495904) who is almost always there
Cost to enter the school: 10 lei
Evening: Go inside Biserica Neagră or the Black Church of Brasov
This massive imposing church was nearly destroyed in a 14th-century fire which gave it the distinctive look for which it is famous today. Biserica Neagră is 89 meters in length and 38 meters wide. It measures 65 meters from the floor level to the highest point of its singular bell tower. The Church has a six-ton bell, the biggest in Romania, and an impressive 4,000-pipe organ which is played during its popular weekly concerts. And despite being a Christian church, it is house to a rich collection of Ottoman rugs donated by Transylvanian Saxon merchants which add to the eclectic interiors.
Where: Curtea Johannes Honterus 2
When: Open daily 10 a.m. to 7 p.m.
Cost to enter: 10 lei
I was lucky to attend an organ concert inside the church that added to the eerie experience. Cost: 12 lei (and I used this as an opportunity to also see the church) When: June and September: every Tuesday at 6 p.m.; July and August: Tuesday, Thursday and Saturday
Day 2
The Three Castle Tour: A day trip to Bran Castle, Rasnov Fortress, and Peles Castle 
If Dracula is what you have come to Romania for, Bran is the castle you must do.
There is nothing to link Dracula with this rather underwhelming castle except for the fact that Vlad the Impaler, on whom the legend by Bram Stoker is based, probably stayed here for a brief period, and the castle itself gave to Bram stoker's imagination.
Bran Castle is actually dedicated to and once belonged to the beloved Romanian Queen Marie, wife of King Ferdinand II (between 1920-1938). It was later inherited by her daughter Princess Ileana who ran a hospital inside during World War II. In 2009, the Habsburgs opened the refurbished castle to the public and encouraged tourists to visit. Most of the keepsakes inside belonged to Queen Marie and her ilk but to play up the Dracula angle, you will also find scores of Dracula memorabilia in the stores at the foothill of the castle (T-shirts with Dracula on them, fake fangs, Dracula's bottled blood etc.) and Dracula themed Halloween parties to keep the myth going.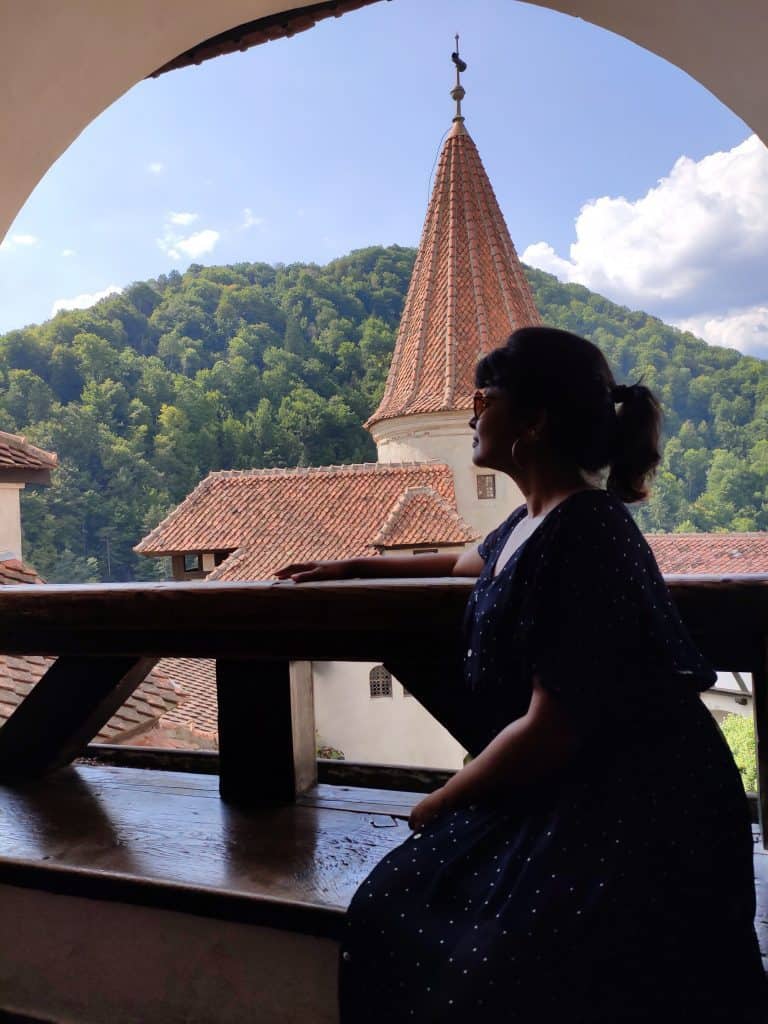 Rasnov fortress was built as part of a defence system for the Transylvanian villages exposed to outside invasions. Compelled to stay there for decades, the people of Râșnov and the nearby villages turned the fortification into their long-term place of residence. Archaeological research revealed the existence of fortification traces on the fortress hill since prehistoric and Dacian times. (source: Wikipedia) The fortress today is mostly in ruins, nonetheless, it is an interesting visit. Beware of a summer afternoon though, when the lack of shade can make you comatose.
Peles Castle is a 100-year-old castle in Sinaia whose insides are pretty impressive. It is considered one of the most stunning castles in Europe. Think Murano crystals, resplendent gold, intricate carpets, heavy wood, cut glass, fine European art, and dainty ceramics. Commissioned by King Carol I in 1873 and completed in 1883, the castle served as the summer residence of the royal family until 1947. Though, I got the feeling that much of it was made solely for visitors and not really for living in. Prepare to be awed at every turn.
We started out the day trip with Peles and were lucky to find an empty castle.
We saw them in the order of Peles Castle > Rasnov Fortress > Bran Castle, which worked very well for us since we encountered almost no crowds.
Service provider: Activ Travels
Duration: 8 hours (8:30 a.m. to 5 p.m. with an hour lunch break)
Cost of shared transport and guide: €45 or 212 Lei (119 Lei without Peles); entry fees not included
Entry to Bran Castle (cash and card accepted): 40 Lei
Entry to Rasnov (only cash accepted): 12 lei, dragon cart to the top (return): 5 Lei
Entry to Peles Castle (only cash accepted): 30 Lei for one floor, additional 35 Lei if taking photographs. The castle is closed Mondays and Tuesdays between
Optional activity in Brasov
Hike or take the cable car to the top of Tampa 
The hike to the top of the Tampa mountains takes about 1-2 hours; just follow the red triangle route that starts close to the start of the cable car. I didn't do it myself, but I hear it is a worthwhile trek. The views are amazing and the trek itself is not too hard. The aim is to reach Hollywood-like Brasov sign on top.
An alternative is to take the cable car to the top. It takes only a couple of minutes and 18 lei (both ways) or 10 lei (one way). Timings: 9:30 a.m. to 5 p.m., closed on Mondays. Location.
Where to eat
Both the food and the service are great in these restaurants where I pretty much ate all my meals alone.
Tipografia Tea & Coffee House for coffee and if you want to work or read since it doubles as a co-working space
La Ceaun at Piata Sfatului for the best stews and doughnuts
Berăria Ciucaș at Strada Politehnicii 1, for killer papanasi and Mici / Mititei – Rolled Meat. Also their house beer rocks.
And don't be surprised if you spot serpentine queues outside gelato shops across town. They seems to be popular snacks!
Where to Shop
Autentic (

at

Strada Michael Weiss 21)

and Pebs Concept (

Strada Republicii 39)

 for unique handmade local products
Librăria Humanitas (at Piața Sfatului 16, right next to the Black Church) and Cărturești (Piața Sfatului 20) for books and postcards
Where to stay
The Airbnb I stayed in was fantastic. Take a look.
I've heard good reviews about Jugendstube Hostel Brasov. You could try that out too.
What next?
To know how to move around in Romania solo, read this.
To get the full Romania itinerary, go here.
What to do in other Romanian cities? Bucharest, Sibiu, Cluj Napoca, and Timisoara.
Where to stay in Romania
These are the hotels/ hostels I stayed in. They are tried and tested, and I loved them all. In Sibiu, I have given an alternative, based on local suggestion, because I didn't quite like the B&B I stayed in. All the places were $25 – $45 per night, for single rooms or whole apartments. Cheaper options were also available.
Bucharest: Central Guesthouse Bucharest
Brasov: Jugendstube Hostel or my Airbnb right at the centre
Sibiu: Casa Luxemburg at Piata Mica
Cluj Napoca: Cool Terrace close to everything worth seeing
Timisoara: Hostel Cornel, close to the main square