Why Hampi?
Hampi, in the southern Indian state of Karnataka, is an immensely underrated heritage town.  It is drop-dead beautiful and awe-inspiring. Every nook has an architectural wonder, not unlike Rome or Pompeii, with scores of stories etched on its stone walls. The excavations are ongoing, and I can only imagine how many more treasures they will reveal. If you love ancient history and old ruins, Hampi should be right there on your list of places to visit.
Hampi was the capital of the Vijayanagara Empire in the 14th century. You will hear a lot about King Krishnadevaraya when in Hampi. The third ruler of the Tuluva Dynasty, the Krishnadevaraya ruled in the period of 1509–1529 and was a key reason for the proliferation of the Vijayanagara Empire. He became the dominant ruler of the peninsula of India by defeating the Sultans of Bijapur, Golconda, the Bahmani Sultanate and the Gajapatis of Odisha. He had been credited with building a lot many monuments in Hampi, followed by Harihara and Bukkaraya (Hakka and Bukka)

Visiting Hampi made me feel very proud, not only of our rich culture and heritage but also of the preservation efforts of ASI and the pride locals take in their city. Hampi is surprisingly clean and well kept. A true pleasure to visit.
What to do?
Day 1: The temple side
What to see
Hampi is rock-cut temples, looming boulders, and scampering monkeys everywhere. It's a sight to behold.
What you cannot miss are:
Vitthala Temple
The 15th-century Vitthala Temple built by King Devaraya II and expanded by Krishnadevaraya is an expansive temple complex comprising of the most fascinating structures. Its most famous attractions are the stone chariot (now part of the fifty rupees note), the Kalyana Mantapa (marriage hall) and the Ranga Mantapa with the musical pillars. The temple is dedicated to Lord Vitthala, an incarnation of Lord Vishnu. Each pillar and corner of a wall is a delight.
Virupaksha Temple
Built in the 7th Century AD, Virupaksha temple is probably the oldest functioning temple in India. The top of the temple is coloured pastel yellow and stands out in the predominantly stone neighbourhood. Like the rest of Hampi, there are several stucco figures on the walls and the pillars are intricately carved. The main altar area has an impressive ceiling mural, and among other attractions are the temple elephant Lakshmi and the periscope effect (see the upside down temple picture below). Be sure to sidestep the rats and monkeys running amok there. The latter can get quite aggressive.
Virupaksha means 'the one with the oblique eye'. Lord Shiva, to whom the temple is dedicated, is the God with three eyes, and hence the name.
Virupaksha temple is the central landmark for all things in Hampi…to get the ferry, to get the autos, to orient yourself in the town…because the yellow tower with cow horns at its apex looms over everything.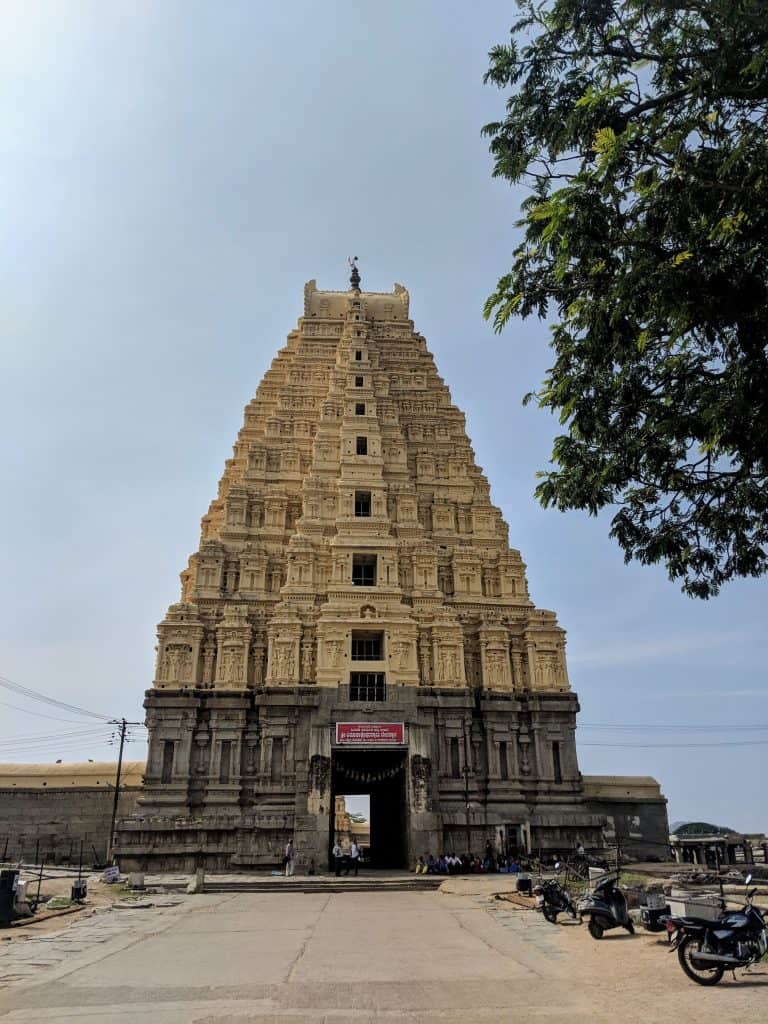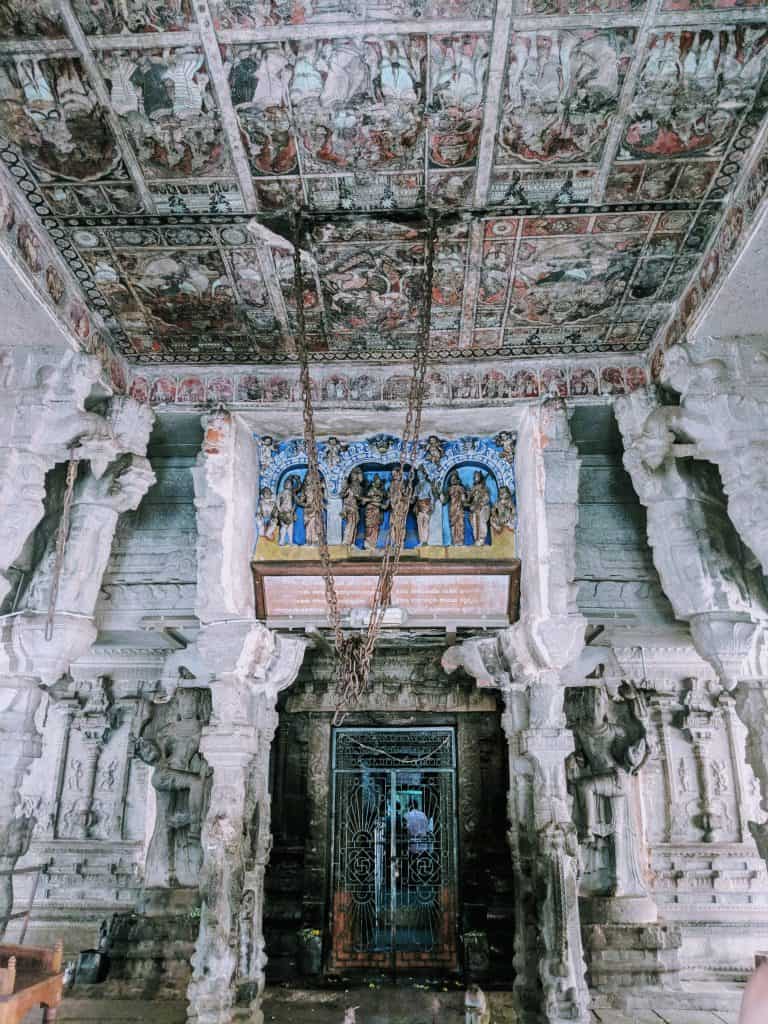 Hazara Rama Temple
My favorite temple in Hampi. Dedicated to Lord Rama, it was once the private temple of the royal family of Vijayanagara. The temple has intricately carved panels with stories of Ramayana on its walls. And when we went, there were hardly any people. A good time to visit is either the first thing in the morning or just as the temples are closing at around 6 PM.
Other monuments to see
The other monuments you need to visit are listed below and each has been lovingly described in Wikipedia. I won't try to rehash the words to make them look like my own

. Just… don't miss a single one.
Kadalekalu Ganesha Temple or peanut Ganesha – a gorgeous monolithic statue
Badavilinga Temple
Queen's Bath
Achyutaraya Temple
Lotus Mahal, where the royal women-folk chilled
Elephant stables and Zenana enclosure
The Stepped Tank
Catch the sunset at Hemakuta Temple Hill or the Matunga (also called Matanga) Hill
Entry fees of INR 30 (and INR 500 for foreigners) for three monuments to be covered in one day: Vitthala Temple, Elephant stables and Zenana enclosure. Most places close by 6 PM except for Virupaksha temple.
Where to eat
Eat at Mango tree for the unlimited and quite sumptuous veg thali. Most eating places in Hampi favour on-floor seating, so be prepared to take off your shoes. And be warned, that the view of the mango tree and paddy fields which it was once famous for, no longer exists.
Where to stay
Stay at Clark's Inn which at INR 4000 per night is strictly satisfactory. It is central though, located at Kamalapur where you can find most shops, liquor stores, and ATMs. So handy.
Day 2: The hippie side (Anegundi)
About Anegundi and the monkey brothers
Anegundi means elephant pit in Kannada. This place was used for bathing the elephants during the Vijayanagara era. Anegundi and Ramayana bear close links. Several monuments in Anegundi and Hampi sport vivid depictions from the ancient India epic.
In the Indian epic Ramayana, there are two monkey brothers – Bali and Sugriva. They both ruled over the mythical land of Kishkinda which is basically Hampi; Bali ruled first, and after his death, Sugriva. Hanuman, the monkey God, was Sugriva's general.
The story goes that after the abduction of Sita, Ram and his brother Lakshman, came to Hampi and was met by Hanuman. He took them to Sugriva who in turn, took them to a cave to show them some jewelry which he thought belonged to Ram's wife Sita. Sugriva explained to Ram that Sita dropped them when the demon king Ravana abducted her on his flying chariot. This was also when Hanuman offered his help to find Sita and joined Ram and Lakshman in their voyage to Lanka, Ravana's kingdom.
Meanwhile, Ram killed Bali, the older brother of Sugriva, putting Sugriva as the new king of Kishkinda.
Spots of interest
Spots of interest around Anegundi bearing remnants of these stories are:
The royal street
So, apparently, the king's descendants live in Sanapur and we peeked into how they were living presently. Heere Deewan is 250-year old 9,000 sq ft restored mansion in Anegundi restored by Devaraya, the 19th century descendant of Vijayanagara rulers. He is also a mechanical engineer educated in the US.
Sanapur Lake
No longer secret, the Sanapur Lake is a great spot for a picnic, swim or coracle ride. An irrigation reservoir fed by the Tungabhadra Dam canal, it is surrounded by boulder hills and is fairly tourist free.
And no, there are no crocodiles here. That's a ruse to prevent tourists from swimming in and generally create a ruckus, I imagine.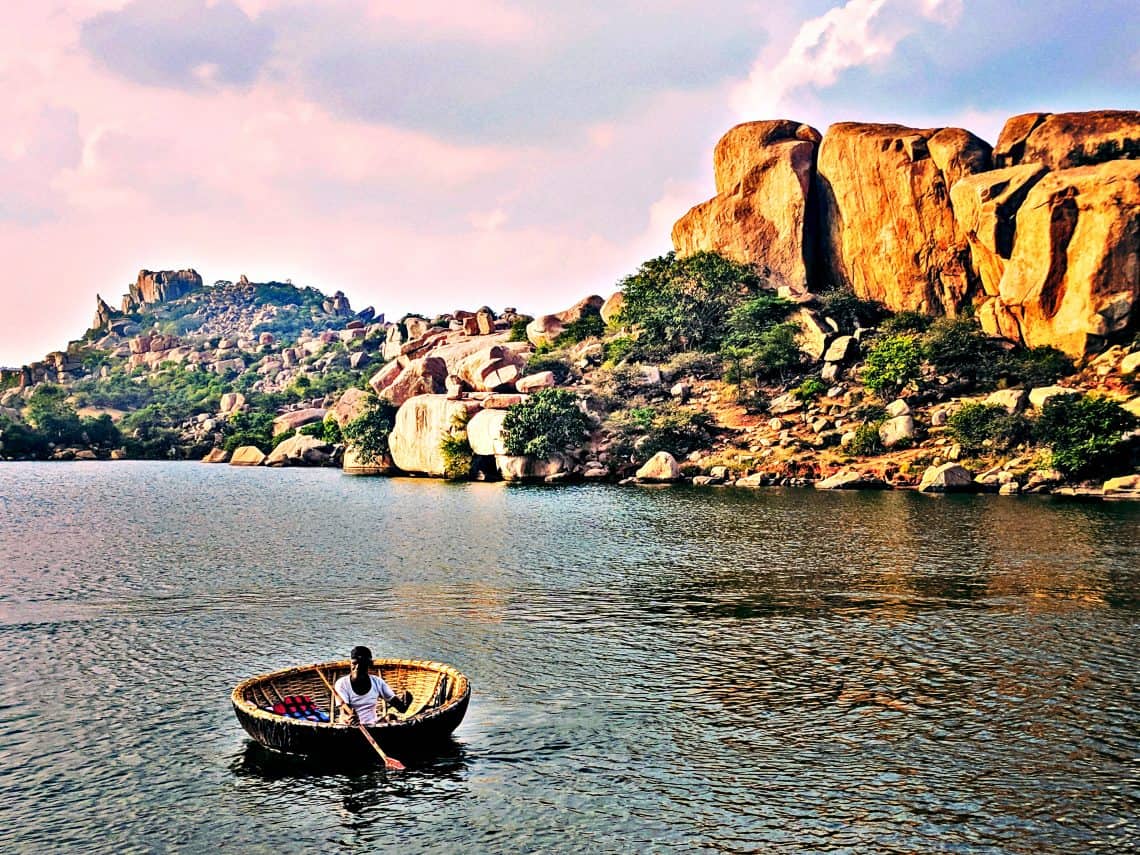 Sunset at Anjeyanadri Hill
The hill happens to be the birthplace of the Monkey God Hanuman, so auspicious to visit even for a sort-of-agnostic-believer-only-when-in-trouble like me. There are 576 steps which lead to the top and to catch the sunrise. We climbed it in 12 minutes!
Sunset drum circle
If you are in Anegundi during sunset, follow the bikes and walkers towards the peaks where hippies congregate to jam, beat on drums, and generally have a good time as the sun sets behind the boulders. It is quite an experience. I don't know what the hill was called but merely follow the crowd.
Bouldering, trekking, and yoga
Several posters announce bouldering sessions (3 hours, 8-11 AM), yoga sessions (starting 8 AM, multiple classes in a day) and half a day treks that you can use to productively utilize your day.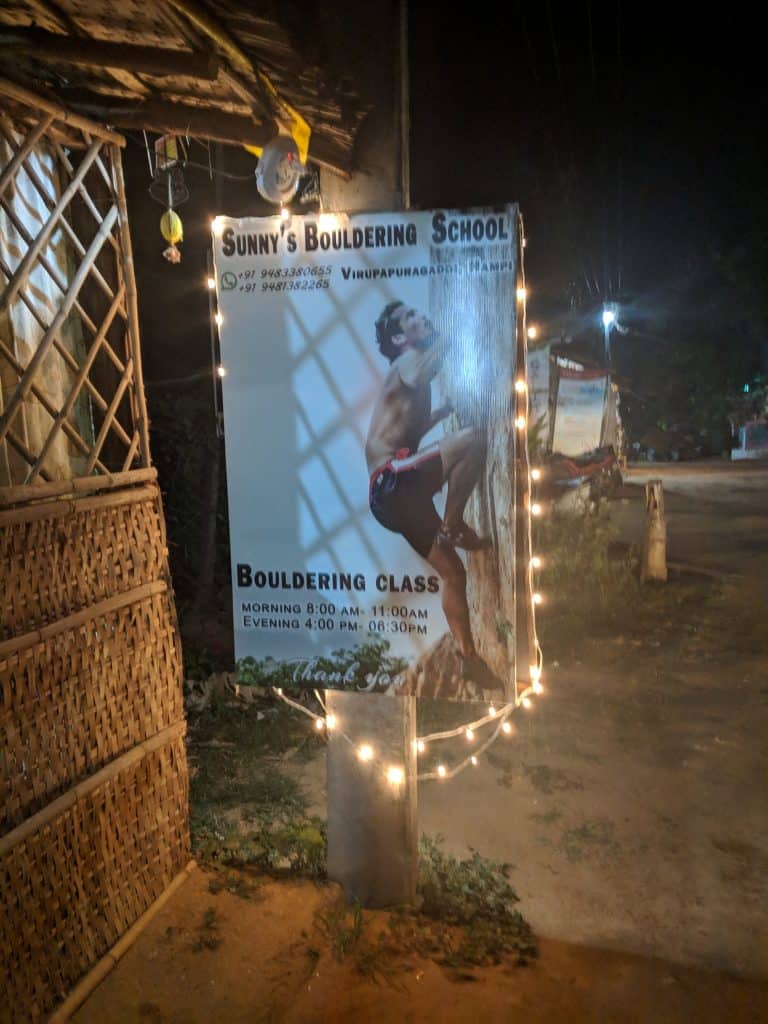 Where to eat
Eat at Laughing Buddha to soak in the view and not exactly for the food. Actually, the food on the hippie side wasn't to die for, although the fish (from the Sanapur lake, I imagine) was nice and fresh. The toilets were terribly wanting.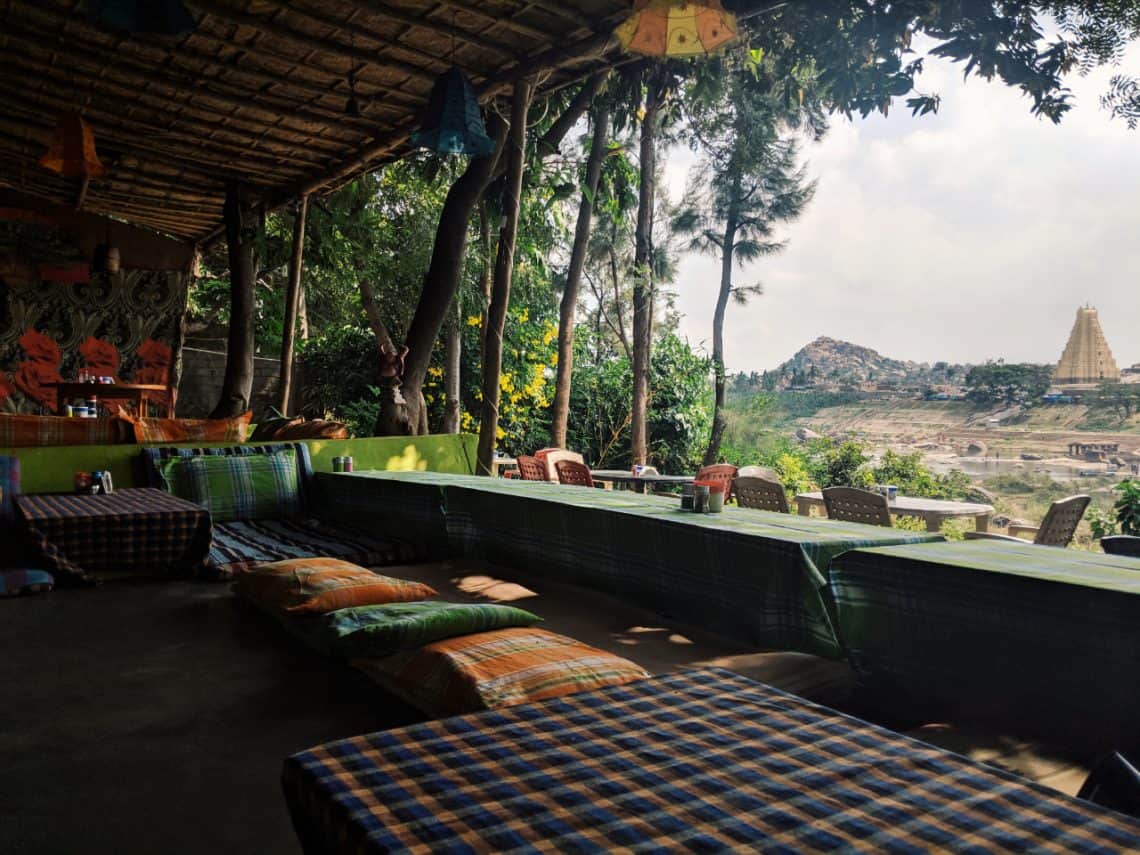 Where to stay
Most of them are interchangeable, to be honest. You don't even need to pre-book, as we walked in the lane, several touts asked if we needed a room. Rooms are basic (no AC) but cozy, plenty of open, green spaces to lie on a hammock and read, sip on a cold coffee, eat a sumptuous Israeli breakfast, and just generally chill and lounge.
How to go from the temple to the hippie side
Ferry: It is a five-minute ride from one side to another that costs INR 50 per head and involves stuffing you on a rickety ferry with 20 other people. The last ferry from the hippie side is at 5:30 PM and from the temple side is at 6 PM. Ferries start at 7:30 AM in the morning.
Car/ Auto: INR 1500 to 1800 to rent a car for a day (8 hours). For a car, contact Chetan (+91 90084 17777). For auto, contact Raja (+91 94494 20985)
Guide services: Guides quote an official rate of INR 2000 per day, but will negotiate for less. Guides are also available at every temple complex, but you may want to take one for the whole day who can optimize your travel and viewing pleasure. We used the services of Mallesh (+91 9480268053) who was good.
It is heart-warming how the locals love, appreciate and take care of their heritage. Our driver Aman told us more than once if something happens to a tourist, the government and police will hit us first and then ask questions. They understand and value their rich heritage and culture and look visibly proud when they talk of the temples and ruins.
Be warned of: people taking your picture without your permission. The locals were amazingly nice even the usually pesky guides, but other travelers (Indian ones) may take your picture surreptitiously, sometimes with them in it (like as a co-passenger on a boat, for example)
How to get to Hampi
From Bangalore: Hampi has neither an airport nor a railway station. The closest airport is Bellary which is 64 km away but by air is not the best way to get to Hampi. The recommended way to travel is to fly to Bangalore and take the bus or train to Hospet, the closest junction. Trains from Bangalore start at 9 PM and reach Hospet at 6 AM. From Hospet, Hampi is about 20-30 minutes by car or auto. Costs around INR 300-400 to take an auto.
From Mumbai, you can take a bus to get to Hospet since direct trains operate only on Mondays and Wednesdays. The bus takes about 12 hours and is a fairly comfortable journey. KSRTC buses start from Bandra Kurla Complex.
Mumbai-Goa-Hampi route: Several people do this. Fly from Mumbai to Goa and take the bus from Goa to Hampi, after a few days of soaking Goa of course.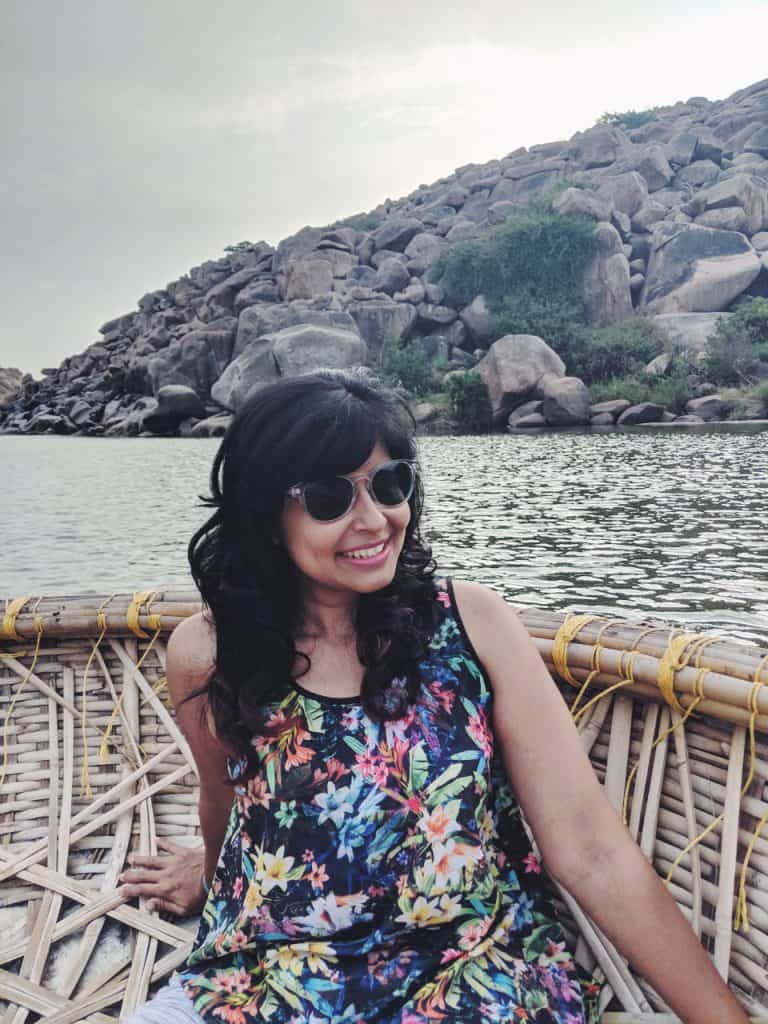 The coracle ride is a LOT of fun. Read a detailed description of what to expect and how to enjoy the perfect coracle ride. Take some wonderful memories back home.