48 hours in Varanasi | How to see the best of the city in two days
Varanasi or Banaras is ALL Indian clichés rolled into a single city: snake charmers, spaced-out sadhus, sandalwood-and-ash smeared pilgrims, large families with bawling children, muddy streets and spit-splattered walls, cycle-rickshaws and honking cars… but that's what makes it so fascinating city, even for Indias like me.
This was my first visit to Banaras and boy, have I been dying to come here. I'm Hindu by birth and Kashi and Banaras are our religious havens, the ultimate travel destination for every God-loving Hindu. My mom was delirious with happiness when she heard my visit was going to coincide with the holiest festival of Banaras, Maha Shivratri महाशिवरात्रि.
Before you come to Varanasi, just remember, Varanasi is 'concentrated-chaos'. Don't come expecting to find peace. Instead, come to be amazed, overwhelmed, and entertained. Only one other city I've visited comes close to experiencing what it's like here, and that's Jerusalem. Not in terms of the religious fervour, but more for its essence. But even so, it doesn't come close.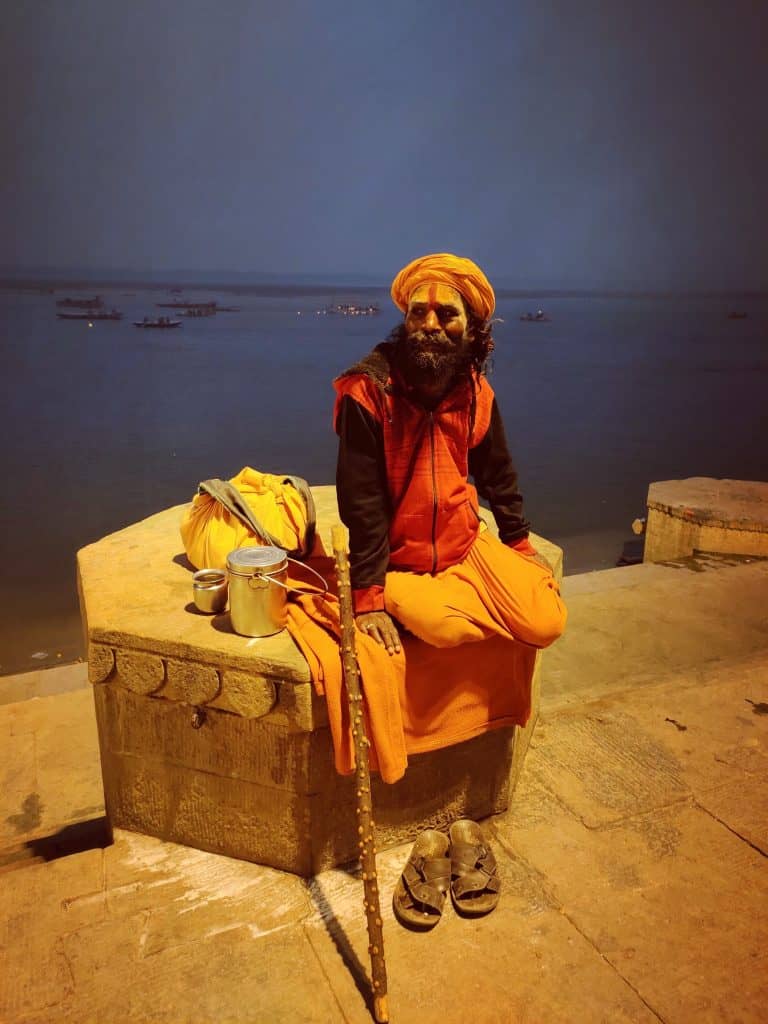 The way to experience Varanasi in 48 hours will depend largely on who you are and where you're from. If you're a foreigner visiting India for the first time, use the services of some very competent local tour operators. They have programs, services (and prices!
) catering to foreigners. If you're a solo female, Indian or otherwise, consider doing the same. Varanasi is chaotic and single women might attract unwanted stares and pawing.
I used a combination of both—tours and DIY—and it worked well for me.
About Varanasi
Varanasi is located in the northern Indian state of Uttar Pradesh and is considered the spiritual capital of Hindu India. Every year the city draws lakhs of pilgrims who bathe in River Ganga's sacred waters and perform religious (and when the time comes, funeral) rites. The city has a whopping 2,000 temples, chief among them being the Kashi Vishwanath Temple dedicated to the Hindu God Shiva. The city, believed to be over 5000 years old, gets its name from the rivers Varuna and Asi which are tributaries of the Ganga.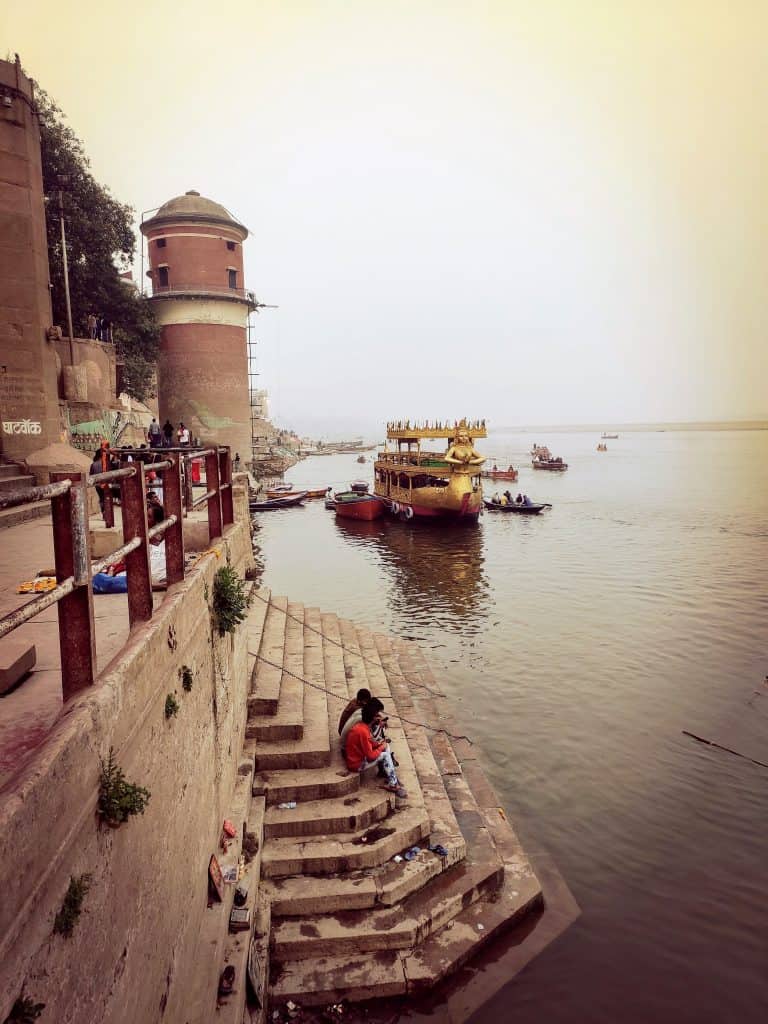 Know before
Where to stay
Brijrama Palace is the best-rated hotel and also, as expected, pretty expensive. At USD 300 per night, it comes with neat river views and great reviews. Located on Darbhanga Ghat, this is also where Indian movie stars stay and recently Jeff Bezos (Amazon honcho) did during his India visit.
If you want to stay on a budget, you could consider the following options:
Safarnama where I stayed. USD 5o per night for a twin sharing room. Located close to the Daswasamedh ghat, the Kashi Vishwanath Temple, and Godowlia Chowk, and central to everything.
Hotel Varanasi Inn, at USD 40 a night, basic but with all amenities and excellent service.
Ganpati Guest House, at USD 100 per night, well-located with colourful rooms.
Stay as close to the ghats as possible if you want to make the most of your 48 hours, specifically, Assi (South) or Daswasamedh ghat (North).
How to get to Varanasi
Varanasi has an airport and is connected to all major Indian cities.
Airport transfers
From the airport to any of the hotels should cost INR 900 (USD 13) in a pre-booked taxi. Taxi aggregators such as Uber and Ola operate as well and charge lesser (INR 500-600 or ~USD 8-9).
Varanasi walking tours
Varanasi can get chaotic and if you're travelling alone, it may get worse still. Look for tours groups that conduct interesting tours in the city and join them. These groups conduct boat tours (sunset and sunrise), food tours, and North and South Varanasi walks. They are all highly rated on TripAdvisor and while it was difficult to zero in on one, here are a few I used and/ or found interesting. No affiliations. I used the services of Varanasi Behind for the sunset boat tour (INR 1600 for a boat of 2). Their service was inexpensive and efficient. Others to consider: Varanasi Walks and Roobaroo Walks.
When to visit
Varanasi gets hot and muggy from April through to October. Visit in the winter months to get the most of the city. Best months to visit: November and February.
Alternately, you could time your visit during one of the festivals, like Diwali (usually in November) or Holi (usually in March). I visited during Maha Shivratri (a Hindu festival celebrated in honour of Lord Shiva, falls on the 3rd week of February), and while the city was mad-crowded, the visuals and experiences were totally worth it. Be prepared to be jostled and heckled, but take back amazing memories.
Some commonly used words
Ghats: The Ghats in Varanasi are stone step embankments along the river bank on which pilgrims perform religious ablutions. Varanasi has 84 ghats where Hindu puja ceremonies are performed. The Dashashwamedh Ghat is the main and the oldest ghat, located close to the Kashi Vishwanath Temple. According to lore, Brahma created this ghat to welcome Shiva and sacrificed ten horses during the Dasa-Ashwamedha yajna performed there. The Manikarnika Ghat is the Mahasmasana, the primary site for Hindu cremations in the city. Assi Ghat is the southernmost ghat, in the more peaceful (if that's possible) part of town.
Aarti: is a Hindu religious ritual of worship, a part of puja, in which light is offered to one or more deities. Often it is accompanied by songs sung in praise of the deity.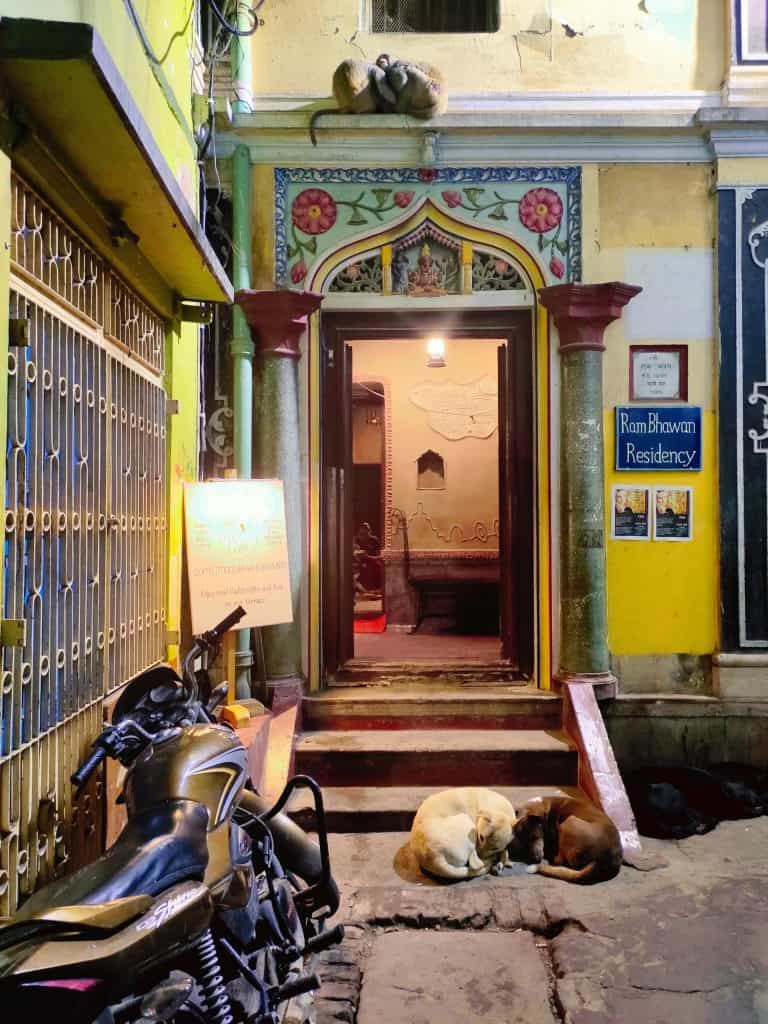 And now for the 48 hours itinerary for Varanasi.
Brace yourselves.
Day 1
Ghat Walk
Varanasi is made up of 84 ghats. These are basically riverfront steps which facilitate pilgrims going down to wash away their sins in the Ganga River or sit to watch the aarti ceremony in the mornings/ evenings. These ghats are contiguous and you can walk from one end to the other easily in an hour or two.
While the ghats hail from various periods, some as early as the 5th century, most Varanasi ghats were rebuilt in the 18th century when the city was part of Maratha Empire. The most important and popular ghats, apparently also associated with the five elements are: Assi, Dashashwamedh, Manikarnika, Panchganga and Adi Keshav. The first three of these are impressive, in my view. You could start your Ghat Walk from Assi crossing Dashashwamedh and move to end at Manikarnika.
Assi Ghat: Named such because it is the 80th ghat. It's also close to the Banaras Hindu University, and often filled with students. There are cute cafes a few minutes from the ghat where you can sit and while away a few hours.
Dashashwamedh Ghat: The Ghat, located next to the Kashi Vishwanath Temple, is where the famous Agni Puja and Ganga aarti takes place every morning (around 6:30 am) and evening (around 6:30 pm). This puja is a homage to Lord Shiva, River Ganga, the Sun and Fire. According to legend, Lord Brahma sacrificed ten horses when the Dasa-Ashwamedha yajna was performed here in order to welcome Lord Shiva.
Manikarnika Ghat: Hindu cremation ceremonies take place in this ghat, also considered the oldest in Varanasi. Visiting this ghat was a moving experience for me. It was not just the burning corpse-ash flying in the air that was tearing my eyes up
but also the humbling reminder as to how my life and the life of everyone I know and love will someday end. Everything ends.
According to ancient Hindu beliefs, being cremated in this ghat gives the dead salvation and his soul goes straight to heaven. At one time, old people came to Benaras to breathe their last and asked to be cremated in this ghat after they passed. Cremation ceremonies take place 24 hours a day, all days a year. Fascinating, no?
The other cremation ghat in Varanasi is the Harishchandra Ghat.
Kashi Vishwanath Temple
The temple, dedicated to Lord Shiva, is one of holiest for Hindus, so go I had to, no matter the kilometres-long-serpentine-queues, the squelchy-mud-laden lanes, touts grabbing my elbows every few seconds promising to help me break the line and do the darshan 'directly' for 300 rupees. I was tempted several times, but there is a legitimate and easy way to go inside the temple and do a diety darshan.
Head over to the Kashi Vishwanath Darshan Booking Center (a large orange building outside and opposite the temple grounds). For a fee of 300 rupees (yes, the same), you'll be given a locker to keep your stuff safe (mobile phones and bags) and offered a polite purohit to guide you inside. The purohit will tie an orange band over your wrist and then lead you inside the temple grounds through a special entrance. You get to skip the never-ending and stuffy security check queues (They looked like a nightmare).
Inside, it's free for all yet again, but the purohit will cleverly lead you through indiscernible crevices in the human mass around, under shoulders and over feet, so you get to go as close to the deity as possible when the covers are withdrawn. Be brave and do not be cowed by the devotees jostling you from all sides. It can get rough but it's also fun!!

How else are you going to prove your ardent faith to the Lord? Well, that's at least what my mom says.
Here's the Darshan Booking Portal. You can also book online.
Now, for some background into the temple itself:  the word Kashi comes from the ancient name of Varanasi and the main temple deity is Shri Vishwanath (Ruler of the Universe, a form of Shiva). The temple complex comprises of several small deities and mini-temples, but the 24 inches tall and 35 inches in circumference linga of Vishwanath, the main deity, housed in a silver altar, is the main draw.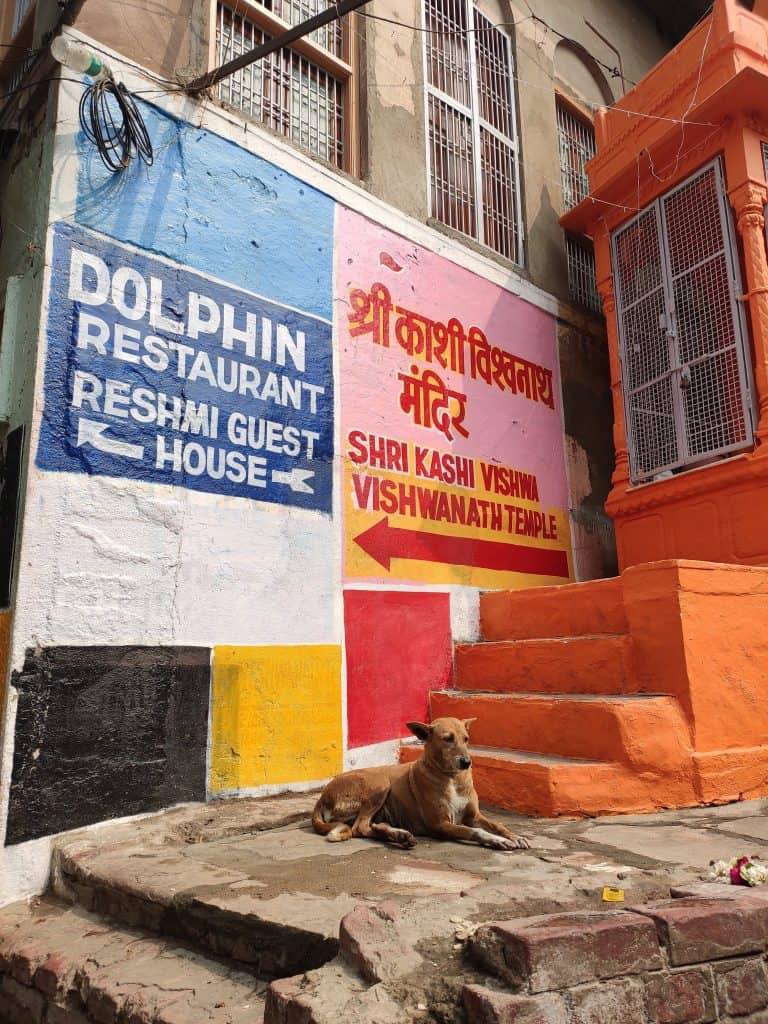 No photographs are allowed inside the temple and it is super-crowded. I was inside at 12:30 PM after the morning aarti had just ended. I had to push my way through the crowds to get a second's worth look at the shivlinga. Also beware: the temple priests may catch hold of you, start chanting mantras, and demand money when he ends (I know, hardly sounds religious, no?). Just be firm… smile, and move on.
Mid-afternoons are a relatively better time to visit.
Sunset Boat Tour
I used Varanasi Behind for the boat tour which cost 1600 rupees to rent it for the evening (2 hours). The boatman takes you in an open-top engine-driven boat (or manual oar-driven if you request) from one ghat to another and then return in time for the Ganga Aarti in the evening. If it's a cold day, don't forget to cover up. On a foggy day, forget seeing the sunset or rise.
The Ganga Aarti itself is an amazing experience. There are hordes of tourist boats around, and two competing Ganga Aarti committees put on a grand show for everyone watching. On Mahashivratri, people were crawling like ants over every open space, and my boat had some trouble finding a place to dock in, but the chatter, the excitement, the pomp and splendour of the aarti, the joint bellowing of Har Har Mahadev at the end of the couplets being chanted by the impeccably dressed priests over microphones were gooseflesh inducing. A memorable experience.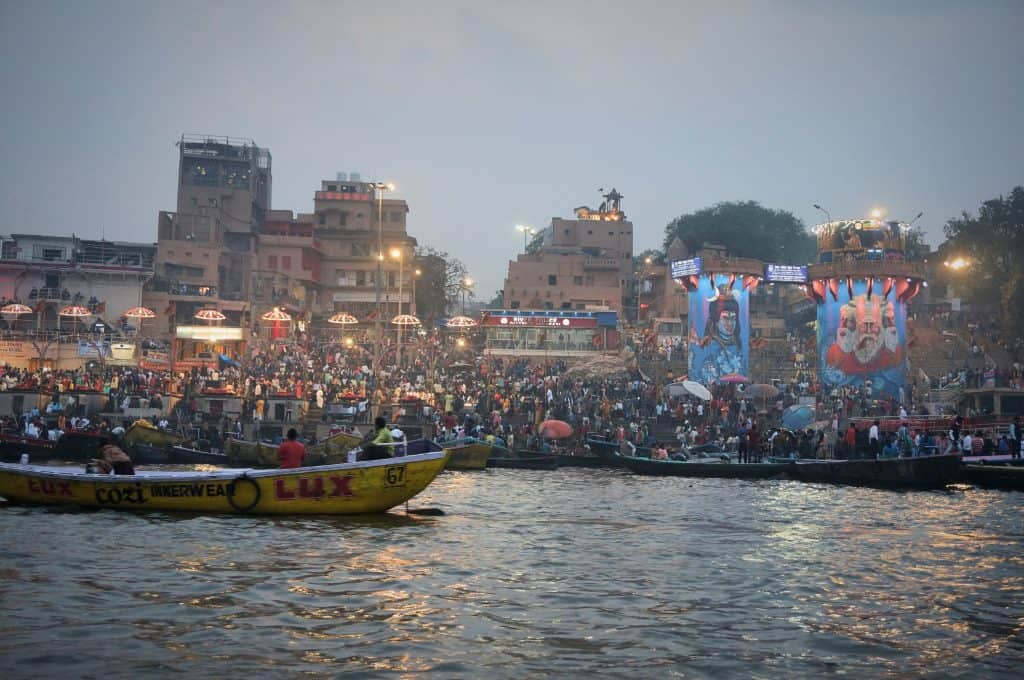 Though, one boat tour is about enough.
Day 2
South Varanasi Walk
South Varanasi is a quieter and more manageable part of the city. Here, the Banaras Hindu University is a good place to begin. Founded in 1919, BHU is an old public university that ranks among the top educational institutes in India, and contrary to its name houses students of all religions and communities. The university grounds are huge, spread over 1300 acres of land, and it can take a couple of walking hours to cover ground. Apart from educational buildings, the campus is home to a temple, a well-regarded museum, parks and a student canteen.
Visit the Sankat Mochan Hanuman temple next. Yeah, yeah, not another temple,

but come on, you are in Varanasi! The city of temples.
Dedicated to the Hindu God Hanuman, the Sankat Mochan Hanuman temple was famously established by the Hindu preacher and poet Tulsidas (author of the Hindu tome – Ramacharitamanasa – the story of Lord Rama's life). Every Tuesday and Saturday scores of people line up in the temple to offer prayers. The temple is supposed to save human beings from the anger of the planet Shani (Saturn) and make your dreams come true. It's an amusing sight to read the aspirations of devotees etched on the walls of the inner sanctum: Cricketer, IIM, IIT, UPSC, hero, All good…
Head to Assi Road next, dotted with interesting cafes. Notable among them are Kashi cafe, Sparrow, Open Hand Cafe, Marks Cafe-Diner. Idle away a couple of hours here, with good coffee and decent food, resting your sore legs, and savouring the peace from the upstairs balconies.
Next, walk to Assi Ghat. Sit on the steps. Watch the sunset.
Food Tour
No visit to Varanasi is complete without partaking in its gastronomical delights (and not overdoing it, as I did, and now I sit writing this with a writhing stomach
). Try these.
Kachori Gali
in Varanasi is where you should start. With a breakfast of
kachori, sabzi and jalebi
(slurrrp

). Head over to
Ram Bhandar
for the best.
Lassi, a thick yoghurt based dessert cooler, common to North Indian states, has transformed to quite something else in Varanasi. The drink is available in many roadside shops, the most famous being Blue Lassi which is a 5 min walk from the Kashi Vishwanath Temple and located on Kachori Gali. Order from the over ten-page menu of lassi varieties which include the likes of pomegranate-chocolate-coconut lassi and saffron-dry fruits lassi. Super yum.
But err… this is a tourist hang, so costs are many-times local prices and for perhaps, similar quality.
Malaiyo is a sweet frothy flavoured milk product served in an earthen cup. Most roadside stalls sell them.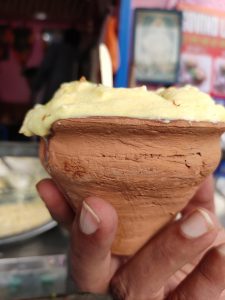 Chaat is a savoury Indian roadside snack usually made of one or the other variant of fried dough along with other ingredients such as potato, gram, chickpeas or curd. A few minutes from the Kashi Vishwanath temple, and located at the busiest chowk of Varanasi (the Godowlia Chowk) is Kashi Chat Bhandar to treat yourself with the best chaat in town. Eat till those tastebuds burrrn.
Thandai. Well, this was fun.
This is basically lassi mixed with local weed also known as Bhang.
Bhang is made by drying, grinding, and soaking the buds and leaves of the Cannabis sativa plant. But while weed and marijuana are illegal in India, Bhang is not. There are in fact, government Bhang shops in Varanasi. In fact on special days in Varanasi, Bhang Thandais are distributed for free! On Mahashivratri, cups-full of Thandais were distributed in every street corner and children were having it too. The devotees feel it helps them understand Lord Shiva better. I agree. It helps understand everything better.
Don't get too excited though. Me no feel no impact. I hope you feel some. Ask for strong (and not light or medium) Bhang Thandai. Here's an interesting account to get you started.
A famous place to taste it in is Badal Thandai Ghar on Godowlia Chowk or Green Lassi at Assi Ghat.
Paan: How can one come to Banaras and not have the Banarasi paan?! Available every few metres at a local panwadi i.e. pan shop. If feeling brave, spit out a shower over the road or on a wall to compete with locals and leave your mark.

Detour
Sarnath
You can plan a trip to Sarnath from Varanasi en-route to or from the airport. It is about 40 minutes from Varanasi and about 30 minutes to the Varanasi airport, depending on traffic. I took an Ola Rental to make the detour (cost about INR 500). You can opt for a tuk-tuk too which cost about the same.
Located about 10 km north of Varanasi is Sarnath, the home of the deer park where Gautama Buddha first taught the Dharma. The town is absolutely worth the visit if only to see the Archaeological Buddhist Remains (INR 5 to enter) and the Sarnath museum (INR 25 to enter, cannot carry mobile phones or large bags inside. Lockers are available). Both are next to each other and the tickets can be purchased together.
The archaeological Buddhist site carries the remains of the magnificent stupas and monasteries Emperor Ashoka built in the 3rd century BC to honour the Buddha. The most famous among the stupas is the Dhamek Stupa made of a solid cylinder of bricks and reaching a height of 44 meters with a diameter of 28 meters. The Sarnath museum next to the excavations site is the oldest site museum of the Archaeological Survey of India and is home to about 7,000 sculptures and artefacts, the most famous being the Ashoka Chakra.
Sarnath used to be home to several monasteries and thousands of Buddhist monks until the Mughals raided the city in the 12th century. Next to the museum and Archaeological site is also the Wat Thai Buddhist Temple with a towering Buddha statue. There are several other Buddhist temples (Chinese, Tibetan, Sri Lankan, Japanese) a few meters away from each other, and they're all well worth the visit to admire their architectural nuances and differences, and to see the Buddha in his various forms and moods.
Beware of the touts that stop your car at the circle before the Chinese Buddhist Temple. They will claim to show you Sarnath for 50 minutes and take 50 rupees, but the intent is to take you to the sari shop next door. Don't waste your time.