What to do in Venice in 2 days
You've got to visit Venice at least once in your lifetime. It's a city like no other in the world, obviously because its lifeblood is water, with hundreds of canals (177 canals and 118 islands, to be exact) running through the city. The canals, bridges, and boats make for a unique topography, one that you'll find hard to get used to at first, and then miss when gone. In fact, directions in Venice are always "Go over to the white bridge," or "cross over the wooden bridge," or "it's near the big bridge, the glass-bottomed one," etc. etc. Everything is about a bridge or a canal or thereabouts.
But know that no matter when you visit, Venice is always going to be full of tourists. And thus, tourist traps are aplenty and things are expensive.
Yet, go at least once. Prego.
Do before
Get a 2 day Venezia Unica City pass. Single vaporetto tickets cost €6.50, but a 48-hour pass costs about €20, with unlimited access to public transportation, waterbuses, and entry into select museums and churches. The pass is available for purchase online and also at ferry stops. The pass will also work for trips to Murano, Burano and the Torcello islands. Note though that your Unica pass will work only on vaporettos and trams but not on trains run by Trenitalia.
Visit the tourist office at 71 San Marco (00 39 041 529 8711; turismo-venezia.it – open daily 9 am to 3.30 pm) if you need to know about other discounts and tours.
I stayed at
Albergo Marin
in Venice, central to everything and cheaper than its neighbours. Try it
Day 1
See Venice
Lines 41, 42, 51 and 52 circumnavigate the island, while lines 1 and 2 moves along the Grand Canal. Take the water bus (vaporetto) on route 1, to get your bearing in the city. Route 1 traverses across the Grand Canal and is the most picturesque journey of them all. Your Unica pass is valid for hop-on-and-offs, so use it to get off and explore interesting sights.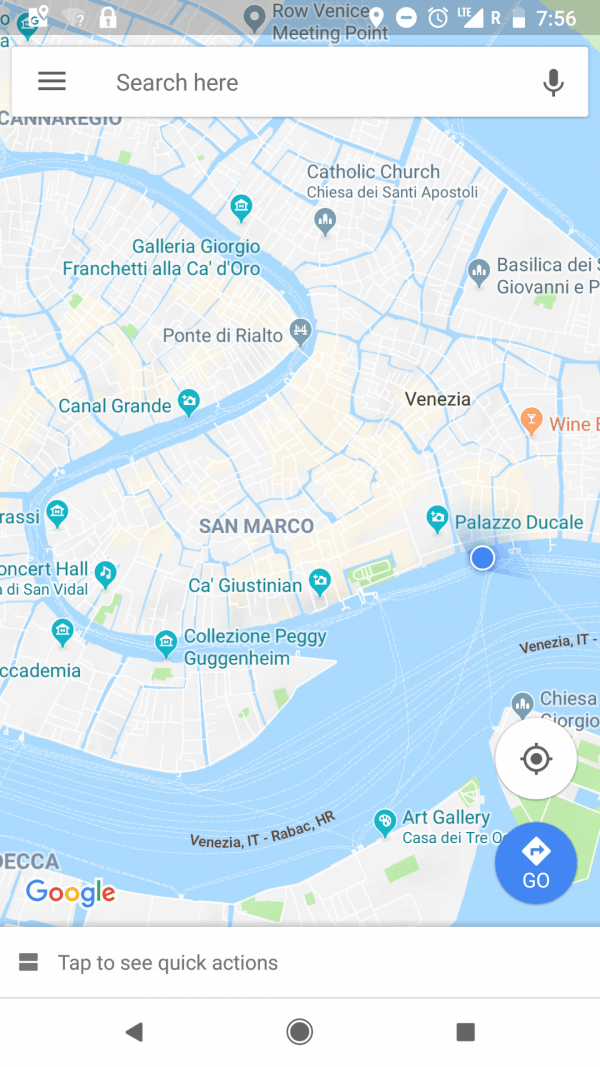 OR take a free walking tour. La Bussola comes tried and tested. They run two tours through the day in English during the summer months.
Top places to visit
San Marco, the heart of Venice, with the most famous sights (St. Mark's Basilica, the Doge's Palace and the Bridge of Sighs), and also the most crowded.
Rialto Bridge, at the centre of the city, the oldest of the four bridges spanning the Grand Canal in Venice.
St Mark's Cathedral, the cathedral church of the Roman Catholic Archdiocese of Venice.
Doge's Palace or Palazzo Ducale, a former resident of the Doge of Venice, now a museum.
Bridge of Sighs, made of white limestone, connecting the interrogation rooms in Doge's Palace to the New Prison.
Peggy Guggenheim Museum, a modern art museum, housing the works of Italian futurists and American modernists in Cubism, Surrealism and abstract expressionism.
Day 2
See Murano, Burano, Torcello Islands
Start early in the morning, take a ferry to Burano, then go to Torcello, then to Murano and finally back to Venice. Vaporetto 12 covers all stops.
Burano: Burano was the prettiest and the most colorful of all the places we visited in Venice, with a unique character of its own. It is an archipelago of four islands linked by bridges, famous for its laceworks, but note that a lot of the products available for sale in Burano these days are cheaply made (China made, as skeptics claim) and not original. Attend a lace-making workshop at the Lace Museum, but avoid buying anything in the city. Vaporetto line 12 runs from Venice to Burano.
Torcello: Torcello is an even older town than Venice and used to be a very important island in ancient times. Eventually, malaria hit the island and much of the population either died or left. Buildings were plundered for building material so very little now remains of its once splendid palaces, churches, and monasteries. The island is a short boat ride from Burano on Vaporetto line 9 that runs between the two islands every half hour from 8:00 until 20:30. Or use the route of Vaporetto 12.
Murano: Murano lies about 1.5 km north of Venice and has a population of just over 5,000. Murano's reputation as a center for glassmaking was born when the Venetian Republic, fearing fire and the destruction of the city's mostly wooden buildings, ordered glassmakers to move their foundries to Murano in 1291. Murano glass is still associated with Venetian glass.
Most glass blowing demonstrations are shut during the weekend. A few that take place either request a cover charge (€10 per person) or a smaller fee (€3 per person at the Guarnieri Glass Factory). We watched one at Glass Factory Colleoni for a €10 p.p. cover charge, redeemable against purchasing at the shop which we utilized (spending significantly more). Glass products in Murano are drop-dead gorgeous and well worth the purchase/visit, but also very expensive. And not all the glass being sold is real. Check this article to avoid being short-changed.
For a cheap place to eat in Murano, try out La Perla ai Bisatei. Nice seafood and not such a rip-off.
Experiences to try
Row your own boat
I cannot recommend this experience enough. Row Venice is a non-profit organization of vogatori, almost all female, and Venetian. They provide 90 minutes of experiencing the traditional Venetian style of rowing: standing up, facing forward, native to Venice and made famous by the gondoliers. They first teach you how to do it, and then when you've (sort of) gotten the hang of it, you've to row the Batella across canals, to the lagoon and then ultimately to the Marina (under supervision, fret not). I found it to be much more value-adding than sitting passively in an exorbitantly priced Gondola ride of 40 minutes. Total cost (per boat) for a 90 minutes session is €85 for 1 or 2 people, €120 for 3 people, and €140 for 4 people.
Cicchetti e Ombre
(or tastings and wine)
Bars and restaurants in Venice are prohibitively expensive but how could we not try aperitif hour at one of the Venetian bacaris (or wine bars). Luckily, we chanced upon a list by the Guardian and walked over to Birreria Forst. It was an octogenarian's birthday inside the cute little wine bar, and her family was with her celebrating, thus we became happy spectators to plenty of dancing, singing, and rambunctious merrymaking. It started to rain soon after and so we stayed until dinner time. It was all very enjoyable.
We also ate at Osteria Al Ponte, a small, unassuming eatery next to a canal in the Biennale Gardens. They had nice, inexpensive breakfast which we thought was a steal (croissant, juice, hot drink and toast for €5, in Venice!). The pasta all'amatriciana and spaghetti al nero di sepia comes recommended.
Morning mass
I'm now bored of visiting churches in Europe. One is more gorgeous than the next, but in the end, they're all churches, right? (Also, I'm not Christian, but then again, despite being a Hindu, I don't visit many temples either. Let's just agree that I'm an atheist.) But being in a church during the mass time is an experience I savour and one I totally want to do in every new church I visit. So, if possible, attend a mass at Basilica San Marco, especially the Sunday mass. In the Byzantine church, when the sunlight trickles in through the multicoloured mosaics and the voices throb and swirl around, one can experience true (Godly) magic.
Visit old bookstores
I try and check out unique libraries and independent bookstores around the world and when this list pointed me towards Libreria Acqua Alta, I had to go. They didn't have many books in English (only one shelf), yet the one hour I spent browsing was fulfilling enough. Inside the old bookstore, there are stairs made of books and even a bathtub (!) and a gondola (!!) loaded and crumbling with books of all kinds. Truly, my heaven.
Also, here's a list of unique libraries in Venice.
Perhaps, Carnival?
You could also plan to visit Venice during the carnival which takes places every year. Check: carnevale.venezia.it
On transportation
Marco Polo airport is on the mainland about 12 km north of Venice. Read this to know more about how to get from the airport to Venice and back.
Mestre and Santa Lucia are the main train stations. Piazzale Roma is a major bus stop. Read this to know about major transport modes and routes.
Beware
Of pickpockets
Of being charged differently by restaurants for eating (or drinking) seated inside versus taking it away (basically 'sit down' is more expensive than 'stand up')
Of Coperto or bread charge, a mandatory service charge (or tip) you may or may not know the price of before you sit down to eat. So when a basket of bread magically appears on your table, ask what it costs, it usually is not included in your meal. But in any case, you gotta pay for it. You cannot ask them to take it back thinking you saved that money. Believe me, smarter after one experience, I tried. Read more about scams and how to avoid them in Italy here.
Other important links
Culture Trip's curated articles on Venice was a big help.
A list of alternative things to do in Venice.