About Croatia
Croatia is a croissant-shaped country located in eastern Europe along the Adriatic Sea, with the Dinaric Alps bordering the other side. It's made up of a thousand islands—1,185 islands to be exact, with only 50 populated. Zagreb, Split, and Dubrovnik are the main cities. The country has ~5,900 km of coastline, ~57,000 square kilometers of land mass, and a population of around 5 million people.
Despite the fact that Croatia in East European, I believe it can be considered almost Western in its attitude, lifestyle, and amenities. Even to a tourist like me, the country's subconscious urge to distance itself from the rest of the Balkans is evident. Janine di Giovanni says in her memoir, "They were not really Balkan people; they often told you they were Southern Austrians…While the Serbs and the Bosnians never tried to be anything but what they were, the Croats hid behind a decrepit faux-Habsburg mantle. Their biggest grievance was belonging to a Balkan group they didn't want to be part of. They saw themselves as a Western democracy."
Croatia's lifeblood and distinct characteristic lie in its coastline and its ports. They offer many sites of natural beauty and cultural importance. The coast is exquisitely turquoise and has a lot to offer in terms of adventure and sightseeing. The Dinaric Alps are no less beautiful with several rugged, uninhabited regions to trek and camp in. Croatia is indeed a haven for the nature lover.
What to do in 7 days 
2 days in Zagreb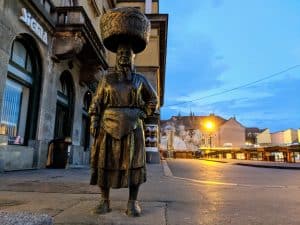 Zagreb is the capital and the largest city of Croatia. It is a vibrant and historical city and should be part of your Croatian itinerary. The best thing is not many others will agree, so you will find yourself in a non-touristy city which will serve to give you a flavor of how modern-day, urban, working-class Croatia lives.
From Zagreb, you could do a day trip to Plitvice National Park.
Read my detailed itinerary here.
2 days in Split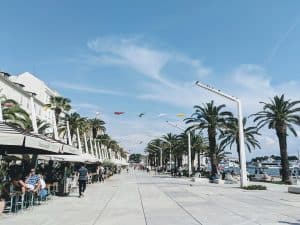 Split is the second-largest city of Croatia and the largest city of the region of Dalmatia. Whether or not to spend 2 days in Split a highly debated topic amongst travelers, but it's uniquely and fiercely a port city, and very different in composition from Dubrovnik and Zagreb. It did not suffer much during the world war or the civil wars thereafter, so much of the old city remains preserved. I think it's definitely worth a visit, also given you can easily go from here to the nearby islands of Trogir, Hvar or Korcula.
Read my detailed itinerary here.
1 day in Hvar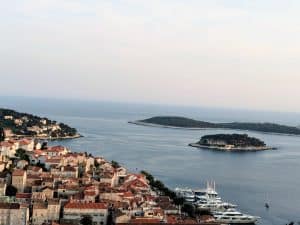 From Split (Or Dubrovnik, depending on where you started) consider island-hopping. There are many options: Brač, Hvar, and Korčula being the most popular. Hvar is the easiest to get to from Split and there are plenty of catamarans going from Hvar to Dubrovnik; so this is the easiest choice if time is short. Hvar is a beautiful albeit very touristy island, a party hotspot, yet having the most number of UNESCO world heritage sites than any island in the world. Ferry timings are here. Jadrolinija and Krilo Star are the popular carriers (I preferred the latter).  Prefer Hvar over Stari Grad which is a short distance away but not as 'happening' as Hvar.
2 days in Dubrovnik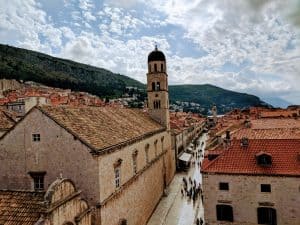 A walled city of 60,000 people, Dubrovnik is something out of a fairytale. Unfortunately, everyone seems to know it already, so every place is teeming with tourists, and no low season either these days or so I hear. Dubrovnik was already quite a favorite with the Western Europeans because of its low costs, now the world has rediscovered it thanks to Game of Thrones. Good old Indians have discovered it because of—no prizes for guessing—Bollywood! Shah Rukh Khan's movie Fan was shot here. Soon I fear, there'll be more tourists than locals living in Dubrovnik.
Read my detailed itinerary here.
We lucked out on places to stay in Croatia. Each was more fantastic than the next.