A Bandra Walking Itinerary
Mumbai forms an intrinsic backdrop to most of my books and stories. I describe in extensive detail what I love about this city, which is pretty much everything

; the diversity, the unique local mannerisms, the effortlessly hip crowd, the mish-mash tiny houses, the exasperating heat, the torrential rains, the typical daily rigor. Yeah, even those.
And then, in all that, is the tiny gem of Bandra—the queen of Mumbai's suburbs. Here the stereotypical Indian contrasts are stark: the opulent and the decaying, the migrant and the nouveau riche, the hip and the traditional; the differences stand out more harshly than anywhere else in the city.
Bandra is also where I live.
Bandra is also what I love.
Here are a few great things you can do on your free morning in Bandra. An easy Bandra walking itinerary.
Start by the sea
At Reclamation, or Bandstand, or Carter Road
Bandra is a diverse, dynamic and thriving. Something new is happening here every hour, in every street. But it's also cosmopolitan, and chaotic, and in its very noisy squalor, people are forever looking for peace. And the best time to find it is at sunrise every morning, the only time when I think there really is any semblance of calm in an otherwise frenzied city.
There are plenty of places to catch the sunrise in all its glory in Bandra, primary being—Carter Road, Bandstand, Bandra Fort—but my favorite is at Reclamation. The stretch is relatively less crowded and a great place to sit with a cup of chai and in deep contemplation. It's also a worthy vantage point to people-watch—flirty couples hiding from the family eye, the middle-aged health-conscious, old gossip groups, serious runners, and those who've come to steal a few seconds of elusive calm, like this one below.
Walk along quaint mini villages
From Reclamation I usually walk down to Mt Carmel Road, and then to Chapel Road and Ranwar village. The parallel sets of roads that connect Bandra Reclamation to Hill Road are decrepitly gorgeous. Walking through the heritage villages around here form an indelible and highly anticipated part of our Bandra lives. I never miss a chance, although traffic can be prohibitive. Still, brave it you must.
Ranwar Village, in particular, dates back to the early eighteenth century. Many of the houses here are centuries old, built in the typical Indo-Portuguese-Colonial style with large wooden porches, external staircases, pointed roofs, and expansive balconies. And as you walk in the village's narrow winding lanes, you'll find a slice of old town sandwiched within the new: people conversing across verandahs, women combing their hair whilst lamenting about the traffic below in their typical Bandra English, men gathering around for a cup of tea and idle chatter, home shops selling bombil pickle or Goan Pork sorpotel, tiny lamps and fairy doilies on rusty grilled windows: it's all quite magical.
Go to mass at St Andrews Church
My typical feel-good Sunday comprises of walking past Chapel Road, through Veronica Road or Waroda Road, on to Mehboob Studio and finish at the centuries-old St Andrews Church for the morning mass.
St. Andrew's Church is one of the oldest churches in Mumbai. It was built by the Portuguese Jesuits in the year 1575.
In 1534, the island of Salsette of which Bandra was a part, came under the Portuguese rule. Brother Manual Gomes, a Portuguese missionary, also known as the apostle of Salsette, arrived soon after. In subsequent years, he managed to convert several locals, also laying the foundation of about 8 churches in the area.
Much of Bandra is even today, Catholic.
Read more on the church and its history here. If you can catch a wedding or baptism ceremony at St. Andrews, the better. There's always something going on.
Eat at a local cafe
Post the Sunday walk, I'm usually ravished and I pack in a bun maska-chai (sweet butter bread and tea) at Good Luck café or walk back to partake in a sumptuous continental breakfast at Candies, another popular Bandra café located both at Reclamation and Pali Hill.
For more cafe suggestions, head over to a detailed Bandra itinerary here.
People (star!) watch
People flock every day outside Galaxy Towers to spot Salman Khan or outside Mannat for a peek at Shah Rukh Khan, but you can probably spot a star or starlet at a vegan cafe or a fancy brunch place in Bandra. Hakkasan is the stars' favorite, as is Olive Bar and Kitchen. A few more Bollywood favourites can be found here.
Of course, it's not all hunky-dory, not all beauty and charm in Bandra. To the foreign eye, the dirt, the squalor, the migrant poverty stands out in deep and uncomfortable contrast to the Bollywood glitz, the middle-class glamour, the yoga-Pilates studios, the plush pubs, the artsy and hippie crowds. But in Bandra, we try and embrace life in all its vagaries, occasionally attempting to enhance it but in the very least, trying to love it best we can.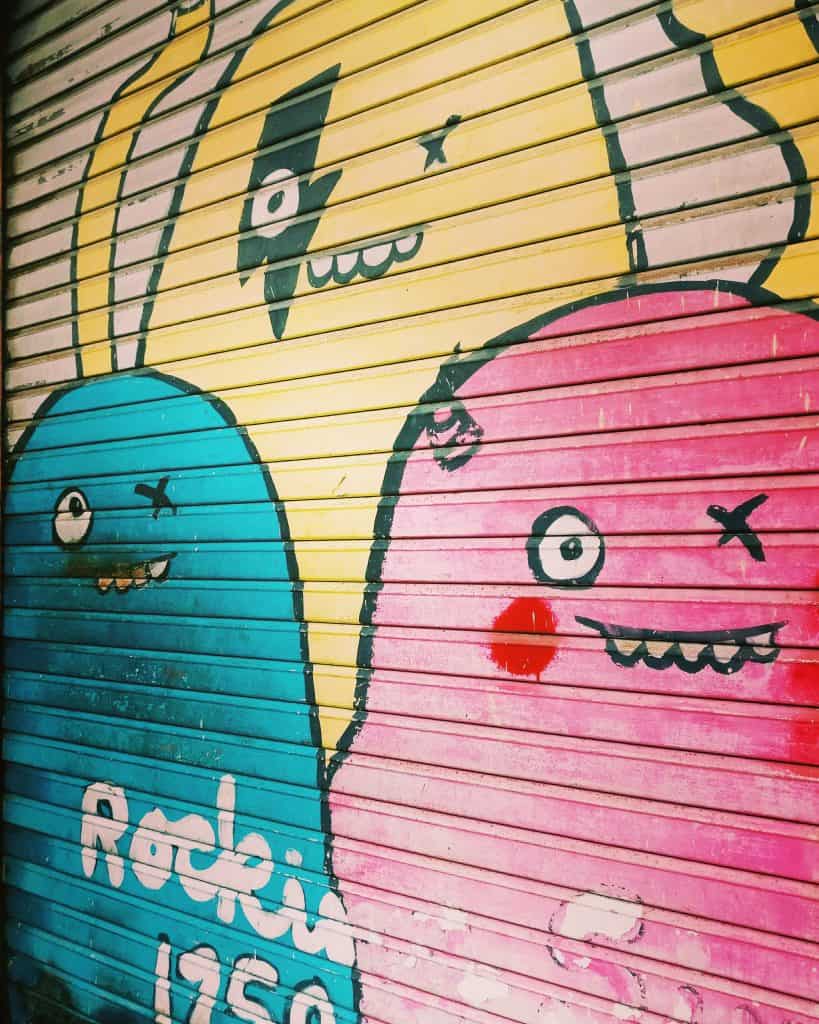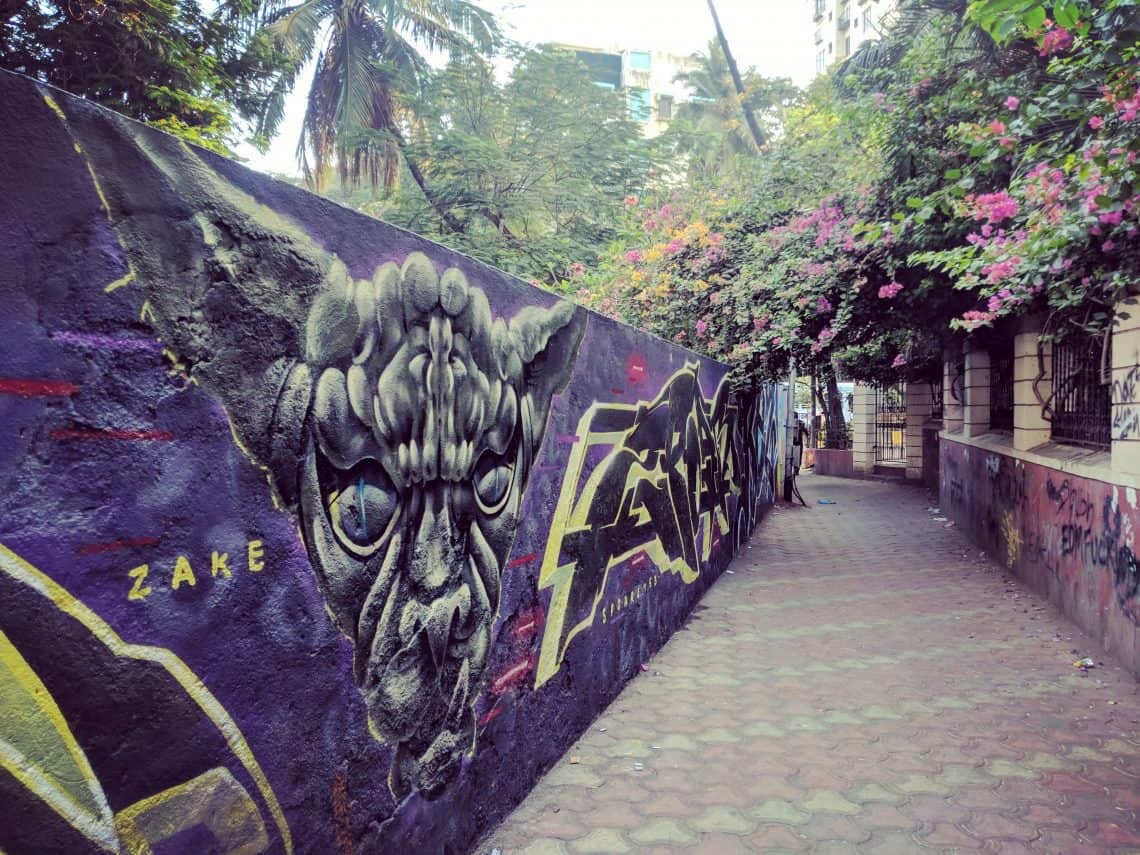 Where to stay in Bandra as a tourist
I recommend Bandra as the ideal base for a tourist in Mumbai. It is central, has great restaurants, cafes and options for entertainment, and is great for shopping and people watching too. It has a unique mish-mash of old and new Mumbai which will give you a quick overview of the city.
High end (USD 180-250)
Located at the end of Bandstand, and close to the Bandra Fort, this is the place to stay if you can cough up some dough. The top floors also provide a great view of the sea. The cafes and in house restaurants are top end, where occasionally you might glimpse the odd Bollywood Star making a star-studded entry to discuss her next movie.
While located in an expensive part of Bandra-Khar, the location of Executive Enclave is not my favourite because of the narrow roads and slums close by, but the rooms and service itself are quite top-notch.
Low-mid range (USD 20-40)
A quirky hostel in a cool part of Bandra which primarily provides dorms and one private room. The hostel is relatively new but wears all the colours of Bandra already.
Another new hostel option located in the quaint and quirky Ranwar area of Bandra, central to everything, with a lot of old world charm.

Looking for a slow morning in the old part of Mumbai instead? Go over to an account of the popular Shantaram tour.