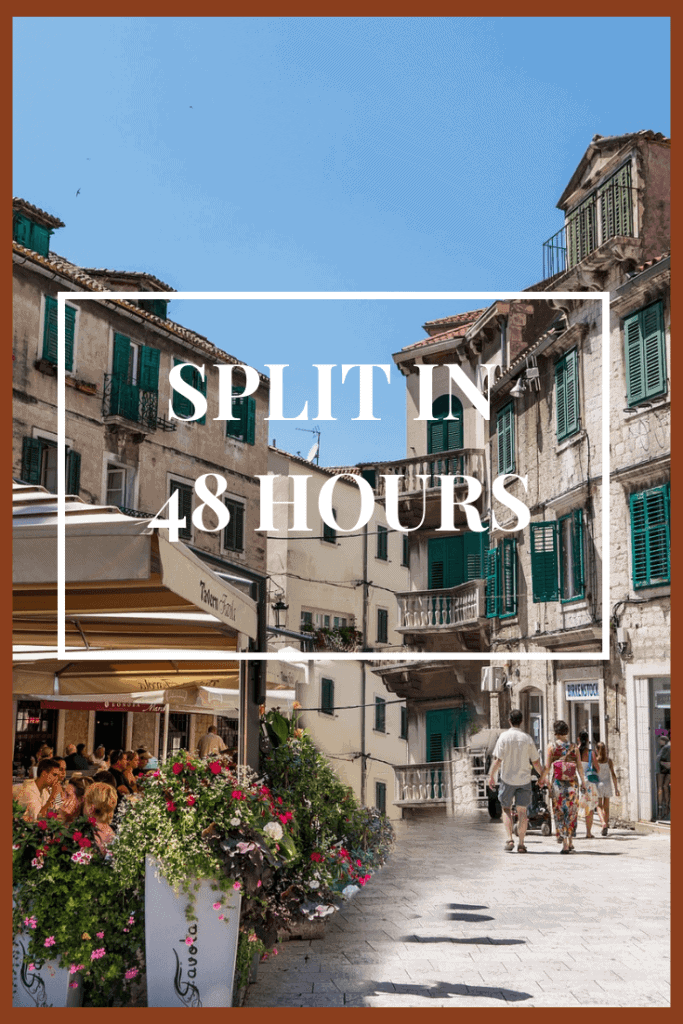 Split is the second-largest city in Croatia and the largest city in the region of Dalmatia. Whether or not to spend 2 days in Split is a highly debated topic amongst travellers, but it's a fiercely unique port city with its own quirks, and very different in composition from Dubrovnik and Zagreb. I think it's definitely worth a visit, also given you can easily travel from here to the nearby islands of Trogir, Hvar, and Korcula.
Split is home to Diocletian Palace, its most famous historical tourist attraction. The palace was built for the Roman emperor Diocletian in 305 CE and is also a location where a few scenes of Game of Thrones were shot (Scenes with Daenarys and her dragons, also Daenerys' Throne Room). Diocletian lived in it until the year 313 AD.
The Venetians conquered Split in 1420, followed by the Austrians in 1797. In the 20th Century, after the Austro-Hungarian Empire ended, Split became a part of the Kingdom of Serbs, Croats, and Slovenes (Yugoslavia, 1918). It was only after this that Split grew rapidly and established itself as an important port city. Today Split has a population of around 180,000 people with major industries being shipbuilding, food (fishing, olive, wine), paper, and chemicals.
Day 1
What to do and see
Walking Tour: Take the Split Walking tour (the guide holds a blue umbrella) to orient yourself to the city. The tour happens several times during the day in summer and takes about 120 min to complete. Costs €22 or 160 Kuna.
You will cross the beautiful pedestrian-only Riva promenade several times, but let's keep the 'chill in the promenade' part of the itinerary to Day Two and tick-mark the essentials as of now, okay?
Diocletian's Palace: The 1700 years old palace complex is spread over almost 30,000 square meters and is located at the heart of Split. A series of shops, cafes, restaurants, and apartments line the streets in and around the palace. You can also see a 3500 years old sphinx in the palace complex which was gifted to the emperor and brought from Egypt. End with a visit to the palace basement, also the location for Game of Thrones (The dungeon where the dragons are kept, Daenerys' Throne Room)
Evenings around the palace are grander when the surge of tourists ceases and the restaurant next to the palace—Lvxor—puts on some live music. You can sit on the cushioned steps of Peristyle Square, order a glass of wine, gaze lovingly at the palace in front of you and generally have a good time. Or do not order anything at all. Just sit and soak in the city's romantic vibes as light dusk falls accompanied by soft guitar strings.
The Cathedral of Saint Domnius is the Catholic cathedral of Split. It was originally built as a mausoleum for Diocletian. The cathedral complex comprises a church and a 60 m bell tower, the view from which is amazing if you can climb up the precarious trail of 200 stairs—they wobble a bit, oh, and you can see the bottom and how far you've climbed—infinitely worse when there are lots of excited people on it!
There is a charge of 25 Kuna to enter the cathedral, baptistery, and the crypt (Blue ticket) and a 45 Kuna charge to enter all of them plus do the bell tower and the treasury (Red ticket).
Froggyland: The weirdest museum (if you can call this tiny space that) ever. This taxidermy museum has around 500 stuffed frogs in various poses of daily (primarily European and medieval-ish) chores and pastimes. These are frogs doing 'people things' like having a picnic, studying in a school, playing in a band, and working in fields. Damn cool and a tad bit disconcerting too if you ask me. But definitely worth a checkout. Entry is 40 Kuna and takes less than 30 minutes to go through. Details on their website.
Statue of Grgur Ninski: Created by Croatian sculptor Ivan Mestrovic, the 6 feet tall statue is that of the medieval Croatian bishop of Nin who opposed the conducting of religious services in Latin, instead, introducing Croatian. This was important both for national pride as well as to propagate Christianity in Croatia.
And do NOT touch its toes, I mean, why would you want to? Wonder who makes up these stories in all the tourist places—touch the nose, the toes, rub the head etc. etc.—a good way to keep them clean—a diabolical plan.
Visit the markets: The Green Market and the Fish Market are located outside the eastern palace walls. The stalls of the Pazar (green) Market run along Hrvojeva Street along the east wall of Diocletian's Palace. It offers fresh green vegetables and fruits, and only seasonal produce. The market opens around 7 AM and closes at 2 PM. Then there is Ribarnica or the fish market on Marmont street, a lovely place with cats and garrulous fish sellers, all women.
More on the Split markets.
Lunch
Three highly recommended options are:
Bokeria is inspired by the La Boqueria market in Barcelona. Located inside the Diocletian palace, it has great local cuisine and wine. It is touristy and quite busy most days, so it might make sense to book a table in advance
Brassiere on 7:  An amazing location right by the Riva with some delectable food, especially the eggs
Konoba Marjan: Fresh fish carefully and tenderly made. Doesn't come cheap but is delicious. This was the second most expensive meal I'd had in Croatia but totally worth it.
Evening out
Sit out at the stunning waterfront promenade and gaze at the endless indigo turning to inky blue-black sea. You will have a lot of young, drunk (behaved though) company and music on boom boxes. Waffle and crepe stations open up from 7 PM onwards at the corner. On the other side of the road (by the fountain) is a little beer shop to serve liquor till 12 AM.
Drinks and dinner: If you are bored of sitting at the promenade (really?!) go over to Marvlvs Library Jazz Bar—because, read the name again, library, jazz, bar…err…what's not to love?
Day 2
Breakfast
First, have some coffee at 4coffee soul food a small hole-in-the-wall coffee shop just outside the walls of Diocletian's Palace.  Maybe have it at one of the many gorgeous parks in Split. There's one right beside—the Strossmayer Park.
Then head over to have breakfast at Fife. At first sight, it looks like an expensive place, but it's not! The breakfast is really scrumptious and they serve large portions. Fife is also very close to where the walk up to Marjan Hills start, which is the next activity on the list.
Hike up Marjan Hills for the best view
Marjan Hills are called the lungs of the city, and rightly so, with its lush trees, birds and bees, and many hiking trails. It has several scenic viewpoints but it can get a bit hot in the summer months. There are park benches and tiny churches with water fountains on the way to give you respite. Carry snacks and water with you.
Around Marjan Hill, there are several beach coves for swimming, two of them being Kasjuni Beach and Bene Beach. By the way, Split's main beach is Bacvice, famous for Picigin game, a game played with a small ball in shallow waters. The beach is located a few minutes' walk south of the railway station.
Rest of the morning
Just sit at the Riva promenade lined with cafes and trees to people watch. The promenade is French style, a result of Napoleon's rule. Food and handicraft stores pop up during the weekend and occasionally there is a marathon, so enjoy the hubbub of local life around. Eat a gelato. Drink a beer. Relax. Snooze.
Evening out at Trogir
Trogir is 30-45 minutes by bus from Split (Flixbus and local) and an hour's trip by ferry. The town's centre is a UNESCO world heritage site and is beautiful, beautiful! It has a population of around 12,000, so it's really tiny. Its architecture is influenced by ancient Greeks, Romans and largely, Venetians. In fact, the town is often lovingly called, "Little Venice".


Seeing Trogir at a leisurely pace takes about 3 hours. The sites of interest are:
The city gate (17th century) and city walls (15th century)
St. Lawrence Cathedral (13th century) with the Portal of Master Radovan. Be sure to climb the tower of the Cathedral which affords some stunning views of the city
The Fortress Kamerlengo (15th century) Another place with some remarkable views of the waterfront, mountains and the city. See below.
Eat and drink at Trogir: Some options we tried and loved were:
Big Mama: A cheap eat but very popular and right next to the bus stand and the local food market. Pick up the cevapi or burger. All good.
Don Dino street food & wine bar: Nice chicken, prawns, and risotto. Looks great and tastes even better.
Konoba Trs: For a nice pricey meal inside a cosy atmospheric courtyard
If you don't want to go to Trogir (because enough of the views and waterfront, eh?) alternately try the 6 Islands and Caves tour. There are tour operators by the Split promenade that offer various tour packages.
Where to stay in Split
Apartments are the way to go in Croatia and so too in Split. We stayed in Apartments Gajeta which was spacious and central, value for money.
Other useful links
For an overall itinerary in Croatia, visit this link.
For a 48 hour itinerary in Zagreb, visit this link.
For a 48 hour itinerary in Dubrovnik, visit this link.
We lucked out on places to stay in Croatia. Each was more fantastic than the next.