Zagreb is the capital and the largest city of Croatia. It is a vibrant and historical city and should be part of your Croatian itinerary. The best thing is not many others will agree, so you will find yourself in a non-touristy city which will serve to give you a flavour of how modern-day, urban, working-class Croatia lives.
Some history first
Zagreb was inhabited as early as 1094 by Hungarian settlers in the areas of Kaptol and Gradec. These settlements were later destroyed by the Mongols but again rebuilt around the 16th century when the name Zagreb emerged to describe the two settlements and became capital. Most of the prominent buildings in the city were built in the late 19th century.
When Yugoslavia existed, Zagreb was an important city in the country, only after Belgrade in terms of population, and the economic centre of the country. In 1991, when Croatia declared independence, the city became the capital of Croatia. Today about 1.2 million inhabitants reside in Zagreb with 92% Croats and Roman Catholic. Croatia's economy is mostly dependent on Zagreb along with it being the is the seat of the central government, administrative bodies, and almost all government ministries.
Day 1
A walking tour
We tried the Free Spirit Walking Tour which was good enough, except that the crowd was really very large. I wish they had earphones and mikes to make the tour better because we had to strain to hear the guide most of the time. But we did get to see a few things we would have missed if we had done it ourselves. Tours happen every day at 11 AM and twice (11 AM and 5 PM) from June to Oct.
Ban Jelačić Square: You will start your city tour most definitely from this square—a lively place with cafes and shops. There is (as a co-traveller put it) 'yet another man on a horse' at the centre of the square, who is basically Ban (i.e. Governor) Josip Jelačić afet after whom the square is named.
The square is the most popular meeting point in Zagreb and also a way to orient yourself to the city—it's the centre of the city if you will, and most people promise to meet 'under the clock'.
Zagreb is broken into Upper Town (Gornji Grad) referring to its historical location on being on the city's hillside, above Lower Town (Donji Grad). Upper Town has most of the attractions of interest to first-timers, while the Lower Town is known for business establishments, parks, and residences. Most of Zagreb's hotels are in Lower Town.
St. Mark's Church, with its 1499 coat of arms: The focal point of Gornji Grad is St. Mark's Square, with St. Mark's Church (Old Zagreb's parish church) in the middle. When guilds developed from the 15th to the 17th centuries as societies of craftsmen, their members (masters, journeymen, and apprentices) gathered regularly at St. Mark's. On the church's northwest exterior wall is the oldest coat of arms of Zagreb with the year 1499 engraved on it. (Source: Wikipedia)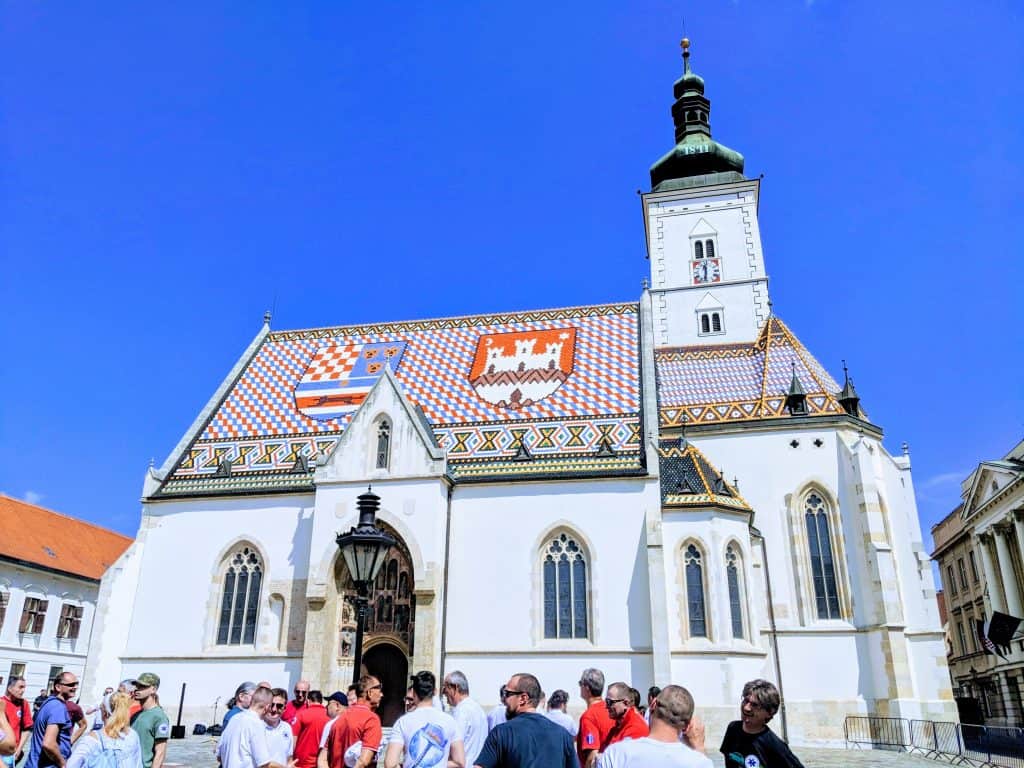 Zagreb Cathedral: One of the highlights of things we saw in Zagreb, the interiors of the Cathedral are richly decorated with its chandeliers apparently gifted by patrons in Las Vegas ! The Zagreb Cathedral is Roman Catholic and the tallest building in Croatia. As with all structures in Europe, and especially in the Balkans, it was destroyed and rebuilt several times. Mostly the reason was war, but the cathedral was also severely damaged in the 1880 Zagreb earthquake. Today though, it stands tall and stately.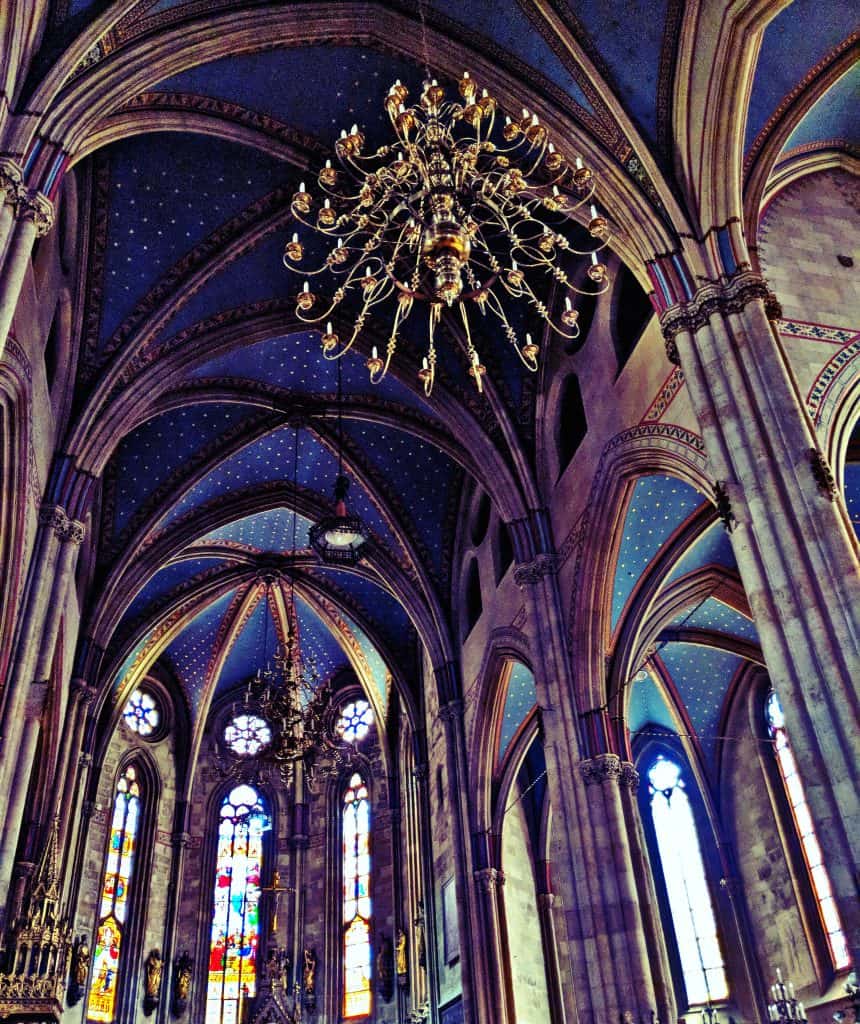 Next to the Cathedral, stop at Amelie, for a coffee break and some desserts.
Dolac Market: A farmers' market located in Gornji Grad, the place sells groceries, fresh products, and hand-made souvenirs. A good place to see how locals shop and spend a few hours.
Opening hours: From Monday to Friday: 7 am – 3 pm; Saturday: 7 am – 2pm; Sunday: 7 am – 1 pm
Lotrščak Tower is a fortified tower in Gornji Grad that dates back to the 13th century. In the 19th century, a fourth floor and windows were added to the tower and a cannon was placed on the top. Since 1 January 1877, the cannon is fired from the tower on Grič to mark midday. The sound is deafening, and the experience quite 'mind-blowing'.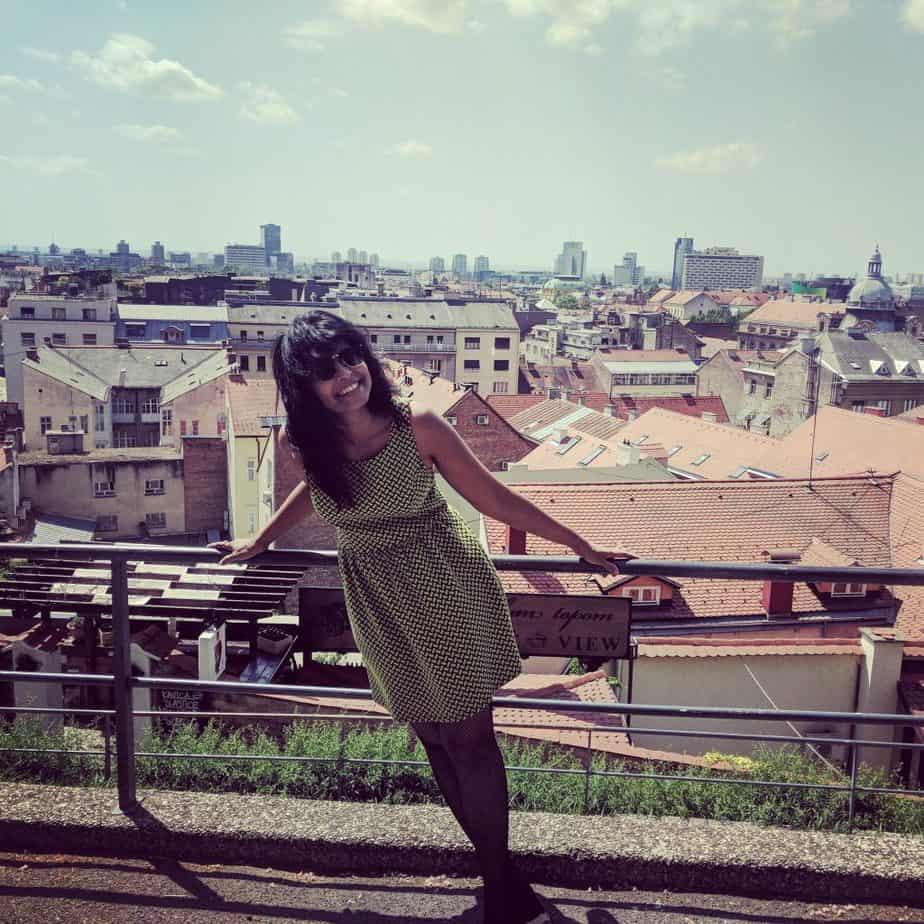 Museum of Broken Relationships
While I enjoyed the 30 minutes I spent at the museum and thought the concept unique, you should plan to come here only if you are the romantic sorts or a lover of the dismal. The exhibits are limited, but the story behind them quirky and unique. Also, how the museum itself started. The museum began as a travelling collection of donated items started by two men in love—Olinka Vištica, a film producer, and Dražen Grubišić, a sculptor—who had broken up, and decided to start an exhibition of the items they had collected when in love, instead of discarding them. In the beginning, they travelled from city to city in a van collecting donations from people. Later they found a stable location in Upper Town to display them attracting thousands of tourists over the years. Hopefully, the two ex-lovers got back together—our guide never completed the story and I didn't find an answer anywhere else. Do you know?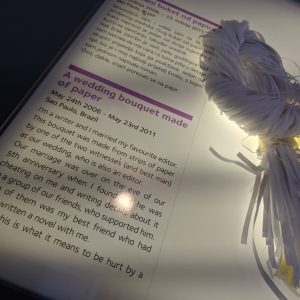 Bar Street or Tkalciceva
This was a lot of fun, the second time we partied nicely in Croatia (The first was in Hvar, where the party was cheap, fun, and throbbing). Tkalciceva is a beautiful street dotted with restaurants and cafes in the centre of Zagreb. This was once a river that separated the districts of Kaptol and Gradec. At the end of the 19th century, the river was filled in and converted into streets. It is right behind Ban Jelačić Square and a pedestrian area.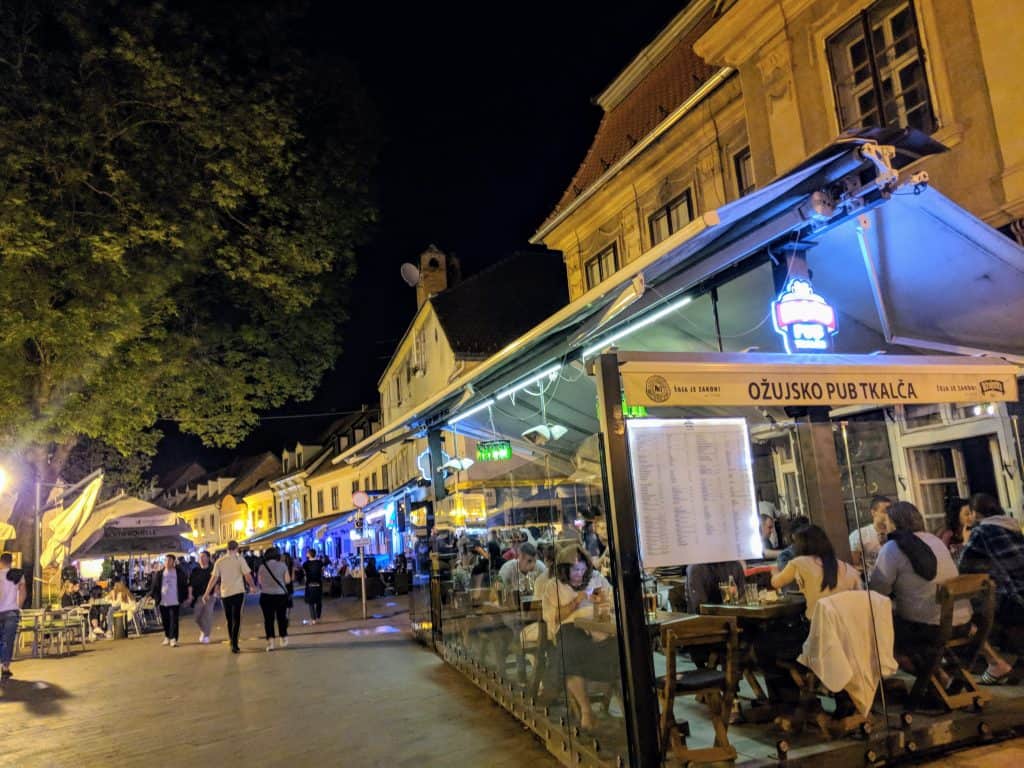 Day 2
Lake Plitvice
A visit to the Plitvice National Park is an easy option from Zagreb.
Founded in 1949, the Plitvice National Park is situated in the mountainous karst area of central Croatia, bordering Bosnia and Herzegovina. It is a UNESCO world heritage site. It is most famous for its over 16 lakes arranged in cascades. The lakes are all interconnected and separated by natural dams of travertine. The lakes are also of distinctive colours, ranging from azure to green, grey or blue. There are scores of waterfalls as well, surrounded by hills laden with dense trees. So, all the natural bounties are there, you see, and so you can well imagine the results. 
Zagreb is the closest and largest city to Lake Plitvice and it is recommended that you do this detour rather than from Split or any other Croatian city. You don't even have to do an organized tour; don't let them fool you, it's damn easy to get to and back from Plitvice. Just take a bus from the Zagreb central bus station. The price for one way ticket is around €10. The earliest departure is 05:45 from Zagreb and returns at 18:40 or so. Budget spending at least 6 hours in the park.
Lake Plitvice can get very, very crowded, and that sort of ruins the beauty of the place somewhat. My recommendation is to take the hiking trails and move upwards, to get a more unhindered view of the waterworks and valley. There are 8 different hiking routes in the park, the shortest being 3 hours and the longest 8 hours. There are two entrances to the park with 4 different trails starting from each. If you want to maximize your visit to Plitvice and do the best, consider reading through this article at Kimkim before you go.
You can stay or camp overnight too, options here. Park hours and prices are here. All transportation within the park is included in the ticket price but expect long queues in peak season to get into the boat or train. Entrance 2 is usually less crowded.
Where to eat
You will be spoilt for choice at Bar Street and around. Popular options are:

Where to stay
Apartments are commonplace in Croatia and there are plenty of good ones for the picking. We stayed at Zagreb Jurisica 26, which was spacious and central.
Additional tip: Most bookings in Zagreb and Croatia require printouts – especially bus tickets – and locating a printing shop is hard. Take printouts beforehand, if possible.
Other useful links
For an overall itinerary in Croatia, visit this link.
For a 48 hour itinerary in Split, visit this link.
For a 48 hour itinerary in Dubrovnik, visit this link.
We lucked out on hotels in Croatia. Each was more fantastic than the next.