Essential things to know before your trip to Japan
Planning a solo trip to Japan? Here's a master list of tips on how to do Japan well solo and for cheap. You can do it by spending less than $120 per day! Even in cherry blossom season. It is perfectly safe and easy to do for a solo female.

Why Japan?
Japan is a beautiful and eccentric country. It's gorgeous, no doubt, blessed with the imposing mount Fuji and the Japanese Alps, lush foliage, four distinct seasons, and abundant animals to frolic in them. It also boasts of rich and stories-laden history: Samurai, Shinto shrines, Buddhist temples, geisha, edo, kamakura, muromachi, meiji, sakoku, ikebani, origami… the words fly thick and fast. It's hard not to be impressed.
It's also a country of bizarre contrasts. While conservative and traditional, communal onsens (Japanese hot spring baths filled with stark naked strangers) and cuddle cafes (where men pay to lie next to and cuddle young girls, like eww!) abound. Male and female escorts list their profiles on glittering billboards along with the money they made in the year. Love hotels advertise their short and long stay rates openly, whilst only a few miles away, scores of people are lining up to offer prayers in a Shinto or Buddhist shrine. Even though a developed nation, cash is the preferred mode of payment in many places. The public Wi-Fi is patchy; it comes and goes. And don't even get me started on the pachinko slots.
A new surprise awaits at every corner. If I had a 'what I learned today' diary in Japan, it would be pretty thick!
Contrary to popular notion, travel to Japan doesn't have to be expensive. You can manage a ten-day itinerary in under $1200, even in cherry blossom season, while staying and travelling in relative comfort. This estimate excludes airfare and budgets food expenses at $40/p.p. per day, accommodation at $60/p.p. per day, and transportation at $40/p.p. per day, including JR pass expenses.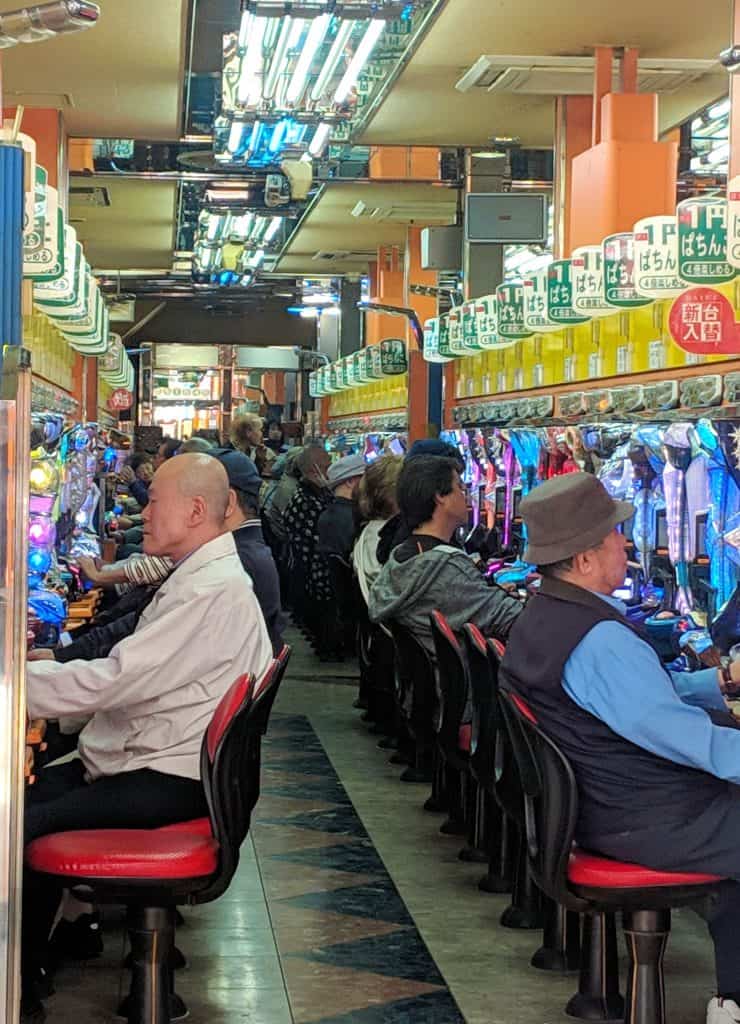 Here is a list of useful money and time-saving tips for your solo journey to Japan.
How to plan
Note: 111 JPY = $1 USD 
Read about my absolute top experiences in Japan and how to do them.

If you are making an itinerary for your solo trip, look no further than my super detailed itinerary, which has everything you need, painstakingly put together
Getting around
Some general tips for travel in Japan
Taxis are super expensive in Japan and best avoided. In Tokyo, for example, Japan Taxi charges ¥410 for the first 1.052 km and ¥80 for every 237 meters. Thus, any place of interest gets quickly to be ¥1000 yen above
Your JR pass and multi-day passes are only valid on specific trains. Check what trains (or buses, if applicable) they cover and if that is the most optimum for you. For example, the multi-day Tokyo metro pass does not cover the Seibu line of trains. I was stuck at the turnstile until a kind bystander informed me of it. The Greater Tokyo Pass (3 days validity, ¥7200) allows use on more major train lines versus the multi-day Tokyo subway pass (1 day ¥800, 2 days ¥1200, 3 days ¥1500) but the latter is value for money and quite sufficient
Trains run sparsely from 11 p.m. to 6 a.m. Plan to reach your destinations earlier, especially if you are planning on going somewhere new/ unknown. On Fridays, you might find yourself stuck in rush hour traffic with people scrambling to return on the last trains home after an evening of revelry
The metro and bus are more accessible in Tokyo. In Kyoto, you may consider renting a bicycle or using the bus service which connects most places
I found google maps notoriously unreliable in Japan for the last mile, in specific within Tokyo. I'm not sure if it was my particular experience, but I'd advise setting aside a few extra minutes to travel to anywhere in the Japanese cities. For example, Shinjuku in Tokyo has 11 stations (!) and getting lost in the throng of people and exits is obviously not impossible
Stand at the left in elevators (except in Osaka, where you stand on the right)
An unwritten rule of etiquette in Japan is to not take calls on trains, basically not to talk loudly and disturb co-travellers
If you have a local number, download the app JapanTaxi and book your cabs. I didn't try it, but it seemed to work well for other tourists.
Japan Rail pass
Yes, buy. Unless you plan to take a lot many flights and do not plan to do intercity travel in Japan. The pass more than covers itself with just a return journey between Tokyo and Kyoto (which costs ¥13,080 or about $118 one-way). The pass costs ¥38,880 or about $260/ p.p. for 7 days and is discounted if purchased online (here are courier charges, depending on where you live). Go here to purchase. If living outside Japan, you'll get an exchange order voucher via courier (it reaches in 2-3 days). You will need to exchange the voucher at the airports and major train stations. Be warned, the queues for this can be long.
Choose your start-day wisely for the JR rail pass since the durations cover 7, 14, and 21 days only.
The JR pass is available (in exchange for the JR voucher that must have come over courier) at all major train stations and the airports. The queues can be long. Before the start of the JR pass duration, get the pass stamped to start your JR pass period (7, 10, 14 days). No need to reserve your seat for each journey. Usually, bogies 1 to 3 or 4 are unreserved compartments which tend to be full but you will find a place.
Buses
Bus journeys are a longer but cheaper option for trains. The bus services operating in Japan are kosokubus.com, VIPLiner, and Willer Express. If traveling long distances, try highway buses. The overnight buses are especially cheap and you also save on a night's accommodation cost. I didn't take any but I hear they're quite good.
Internal flights
Peach Air is Japan's budget airline, and there are airfare passes you can avail of. You can also get discount air passes. I didn't take any internal flights. With bullet trains to take you from one place to another in a mere 2 hours, you don't really need them.
Booking accommodation
Japan offers a range of accommodation options, and is not usually cheap, mainly during the cherry blossom season. Here are some ways you can choose your perfect stay
If you're traveling solo, try the capsule hotels. Capsule are just that, tiny cubicles that are space-efficient. Each basic capsule has a futon, lights, and charging points. Some may also have a TV and a table. Bathrooms are shared. There are female and male capsule hotels OR separate floors for men and women within a capsule hotel, so, if travelling as a couple, you may need to split up. Check-out time is strict. Lockers are provided and you will need them since your capsule will be too small to keep luggage in. Capsule hotels are generally comfortable, except you can hear people around you (i.e. if there are snorers, phones ringing, or untimely alarm clocks). Costs ¥3500-4500 or $30-40 per person per night for a decent capsule
Chain hotels: The mid-range chains of Dormy Inn, Tokyu Stay, and Sunroute work well if looking for a comfortable, well-priced option to stay in. The single rooms and double rooms are about the same size. The good news is, there are plenty of single rooms available at a little more cost than a capsule hotel. Try booking in advance, because rooms get sold out pretty fast
Try a 'minshuku' or 'ryokan'. Dating back to the early 17th century Edo period, ryokans are traditional Japanese inns where you'll get to sleep on tatami mats rolled onto the floor, sample a Japanese set breakfast, and partake in communal bathing facilities in an onsen (not for the shy). A minshuku is the budget version of a ryokan
Most B&Bs and apartments advertised for 4-8 beds, but in true Japanese style, all the beds might probably be in a large, single room. There may also be just 1 bath for the group. So if travelling with friends and need privacy, check how many bedrooms and baths are being advertised for before signing up
Hotel room sizes are small, so carry small pieces of luggage so as to not feel cramped
AirBnB cost as much as hotels, if not more. Also, most of them have strict cancellation policies in Japan and in cherry blossom season, so not the ideal choice. Look out for the number of beds and baths promised before opting for one
If you are going to be taking a lot of day trips, stay close to the station
Check out time is usually 10 a.m. and check-in time is 2 p.m.
The Japanese are polite to a fault which is a very pleasant experience but are governed by a discipline they find uncomfortable to deviate from. One such norm they adhere to and want their guests to do so too is changing into room slippers and loungewear when staying at a room in a hotel/ ryokan. Whilst the larger establishments are not too strict about it, the smaller ones frown if the rule is not followed. Eventually, I began to find it comfortable and convenient, but it took some getting used to. And it was disconcerting to go to the dining area and see all the other guests dressed similarly. Felt like a dystopian world
Eating and drinking
Japan is a gastronome's delight. I didn't find eating in Japan expensive at all. Here's how you can curtail the price of your meals to $50 or less per day.
While sushi is what Japan is famous for (at least as far as I knew), Ramen is the street food of choice. Good places to find yummy ramen are in Shinjuku (Tokyo-Fukushin ¥390) and in Ichiran (Tokyo, Kyoto, Osaka, 65 locations across Japan, basic bowl at ~¥900 yen or $8). The lines in Ichiran especially, are always miles long but it's worthwhile to wait for your turn
Kaiten-zushis are economical sushi restaurants, where the sushi dishes are presented to the customers on a conveyor belt. Prices range from ¥700 to ¥2,000 or about $8-22
There are tons of izakayas (Japanese gastropubs with finger food and drinks) in Japan. Drinks are ¥700 or $6 onwards. Beware that many of them have a table charge, ¥300 to ¥500 per person, which they may or may not tell you about. Confirm before you take a place inside. If there's no entry charge, you may be asked to leave the izakaya as soon as your drink is over
Departmental stores: I picked up bento boxes from 7- Elevens, Lawsons or Family Mart, whenever I could. Another place to pick them up is the Depachikas, i.e. at the basements of large department stores
Every large train station in Japan has a range of food shops for quick takeaways
Chopsticks are used frequently, but forks and spoons are provided on request
The Japanese don't expect to be tipped, so don't, unless you want to offend them. A service charge is generally added on to the final bill in restaurants. Or there is the cover charge
Fill up on coffee, beer, and coke on the go from the many, many vending machines that litter the street. Never go thirsty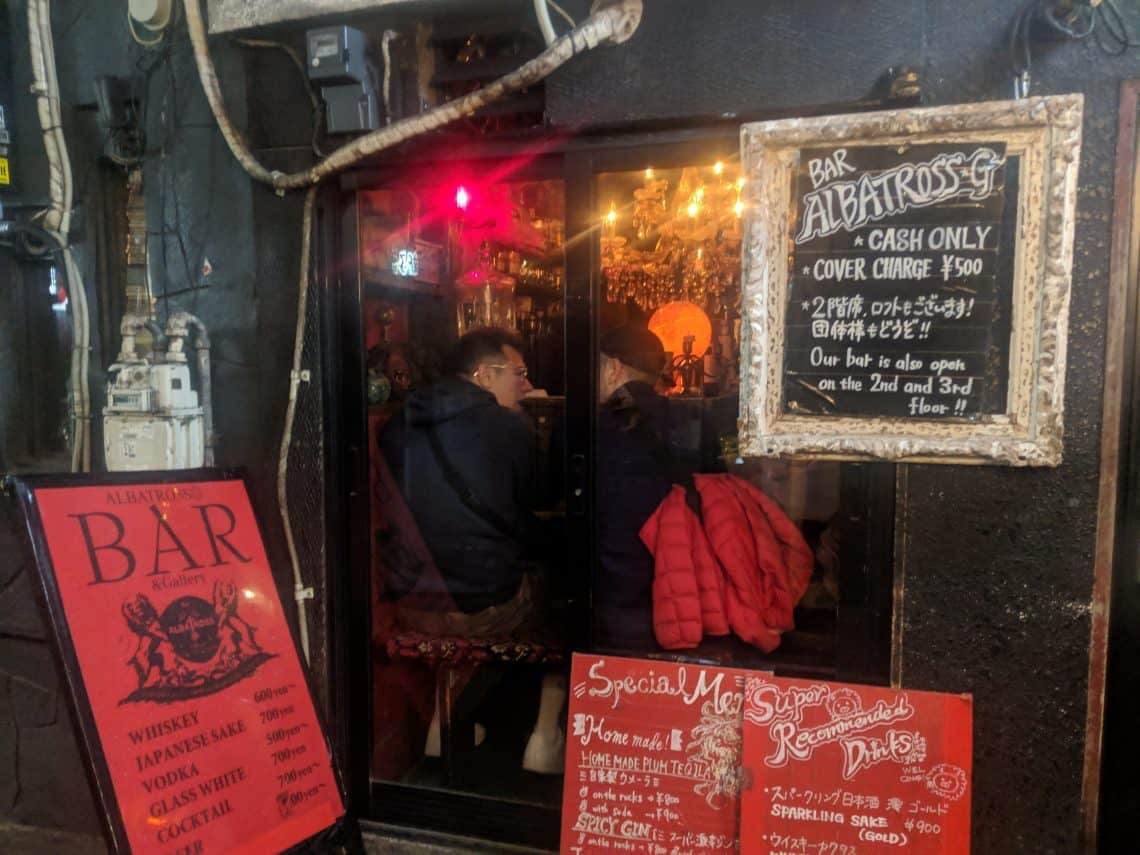 Shopping
Shopping in Japan can be expensive but there are ways to save money. Try the 100 yen shops where you can buy snacks, cosmetics, kitchenware, stationery, and clothes, all for ¥100 or $1. The biggest chains are Daiso, Seria, and Can-Do (love the name). I stocked up on my Japan souvenirs and Matcha at the quirky Don Quijote. The biggest Don Quijote is in Shibuya – a 7 story building is located near the Station, open for 24 hours. In Tokyo, the store is also present in Shinjuku, Ginza, Akihabara, and Roppongi, as in other Japanese cities.
In Harajuku and Takeshita Street a lot of the clothes on sale on the street were reasonably cheap ($30 onwards). Then there's always Uniqlo to stock up on the trendy basics.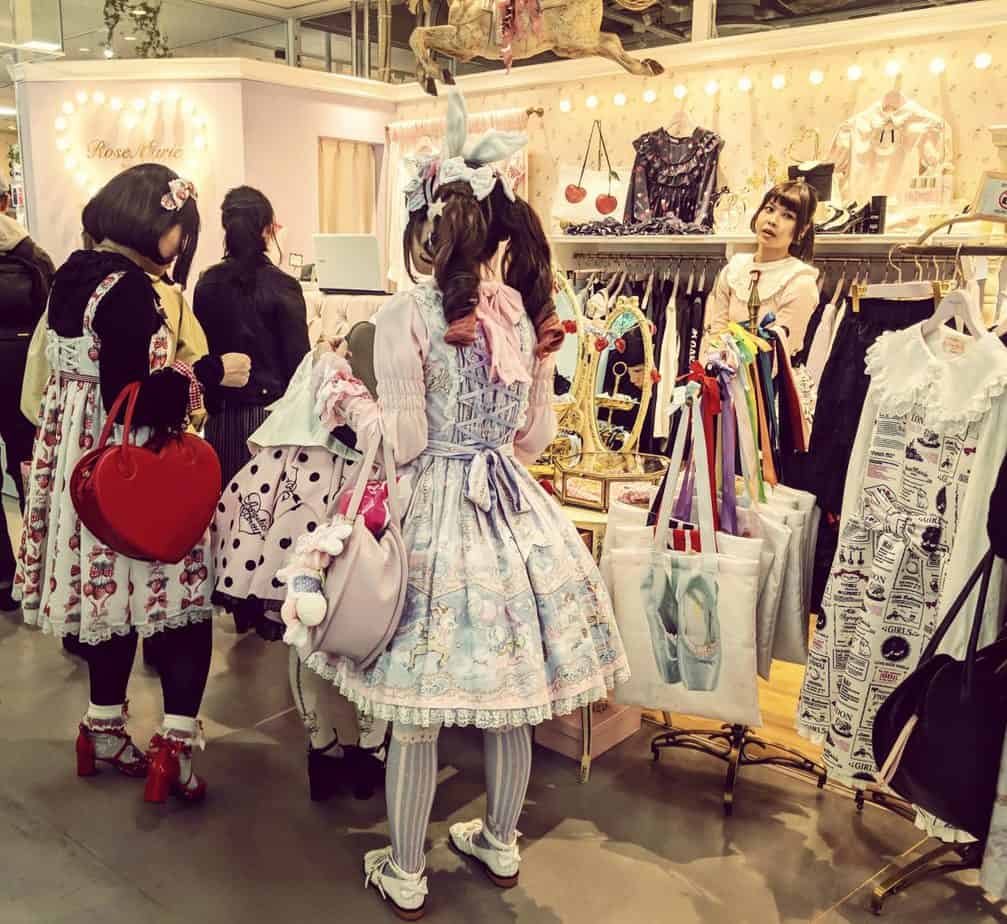 Don't forget to get a magazine or a toy at an anime shop in Akihabara (Tokyo) or at Nipponbashi (Osaka). Other souvenir suggestions: a few of the 350 varieties of the kit kat chocolates available in Japan, packets of the delicious (and potent) matcha tea, a bottle of Suntory whiskey, bobblehead dolls.
Booking tours and shows
Grab all the free tours you can get. I found the paid tours expensive and did not think them to be value for money. Their TripAdvisor reviews belied how they really turned out to be. Instead, try the local free walking tours (Kyoto, Osaka, Tokyo) and tip when you finish.
Or go to Klook (works best in Japan) for discounted tickets to popular shows. Try to buy tickets online at least a day in advance. Tickets stop selling at a discount or otherwise on the day of the show or travel. Cases in point: The Tateyama Kurobe option tickets (they stop selling on the day of travel). The Robot Restaurant in Tokyo (always sold out, unless purchased in advance).
Try Klook (the best tour aggregator in Japan, in my view) for options.
Other good to know tips
Public trash bins are not easy to find
For a clean and orderly city, this is unusual. The reason why you don't find trash cans can be traced to the aftermath of the Tokyo Subway Sarin Gas Attack of 1995 when the cult Aum Shinrikyo released deadly sarin gas into subway trains in Tokyo, using plastic bags and dumping them in the trash cans. Twelve people were killed, over 5,000 were injured.
To avoid the nuisance of carrying trash about in your hands, looking frantically for a place to throw it in, carry a small plastic bag around with you. Dispose of the plastic bag when you find a convenience store's bin or are back in your hotel. Another option is to return the trash back to the vendor you got the food from.
Luggage forwarding service
Most Japanese hotels and ryokans have luggage forwarding service (takuhaibin) which comes in handy if you are travelling with a lot, making short day stops, or doing the alpine route, for instance. Costs vary based on the size of the luggage but start from about ¥1500. The major train stops also have coin lockers to park your luggage in. Thus, never worry about going overboard on the souvenirs from Japan.
Paying
While credit cards are accepted in most places, always carry some cash. ATMs are available in 7-Elevens or Japan Post Bank branch, in case you fall short.
Plugs and internet
Japan uses two flat parallel prong plugs.
To avail the internet while you travel, rent a pocket WiFi router or get a local SIM card. It's surprising that public Wi-Fi connectivity is limited and patchy in Japan given the country is one of the most technologically advanced in the world, but that's how it is. So either get a SIM card or rent a pocket Wi-Fi. If you are part of a big group, renting a pocket Wi-Fi is a good option.
A pocket Wi-Fi is available to rent at the airport post offices (among others). It can also be delivered to your hotel or ryokan. Drop it off at any postbox or post office before you leave the country. See Japan Wireless for more.
You may have more success with Wi-Fi with downloading the app Japan Wi-Fi to always stay connected while you travel. I realized it existed only after my trip.
Useful phrases
Thank you: Arigatou gozaimasu
That's all you really need.
In the cities, most Japanese speak at least broken English, so, it wasn't hard to get by. And they're so happy to help you, I never felt as if struggling. All announcements on trains were made both in Japanese and English. Boards and information pamphlets had both Japanese and English. Don't worry, you'll get by just fine.
Safety
Very safe for the solo female traveller. Locals leave you alone for the most part, but happily assist when requested.
Japan is among the top ten safest countries in the world (Global Peace Index 2018). The Yakuza (Japanese mafia) are known to be a problem as are white-collar crimes brought about by modernization. Neither is likely to affect you as a tourist.
Check the cherry blossom calendar
…if travelling in March-April, which is the best time to travel to Japan, when the weather is mild and the foliage blossoming. Especially, with cherry blossoms. The Golden Week though, the national holidays at the end of April and the first week of May is the busiest travel season and best avoided.
Sakura or cherry blossoms are a symbolic flower of the spring, indicative of the start of a new cycle of life. It holds as much significance for Japanese people as it does for the gaping tourists. Watching the flowers bloom also has a name: sakura hanami. All parks during the sakura season are filled with locals on a picnic, on mats spread under the lush trees, eating and drinking. The life of the flower is shortlived, and so its enjoyment zealous and wholesome.
The idea is to see cherry blossoms in full bloom, so you need to know where to see it. Several sites put up forecasts that are updated at regular intervals such as this and this. The peak, or mankai – the time when the most trees are in full bloom, starts in the south around late March and moves northwards in April. Occasionally, they stay until May. If it gets warmer sooner, the blossoms may shed earlier. Thus, the calendar can change unpredictably. 'Chasing the blossoms' is often what tourists do by keeping an eye on the changing Sakura calendar.
Packing for April
It is still quite cold in April so you will need to pack warm clothes. Carry a waterproof jacket and a warm cardigan. Cute dresses and stockings, Pack plenty of layers but nothing too warm and huge. Also, pack easy to take off shoes because you will need to take them off everywhere. Flat sporty shoes that have been broken into. Be warned, there's plenty of walking to be done. Also, it might rain, so carry an umbrella.
Hotel suggestions based on my own experience. Just be sure to book early, particularly during the cherry blossom months. And be warned, the rooms are small and prices vary greatly based on the season.
At Tokyo: The best areas to stay are Shinjuku (tourist-fav), Shibuya, and Ginza. Try Citadines at Shinjuku. It is a centrally located hotel equipped with every amenity to suit your needs. Costs $100 per room per night. A cheaper option is Mokkoan, a ryokan slightly away from the center in the Kita ward, but cute and authentic. Good and affordable capsule hotel options are nine hours and the Millennials Shibuya.
At Kyoto: The best areas to stay in are Gion, Downtown, and Kyoto station. Try Hotel Monterey located at Downtown Kyoto, close to the Nishiki market and a few minutes walk from the Karasuma Oike Station. Costs about $70-80 per room per night.
At Osaka: Try the upscale capsule hotel, nine hours which is five minutes from the Shin Osaka station on the JR line. There is also another one at Namba in Osaka. Both are perfect for a night's comfortable sleep. Costs about $35 per capsule per night. If looking for a mid-range more comfortable option, try the excellently reviewed Cross Hotel located at Midosuji Street in Osaka.
At Nagano: Try Dormy Inn. Small rooms, but inexpensive, with free ramen and free onsen use. Also, located centrally. Costs $60-70 per single room per night and just a bit more for the doubles. The room sizes are comparable though.
At Fujikawaguchiko: Try the Kawaguchiko Country Cottage Ban. Be sure to carry your own grocery with you if you're staying here. The cottages are lovely though with a clear view of Mount Fuji on a sunny day.
*Since I was only a tourist in Japan, I might have gotten a few facts incorrect. Please forgive me, if so, and let me know in the comments. Arigatou gozaimasu. Apart from the unintended slip, this article is a result of painstaking research and real experience. *