What to do in Jerusalem in 2 days
Why Jerusalem?
Largely I think because it's different. It's historic. It's a confluence of multiple cultures. And really…don't you want to see what the fuss is all about?
I remember wanting to visit when I was fourteen. I had just finished the inspiring and highly entertaining O Jerusalem by Larry Collins and Dominique Lapierre and thought to myself: What a book, what a place, and what people! I couldn't wait to go there. And then, last year I got an opportunity and was so freaking excited.
If you have more time in your hands, head over to a seven-day Israel itinerary that includes Jersulaem along with other gems of Israel.
Jerusalem was everything I had dreamed of. And I cannot wait to go there again. I close my eyes and even now conjure up images of the narrow cobbled lanes, the gleaming golden dome, the dolomitic limestone walls. Black hats, black coats, long beards, the kippah, the Tzitzit. It's a subdued yet vibrant city, simmering on the surface, perceptibly religious, yet inside a modern frame.
Our tour guide told us: much of the history in Jerusalem is probably made up. But then, who cares, as long as it entertains. Only that. No wars, please. That kind of history me no likes.
What you should definitely do in Jerusalem:
DAY 1
Take a free tour of the old city
Take the free Sandeman tour of the old city. As part of this tour, you will visit the four Old City quarters: Jewish, Muslim, Christian and Armenian. You will also see the Western (Wailing) Wall, the Church of the Holy Sepulcher, Dome of the Rock, Al-Aqsa Mosque, and the Mount of Olives. You will be pointed to some very nice vantage points to take good pictures in, as below. The tour takes roughly two hours and is a good way to orient yourself to the Old City. Sandeman also runs some very good day trips from Jerusalem.
This was a very exciting tour for me and our tour guide had a lot of interesting trivia. For example, our guide told us that Bill Clinton had visited the Old City just a week before we had. Also, possibly, (and claimed with a subtle disclaimer), the Old City of Jerusalem was over 7000 years old! The city had more than 60 museums and close to 2000 archaeological sites. Mount of Olives was the oldest active burial site in the world and home to more than 150,000 Jewish graves. The Old City was surrounded by a wall 4 km long, with seven gates. Jerusalem has been conquered more than 40 times by the likes of Persians, Romans, Ottomans, and the British. And of course, as you know, it continues to be disputed territory. Etc. Etc. A million interesting tales. Most seemed made up than real.
Visit the Western Wall on Shabbat
You could go on any day really, but best of all is on Shabbat on a Friday evening.
Jerusalem is fenced with walls about 4 km long, 40 feet tall, and 8 feet thick. There are 34 watchtowers along its walls and 7 gates. Municipal law requires all structures to be covered in Jerusalem stone, to preserve the historical look of the city. So the city is all dolomitic limestone: buildings, apartments, and walls.
Of course, the most famous of them walls is the Western (Wailing) wall. You must have heard of it already?
The Western Wall is the surviving wall of the original structure that was Temple Mount (the Second Jewish Temple) which was destroyed by the Romans in 70 C.E. Today, while it is a place of prayer and pilgrimage for the Jewish people, it wasn't originally so. When Sultan Suleyman I (the Magnificent) established the Ottoman Empire in the 16th century, he not only restored the city walls but also encouraged Jews to come and pray at the Western Wall. So it was a Muslim ruler that started this practice among Jews actually. But in a reversal of sorts, in the one thousand years under Muslim rule, the Arabs used the Wall as a garbage dump, to humiliate the Jews who visited it (Source: Jewish Virtual Library).
An interesting activity to do here is pick up scraps of paper from the booths nearby (free!), write wishes for yourself or your friends and insert them into the cracks of the wall. Sit on plastic chairs and watch others do it. Watch women tremble as they undulate back and front, reading from their Torah.
Twice a year, the Rabbi of the Western Wall oversees the collection of thousands of notes to ensure there's always room for more. The papers are then buried on Jerusalem's Mount of Olives in accordance with ritual. This is done with long sticks poking into the cracks. (Source: Reuters)
But, alas, I could only go to the women's side. There are separate praying areas for men and women here. Apparently, Ultra-Orthodox Jews oppose organized women's prayer services at the Wall. In the past, they have violently dispersed such services, by throwing chairs and other "missiles" at the praying women. A separate area is available for women to pray, but they are prohibited from wearing prayer shawls normally worn by male worshippers, singing, or bringing Torah scrolls to the Wall. (Source: Jewish Virtual Library)
Absolutely, do not miss the excitement here on a Friday evening. You can watch from the steps a bit above and away from the wall.
On a Friday evening, the whole city shuts down. Get to the Western Wall at 5 PM and stay until the celebration closes. It's an experience unto itself. The frenzy. The merriment. The passion. So much dancing and singing. Everyone is in their best (orthodox) clothes.
Remember to eat before though. Nothing is open after dusk. The streets empty out. People walk towards the Old City in droves, in tribes, in large crowds. All roads on a Friday in Jerusalem, quite literally, lead to the Western Wall.
Shop at the Machane Yehuda Market
The alleyways of the Old City sell souvenirs, pottery, olive-wood mementoes, clothing, and food. I thought they were uninspiring and overpriced but walk around the nooks and corners to discover unique shops. I found an artist in the Armenian section selling some lovely hand-painted canvas and scrolls. Gorgeous originals and reprints of Udi Merioz in another backyard shop. A lovely silver Hamsa earrings I wear till date and get complimented on. Try finding steals in each of the Armenian, Jewish, Christian, Muslim sections of the Old City. Bargain hard though.
The MachaneYehuda Market is always exciting to walk around in. It is the largest market or shuk in Jerusalem with over 300 shopkeepers selling everything from fruits, vegetables, clothing, spices, bread, to household goods. For locals, it is the 'go to' destination for all goods. The market is an intense sensory experience.
Walk on Mamilla Avenue
or hell, just walk around
Only steps away from Jaffa Gate and the Western Wall in Jerusalem, is Alrov Mamilla Avenue. There are big brand stores, street theatre performances, musicians, local restaurants and cafes; a whole evening can be spent shopping or people watching here. Some other cool neighbourhoods outside the Old City are Emek Refaim Street (fashionable), Nachlaot and Musrara (arty, edgy), and Ein Kerem (beautiful landscapes, great view).
There are a lot of interesting people to be found in Jerusalem, given it is a multicultural, multi-religious hub. There are plenty of soldiers too, which is to be expected. But really, the potpourri of people was nothing like I'd seen before.
Night Tours
It is not all serious and religious. Jerusalem has malls and stores like any other city. In fact, the eight-story Epic Cinema City Jerusalem is a much loved and expansive theatre and shopping complex. There are also cafés and discos in the city: Dublin Irish Pub (Shamai St 4), The Sira (Ben Sira St 4), and Gatsby (18 Hillel St) being the favourites. Jerusalem's Nightlife scene extends from around Zion Square to the Machane Yehuda Market. Several interesting and colourful bars dotted along the way.
Or see the history of Jerusalem unfolding in the 'The Night Spectacular' a light-and-sound show held within the archaeological remains of the Citadel's courtyard.
For an interesting nighttime tour, try the following:
A food tour with Shuki Haidu where you could walk along the Machane Yehuda shuk, tasting local delicacies and learning how they're made
A pub crawl with Jerusalem Nights
A bike tour with Jerusalem Biking to take in the delights of the city at night
I stayed at both
Alon Hotel
which was mid-range and central, and
Abraham Hostel
, a fantastic, vibrant hostel with lots to do. Try them out. Abraham hostel in specific, if you don't mind dorms.
DAY 2
Take an interesting day trip from Jerusalem
Day trip idea 1: Highlights of the West Bank
I total recommend the West bank tours run by Abraham Tour Company. I had the most memorable experience visiting a part of the world which is inaccessible and mired in dread for most. And it crushed every image in my head. An experience I will cherish.
As part of this tour, we visited:
Ramallah, the modern, vibrant, cultural capital of the West Bank. We passed through multiple checkpoints from Israel into Kufr Akab; only those with foreign passports are allowed to travel to Jerusalem through the checkpoint. After that, we visited Arafat's tomb, then a very Parisian café, walked through the bustling marketplace, then spent an informative hour looking over the city from the house turned museum of Mahmoud Darwish.
Jericho is considered to be the oldest continuously inhabited city in the world. This city was built on the Jordan River about 9,000 years B.C. The city has been the site of several archaeological excavations to investigate the Biblical stories. There are plenty of old ruins, excavations and monasteries to see here. Read about the 11 Top-Rated Tourist Attractions in Jericho. This is all you really need to see.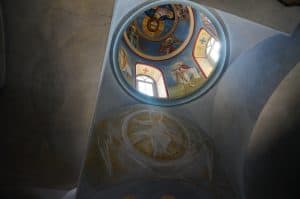 Bethlehem. The city is considered the birthplace of Jesus and is a major Christian pilgrimage destination. Bethlehem is located in Palestine. Visit the Church of Nativity, built on the site considered to be the birthplace of Jesus. A silver star in a grotto marks the spot where Christ was born. Afterward, walk through the ancient and colourful Al Souq, or the old marketplace. Lastly, stop to do some spray paint graffiti on the Separation Wall.
It's an exciting, unforgettable trip, I promise you.
Day trip idea 2: Masada, Ein Gedi, and the Dead Sea
Masada has an intriguing history. It is basically an ancient fortress deep within Israel's Judean Desert, 400 meters above the Dead Sea. The 840-acre complex is now an Israeli national park and a UNESCO World Heritage Site.
The siege of Masada was one of the final events in the First Jewish–Roman War, occurring from 73 to 74 CE. The siege was recorded by Flavius Josephus, according to who, the long siege by the troops of the Roman Empire at Masada led to the mass suicide of the Sicarii rebels and resident Jewish families of the fortress. This romantic account by Josephus has resulted in Jews regarding Masada as a place of reverence, a symbol of resistance against oppression.
I found the visit to Masada very exciting, starting from the ride up in the cable car to the winding walk along the ruins. It transported me back to a forgotten era, as I relived the painful history in my mind. The ruins include King Herod's Palace, spread over 3 rock terraces, and a Roman-style bathhouse with mosaic floors among others.
Ein Gedi is a waterfall and an oasis located near Masada and the Qumran Caves. It is also a popular hiking spot in Israel. There are trails along waterfalls, springs, caves, canyons and an early Bronze Age temple. More on the entry details and trails here.
The Dead Sea was a bit of a downer because it was teeming with tourists but it was still fun to float in the hypersaline waters and lather its mineral-rich black mud, hoping it would tighten my ever enlarging pores. The Dead Sea is apparently the lowest place on earth, 428 meters below sea level. It is a landlocked salt lake between Israel and Jordan.
Sandeman, Abraham Tours, and Egged Tours conduct tours which cover this itinerary.
Day trip idea 3: Nazareth, Tiberias, and Sea of Galilee
Cover all the Christian highlights on this tour.
Nazareth is the capital and the largest city in the Northern District of Israel. It is known as the Arab Capital of Israel (source: Wikipedia). The key visiting point in Nazareth is the Greek Orthodox Church of the Annunciation, first established in Byzantine-era, rebuilt during the crusades.
Tiberias and the Sea of Galilee: Tiberias is considered one of Judaism's four holy cities, founded around 20 CE. It is located at the west side of the lake of the sea of Galilee. Interesting places to see are: the Sea of Galilee, Domus Galilaeae, the hot springs of Tiberias (Hamat Tiberias), and the Roman ruins at Bereniki hill. Some more fun things to do at Galilee if you are heading out on your own.

Abraham Tours and Egged Tours conduct tours which cover this itinerary.
Where can you stay?
Abraham Hostel: Located at the centre of the city, with some fantastic tours and traveller companions.
Alon Hotel: Central, cosy and reasonably priced.
How to get to Jerusalem?
To get to Jerusalem you will need to first land in Ben Gurion Airport Tel Aviv. Take a Sherut or a shared taxi to reach Jerusalem. They usually wait right at the airport. A sherut leaves every 30 minutes or so and also runs on Sabbath. There is also a shuttle bus (485) that links Ben Gurion Airport to Jerusalem every hour. It costs 4€ and takes approximately 1 hour to reach downtown Jerusalem.
And finally, some sad happy moments.