Guest post by Reshma Rajendran of Kosha
The much-awaited winter vacation in Europe is here!!!
Yay!!!
So, you've booked the flights, you've booked the hotels, got the visa ready, all your shopping is done, and now all that remains is to actually make the trip.
Oh, but wait.
You'll need to pack for the trip.
But it's not such a big deal, eh? Because you've already shopped.
Or have you? Do you have enough? Because… errr… doesn't it get VERY cold in Europe?
If this is your first time travelling to Europe, or even if it's your umpteenth, here's a list of packing essentials for you, because you know how bone-chillingly cold it can get.
Base Layer
When in doubt, always go back to the 'base'ics… meaning… the base layer. Get this right, and you're pretty much primed.
Since the temperature is going to be close to subzero, you would need to wear an additional layer of clothing beneath your regular clothes. That would be the 'base layer' or thermals. A base layer provides warmth and keeps the body dry. Since a base layer is also closest to the skin, opt for a comfortable thermal set that can be worn under your clothes, avoids bulk, and is soft to touch.
Choose your thermals based on the destination you are planning to visit. For temperatures above 5℃, choose cotton or wool blend thermals. But for temperatures below 5℃, opt for a wool thermal. Merino wool thermals are perfect for sub-zero weather. They can also act as your hiking or skiing base layer if you are into recreational sports.
Sweaters & Sweatshirts
Once you've packed the thermals, it's time to choose the externals.
Depending on the purpose of your trip and the style you want to adopt, you can choose between a sweater and a sweatshirt. Since this is something you'll wear over your normal clothes, you'd want to pack two or three of them so that they do not repeat in your photos

, and also, you do not want to wear a dirty sweater or sweatshirt on your trip, do you?
If you're travelling for business, the sweater is the ideal option. But if you're more of a casual backpacker, sweatshirts are more apt. Choose travel sweatshirt with lots of pockets. These are fun, laid back, comfortable, and practical.
Jackets & Coats
Jackets and coats are a must when you are packing for any winter vacation in Europe. They provide protection from the external environment and best if they are waterproof/windproof too. The waterproof ones come especially handy in countries like Amsterdam , Norway, Iceland, which get heavy rainfall. If the region you're travelling to gets snowfall, buy something thick and padded like a puffer or a parka jacket. If you're a fan of outdoor sports, you might need a trekking or skiing jacket based on what you're looking to do. Gosh, so much to think of!
Beanies & Scarves
They are easily forgettable but necessary packing items for a winter trip. Remember, NO exposed parts, if you want to stay comfortable. Use a woollen cap to protect your head from the cold. It would also help to keep your hair in place. The photos, remember? There are several options in beanies or reversible wool balaclavas that look good and are super comfortable.
The throat also needs protection from the harsh winter, the most if you ask me. Pack a trendy woollen muffler or scarf. If you want to use just one or two for the entire trip, go for some classic colour like black, blue, or grey. You can pull it off with almost all attires and you will save lots of packing space.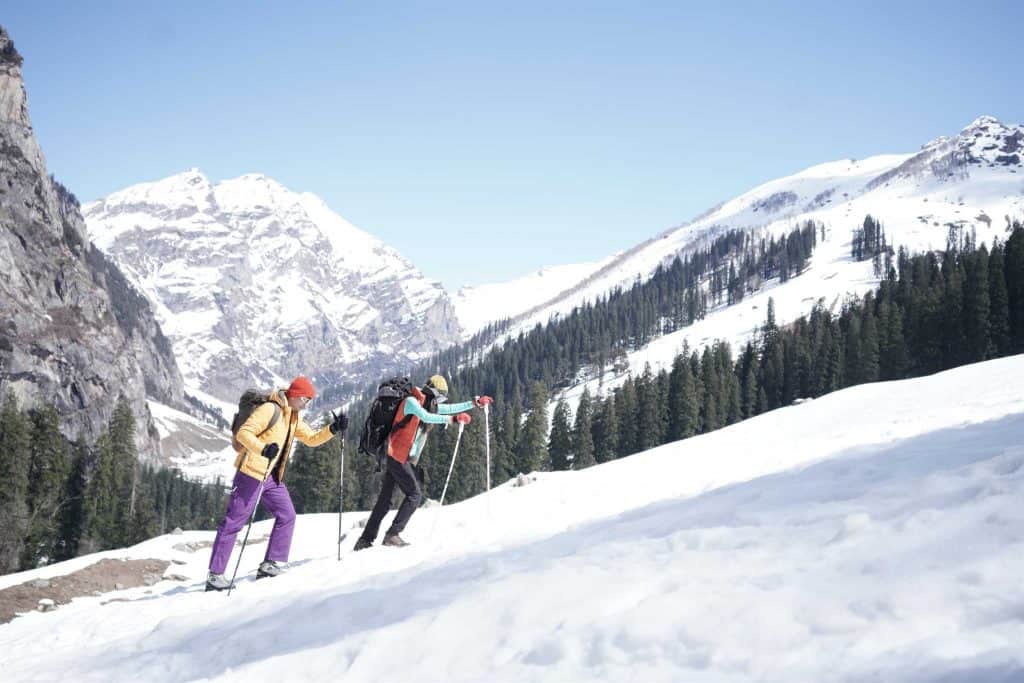 Gloves & Socks
Your hands and feet are probably the parts of your body that get exposed to the cold the most. So do not forget to pack a sturdy pair of hand gloves and your warmest woollen socks. You've got to keep in mind the dexterity of your gloves because you're obviously going to be using your hands to click pictures, use your phone, and well… for other things too.
If partaking in snow sports, don't forget to add technical socks to your packing bag. It should be comfortable with high breath-ability.
Now that you're done packing and your bags are bursting at their seams, do not forget to include the other must-haves: your passport, visa, cash, first-aid kit, phone, chargers, batteries, and your IDs. Best be over-prepared in a foreign land than not. Have a lovely holiday!
More on travel:
Can introverts travel solo? Yes, they can.
How to prepare for long term travel?