It is contrarian to travel to the Himalayas in winter but given the year we are in (Covid-19!) and add the fact that we expected the mountains to be tourist-free in the freezing cold, it didn't seem like a bad idea at that time. Fortunately, it didn't cause me much pain, even in retrospect. And I have so many gorgeous memories!
Here's a nifty 10-days fun and offbeat itinerary you can use next time you are in Uttarakhand in the winters. Mix it up and see where it takes you. We did just that: our trek was a last-minute decision, and later, we hired a bike and booked places overnight as we rode along. Because it was low season, it wasn't hard to find rooms. But beware the (cheaper) hotels will not have heating or hot water. It was fun for me: no bath for days!😈
Hello. Don't be disgusted. That's the last I talk of it. Read the 10 days offbeat Uttarakhand itinerary below made with Rishikesh as a base.
Day 1: Land in Dehradun, see Haridwar
If you land at Jolly Grant airport, it will work cheaper to hire a taxi at the airport (At the time of writing this, neither Uber nor Ola came inside to the airport) to take a brief detour to Haridwar before you head to Dehradun for the night. A taxi ride to a hotel in Dehradun will cost you about INR 1000 (USD 14). A day trip to Haridwar will cost INR 2500 (USD 34) for 6 hours with fixed places to go.
Places to visit in Haridwar
Mansa Devi Temple is a Hindu temple dedicated to goddess Mansa Devi and located at Bilwa Parvat in Southern Himalaya. 'Mansa' means 'as wished' and so it is thought that the goddess fulfils the wishes of her devotees. Chandi Devi Mandir is a Hindu temple dedicated to Goddess Chandi Devi, built-in 1929. Both Mansa Devi and Chandi Devi temples are Siddh Peeth i.e. they grant the desires of worshippers. Going to both temples cost INR 300 (USD 4) depending on the season. This includes the ride over the Udankhatola or the 550-metre ropeway, which to my mind was the most fun part. The temples are usually are operational from 9 am to 5 pm and close for lunch (usually 12-2 pm). Beware of the monkeys and keep your bags and food items close to you.
Har ki Pauri: believed to have been built in the 1st century BC by King Vikramaditya, 'Har Ki Pauri' quite literally means, 'steps of Lord Shiva'. Scores of pilgrims visit every day to bathe in the Ganga and witness the aarti in the evenings. Another experience to partake in, if you're lucky, is the Kumbh Mela that happens once every twelve years. We saw the preparations afoot for the mela scheduled in 2021. It is expected to start January 14 and will continue till April 2021. Now, that will be something!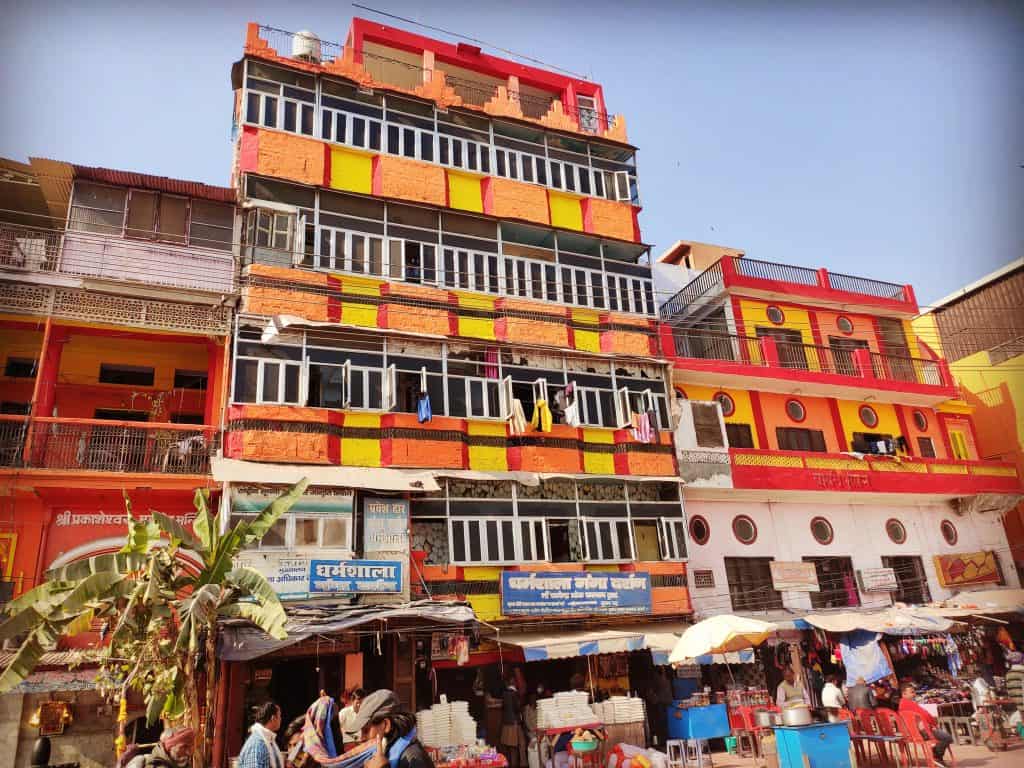 If you want to spend more time at Dehradun, places to visit in Dehradun are as below. It may make sense to hire a car for a day to see these. A car with a driver can cost anywhere between INR 3000-4000 (USD 40-50) for about 8 hours.
Robber's cave: also called Guchhupani, it is a river cave located at 8 km from Dehradun city. Walk in knee-deep water through a half kilometre stretch. Costs INR 35 (USD 0.50) to enter. Put aside an hour to enjoy.
Cruise through IMA: You cannot enter the Indian Military Academy grounds but ask your driver to slowly cruise past the edifice. Established in 1932, the officer-training academy of the Indian Army is an institution of sorts. On completion of their course at IMA, cadets are commissioned into the army as Lieutenants.
Shop at Paltan Bazaar: For cheap clothes and local food. Around 2 km long, the market starts from the clock tower and ends at the railway station. Prepare for crowds.
Take a Safari at the Rajaji National Park or visit the Malsi deer park
Visit local temples such as Tapkeshwar Mahadev or Rudreshwar Shiv Mandir
Been There Doon That: A community of local walkers that organize interesting walks around the city. Link.
Where to stay in Dehradun
Because my visit was only overnight, I opted to stay close to Dehradun railway station/bus stand. There are plentiful and fairly inexpensive options to stay on the otherwise chaotic roads. Oyo has several hotels. Mango Tree Courtyard is another good option.
Days 2-5: A Himalaya trek with Dehradun as base
There are only a few short treks that take place in winter; the trek to Kedarkantha summit is the most popular. Kedarkantha is a mountain peak in the Himalayas, Uttarakhand at an elevation of 12,500 ft. To climb the summit, one needs to start from a small village called Sankri. Although touted as suitable for beginners, the trek is not easy, and the going can get steep and troublesome for the knees. But I could do it, so could anyone with a moderate level of fitness. The frozen lakes, clearings, and forests on the way are sights to behold.
I'm back now after four back-breaking, body- numbing, exhausting, yet… wait for it… ENTHRALLING days. Where our waking moments were not consumed by how many people were infected by Covid last night or the new strain that had come to India from the UK, but rather… how to push inside first and later extract ourselves out of our sleeping bags, how to beat the snow out of the flaps of our submerged tents, how to make our fingers move to tie the laces of our shoes, if we had hot water to wipe our faces with, had the stream melted to provide us water in the first place, how early should we wake up to get access to the appalling hole in the ground toilets, learning to hold our pee in while we sleep because wading through the dark in knee-deep snow was going to be no joke you know…
Do I regret it? Only slightly. I'm going to no longer do a winter trek in the Himalayas. It's freezing cold and the amenities are quite basic. I'm city-bred and soft. I don't care to be hardened up anymore. Too old for it.
Or maybe I might do it again. Who knows.
Because it's surreal to trek in falling snow where the surroundings are no less magical than Narnia or Game of Thrones where Winter Has Come. I also learnt one can get through most things. Mind over matter. Where there is a way, there is a will.
I regretted many moments during the trek. I cried and wanted to go back. My knees gave up many times. But now when I look back I feel quite… wait for it… FULFILLED.
Thinking too much may rob one of life-changing experiences.
To book a winter trek, check out the organizers below:
Some tips for the trek:
Ensure you take the following with you: Good technical clothes, a great pair of trekking shoes, head torches, wet wipes. See what the trek organizers recommend on their website and do not skimp on the things to take
Check what the trekking organizer offers: double/triple/quadruple occupancy. Opt for double occupancy if possible because in peak season there are more people trekking than budgeted for and the tents are too small to accommodate excesses. People are often dumped in together which can get claustrophobic.
Check on the toilet situation i.e. how many are promised per traveller. Toilets are hole-in-the-ground and not too savoury for the squeamish. Carry your own toilet rolls and wet wipes. And be prepared to wade through knee-deep snow to get to one and stand in queues.
Where to stay in Sankri
Sankri or Saur village is the gateway to several Himalayan treks. It is 7 hours (200 km) away from Dehradun. Perched at 6,455 ft above sea level, it is a good enough place to explore for a day or two. Do note though that mobile connectivity is patchy and living conditions basic. My stay at Sankri was organized by my trek organizer at Meraki. Bathrooms were shared and rooms were basic. But it was good enough for the price (~INR 2000/ night for double occupancy during peak season)
Day 6-7: Rishikesh
Rishikesh was a delight. I thought it would be much like Varanasi but it was so much better! Cleaner and (perhaps because of the year we are in) crowd-free.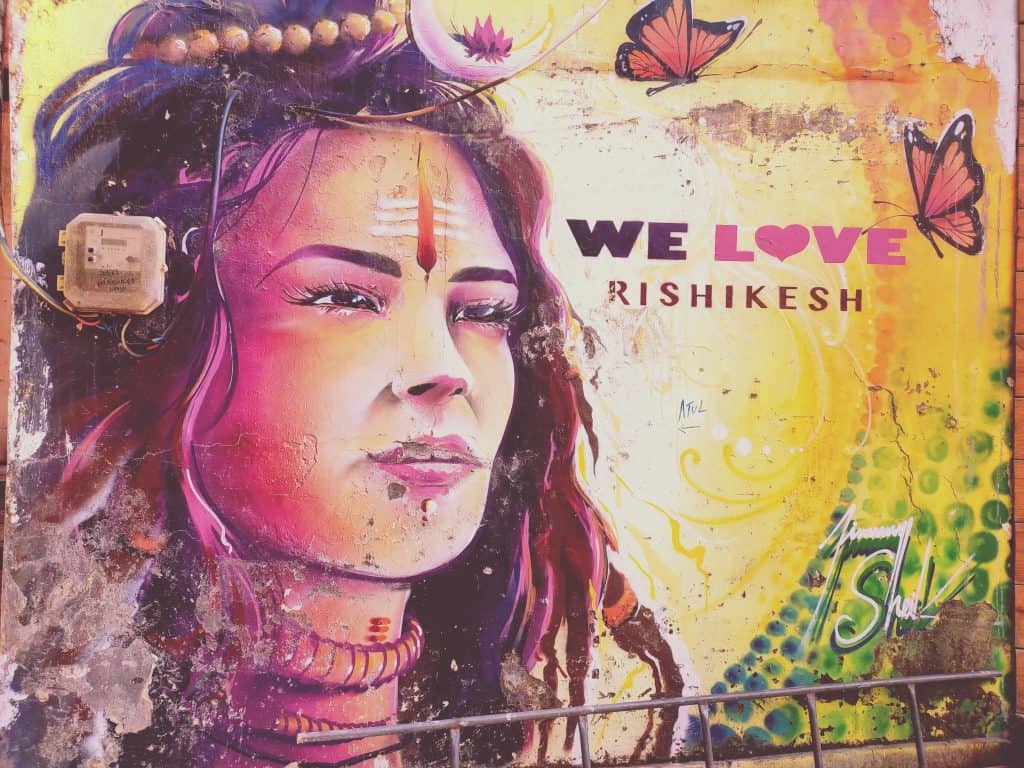 Rishikesh lies 25 km North of Haridwar and 43 km southeast of Dehradun. It is a pilgrimage town and a holy place for the Hindus. Legends state that Lord Rama performed penance here for killing Ravana, the asura king of Lanka; and Lakshman, his younger brother, crossed the river Ganges, using two jute ropes at the point where the present 'Lakshman Jhula' stands today. There are in fact three bridges in Rishikesh named after the characters of Ramayana: Lakshman Jhula is the most famous and iconic, followed by Ram Jhula; both are iron suspension bridges (which sort of shake 🥴 when you walk over them). There's also a modern Sita Jhula which is open to two-wheelers.
Where to stay in Rishikesh
Kunwar Residency: We loved this property. If you can, book the Deluxe Premium to stay a stone's throw (quite literally) away from Lakshman Jhula. Many balmy evenings were spent, including New Year's Eve, on the couch outside the room, basking in the great weather and admiring the glittering bridge. We exchanged new year wishes with the sleepy cows and excited revellers on the bridge when the clock struck 12.
Other options that looked good along the road are Holy Water by Ganga Kinare (fancy!) and Antalya.
Although Tapovan (where Lakshman Jhula is) is where most of the action is, tourists also prefer to camp by the river or live in an ashram. the former gives an opportunity to indulge in more water sports, stargaze and live close to nature. The latter allows time and space for physical and mental well being. Both are inexpensive and exciting alternatives I will surely try the next time.
Cafes to visit in Rishikesh
Little Buddha Café: With great views and sumptuous food, this place is a must go. Service can be tad slow so keep plenty of time at hand. As with most hill towns in India, Israeli food is popular in most cafes. We tried the 'Shakshuka All' and returned impressed. The coffee was impressive too.
Devraj Coffee house: The next best view, right underneath the hotel we were staying at. The place has great coffee, desserts and even Indian fares. We loved the cakes and parathas. It is usually easy to find a table.
Ganga View Café: Another one with a great view and good food.
White water rafting in Rishikesh
While the elderly visit Rishikesh for its religious significance, youngsters associate Rishikesh with white water rafting and other adventure sports (Flying Fox, bungee and cliff jumping among others). The Ganga river is especially good for white water rafting at Rishikesh because it is located at the foothills of the Himalayas and the current is just right.
Although white water rafting providers are dime-a-dozen around Ram and Lakshman Jhula, and you can go with any one of them without a hassle, Red Chilli Adventures are professional providers you can check out. They operate a 25km rafting trail that runs in the morning (10 rapids, INR 1500 per head), and the 16km trail that runs more often (7 rapids, INR 1000 per head). For the rest, the usual cost is ~INR 500 for a 16km trail (+INR 200 for wetsuits).
Urban Exploration at Beatles Ashram
Now… the Beatles Ashram was an interesting visit for several reasons. It allowed some urban exploration (the activity of exploring man-made structures, especially abandoned buildings not generally open to the public) because the ashram is basically a well-maintained expanse of ruins from the 1970s. It had plenty of interesting graffiti for photo ops and wow moments. It also opened my eyes to the scandal surrounding their stay in India.
Set inside the verdant campus of Rajaji Nature Reserve, about twenty minutes away from Lakshman Jhula, is the Beatles Ashram, also known as Chaurasi Kutia. During the 1960s and 1970s, the ashram was the training centre for students of Maharishi Mahesh Yogi, who devised the Transcendental Meditation technique. The ashram gained international attention between February and April 1968 when the English rock band the Beatles studied meditation there, along with celebrities such as Donovan, Mia Farrow and Mike Love. Fans and artists have left interesting artwork inside. There is a tiny museum with a photo display of the years the Beatles were there, taken by. The museum is flanked by a canteen where you'll be blessed if what you've ordered comes within the hour 😋 .
The most interesting edifices at the site are the series of meditation domes which may have been used for meditation or for their impressive acoustics. They look like alien houses.
Temple hopping with evening aarti at Triveni Ghat or Parmarth Ashram
Usually, the Ganga aarti takes place between 6 – 7 pm daily at Triveni Ghat and Parmarth Ashram in Rishikesh. Triveni Ghat is the largest and the most popular ghat in Rishikesh but it is crowded and a slight mess. It is believed that this is where Lord Krishna died, hurt by the arrow of Jara – the hunter.
The aarti at Parmarth Ashram is probably a better bet for those seeking more comfortable surroundings and a better experience. The area around—Main Market Road, Ram Jhula, Swarg Ashram—also offers other pastimes such as interesting shops, chaat shops and bookstores.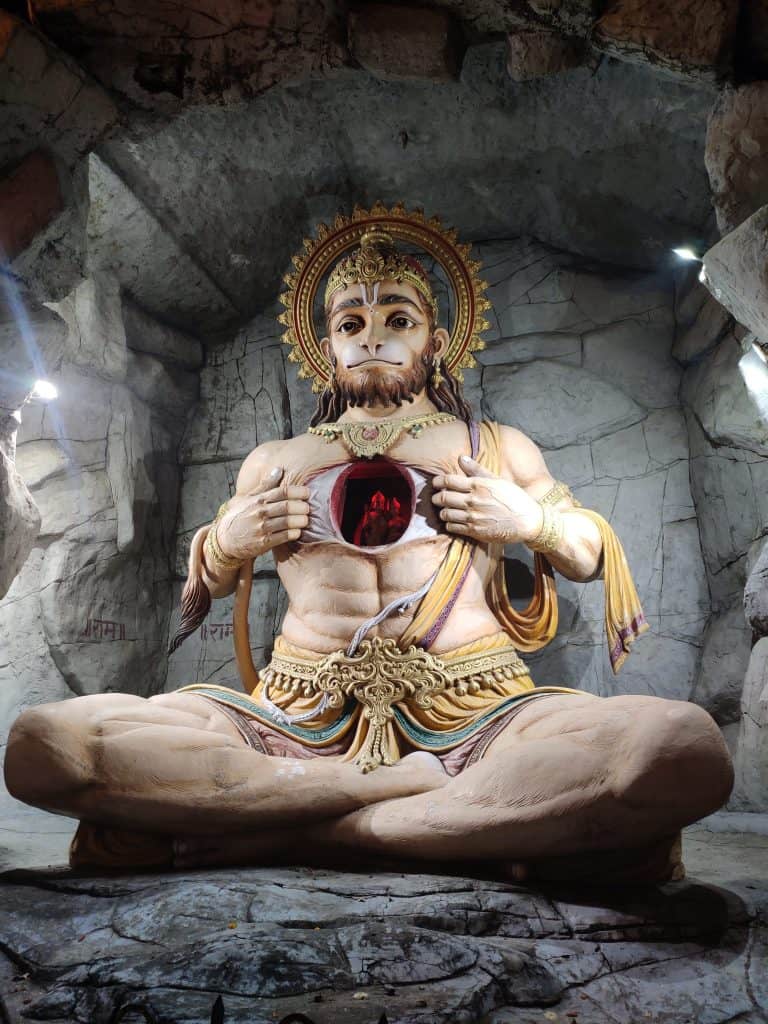 Other options: Yoga and meditation courses if staying for a longer period. They are plentiful in every nook and corner.
Days 8-10: Bike-trip through the Garhwal hillside towns from Rishikesh
A popular route from Rishikesh is to do the Chopta circuit i.e. Rishikesh >> Devprayag >> Srinagar >> Rudraprayag >> Chopta >> Joshimath >> Auli and return. This is an itinerary for several days if you have the time in hand (about 5 days with stops in between). Chopta is also a base for trekking to Tungnath, third temple of Panch Kedar, which lies 3.5 kilometres uphill. The Chopta – Tungnath – Chandrashila trek is a famous destination for travellers.
We made our own shorter cruising route: from Rishikesh >> Devprayag >> Pauri >> Lansdowne >> Kotdwar >> Rishikesh which was for 3 nights.
Devprayag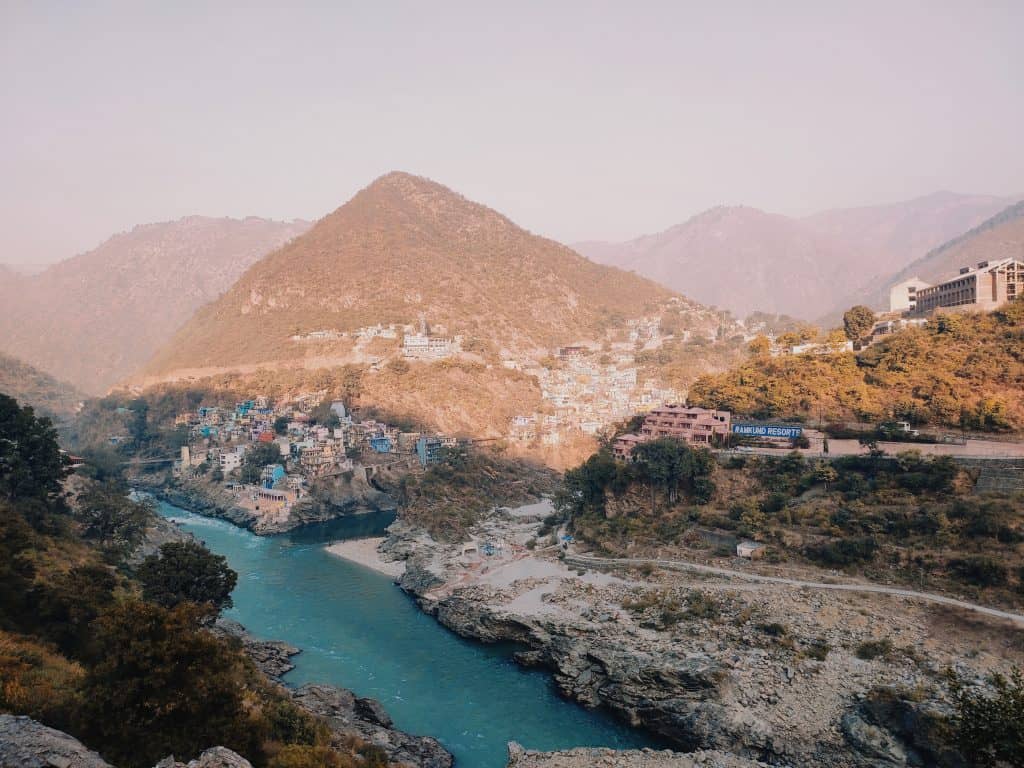 Devprayag in Tehri Garhwal district is one of the Panch Prayag of Alaknanda River where Alaknanda, Saraswati River and Bhagirathi rivers meet and take the name Ganga. It is one of the five sacred confluences in the hills and is an important place of pilgrimage for devout Hindus. Literally, Devprayag means 'Godly Confluence'. The confluence and a couple of temples are worth a visit. Otherwise, just move along to Pauri.
Pauri
The district of Pauri provides some stunning panoramic view of snow-covered Himalayan peaks, such as those of Nanda Devi and Trisul. Winter also witnesses snow-embellished tall pines and orange laden shrubs that reminded me of the Amalfi coast. Khirsu and Satpuli are other spots for a quick visit. The Kandoliya temple is impressive. Overall, a good stop to sit back and admire the dense forests of pine, oak and deodar trees and the thick mist riding up snow-clad mountains.
Where to stay: Mumushku. Don't expect excellent service but the views are fabulous and the rooms well done up. The food is great too.
Lansdowne
The quaint town of Lansdowne was founded as a military garrison under the British Raj. The Garhwali Rifles regiment of the Indian Army still trains in the town. Places to visit are the colonial-era St. Mary's and St John's Churches, Tip-n-Top viewpoint, Bhulla Tal (an artificial lake), the Garhwal Rifles Memorial museum (which we couldn't quite locate but I was very interested in). You can go on impromptu trails in the largely unspoiled terrains around.
Where to stay: Windsor cottage which is at the start of Landsdowne and if you want to go fancy: LaHermitage at the other end. SB Mount and Kasang are others we were considering until the end.
Kotdwar
Literally translating to 'Gateway to Garwhal' stay here only if you're tired and would like a pillow to rest your head on. There is not much to do in this chaotic city otherwise.
Where to stay: Hotel Grand Kailash
How to travel in and around Rishikesh
Bikes can be hired for INR 500/day (Vespa) to INR 1000/day (Royal Enfield 350-500CC)
Bikes can be hired from the shops along Lakshman Jhula or via rentrip
Alternate Day 6-10: Mussoorie as a base; Dhanaulti, Landaur and Kanatal as day trips
Located about 1.5 hours (50 km) from Dehradun, the town of Mussoorie is considered as the 'Queen of the Hills'. It lies at 2,005 metres (6,578 ft) above sea level. In winters it frequently gets a good amount of snow and thus is a sight to behold. Popular places to visit in Mussoorie are Mussoorie Lake, Camel's Back Road, Kempty Falls, Gun Hill, Mall Road and Lal Tibba. Popular day-trips are to Dhanaulti, Landaur and Kanatal, each about 2-3 hours away.
More fun mountain itineraries are here and here.
Or plan a trip to Parvati Valley in Himachal Pradesh, a backpacker's paradise.