Transportation options in Romania for solo travellers who don't want to drive
Romania is best seen in a rented car. The roads are good and the countryside drives are amazing. The traffic can be unpredictable though and the driving sometimes rash. Honking and overtaking is common. Also, be careful while parking; parking in the city centre is usually paid and parking illegally (unknowingly) may lead to heavy fines.
I did not want to drive in Romania. So public transport it was. Which wasn't always seamless and easy, but it was plenty of fun figuring things out.
Here are what I thought were the best ways to travel around Romania solo.
Trains
Trains provide a good panoramic option to travel between Romanian cities. Usually, they are timely and clean too.
I've had mixed experiences with travelling in Romanian trains, so here goes.
Bad: I found the process of booking and travel a hassle when I did it between Bucharest and Brasov. I waited in the queue at Bucharest Nord for almost an hour with people cutting queues, until on my turn, I was told tickets to my train were sold out. I bought a 'standing ticket' and sat next to the toilet for most of my 3-hour journey, being pulled up by the Ticket Checker later for doing so. I finally did find a place, in the last 30 minutes leg. Lesson learnt: Reserve online.
Good: On the other hand, my ride from Sighișoara to Sibiu was a dream. I booked online, having learnt from my last experience. The train was stopping over at Copsa Mica. The fare for the 2-hour journey was 27 lei (while the minivan was costing me 95 lei and the shared cab ride through Mydaytrip cost me 10 euros or 45 lei. Both would have taken an hour less to reach though)
Register yourself at CFR Calatori
Get the tickets online because the queues on the station can be serpentine. You also risk not getting a confirmed seat
The tickets can be shown on the mobile. There is no need to get them printed. Carrying a form of identification (like a passport) is recommended although they never checked mine
Choose the IR trains; I believe they are the only ones that can be selected online
My Amex cards were not accepted online
Choose the time you want to travel to get the correct tickets
While a cheap option to travel between cities, trains do take longer than a car or bus. There are plenty of stops and changes to contend with
This is a good guide on Romanian trains by Romanian Insider.
Buses
Buses provide a bumpy ride and are usually also delayed by 15 min to 30 min; road traffic plays havoc with their schedules. But they connect better and run with more frequency.
Check the timetable at Autogari
Go to Autogara (bus stop) and wait at the correct platform
Pay the driver the amount; he may or may not give you a receipt for it. In any case, ask for it
If he does give you a paper ticket, do not throw it away until the end of the journey
I didn't try an online booking. Paying the driver was easy enough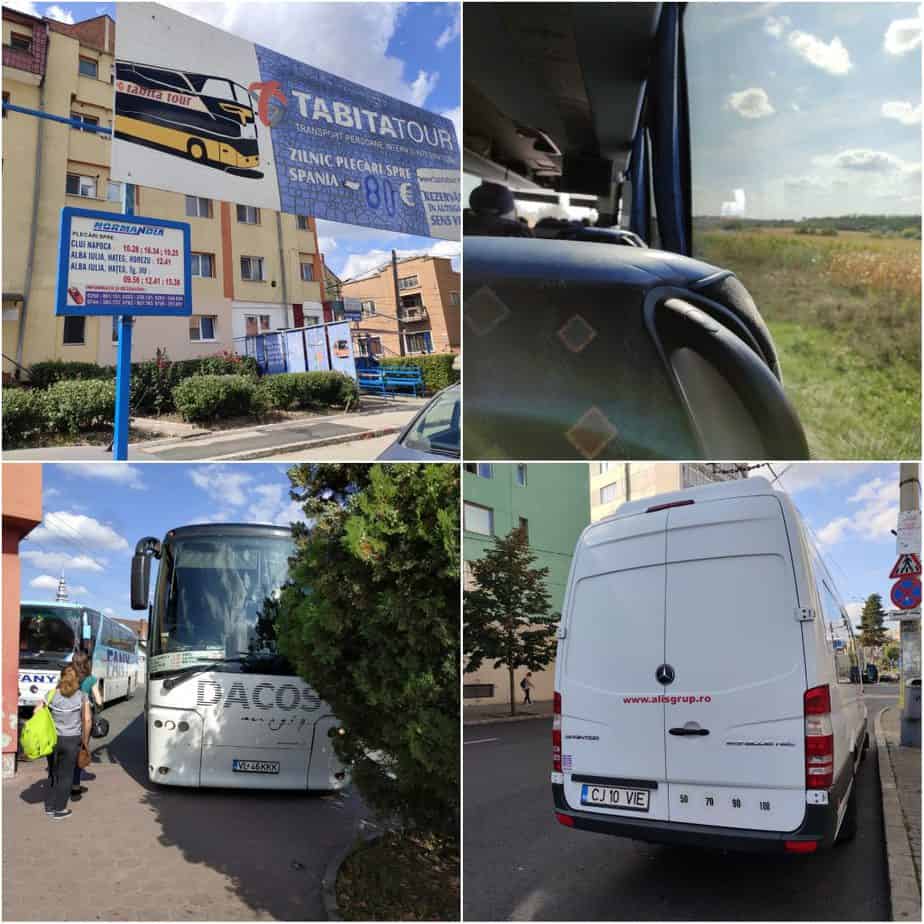 Bla Bla Car
Register yourself on the app
Most payment is cash only
The timing put up by drivers is approximate. You may need to discuss with drivers if you have time constraints. The time may change last minute with no recourse
It is possible to be picked up and dropped at desired locations especially if it is the city centre. Request your driver. I got dropped off each time next to my hotel which was in the city centre
As an example of prices: a trip between Brasov and Cluj cost my 45 lei and 4 and half hours with door to door pick up and drop. A trip between Cluj and Sibiu cost me 20 lei and 2 hours.
Day driver hire
This is possible through Mydaytrip. This is an expensive option but if you have no other choice, it's a good one. I took a shared trip with a group of two more from Sibiu to Sighisoara in a hired taxi which cost me 10 euros.
Travelling inside cities
Uber and Bolt work best. I used them liberally in Bucharest, Brasov, Cluj, and Timișoara. Download the apps and travel hassle-free. Buses work well too but are known to be slower, infrequent, and connections not too helpful.
If you have to travel by local taxi, be sure to check if they are from a reputed taxi company before you get in and go only by the meter. Check the rate per hour on the door of the taxi before you get in. For example, in Brașov, I had to take a taxi from the train station. I was being approached by touts asking for 50 lei for a trip to the city centre. But I had been advised to look out for the legitimate taxi operators: Bratax, Martax, RO Taxi, TOD Taxi. It finally cost me 10 lei to get to the centre! The cost per km on the door was 1.53 lei/ km.
A tourist told me about Clever Taxi, a taxi-hailing service which worked well for her. Try it.
Tours
I thought Romania was not prepared for solo travellers at all. Almost all the day trips advertized online were for groups or for couples. I think I had the most trouble while checking for a Transfăgărășan road trip in Sibiu. How I found something, in the end, was to write to all Tripadvisor listed tour operators and ask to join a tour booked by another group, if they were willing to have me. I managed to pay €60 for my trip (which included other stops and tickets), while the solo price would have been €120. Sigh. I know, right?!
For a comprehensive Romania itinerary, go here.
Now that you know how to travel, visit these cities in Romania: Bucharest, Brasov, Cluj Napoca, and Timisoara.