Awesome things to do in Ubud, Bali
Ubud has changed a lot since I went there in 2010. It used to be once the cultural heartland of Bali, not high on a tourists' must do, and relatively separated from the more frequented Kuta, Seminyak, and Nusa Dua. Also, because Ubud does not have a beach next to it which used to be the primary reason tourists came to Bali for. But how Ubud has changed! Lush fields, homestays, and temples have now turned to health cafes, co-working spaces, and wellness retreats. Today, the town seems to exclusively cater to foreigners. You'll love it, if you're not a puritan, or haven't been to the Ubud of the past. Here is a list of awesome things to do in Ubud, Bali.
Stay at Tegal Sari
We stayed at the lovely Tegal Sari.
Bali is not short of amazing places to stay, even on paltry budgets, but Tegal Sari was resplendent without making you dollars poorer. It's fantastically located, right next to the Monkey forest, yet in a quiet, tucked in a corner. The rooms are aesthetically done and spotlessly clean. We stayed in the suite room (East side) which had a view to the paddy fields (not too lush in October though), later moving to the Nyalian room, smaller but still good.
Night starts at USD 25/ room
Have lunch with a view
Spend an afternoon relaxing at Cafe Lotus and gawking at the temple you can view in its full glory from there: Pura Taman Saraswati. A great view, though the food and drinks at the cafe are passable.
Pura Taman Saraswati is a classical Balinese temple that provides some gorgeous photo opportunities. Entry is free although appropriate clothing is recommended. Regular Kecak dance performances take place at the temple. The temple is open from 07:00 – 17:00 and dance performances start at 19:30 and cost IDR 80,000/person or USD 6/person. You can also watch it for free from Cafe Lotus but there's a cover charge of IDR 200,000 or USD 14 and reservations are necessary.
Cafe Lotus is located on Ubud's bustling Main Road (Jalan Raya), between Ubud Palace and Museum Puri Lukisan.
Try a drop-in yoga class
Yoga has been bastardized and commercialized in Ubud and how! The original tenets are so muddled. But what the heck! If it works, it works. Try a session of yoga at Yoga Barn or Radiantly Alive. We enjoyed the Kundalini Yoga class with Greg at Yoga Barn. It was a great experience and recommended. Costs about USD 10 for a drop in, and cheaper for longer term packages.
Lounge in a cafe
There are plenty of awesome cafes and places to hang out in Ubud. My favourites were Atman, Anomali Coffee, Kafe, Tukies Café (the coconut ice-cream, so yum). The breakfast at Cafe Wayan & Bakery was great. Especially, the black rice pudding.
But our top picks were Habitat Café at the entrance of the Monkey forest and Monsieur Spoon on Hanoman road. Both so good! Seniman Coffee Studio is also very popular and I adored their coffee. The service was nice too, although, in Ubud, it is hard to find a place where people are not nice and helpful.
Here is a list of coffee shops in Ubud, all really good.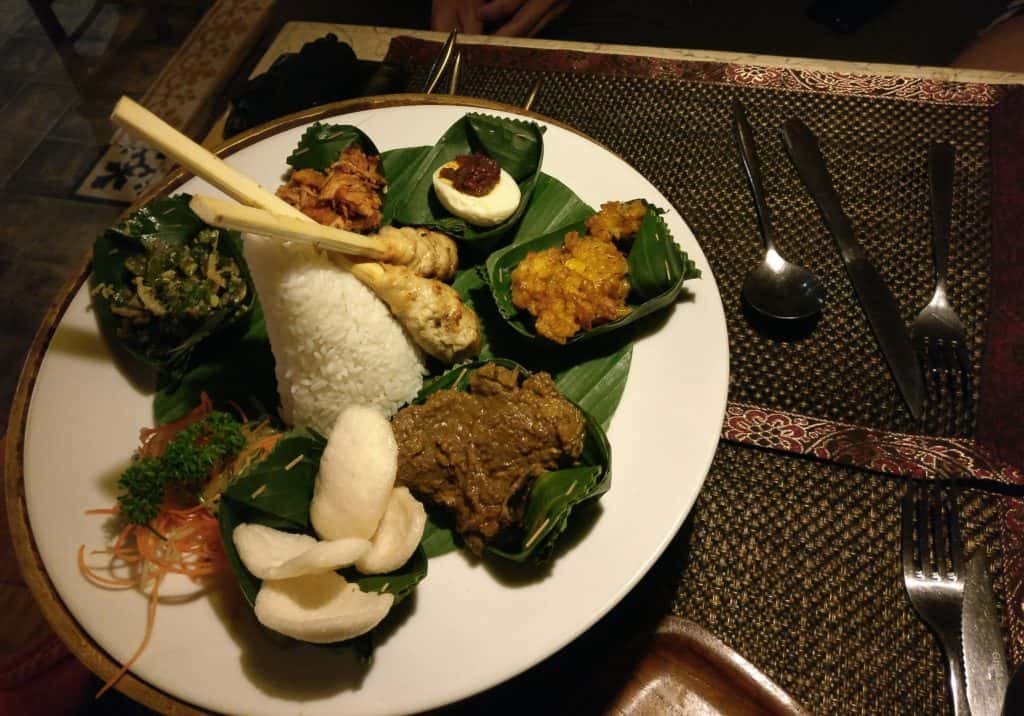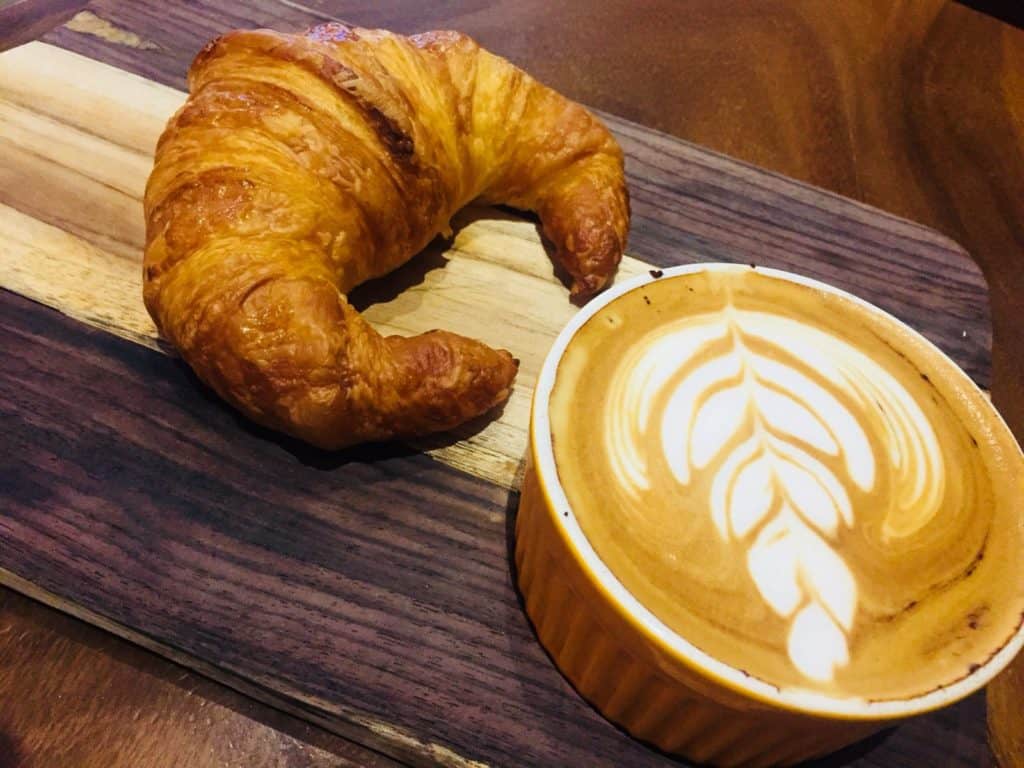 The Art Market and Royal Palace
The Puri Sayen Royal Palace is the palace for the Ubud Royal family. It is free to enter and look around the temple though only a small section is open for visitors. The palace is right in the middle of Jalan Raya Ubud and takes only around 30 minutes to see. I believe one can also rent rooms at the palace to stay overnight. Dance performances are held daily at 7:30 p.m. and tickets are sold at the counter at the entrance to the palace.
Next to the temple is the Ubud art market or Pasar Seni Ubud, where you can pick up gifts and trinkets to take back home. Nothing inspiring but you'll get them cheap. Bargain hard.
On odd evenings, you may be lucky enough to catch a temple procession through the market and the main streets of Ubud. Join them on their trip to the temple. Get the local feels. But be sure to be dressed appropriately.
If you want to engineer such a temple visit, talk to the local temples or plan to be around during the full moon or during the Bali festivals when several such processions and ceremonies take place.
Get a relaxing massage
We spoilt ourselves in a four-hour massage at the Jelatik spa. Time flew and we came out spanking new. This was especially necessary given we had walked into the spa fresh from Mount Batur with cakes of dust and grime on our body and hair. I did not really want to take the effort to clean up and was glad to have someone else do it, with a smile on her face. Costs around USD 75.
Camp overnight at Mount Batur
This was the unique experience I was seeking, and boy, oh boy, did it blow my mind. We used www.balivolcanotrekking.com, paid USD 130 per head for a private overnight trek. You could also do a day trip to Mount Batur (starts at 2 a.m. and return at 12 p.m. the same day) but our experience of watching the sunset, eating freshly cooked fish and soup at 1717 meters, sleeping in the wildly flapping tent, and waking up at 5:30 a.m. the next day, sipping hot coffee, watching the sunrise on mount Rinjini, and watch the sky change colors every few minutes while we waited with bated breath, was quite something else.
What I'd recommend is slowing the experience and actually feeling it rather than rushing because of lack of time.
The climb up Mount Batur is easy enough and takes around 2 hours. You might be the only ones on top and hopefully, you will come across Comrade Tibor, the shaggy dog who would want to play with you. But while the climb up will be quiet and peaceful, sunrise is a noisy time, when scores of morning trekkers will join you in oohing and awing at the majestic sun when it shows up.
We passed the Tegallalang Rice Terrace and a Luwak coffee plantation on the way. Both are lackluster and worth skipping. I'm sure there are better coffee plantations to visit. Also, a civet cat in captivity, for display and near dead, did not get me very excited.
Walk along the Monkey Forest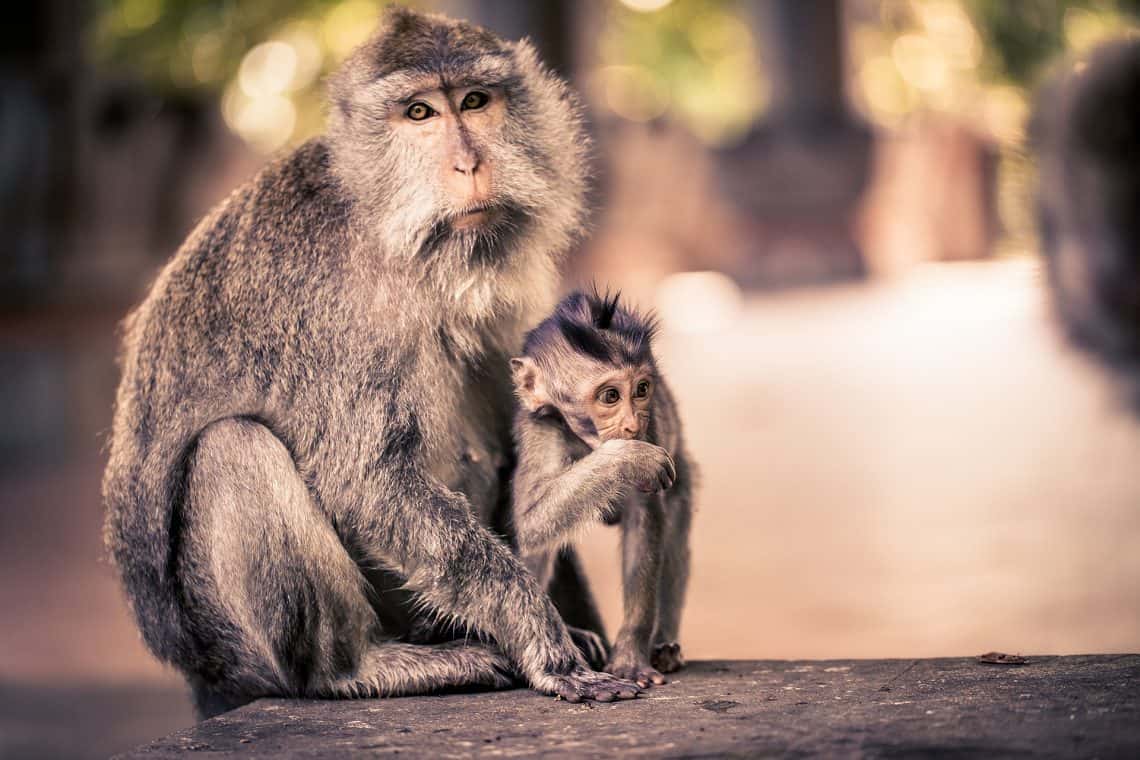 Monkey Forest is a gorgeous way to spend a few hours in Ubud. Apart from being the abode of close to 700 energetic monkeys, it has lush and varied fauna, some interesting stone sculptures, and is overall a pleasant park to walk in. Open daily from 8:30 a.m. to 6 p.m. The last ticket at 5:30 a.m. Adult ticket cost is IDR 80,000 or USD 6.
Habitat cafe is close by, so have your fill of breakfast before, or stop in for a smoothie after.
I got mauled by them monkeys. Yes, exactly that. My bag was torn out of my hands, and the gifts I had bought scattered unceremoniously along Monkey Forest Road. Monkey forest is a delight but the monkeys can be rowdy! Two young ones grabbed my long dress during my visit to the forest. I escaped them; the trick I learned was to keep walking and not carry or wear anything long and grabbable)