How to spend 48 hours in Brno solo
I have to admit I didn't quite like Brno in the beginning, but when I left, I was definitely in love with it. The city grows on you, but you have to be there for the right reasons.
Brno is often touted as the less touristy alternative to Prague, where you can drink and chill, without the stomping, camera-clicking thousands. And that's what exactly Brno is. A place to unwind and chill, the Czech way. There's not too much to actually see and do. It's a cute and cozy city with amazing wine and really lovely people.
So don't come to Brno expecting Prague. Come because Brno is special, and should be enjoyed in its own unique, small-town way.
Brno is the Czech Republic's second-largest city after Prague, with a population of around 380,000 people. It is located in Southeast of the country and is the capital of the Moravian region.
Here's an easy itinerary for Brno. It doesn't include much of drinking and partying because I was traveling alone but does have some recommendations I got from locals. Hope you come to love the city as I did.
1
Czech Koruna
equals 
0.04
Euro. So divide the currency in

Koruna

by about 40 to get the amount equivalent in euro.
Day 1
Take a Walking Tour of the city; get an awesome city map
The 95 minutes free walking tour starts from the Freedom Square and pretty much shows you everything there is to see. As part of the tour, you will see
Náměstí Svobody with the phallic-shaped black granite clock. At 11 a.m. (Brno's fav time, you will know why during the tour), a single glass ball pops out of the clock. People crowd around from much before, sticking their hands in, hoping to catch one
Old Town Hall and the Brno Dragon
Zelný Square with the Cabbage market
The Cathedral of St Peter and Paul (Where the bell tolls at 11 a.m. and not 12, again!)
Moravian Square
and many others peppered with interesting stories and recommendations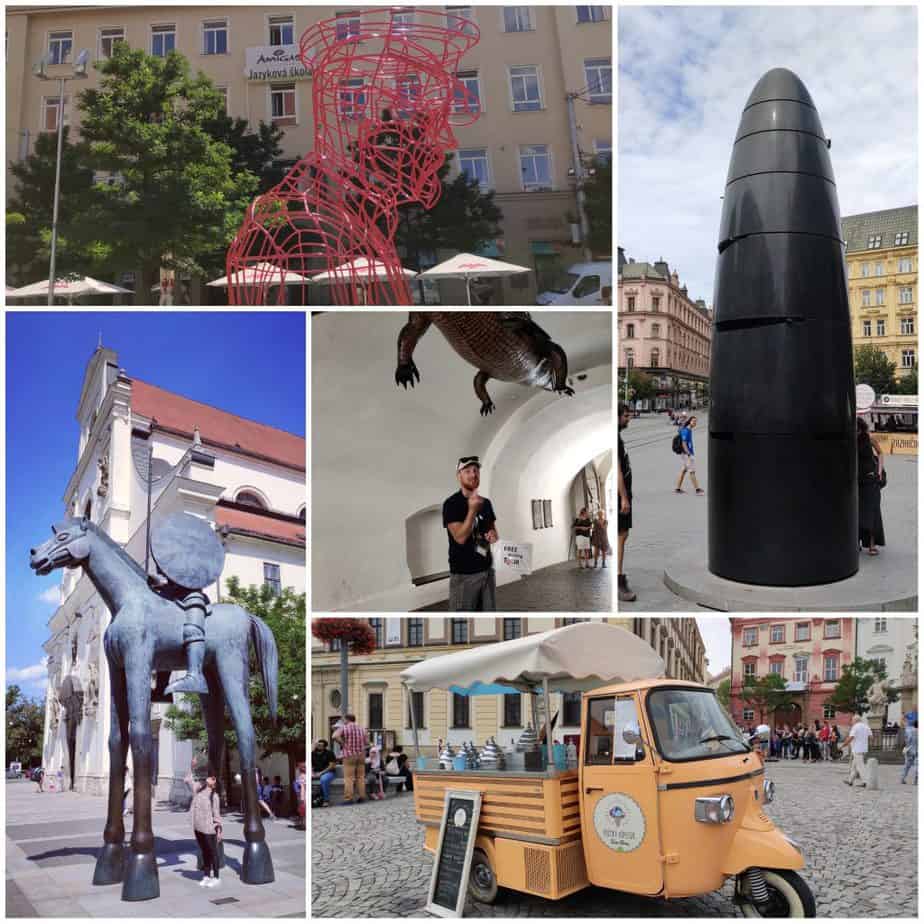 Who: My Tour Brno
When: May-September daily at 11 a.m.
Where: Starts at Náměstí Svobody, next to the weird phallic clock
Stop by one of Brno's fantastic coffee shops
There are several of them in Brno but I enjoyed my hour at SKOG Urban Hub and would go back again in a beat. I loved their sparse modern interiors, very friendly staff, and awesome food. The cocktail they gave me—Farewell—was a mix of boysenberry puree, cold brew, and Giffard bitter syrup. It melted my worries away.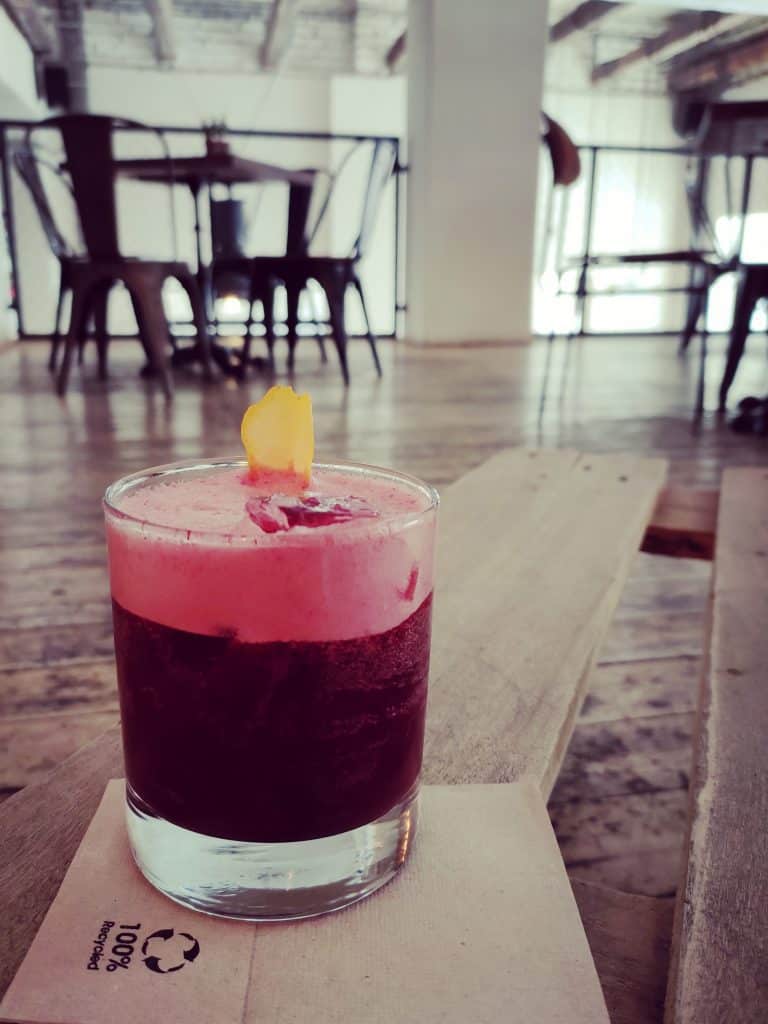 Other cafes to try: Monogram Espresso Bar and Industra
See exhibits at the Moravian Gallery, if open
Brno's Moravian Gallery is the second-largest art museum in the Czech Republic. It has several permanent and temporary displays in four locations across the city: the Pražák Palace, the Museum of Applied Arts, the Governor's Palace, and Jurkovičova vila. This year though, I was informed that all the permanent displays were closed for renovation. That's Brno for you.

Know more: At their website
Visit the Špilberk castle; catch a summer special performance
Špilberk was once a major royal castle and the seat of the Moravian margraves but later turned into a prison for the Austro-Hungarian empire, and later still, barracks. Today, Špilberk houses the Brno City Museum and also functions as a stage for several cultural events.
I found the castle less than impressive, but the views from it were spectacular, especially at dusk. There are a couple of cafes on the castle ground you can visit for some snacks and beer while gazing into the city. The events ongoing were fun too. I attended the Klezmatics Philharmonic as part of the Špilberk Festival (entry: 120 Kč) and the enactment of Day of Brno or Den Brna when the city celebrates the heroic defense of Brno against the Swedish army. It was a fun (and may I add, loud and rambunctious) event!
Before or after you visit the castle, be sure to drop by Zahrada Ambrosia or Cafe Podnebi around the periphery of the castle grounds. A delicious full meal with wine at Zahrada cost me a mere 185 Kč or €7. Cafe Podnebi usually has live music in the evenings, a beautiful seating space, and a great variety of food to top the experience.
Know more: castle website
When: April-September: 9 a.m.- 5 p.m.; Oct-March: Tue-Sun 9 a.m.- 5 p.m. Castle grounds are open all the time
Wine tasting at a Vinoteque; take a PET home
It's not just for beer, but the Moravia region is also famous for great wine, if not more so. Moravia accounts for over 95% of the country's vineyards and therefore, in Brno, you will find a Vinoteque or wine shop every hundred meters. What can you do in a Vinoteque, you ask? Taste all the different types of wine; you can keep requesting for tasters until you get dead drunk or the owners throw you out. If you do land up liking the taste of one particular wine, ask them to bottle it up for you. You can take away great, dirt-cheap wine in a PET bottle and enjoy the high every night of your stay in Brno.
Costs: ~100 Kč or €4 for a liter of Merlot
Day 2
Watch Summer Cinema at Scala, beer in your hand
I admit, watching a movie in a foreign land sounds like a waste of time, but I'm glad I visited Cinema Scala to watch 'Once Upon a Time in Hollywood'. Not only was it a Tarantino (I'd been dying to see his apparently penultimate movie), I got to drink a mug of beer while watching it! Czech style
. This is impossible to do back home in India. Is it allowed in your country?
Cinema Skala run a series of what are called Summer Cinema. This runs from the end of June to end August, takes place in an open-air theatre, and costs about 100 Kč or €4. The location of Summer cinema differs from year to year. This year, for example, it was at the Governor's Palace courtyard.
Though what I watched was their normal cinema. In their cinema hall with normal seats. Because this was the only one going on in English right then (with Czech subtitles). It cost me 130 Kč. I recommend sitting in the first-row balcony, in one of the middle seats (11 or 12) and make everyone stand up as you find your way in

. Spread your wares once seated and treat it like a picnic. Put your feet up if you want. It was fun!
Know more: At their Website
Timings: Box office opens after 4:30 p.m. but you can buy tickets online
Drinks and snacks: At Bar Scala
Get shit-scared at a lit hive of bones
With 50,000 skeletons in the underground crypt, the Brno Ossuary is second largest in Europe, after the Paris catacombs. What is an ossuary? A backup for a cemetery. Where you send skeletons once the grace burial period is over at a cemetery. Like in the Kundera story: Let the Old Dead Make Way for the Young Dead. By the way, did you know, Milan Kundera was born in Brno?
Visiting the ossuary was an interesting experience. Skeletons and bones peep out as embellishments from the walls around. Broken noses, hollow eyes, misplaced jaws, multitudes of silent screamers. Eerie background music and some creative sculptures add to the overall effect. A unique experience if you're strong of heart. I almost felt reverential towards the skeletons, also a bit sad. We all end up like that…
Know more: Website
Timings: Open 9:30 a.m. to 6 p.m. usually and Mondays closed; In August on Fridays, open until 11 p.m., last entry is 10:30 p.m.
Duration: Takes less than 15 minutes to see the three crypts but people need to enter in batches
Where: Next to the St James church, you will see a flight of stairs leading down to a door. Lo presto, you're in the land of the dead.
Costs: 140 Kč.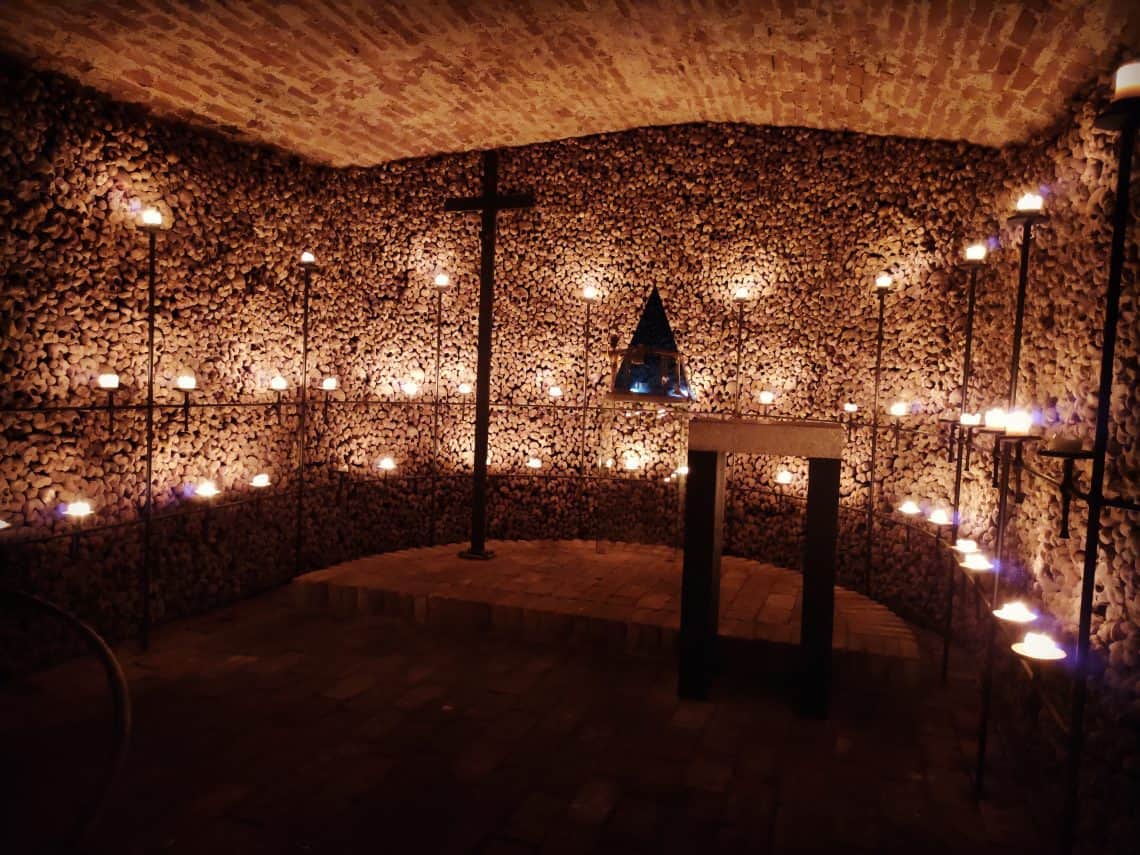 Lounge at Cabbage Market, running since the 13th century
Zelný is one of the oldest squares in Brno operating since the 13th-century. Every day, from 6 a.m. to 6 p.m. (Sunday closed) vegetable and fruit vendors gather to sell the freshest wares. It is not a tourist trap, locals actually shop here. Apart from fresh produce though, there are also some interesting modern snack vendors too: Božský Kopeček for vegan icecreams, DobroKáva (Coffee in exchange for a good deed), Būcheck (the queues on this one!) and thus you can spend a few hours lounging here quite easily.
A scoop of vegan ice cream costs 33 Kč or €1.3. Try the lavender blueberry or the plum poppy. Super yum!
Nightlife: Go classy or proletariat
Brno is teeming with nightlife options. As you walk along and around Freedom Square i.e. náměstí Svobody, you'll find several places to plonk in and try the local beers. But if you are looking to experience something special, you could try:
Bar Ktery Neexistuje or The Bar That Does Not Exist: International standard pub, great cocktails, mini burgers, very popular and always super crowded
Super Panda Circus: Kitschy cool, super cocktails, attentive staff

Výčep Na Stojáka: Old school, cheap beer, stand, drink, mix, make random friends and do stupid things
Other awesome things to do
Tick off Villa Tugendhat–A UNESCO heritage sight–off your list: The guided tours of the interiors are fully booked for the rest of 2019. You can pay 50 Kč to stroll through the gardens and take a break, but you'll not be able to appreciate what the fuss is all about. Buzz on the 'cash desk' button on the pillar out in the front to gain entry. The neighborhood is beautiful though. Worth a short visit, if you want to tick it off your list. Oh, and yes, the accord to separate Czechoslovakia into the independent countries of the Czech Republic and Slovakia was signed here

Villa Tugendhat Brno

Take a tour of the Moravian wine region and to the castles of Lednice and Valtice
Do the one hour ride to Brno reservoir and see the Veveří Castle alongside
Visit the Moravian Karst and see the network of limestones caves
Shopping in Brno
Brno does not have very many shops set up exclusively to please tourists, which can be both a blessing and an inconvenience. For example, I had to course through several streets to finally come upon pretty postcards at 'The Space'. The retail store houses products created by local designers and are exquisite.
Textile House on the street leading to the Cabbage Market had some unique second-hand vintage clothes retailing for about 200-400 Kč. Some distance away, in Veveří, are other local shops well worth a tram ride for. These are Jetu Milo, Restart, and Step Shop.
For beer shopping, head over to Pivotéka U Modrého lva, because, how can you not take home some beer from the land of beer?
Transport in Brno
Locals claim transport to be a breeze although I stumbled often. I took a day transport pass that cost 90 Kč (€3.5). It covered buses and trams (also called Šaliny) in zones 101 and 102. Google Maps oftentimes struggled to show me the best connections because of the massive roadwork ongoing in the city (apparently happens every summer). The IDOZ app was suggested as an alternative but it was less than intuitive and I gave up after a few tries. For taxi on-demand, you could try Liftago, though, given the amount of ongoing roadwork, I didn't try it.
When you arrive at a bus or tram stop, check the board for the platform number (to match with what's mentioned in google) and also double-check the route on the yellow poster.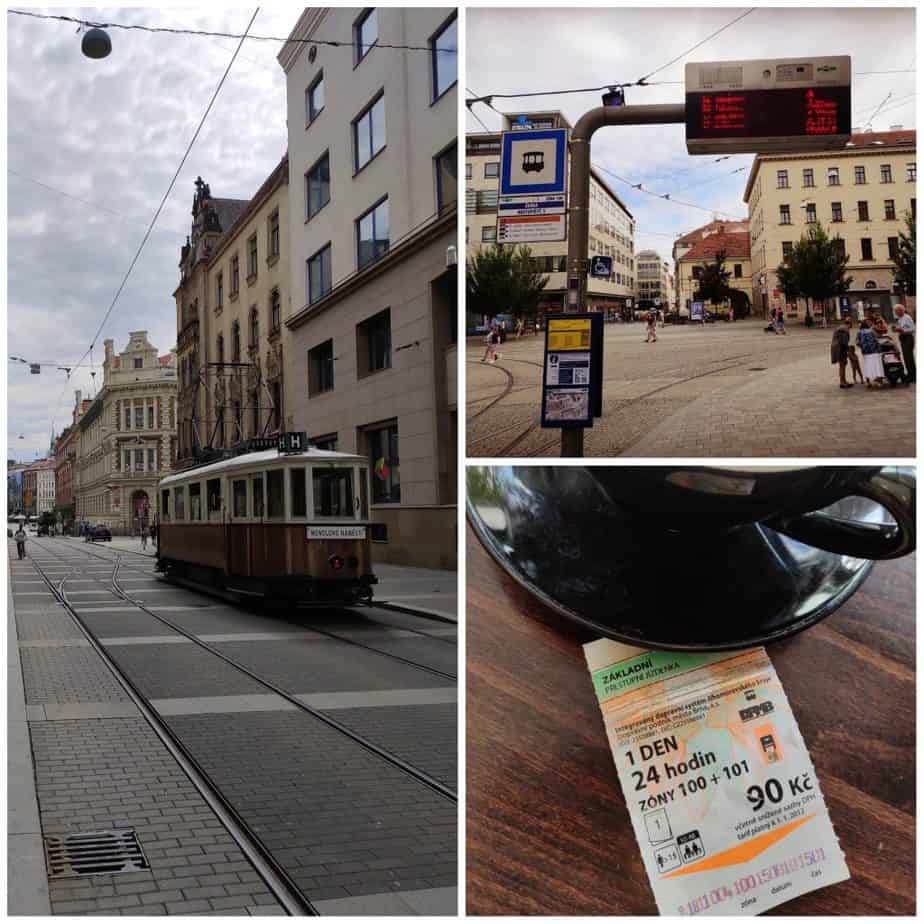 Transport to Brno
I arrived in Brno from Bratislava in Flixbus which took about 3 hours. You could also use Regiojet. Another option is to take the train to the city. Another popular route is Prague> Brno for which you can use Flixbus or Regiojet too. Prague to Brno takes about 3 hours.
Useful resources
Ticbrno for all tours and tourist information along with prices and timings
Go to Brno for super cool and useful city guides