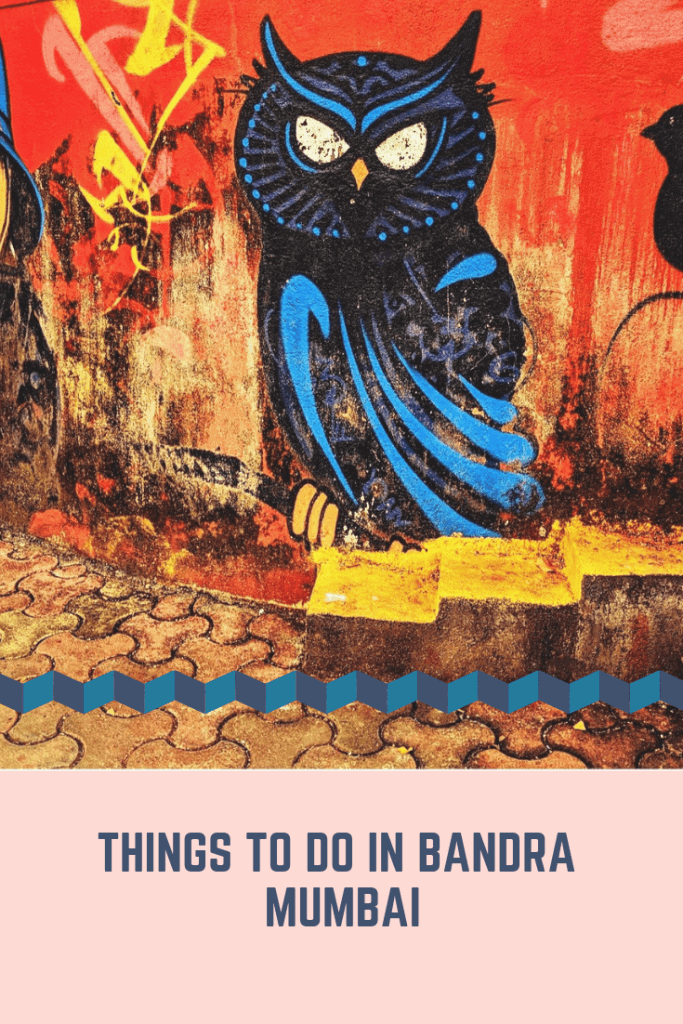 Things to do in Bandra West
Err.. What's Bandra?
Bandra is the queen of Mumbai's suburbs, one of Time Out's 50 coolest neighbourhoods in the World. This is where the stereotypical Indian contrasts meet at its extremes: the opulent and the decaying, the migrant and the nouveau riche, the hip and the traditional; they stand out more starkly than anywhere else in the city. Or maybe in the world.
This is also where I live. This is also what I love. Aw, gush.
According to Wikipedia, the word Bandra is possibly an adaptation of the Persian word Bandar (or alternatively, as another story puts it, the house of monkeys because Bandar in Hindi is also ape). Setting aside where the name came from, Bandra sounds quite hip, no? Its history is quite interesting too.
Bandra used to be a tiny fishing village once inhabited by Kolis (fishermen) and farmers. It was a part of the British East India Company first, later coming under the rule of the Portuguese crown. The Portuguese converted many of its residents into Catholics, also putting up 8 churches in the area. Today though, Bandra is a mix of Catholics, Muslims, and Hindus. It is also the choice spot for expats, Bollywood stars, and the better-off salaried middle-class, so there's plenty of money to be made for the many migrants who flock to it every day, from all parts of the country.
I've lived in Bandra for three years, and I think it is easily the best part of Mumbai to live in. So that you think the same, I will list out my favourite things to do, and continue updating this page as I discover new stuff. This list is my favourite and not to be thought epicurean and critical.
---
My favourite cafes
(1) Candies
Usually thronged by college-going crowds, Candies has several branches in Bandra. The cafes are Portuguese-themed, coupled with vintage posters and Parisian paraphernalia. Sometimes I feel like I'm stuck inside a jewellery box. Their coffee and salads are great, and the food is affordable too. A single shot cappuccino still costs 100 bucks! Service is pretty slow. Very Goa-like.
(2) Koinonia Coffee Roasters
I am totally digging into the trend of locally sourced, organic, fair-trade coffee in India. Simultaneously delicious and soul lifting
Koinonia. This café's tongue-twisting name means 'communion, or joint participation in Greek (wow, that must have taken some research!). The cafe at Chium Village is tiny, available to seat only around 6 to 8 people at one time. But you can take away their freshly roasted coffee and cold brew bottles to savour at home. The cafe also sells delicious croissants and macaroons. And when the dulcet tones of jazz come wafting from the stereo overhead, you'll definitely be transported from Chium to Paris .
Open from 7:30 AM – 9:15 PM every day. Located at Chuim Village.
The website.

(3) Blue Tokai
Another locally sourced, organic, fair-trade coffee maker, Blue Tokai was one of the first to arrive on the scene. I have been a big fan of their coffee and coffee-making philosophy from when they started, devouring their website, and sampling all of their single estate coffees.
Even their vision statement will make you salivate.
Our mission since we started has stayed simple: introduce our customers to the estates we directly buy our great-tasting coffee from, roast the beans with care, and make high-quality coffee more accessible through our cafes and our website. The coffee we roast is the coffee we like to drink, and we hope you like it too. 
Be warned though, that all their cafes are almost always spilling over with people, no matter when you go.
Open from 8:00 AM – 11 PM every day. Located at Perry Road.
(4) The Village Shop
A small cafe by St Andrews Church. Organic coffee again, a tad expensive. Pair it with some delicious organic, homemade cakes and cookies. There's also lovely soup and masala chai to be had. Very cosy and quaint.
Open from 8:30 AM – 11 PM every day. Located at Chimbai Road.
(5) Taj Mahal Tea House
Ooh, now we have upped the game!
Taj Mahal Tea House is not exactly a café, although you can drink filter coffee here. It is more of a 3,500 sq. ft porcelain palace, done up in blue and white. You can attempt to read a book here, tap away on your laptop, or chat up an old friend and look very posh doing it.
Or do as I do, marvel at the wonderful decor and wonder why I can't replicate the same in my house. The restaurant has beautiful colonial furniture, vibrant upholstery, and tons and tons of books at every nook and corner. Sitar music plays while I politely sip on my tea like the gentlewoman I am (so not!). Some fun pretending will be involved, for sure.
Open from 7:30 AM – 11:30 PM every day. Located at St John Baptist Road.
(6) Subko Coffee Roasters
If you have been to Bandra's Chapel Road you'll know what It's like. Narrow roads, old houses growing into one another, people, dogs and vehicles clamouring for space. Then, as you walk along, you will see a massive graffiti on a house wall. Take a turn from there. Walk a few more steps. Lo behold, find a little slice of Europe. It's inconceivable  that a café like Subko exists in the chaos that is Chapel Road, but it's a gem of a place made with such good taste and use of space, it's stunning. The food and the coffee is lip smacking good, too. And so is the service. Laila the cat is unmissable, as in, she will not let you miss her
. A whole section is named after her.
---
My favourite neighbourhoods
Bandra was made up of 24 villages during British rule. They were largely occupied by Koli fishermen and farmers. A few of them, still in existence, are – Kantwady, Sherly Rajan, Waroda, Ranwar, Boran, Pali Mall, and Chuim. Many of the houses in these so-called villages are centuries-old, built in the typical Indo-Portuguese-Colonial style with large wooden porches, external staircases, pointed roofs, and expansive balconies.
And as you walk down their narrow winding lanes, you'll find a slice of old town sandwiched in new: people conversing across verandahs, women combing their hair whilst lamenting about the traffic below in their typical Bandra English, men gathered around for a cup of tea and idle chatter, home shops selling bombil pickle or Goan Pork sorpotel, tiny lamps and fairy doilies on rusty grilled windows… all quite magical.
(1) Ranwar Village
Ranwar village is located between Hill Road and Mt Carmel Road in Bandra flanking Chapel Road, Waroda Road, and Veronica Road. During the rule of the British, Ranwar had a tennis court and a club famous for its Christmas and New Year eve dances. Today, the hamlet is only a tiny square with old houses around it. The Ranwar Village Festival in December brings out Christmas festivities, otherwise, it is silent the year round.
(2) Chuim Village
Many of the houses in Chuim Village are over 100 years old and do not seem like they've ever seen a touch of paint. But it is still quite a picturesque street to walk in, with several photography points. Most of the houses are two storey cottages with circular staircases, attics, and iron grilled windows. Old Catholic aunties and uncles sit on their verandas talking to one another and occasionally scowling at passersby. Especially, the kinds that honk.
(3) Chapel Road
Chapel Road connects Mount Carmel Church to Hill Road. A walk from end to end takes about ten minutes on a winding, pebble-ridden road. You'll narrowly miss being run over by honking autos many a time. As you walk along, you'll also see the following in no particular order: tailors, pizza shops, sweet shops, chaat places, groceries, snack marts, second-hand book stores, boys playing gulli cricket, roosters elegantly crossing the road, men arguing loudly over a match. More graffiti. Never a dull moment. Many of the graffiti on Chapel Road is by the Bombay Art Project, an urban art project started in 2012 to celebrate Bollywood.


(4) Carter Road
Several roads in Bandra – Perry, Carter, Bullock, Kane, and Bates had been named after British collectors and magistrates. Mr Carter, for example, worked as a collector in 1924. Carter Road has several eateries and boutiques to visit, not to mention some nice apartments to gawk at, but my fav activity here is walking along the 1.25 km Carter Road Promenade, along with joggers, walkers, lovers, and watching the sunset over the sea, as its waves slap on the jagged rocks. If hungry, pop over to restaurants on the other side of Carter Road – Corniche, Oh Fudge (best thick shakes), Theobroma (Best brownies), The Belgian Waffle co., Carter's Blue. See more at LBB.
(5) Bandstand
Bandstand is a popular place to walk, jog, or hang out in Bandra. It can get very crowded during the evenings and at the weekends. Instead, try catching the sun rise and soak in some humid sea air then. Not the cleanest of places though, let me warn you. But despite that, the 1.2 km stretch, starting from St Andrews Church to Bandra Fort, offers some interesting visiting points, prime among them, Castella de Aguada or the Bandra Fort, Taj Landsend (with its cool amphitheater and coffee shop), and more famously, Shah Rukh Khan's bungalow, Mannat. You can easily identify the superstar's bungalow by the throngs of people photographing a mile tall fence with menacing guards standing cross-armed in front of the nameplate.
End your walk or run at Bandstand with some yummy bun maska and chai at Good Luck Cafe, opposite Mehboob Studios. If adventurous, you can also try their Kheema Pav. Good Luck is a legendary, hole-in-the-wall Eatery in Bandra, though the quality of their food has fallen over the years. Still, the bun maska and sugary, milky chai is a spirit booster. Cheap too.
---
My favourite entertainment spots
(1) Gaiety Galaxy
Ooh, what can I tell you about Gaiety?
It is the last bastion of the original cinema watching experience. With large posters, rickety fans (both the overhead rotating types and the ones jumping on their seats), big bags of popcorn and samosa, watery sugary chai, balcony and stall seating, wolf whistles, and impromptu dances, tickets in black. Gaiety, I hope you never change. Hope the Western poshness never gets to you, my love. Now called G7 Multiplex, watching a movie here, especially a Salman Khan movie first-day, first-show is a life-changing experience. Kidding I am not. See a video to get the feels.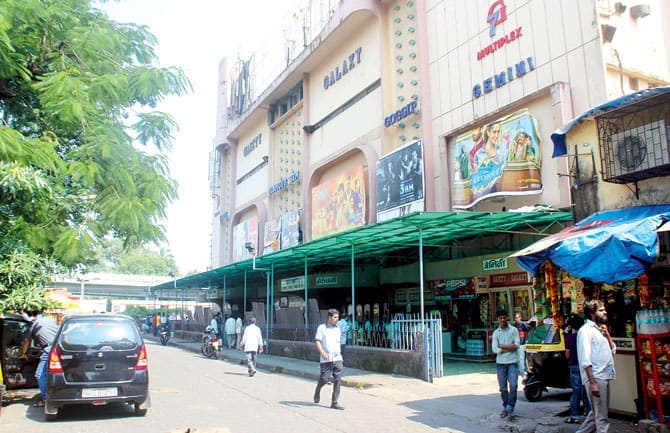 (2) Cuckoo Club
The Cuckoo Club on St Andrews Rd, next to the biggest Candies (ref: my number one cafe) is a venue for movies, plays, and stand-up comedies. I don't like how cramped it is, but I love the sort of stuff they show here. There are trial runs for stand up shows and newbie plays with dirt cheap tickets. Among my other favourites are the Books on Toast events, improvs, open mics and assorted movie screenings they hold from time to time. Definitely worth watching out for what's on their calendar. Choose a weekday to avoid the crowds and the claustrophobic feeling.
The cafe upstairs though could do better.
(3) La Reve
La Reve Cinemas is a recently refurbished single-screen movie hall on Hill Road, above Marks & Spencers. It's beautifully done up, like a French dream (La Reve means dream in French) with roses on the walls and white marble everywhere. The food and coffee are great too. Prepare for a very cosy movie watching affair. Very affordable also.
(4) Hill Road and Linking Road
Shop till you drop on these two roads. If you want to pick up imitations of celebrity dresses and shoes, or the latest fashion trends for cheap, just stroll along. The prices are already quite reasonable, still, bargain hard. Shop from the stalls, but if looking for brands-for-less, try Fendi, Hues, Cherry Fig, and Clothes Rack. For some party wares, go to Cheap Jack. It is my go-to for quirky gifts and stationary too.
(5) Title Waves
Title Waves is one of the city's largest independent bookstores spread over an area of 8000 square feet and selling everything from bestsellers, to noir, to comic strips, games, figurines, and T-shirts. It is located just off Turner Road and also co-houses Di Bella Coffee House. Sit here for hours, browse through a treasure trove of books and sip some great coffee. There are book launches held here almost every other weekend, so you could catch one.
Where to stay in Bandra as a tourist
I recommend Bandra as the ideal base for a tourist in Mumbai. It is central, has great restaurants, cafes and options for entertainment, and is great for shopping and people watching too. It has a unique mish-mash of old and new Mumbai which will give you a quick overview of the city.
(1) High end (USD 180-250)
Located at the end of Bandstand, and close to the Bandra Fort, this is the place to stay if you can cough up some dough. The top floors also provide a great view of the sea. The cafes and in house restaurants are top end, where occasionally you might glimpse the odd Bollywood Star making a star-studded entry to discuss her next movie.
(2) Mid-range (USD 80-100)
The location of the three-star corporate hotel 'Executive Enclave' is not my favourite because of the narrow roads and slums close by, but the rooms and service are top-notch. This hotel is a good alternative for those who don't want to spend a lot, yet want to stay central and connected to everything.
(3) Low range (USD 20-40)
A quirky hostel in a cool part of Bandra which offers dorms and one private room. The hostel is relatively new but wears all the colours of Bandra already. Some rave reviews about them on Tripadvisor already. I live close by and can vouch for the amazing location at least.
Another new hostel option located in the quaint and quirky Ranwar area of Bandra, central to everything, with a lot of old world charm.