When you step into Timisoara, quite immediately you'll notice its gorgeous parks and squares, then possibly the number of fat pigeons cavorting around in them. Once you've skirted their flapping wings and droppings, you'll notice a large number of students lounging about and the impressive Habsburg buildings in the city. Timisoara is impressive, youthful, and cheerful, all things a city should be.
Timisoara was an afterthought, but I'm glad I did it. A small, medieval city's charm is nice, but a big city is a veritable melting pot: the festivals, cafes, parks, museums, cathedrals, the 'things to do' multiply that much more. As a tourist, a one day break in Timisoara is good to take in all the important sights. To soak in the atmosphere though, which I think exists aplenty in the city, you might need a bit more.
I had apportioned only a day in Timisoara, planning to travel to Belgrade the next day (See at the end of this article how). And here's how I made the best of my 24 hours in Timisoara.
About Timisoara
Timisoara is a city in the north-west of Romania close to Serbia. It is also known as Little Vienna (Thanks to its buildings) or the City of Flowers (thanks to its parks). It is the third-largest city in Romania with over 30,000 students studying in its universities and several tech companies that attract an international workforce. The city is particularly known for medical tourism among westerners. Considered the informal capital of the Banat region, Timișoara is located at the divergence of the Timiș and Bega rivers. Timișoara has been designated to be the European Capital of Culture in Romania in 2021.
What to do in 24-hours
Do a walking tour
My first activity in any city is to take a free walking tour in it, to orient myself and also learn of ongoing events, best places to hang out or grab a drink. I found three options in Timisoara for a walking tour. The timings differ, so you could check what works out for you.
Freetours: which conduct their walking tours free of cost for only 2 or 3 days a week. This didn't coincide with the days or times I was there. Find them here.
The 10 Euro tour: Which I couldn't take because I didn't make it on time. Note these are not guaranteed departures. Website.
Andrei through Airbnb experiences: I met him at Piata Unirii with four other people and had an enjoyable two hours walking through the old town. Andrei is funny and keeps you engaged. He can be reached here.
Stroll through the three main squares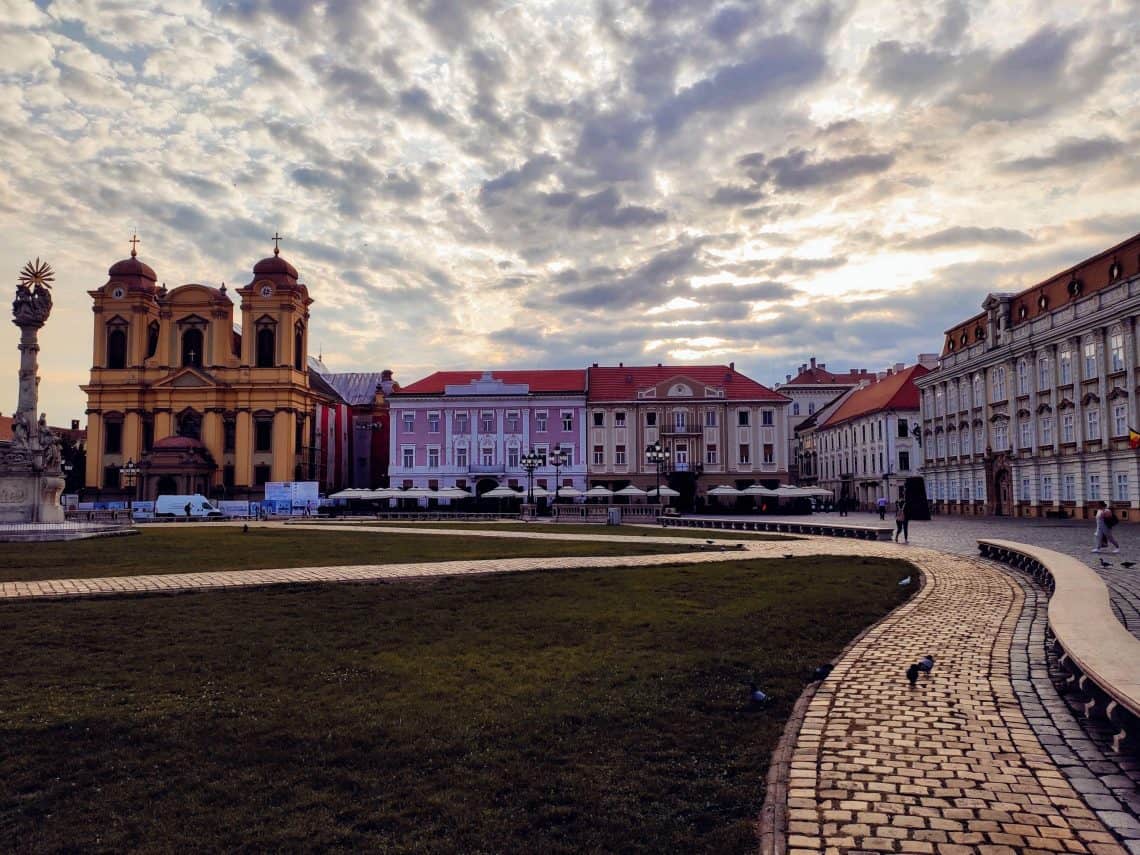 Start at Piata Unirii or Union Square. Several important building to admire here: the Catholic Dome (under construction at the time of writing this), the Holy Trinity Monument (to thank  the ending of the plague in medieval times), the Serbian Orthodox Church (entry through the back), the Bruck House in typical Hungarian "Secession" style, and the Art Museum which is a baroque palace. The 18th-century square's main architectural style is baroque and has been a site for major religious events, parades, and protests.
Next are Libertăţii Square and Alba Iulia street with the famous canopy of umbrellas which cost 10,000 Euros to put up. Liberty Square is the oldest square in Timisoara and connects the Unirii and Victory Squares. The important buildings here are the following: the garrison, the former town hall, the military casino etc. The Tourist Information office is here as well. The street is pedestrian-only.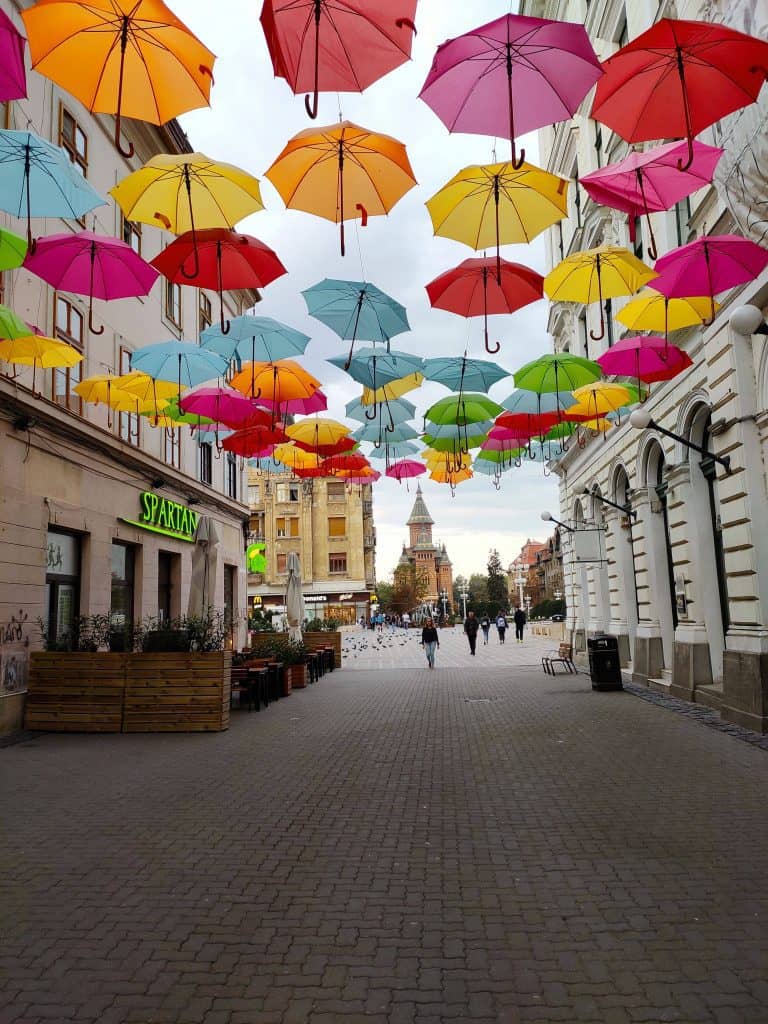 Walk over to Piața Victoriei (Victory Square) with newer buildings and modern restaurants. It was at this square that protests against communism were first held on 20 December 1989. About 100,000 protesters occupied Piața Operei (Opera Square – because of the impressive baroque opera building located at the head of it) and chanted anti-government slogans: "Noi suntem poporul!" ("We are the people!"), "Armata e cu noi!" ("The army is on our side!"), "Nu vă fie frică, Ceaușescu pică!" ("Have no fear, Ceaușescu is falling!") (Source: Wikipedia)
At the end of the square is the Romanian Orthodox Church, which we will explore next.
Gawk at the Romanian Orthodox Cathedral
Built between 1936 and 1946, the Romanian Orthodox Cathedral (also called the Metropolitan Romanian Orthodox Cathedral) is an imposing symbol of the city. he cathedral is the seat of the Archbishop of Timișoara and Metropolis of Banat. The interiors are influenced by Byzantine and Moldovian styles and are very impressive. The church's 7000 kg bells were made in Indonesia. An icon gallery and a religious art museum reside in the basement.
Timings: 7 a.m. to 7 p.m.
Afternoon
Admire locals artists at the Art Museum
A small museum inside an impressive building, the art museum of Timisoara is well worth a visit, mostly for the local artists' works on display. The museum has 8 art collections: Contemporary Art, European Graphic Art, Decorative Art, European Art, The Baba (1906 – 1997) Collection, Interwar Painting from Banat Area, 19th Century Painting from Banat Area, Old Art from Banat Area. It is not a large collection and will take about 1-2 hours to see.
Cost: 10 lei
Where: Piata Unirii. (Website)
Timing: 10 a.m. to 6 p.m., Mondays closed.
The next is a short cab ride away.
Visit Muzeul Consumatorului Communist
This museum is essentially an apartment with old things thrown together in the basement of a pub. The thing with this museum is people who have been in a communist country or even in a socialist country like mine, where we had decades of protectionism to have domestic industry proliferate, this is a veritable playground to unleash a tsunami of nostalgia.
Cost: Free to enter. You can donate to the piggies or do a sweep of the floor (you'll know what I mean once you see it)
Where: Arh. Laszlo Szekely Street Nr. 1 (Balescu neighbourhood sharing the same house with the Scârț Loc Lejer Bar and Auleu). It's not easy to locate and you may need to ask people or circle around a bit
Timing: Mon-Sat 10 a.m. to 11 p.m.; Sunday 2 p.m. to 11 p.m.
Evening
Shopping and a movie at Iulius Town
A shopping mall and a movie at a traditional theatre may not be high on a traveller's list of things to do, but the Iulius Mall, close to the city centre, offers a couple of hours of worthwhile entertainment options. It has a pretty park, a theme park for kids, local and foreign fashion brands, and a movie theatre which occasionally shows Romanian movies with English subtitles. The food court on the top floor has a lot of options, including inexpensive Romanian ones. In the end, stroll through the tunnel of graffiti under the mall to take in some cool artwork. Yeah, it's sponsored art and not really graffiti in the traditional sense, but hey, art is art right?
By the way, at 118,000 sq m., Iulius Town is designed to be the biggest shopping centre in Romania.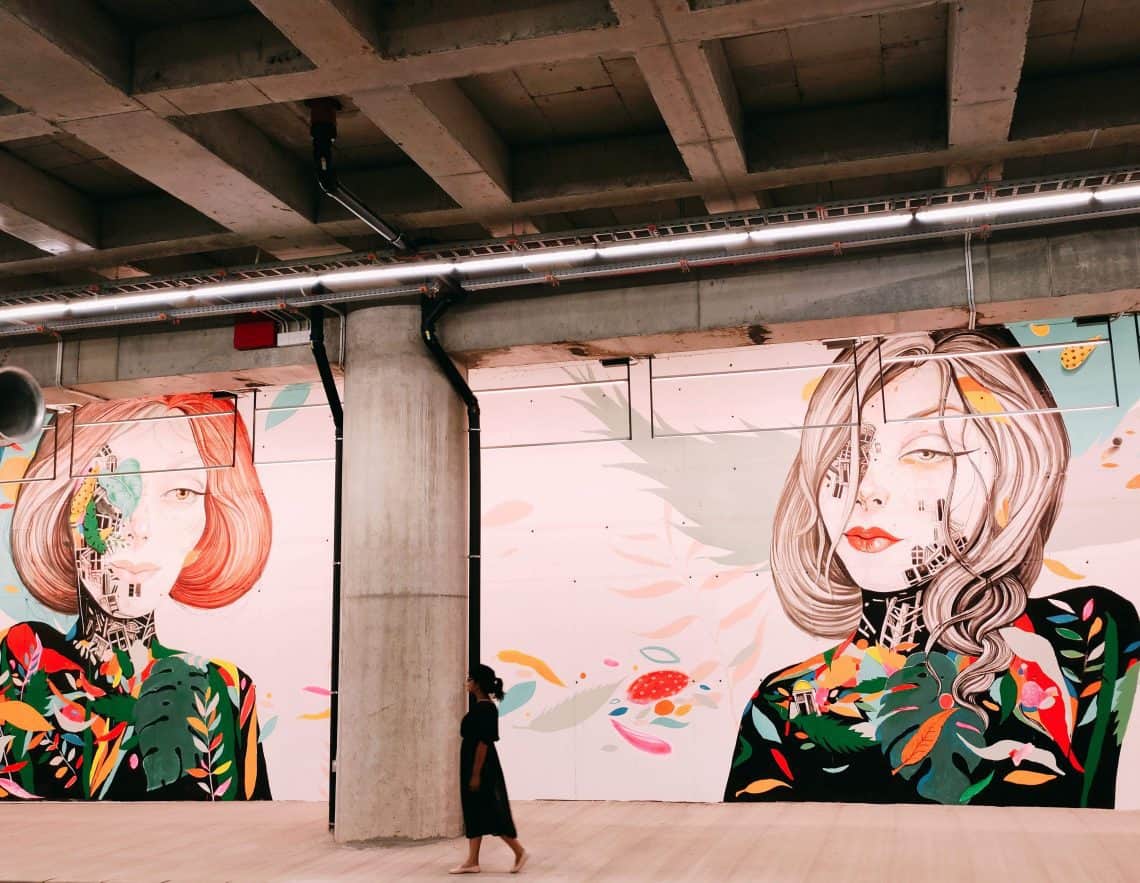 See an opera at Timisoara's famous opera house
The Romanian National Opera is a public opera and ballet institution in Timisoara, operational since its first showing in 1875. It is an impressive baroque building, exactly opposite to and facing the Romanian Orthodox Cathedral on Victory Square. Given the multicultural nature of Timisoara, opera and plays are staged in several languages, but I believe a play or opera in English is uncommon. Nonetheless, give it a shot.
Timing: Most shows start at 7 p.m.
Where: The ticket office is to the side of the cafe in front of the opera (exactly located on the left side as the tourist information office is on the right side of the opera building). Visit the website for the current schedule.
Stroll through the parks and have a drink beside the Bega River
Timisoara is a city of several parks! While a few years ago, some of them had paid entry, today all are free to lounge in and enjoy. Walk-through the Roses park, the Botanic Park, and Central Park. In Summer and early Autumn months, enjoy a drink in the pop-up bars that spring up next to the Bega River. The interesting thing to know about the Bega River is that it is a man-made canal, built-in 1728, and was the main means of merchandize transfer in Banat until the end of the 19th century. Today, its function is mainly recreational.
Other interesting places to visit
Vinto: Located in the heart of the city centre this is a lovely Gastro Wine Bar that has a great selection of local & international wines. On Tripadvisor.
Beraria 700: Close to the city centre, this restaurant offers local & international dishes and has a lot of beers. On Tripadvisor.
Free tour of the Timisoreana beer factory: On Tripadvisor.
Bookstore cafes: Romania does bookstores right. Not only are their collections amazing, but the bookstores are also done up so prettily that I literally salivate! There are several cosy bookstore cafes around Timisoara main squares where you can browse books and sip delicious coffee in on a rainy day, as I did. Check out Librăria Cartea de Nisip and La Două Bufniţe.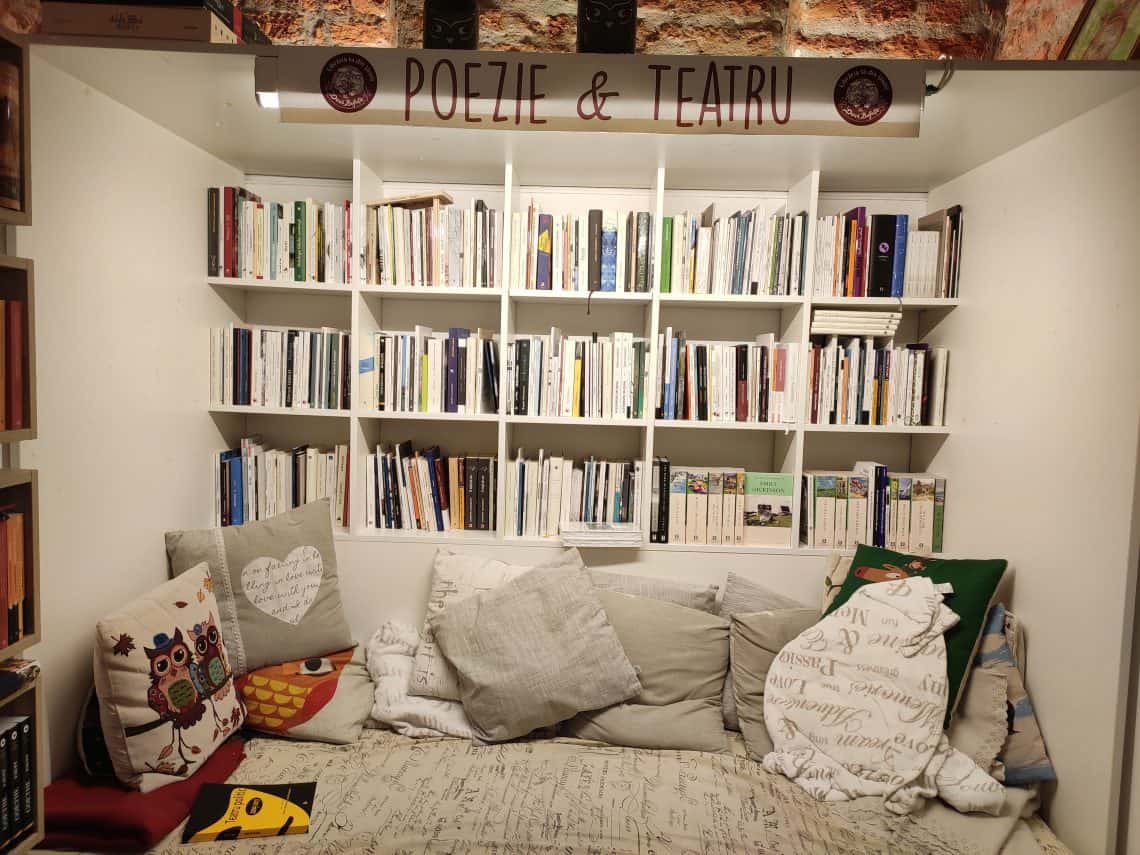 Places to stay
I stayed at the exceptional Hostel Cornel, at the centre of the city. A quirky, grungy place with loads of graffiti, international travellers, and friendly staff. Right next to the centre of the city. while a hostel, you can book a single room with an ensuite bathroom. Costs 100-120 lei per night for a single room.
Day trips from Timisoara or next stop
Belgrade!
Did you know you can cross over from Timisoara to Serbia in three hours by minivan? It costs 71 lei (15 euros) and 3 hours.
To know how to move around in Romania solo, read this.
To get the full Romania itinerary, go here.
What to do in other Romanian cities? Bucharest, Brasov, Sibiu, Cluj Napoca.
Where to stay in Romania
These are the hotels/ hostels I stayed in. They are tried and tested, and I loved them all. In Sibiu, I have given an alternative, based on local suggestion, because I didn't quite like the B&B I stayed in. All the places were $25 – $45 per night, for single rooms or whole apartments. Cheaper options were also available.
Bucharest: Central Guesthouse Bucharest
Brasov: Jugendstube Hostel or my Airbnb right at the centre
Sibiu: Casa Luxemburg at Piata Mica
Cluj Napoca: Cool Terrace close to everything worth seeing
Timisoara: Hostel Cornel, close to the main square