My absolute top experiences in Japan
Japan was such a fascinating country—so many contradictions; a new learning every day; each experience more exotic than the next. If I had a 'what I learned today' diary in Japan, it would be pretty thick!
Here's a list of things I enjoyed the most in Japan. The best things to do in Japan, in my view.
(1) Living the mountains
Japan's mountain ranges are imposing and glorious. I saw them in April, and can only imagine what they must look like fully snow-clad, eerily majestic. Japan is almost fully surrounded by mountains, and for tourists, two ranges are of importance: (1) The Japanese Alps: Three mountain chains, the Hida, Kiso, and Akaishi Mountains, converge in Central Japan to form the Japanese Alps, and (2) Japan's highest mountain Mount Fuji with an elevation of 12,388 feet, located on Honshu Island
How can you enjoy the mountains in Japan in the short time you have? Here are two ways.
Experience Mount Fuji from Kawaguchiko
Mount Fuji is obviously the most famous mountain peak in Japan. It has a perfectly symmetrical conical shape, and as it hovers over pristine lakes and fields of flowers, you know why it's perfect for Instagram and postcards. Snow-clad and fogbound, Fuji is the stuff of folklore and legends. It is also a holy mountain and many thousands of pilgrims scale the summit each year.
The Fuji Five Lake region lies to the north of Mount Fuji about 1000 meters above sea level around the lakes Kawaguchiko, Saiko, Yamanakako, Shojiko, and Motosuko. Among them, Lake Kawaguchiko is the easiest to travel to, the home also to several fancy resorts offering an unhindered view to Mount Fuji. Fuji Q Highland, a popular amusement park, is one bus stop before Kawaguchiko. During the Sakura season, bus tours run from the Kawaguchiko Station for tourists to see the best blooms in the region.
How to do: Take the highway bus from Shinjuku Station (Tokyo) to Kawaguchiko Station. It takes about 2 hours to reach Kawaguchiko station from Shinjuku. On reaching, ask your resort to pick you up, since most resorts are at least a 10-15 minutes ride away and taxi fares in the region are prohibitive. I stayed at the Kawaguchiko Country Cottage Ban which was scenic and inexpensive, although you'll need to carry your own food supplies.
The Tateyama Kurobe Alpine Route
This is where you get to see the looming snow corridor, a wall that rises up to 20 meters!
The Tateyama Kurobe Alpine Route is a snowy mountain route between Tateyama, Toyama and Ōmachi, Nagano, Japan. The route spans 90-kilometer and is split into nine sections that include rides on cable railways, a highland bus, a cable car, and a trolley bus. It starts in Toyama and finishes at Shinano-omachi (it is also possible to do a trip in the reverse direction). It stops at Kurobe Dam in between. The entire journey costs about ¥11,000. The route opens on April 15 and closes in November.
If starting from Nagano and moving to other cities northwards, it is possible to send off your luggage to the next hotel.
How to do: Read about how to do the route on the official website.
Most of the Japanese Alps is located in the Nagano prefecture. Other towns to enjoy the Alps are in Matsumoto and Nagoya.
(2) Drinking at an Izakaya
The Japanese love to keep to themselves, a trait I enjoyed for the most part. But now and then, when you feel the need to chat up strangers, consider visiting an Izakaya or a standing pub. You won't really be 'standing' in many of them, but they're narrow and squishy, so when your rub shoulders with those of your neighbours', you'll be bound to make eye contact and smile sheepishly. Bam! Conversation.
The choice of drinks is limited at an izakaya: Sake, shochu, 3-4 varieties of whiskeys, 3-4 of beer, a few standard cocktails, accompanied by basic finger food. Some of the bars had an interesting concept of overflowing drinks, a phenomenon called sosogi-koboshi (to pour + spillover). The glass of drink is filled to the brim and placed inside another vessel, usually a square, wooden box. The drink spills over down, and you are supposed to slurp it up straight from the box after you're done with the glass. Two drinks for the price of one! Rest assured I used it to my full advantage.
How to do:
@Tokyo: Golden Gai and Omoide Yokocho (Piss Alley)
@Kyoto: Pontocho Alley at Gion
(3) Sakura Hanami
Sakura or cherry blossoms are a symbolic flower of the spring, indicative of the start of a new cycle of life. They hold as much significance for the Japanese as they do for gaping tourists. So much so that the act of admiring the flowers in bloom also has a name: sakura hanami. All parks during the sakura season are filled with locals on a picnic, splayed on mats spread under the lush trees laden with blooming cherries, eating and drinking.
The lives of the sakura flowers are shortlived, and so their enjoyment is zealous and wholesome.
How to do: Head over to one of the many parks.
@Tokyo: Shinjuku Gyoen, Ueno and Yoyogi
@Kyoto: Arashiyama and Tenryu-ji temple complex, Kyoto Gyoen or the Imperial Palace park
@Osaka: Osaka castle park, Japan Mint (if open)
@Nagano: Jōyama park, and some distance away within the prefecture: Oide, Takato Castle park
(4) Geisha hunting at Gion
The first thing I realized is what I thought was a 'geisha' was actually a 'maiko'. The next, their basic professional requirement was entertainment and companionship. They entertained guests with music, dancing, games, and conversations. There was nothing seedy about it.
A maiko is an apprentice geisha (A geisha is also known as 'geiko' in Kyoto). The word maiko literally means 'a dancing child'. A maiko trains for a year at the very least before being given the title of 'geisha'. How do you make out the difference between the two? A maiko is younger, probably a teenager, and her makeup and hairdo are more elaborate than that of a geisha's. A geisha gives out the air of sophistication and wears (relatively) understated clothes and accessories. A maiko also wears tall platform shoes, apparently designed to make them stumble, to give them an air of naivety, attractive to their predominantly male customers. (Yes, so a wee bit seedy)
The best place to see a geisha is in Gion, Kyoto. Do not get taken in by the scores of tourists in Kyoto sporting kimonos rented for the day to take pictures. They are not geisha or maiko.
You can recognize a geisha or maiko by the chalky makeup on their face and their elaborate hairdos.
I spotted one while waiting for my turn to enter a restaurant, not realizing there was an okiya (lodging house for geishas) right next to it. A group of dark-suited men arrived, and a maiko came forth in quick, eager steps to receive them, supervised closely by her oka-san (mistress of the house). It happened so quickly, it was impossible to take a picture. But the memory is vivid in my mind. Exhilarating too, much like being in a spy thriller and spotting a spy in action.
How to do: Go for a walking tour in Kyoto to know the popular spots. Come later at night and linger around.
Another way to do this activity is to watch a geisha/ maiko show. I was lucky to be in Kyoto when Miyako Odori was running. A homage to cherry blossoms, the hour-long series of performances is a collection of dance, music, awe-inspiring costumes, backdrops, and choreography. Do not forget to rent an audio guide at the gate since the performance is in Japanese. I watched Miyako Odori at the Minamiza Theatre, built in the 16th century, and one of the oldest kabuki theatres in Japan. I'll cherish the experience.
See a list of festivals in Japan and depending on when you arrive, try to watch one.
(5) Walking around Shinjuku
Shinjuku, and particularly, Kabuki-Cho, is so glitzy, so crass, so in-your-face, so much fun!
Shinjuku is home to several host and hostesses clubs, pachinko centres, love hotels, movie theatres, the popular robot restaurant, scores of shops, restaurants, and nightclubs. It's the part of the city that never sleeps. The colours are blinding, blinking, glaring, the accompanying street noises, grating, mind-numbing, constant. You feel as if stuck within a spinning kaleidoscope.
And Kabuki-Cho, Originally intended to house a Kabuki theatre in the 1940s (which was later built in Kyoto), is the heart of where the sleaze thrives and lives. Male and female escorts list their profiles on glittering billboards along with the money they made in the year. 'My profession is good looking' they declare. Love hotels advertise their short and long stay rates openly. 'Information centres' in pink and yellow, manned by scowling bouncers, discreetly assist eager seekers to find answers to their 'love' needs. And don't even get me started on the pachinko slots.
Shinjuku is a drug. You'll want to go again and again to get a fix.
If looking for a book to read before your trip to Tokyo, try Out by Natsuo Kirino. It's a worthwhile introduction to the seedy side of Shinjuku, contrasting it to how the rest of Tokyo is. In essence, the book is a fantastic thriller fiction (Originally Japanese, translated into English) which you must anyway try to read before.
How to do: Use the 7 p.m. Tokyo Localized walking tour to get an orientation to the area. Stay somewhere central like the Citadines to be able to venture out every night.

(6) Learning to make Matcha
I grew addicted to Matcha and had a version of it for all meals while in Japan. There are Matcha icecreams, Matcha cupcakes, Matcha yoghurt, Matcha Milk, and Matcha bread. And did I mention, Matcha icecream?
I decided to learn how to make Match tea. It was a lovely, meditative experience.
We were served by Nao (I think that was her name). Perfect English, very cute. The tea making session is 30-40 minutes in length. It starts with the guide showing us how Matcha Green Tea is made traditionally, which is not a common practice in Japan, only something a geisha/ maiko or a samurais does. Then you get a shot at making the tea yourself, which is not hard at all, and you can probably learn it off the internet, but it was a good experience doing it in a group with a charming attendant telling you the history and cultural aspect of it. A tea house in itself is quite charming, verdant, traditional, quaint, usually tucked in a side street.
How to do: Book an experience online. Try Camellia Tea House in Kyoto. Book beforehand to avoid disappointment. Groups are 4-6 in size. Costs ¥3000 for an adult i.e. $27 or so if part of a group ceremony.
(7) Eating at the local markets
The local Japanese markets are a miasma of sounds, potent smells, stomping feet, indecipherable labels, and inexpensive dishes. A far cry from the popular perception of a stoic Japan.
Walking in the cacophonous local food markets of Japan not only gave me a glimpse of the boisterous, messy side of Japan but also easy access to delicious food at inexpensive prices. The crowds can be overwhelming, but you'll be astounded at the range of food, and for that alone, it'll be worth braving through. Trust me.
What to try:
Takoyaki (Octopus balls, best in Osaka)
Octopus on a stick
Yakisoba (fried buckwheat)
Yakitori (chicken skewers)
Okonomiyaki (savory pancake, best in Osaka)
Ikayaki (Squid on a stick)
Pufferfish (poisonous, unless prepared by an expert)
Mochi (rice cakes)
Fresh fruit juice
Seafood bowls (best in Ameya-Yokochō)
How to do:
@Tokyo: Ameya-Yokochō
@Kyoto: Nishiki market
@Osaka: Kuromon Ichiba

(8) Visiting the monuments at night
Tourists descend on the popular monuments in droves during the spring months. It is so hard to get a good photo, let alone enjoy the place in peace. Because of poor planning or, in hindsight, good luck, I landed up seeing a few places at night.
Osaka castle was one. A good idea is to go there at 4 p.m. when the crowds begin to recede. See the castle in an hour before closing time (5 p.m.) Stay for another hour afterwards—walk up and down the Gokurakubashi bridge or sit on the benches outside. Watch the dusk fall gently and the castle light up like magic.
I visited Fushimi Inari (Kyoto) at night as well. There were two other people in the whole shrine complex, and I walked the line of vermilion toriis in deadly quiet, enjoying the meditative bliss, a bit worried about the monkeys, praying they'd be asleep. It was an eerie, yet memorable experience.
Arashiyama in Kyoto is another place you should aim to go really early to enjoy the view-sans-the-public. Go at 6 a.m. and be amazed at the swaying bamboo trees minus the selfie sticks.
How to do: In peak season, try going to famous monuments early morning or late at night. Check for closing times though. While most castle parks are accessible all day and night, the castles themselves have specific visiting hours. Also, too early or late, and buses/trains may stop running. So check that too.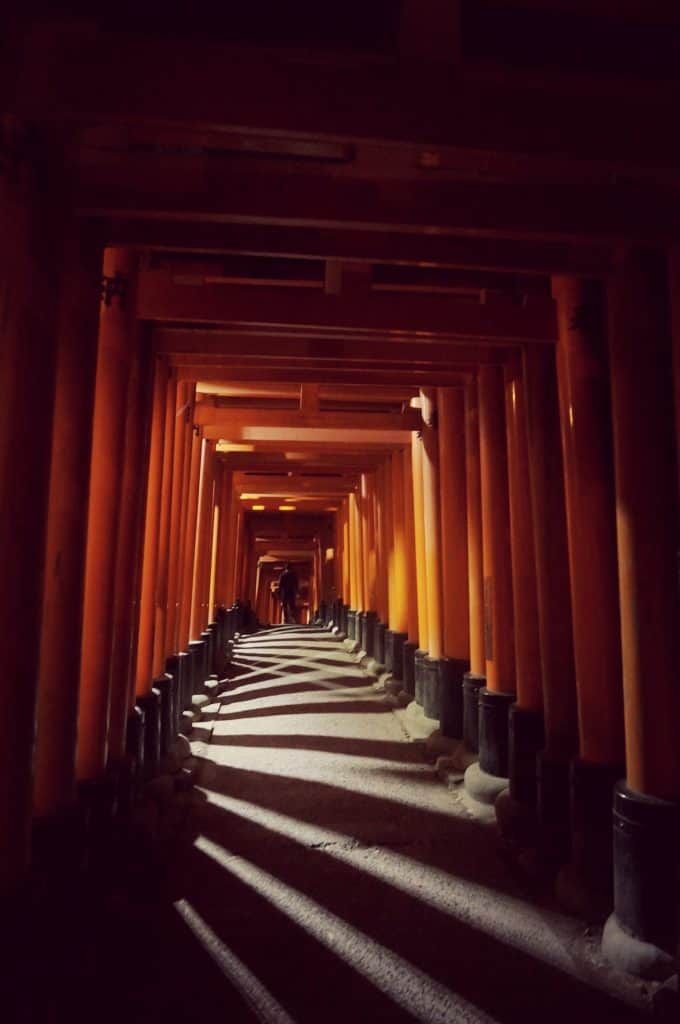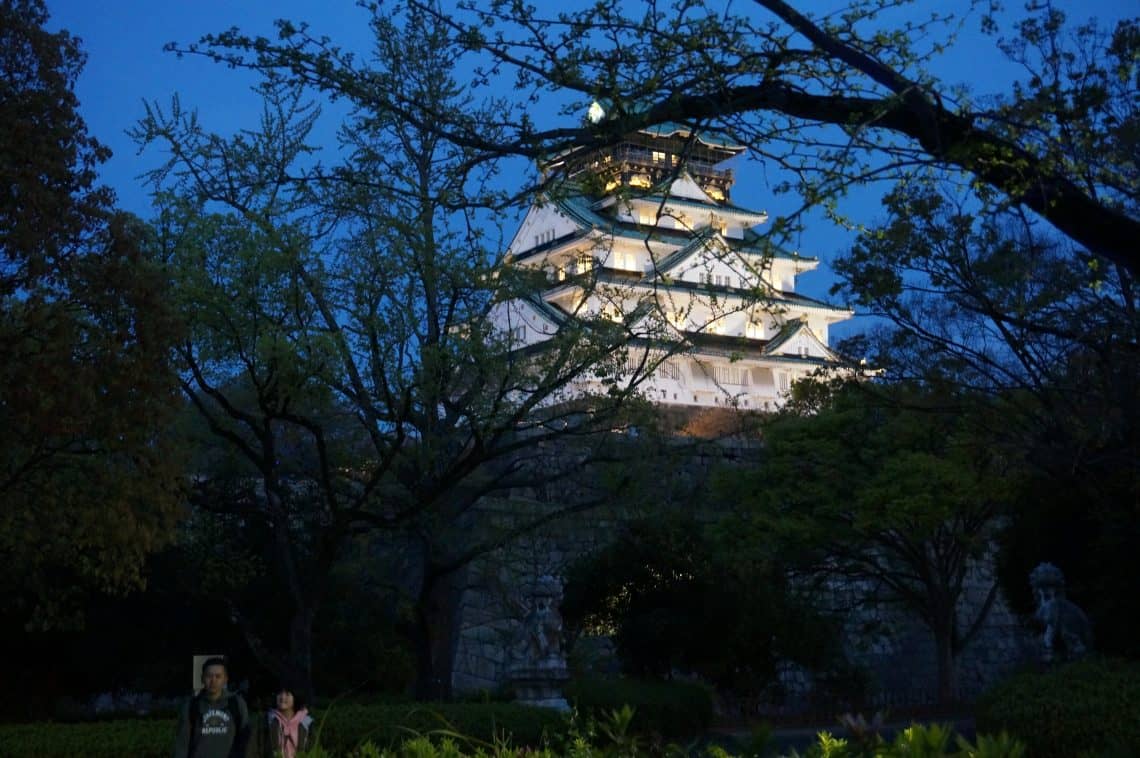 (9) Petting animals at a café
I can bet it's no fun for the animals, but I did venture into a hedgehog cafe to see what it was like. This one was not really a cafe, only a petting parlour.
I believe it was Tokyo that started the worldwide interest (or craze) in petting cafes. What began with a cat café has now proliferated to cafes hosting a range of exotic animal available for holding and petting: owls, hedgehogs, mini pigs, miniature Shibu dogs, mini goats, rabbits, parrots, and err… even snakes. Food and drinks are not the priority here; the word 'café' is a misnomer, really.
It is all about the animals. And cuteness.
Before you visit a petting cafe, check the following: cover charges for entry and if the animals are ethically treated. Timeout has a list of top ethical pet cafes in Tokyo. I went to the hedgehog café in Harajuku, and while the cuties looked well treated, I don't doubt it gets traumatic to be around that many groping hands. So if queasy about it, this experience is better avoided. I don't think I will go to another after this one.
I skipped going to a cat cafe or a maid cafe. One was enough.
(10) Crossing roads
Is like going to war.
Hundreds of people stand braced as if for a fight on the sides of the road, waiting for the lights to turn green. And when it does, they rush forward, uncaring, unseeing, as if their backsides were on fire.
And the mother of all battlegrounds is Shibuya crossing, featured famously in the movie Lost in Translation, followed by fleeting snapshots in many, many movies and music videos thereafter. The Shibuya scramble is what Tokyo is all about: chaotic madness; people rushing to do SOMETHING, side-stepping each other expertly to reach whatever lofty destination was at the other end. No matter how many times I begged to have my photo taken at the busy crossing, and how hard my benefactors tried, I could never come close to a picture that showed how busy and messy it really gets.
Stand here to experience what it's like to be surrounded by a tsunami of people focused on getting their way.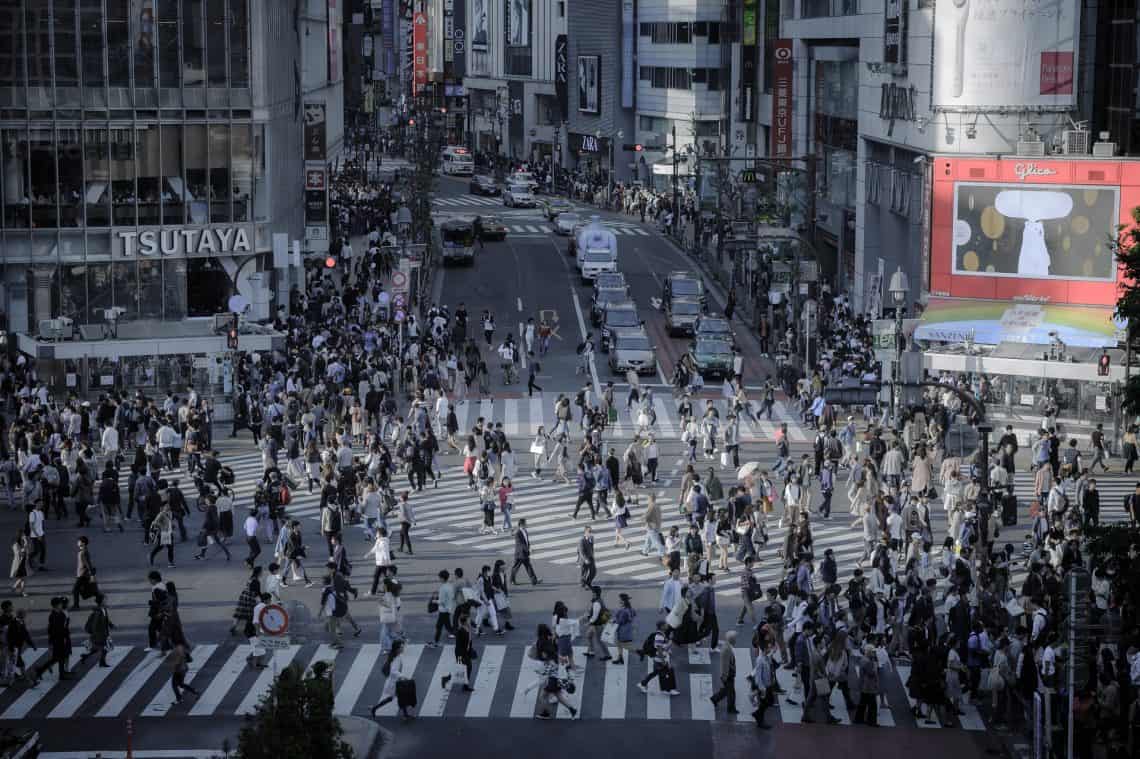 (11) Cultural immersions: Samurai, Kimono, and Sumo
The Samurai museum at Shinjuku gave a quick overview of the world of samurais, but the free samurai show and the kimono/ samurai costume-wearing experience turned out to be the main draw for me. 8-minute walk from Shinjuku Station. Open: 10:30 to 21:00. Costs ¥1,900 yen or $17 (Adult). You need to join the next available guided tour. The whole expedition takes about an hour. Passable if short on time and have no interest in samurai history.
It is possible to rent a kimono in many places in the major cities.
Popular tours combine a visit the Tsujiki outer market to watch the tuna auction and then heading over to a stable to watch sumo wrestlers practice. While it costs quite a lot ($100 upwards), a tour is a convenient way to do both these very unique Japanese activities.
How to do: Visit tour aggregators such as Klook or Airbnb experiences. Combined tours start at $100 or thereabouts. Alternately, Sumo tournaments (basho) take place during the months of Jan, Mar, May, Jul, Sep, Nov. Official website for exact dates.
(12) A night at a capsule hotel
I stayed at Nine Hours in Shin-Osaka. It was my first experience at a capsule hotel, and it was a good one. The hotel is sparkling clean with precise instructions: lockers for belongings, slippers, and loungewear to change into, no loud talking on the phone, check-out at sharp 10 a.m. Despite being fully booked, it never felt crowded. There are shared and separate showers and toilets. Everything is sparkling clean. Men and women have capsules on separate floors. The bunks were clean and ample.
The only bummer, you can hear when people move or talk. An alarm bell woke me up at 5 a.m. and it was hard to get back to sleep after that.
How to do: Stay in one. At least for one night. In Tokyo, affordable and central options are nine hours and the Millennials Shibuya. I stayed at the nine hours next to the Shin Osaka station which was super.
(13) Picking up fortunes
Also known as O-mikuji. Or paper strips that tell your fortune. O-mikuji is usually difficult to interpret for the outsider, often told in the form of cryptic poems, but I guess, you are free to make your own interpretations. Both Japanese and English versions are available in most tourist visited shrines.
I picked one at Kinkaku-ji temple for the cost of ¥100. My fortune was 'fairly good'. If you find a fortune you're not happy with, leave it at the temple, tied to the branches of a pine tree or a designated area in the temple complex so that the bad luck will stay by the tree and not follow you. In a happy turn of events, I found a super prediction at Meiji shrine where you need to use the traditional method of finding your fortune: shake a wooden box, pick the bamboo stick that falls out of it, read the number on it, then go to the box labeled with that particular number and pick your fortune chit. Meiji shrine is dedicated to the souls of Emperor Meiji and Empress Shoken, and the fortune is in the form of waka – Japanese poems of 31 syllables in the pattern 5-7-5-7-7. They make for interesting readings.
(14) And lastly…
The toilets.

A corner so cosy, you may never want to leave.
What next? Read my master list of money saving tips to plan for your trip to Japan.
Read my detailed 10-day itinerary for Japan. It has everything you will need to plan the perfect itinerary.
*Since I was only a tourist in Japan, I might have gotten a few facts incorrect. Please forgive me, if so, and let me know in the comments. Arigatou gozaimasu.*
Hotel suggestions based on my own experience. Just be sure to book early, particularly during the cherry blossom months. And be warned, the rooms are small and prices vary greatly based on the season.
At Tokyo: The best areas to stay are Shinjuku (tourist-fav), Shibuya, and Ginza. Try Citadines at Shinjuku. It is a centrally located hotel equipped with every amenity to suit your needs. Costs $100 per room per night. A cheaper option is Mokkoan, a ryokan slightly away from the centre in the Kita ward, but cute and authentic. Good and affordable capsule hotel options are nine hours and the Millennials Shibuya.
At Kyoto: The best areas to stay in are Gion, Downtown, and Kyoto station. Try Hotel Monterey located at Downtown Kyoto, close to the Nishiki market and a few minutes' walk from the Karasuma Oike Station. Costs about $70-80 per room per night.
At Osaka: Try the upscale capsule hotel, nine hours which is five minutes from the Shin Osaka station on the JR line. There is also another one at Namba in Osaka. Both are perfect for a night's comfortable sleep. Costs about $35 per capsule per night. If looking for a mid-range more comfortable option, try the excellently reviewed Cross Hotel located at Midosuji Street in Osaka.
At Nagano: Try Dormy Inn. Small rooms, but inexpensive, with free ramen and free onsen use. Also, located centrally. Costs $60-70 per single room per night and just a bit more for the doubles. The room sizes are comparable though.
At Fujikawaguchiko: Try the Kawaguchiko Country Cottage Ban. Be sure to carry your own grocery with you if you're staying here. The cottages are lovely though with a clear view of Mount Fuji on a sunny day.
Up to 25% Off Japan Tours