Know before
Ladakh or La dags—the Land of Mountain Passes—is located in the Indian state of Jammu and Kashmir extending from the Kunlun mountains to the Great Himalayas. The Indus river flows through Ladakh, and Leh is its capital. Ladakh is a two-thousand-year-old kingdom of Tatar herders who learned to grow barley and few other crops like peas and turnips. It is divided into Hindu (Leh) and Muslim regions (Kargil). Tibetan Mahayana Buddhism is the predominant religion, and the Dalai Lama is the spiritual leader.
Ladakh is scorched by the sun in the summer, while the entire region freezes solid for eight months in winter when temperatures drop to as low as minus forty degrees. The vast majority of Ladakhis are self-supporting farmers, living in small settlements scattered in the high desert. Their grazing land is called phu which supports a variety of wildlife, including blue sheep, the snow leopard, and wolves. They also breed the Dzo, or a hybrid of Asian cattle and yak.
Why did I decide to go? Of course, because Ladakh is beautiful! But also because I am inexplicably drawn to Buddhism. I understand Buddhism more than any other religion or practice—no dogmas, no crippling rules, no discrimination, just practical advice. Thoughts on the impermanence of life, the interdependence of everything and the non-duality of nature. And Ladakh, being the seat of a thriving Buddhist population, should give me a peek into its advice in practice. 
To prepare myself, I began reading Ancient Futures and The Tibetan Book of Living and Dying—both of which not only turned out to be more interesting than I'd anticipated but also infinitely calming. I cannot explain it.
Day 0
Butterflies.
I reach tomorrow morning at 7:00 AM but am worried about acclimatization. I could not pack as light as I usually do, because I've to carry sweaters, mittens, and socks. Am I over anticipating the cold?
Okay, pre-travel anxiety strikes. Also…excitement.
As I go to bed, I whisper to myself, it's gonna be fun! So what if you don't know who you're traveling with, or what you're gonna do?
---
Day 1: In Leh
My flight from Mumbai leaves at 2:25 in the morning. At first, I wonder if this flies out from the international terminal. Turns out it doesn't. Several sleepless hours later I land in Delhi and catch another flight to Leh. Thank God for the swanky refurbished Delhi airport and carry-through luggage system.
At 6:30 AM the plane is circling Leh. We are early!
Lo, behold! Is that an airport? Tiny, tucked away amidst towering snow-clad mountains? You've gotta be kidding me! Scratchy snowy on top of brown barren rocks. My mouth hangs open. I can see everyone else's around me does too.
I land all bright-eyed, heart thudding, gasping at the beauty. But have to breathe now. Breathe deep. Remember acclimatization?
I meet R & R at the airport. They're two round, and jolly men. I'm meeting the first two members of a completely random group of 8 people and these two at least happen to be super nice. Suddenly, the prospect doesn't seem so scary. (I remember one of the first lessons I learned solo traveling: More people are nice than bad in the world.)
We reach Zeejeed Palace which is 15 minutes from the airport. And we gasp again, this time R & R and me together: Look at the stream, the pines, the flowers, the garden! Picture timeeeee.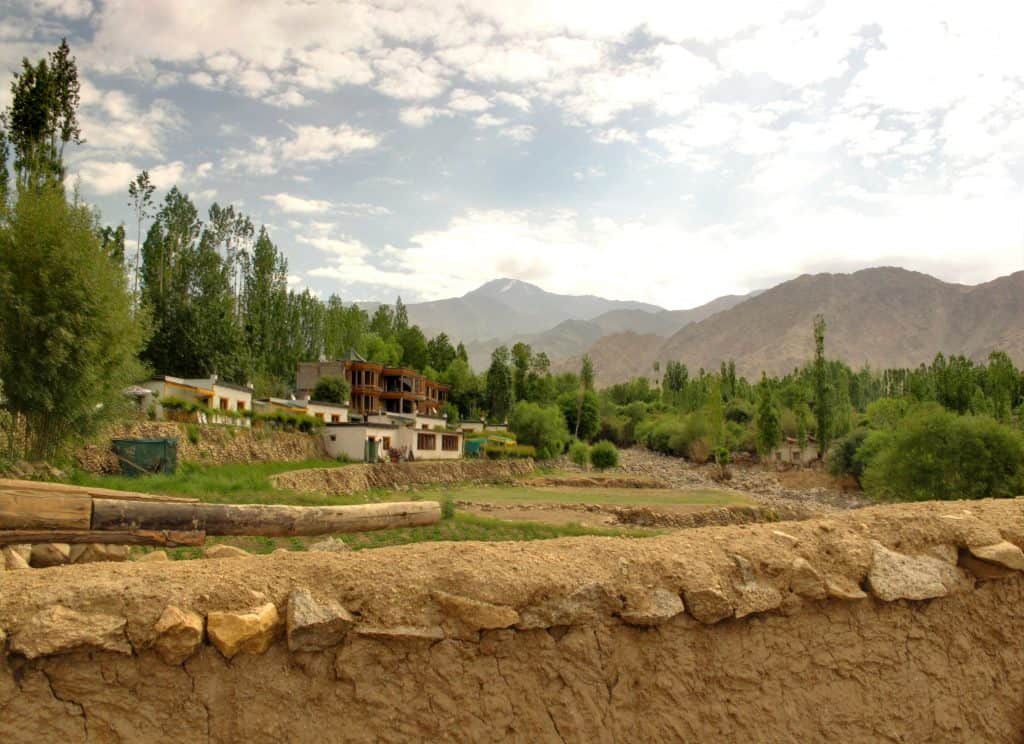 I stop and remind myself several times. Are the breaths deep and bellyful? Remember acclimatization? Rest aplenty.
After a long nap till 4 PM, I meet the rest of the gang. They all seem super nice. My heart is calmed.
We decide to head to the market at Changs Pa to eat. We walk to Otsal, beside the big red revolving prayer bell. I order Thukpa and mint tea. Then I marvel at how good the food tastes in the mountains.
After lunch, we walk through the Leh market which is crowded. And yes, touristy. Tibetan stalls, uninspiring kitschy wares spread on the roads. I notice two mosques – Shia and Sunni. Then the Leh Palace. A colorful fruit market. The stream we'd crossed to get to Otsal has disappeared by the time we head back.
Dinner at Otsal again. Dal, rice, and rum—only sips mind you because err… acclimatization? Umm… Just this once…. one peg and no harm done. After all, as the Ladakhis say, Tungbos zabos (enough to eat, enough to drink)
We head back. It's pitch dark. We get our torches on. Co-traveler Di advises us to 'watch out' then promptly falls flat on his face. We laugh at the irony and help him up.
So dark are the roads. So still the black night.
---
Day 2: Leh to Alchi to Ule
Close your eyes for a second and open it again. See! Miles and miles of such a lovely landscape! Mountains in all colors, brown, blue, white, grey. Did you know so many colors existed on mountains? And then, dotted by oases, like shiny green pearls. Sometimes, you came on roads where snow was turning into streams. Sometimes, ice, rocks, and streams lay side by side, in harmony. Every corner had a new marvel.
We are moving out of Leh today. Leh to Alchi to Ule. That's the plan.
We stop at Gurudwara Pathar Sahib on our way. The main attraction here is a stone which apparently has the impression of Guru Nanak's body on a boulder (i.e. patthar). The boulder was allegedly hurled by a demon. In any case, it's a pleasant stop on our way.
Then—the fulfillment of a lifelong dream. A landmark seeped in many histories. We stop by the confluence of the Indus and Zanskar river. Where ancient civilizations thrived, no longer alive. The river is muddy though, not blue. Just like the mountains around—arid, barren, hot, serrated.
Next, we visit the monastery of Alchi, built by Rinchen Zangpo in the 10th century. The wall paintings in the monastery are of both Buddhist and the Hindu origin and are among some of the oldest surviving paintings in Ladakh. The complex also has huge statues of the Buddha and elaborate wood carvings and artwork comparable to the baroque style of architecture.
I notice the chortens, mound-like structures which symbolizes the oneness of life. Flowers are beginning to bloom everywhere. It's actually hot during the day. I use my sweater to cover my face from the blazing sun. The vagaries of weather in Ladakh—days are searingly hot, nights freeze over. Never forget to wear your sunscreen. The sun burns you unawares.
In a few hours, we reach Ule. We are staying at Ule Ethnic resort, run by Overland Escape. We are so hungry. I gorge on the pasta, strange yummy potato pancakes with stranger tasting cream, dal-rice, suji-halwa. Whatever is being put out. I even forget to take pictures.
The resort overlooks the mighty Indus river which runs noisily below. There are mountains on one side, apricot, and apple–laden trees on another. As close to nature as it gets. We remark delightedly when we see stars above at night. So clear and dense is the sky. We miss looking up at the sky when in our busy city lives. Do you even know if there are stars in cities? We complain, but have you looked? Have you looked every day?
At night we play Dumb Charades. Drink beer. The Indus flows by. Gurgling.
---
Day 3: Ule to Lamayuru to Leh
We make it a habit of getting up late. Not my style, but when in a group, do as…. We are still at Ule. The toilets are outside, so each time I pee I fetch the torch and grope my way out.
It gets light early. 5 AM. When I get out of the bath and tie my hair in the mirror, there are mountains, poplars, the stark blue sky behind. Can you imagine that?
Now we are ready to leave.
But before that let me introduce you to the one and only…wait for the trumpets….turrumpurrumparaaaaa…. DAWA.
He is the driver of our SUV. Ex-army, Tibet born. He regales us with stories, songs, anecdotes throughout the journey. He berates us for being late every day, every time. "Aree modom, bosh ko bolna podtha hai na. Feeer aap sab late ho gaye." (Madam, I have to explain the delay to my boss, again you all are late?!)
Whenever we are occupied with clicking pictures and forget the time, Dawa comes running, gesticulating and shouting. "Shob koi chala gaya, cholo, cholo."  (Everybody's gone. Come, come!) and we meekly trudge behind his sprightly bulk.
Now we've reached Lamayuru. This is a much larger, spread out monastery. There are bright red, prayer wheels. Young monks sit hunched over prayer tables, wearing dark sunglasses and posing cheekily. Old monks sit on stairs in pairs and pose for photos. Once you finish, they raise their palms and grin toothlessly, "Baksheesh?"
On our way down from the monastery and to our cars, we encounter some local life. Chubby children. Children fed a diet of Maggi.
Once on the road, we realize we are hungry again. We stop to have lunch at Khaltsi village. Rajma chawal, egg rice. We stuff it in. I meet a man who sells liquor. A rarity in Ladakh.
We are back in Leh now. It was almost 5 hours from Lamayuru to Leh. We are hungry again. I have Thenthuk at Golden Dragon which is much too spicy. The saving grace is Godfather beer. So yum.
---
Day 4: Leh to Khardung La to Nubra Valley
As usual, the rest of us wake up late. The lady of the house (we are still at Zeejeed Palace) grumbles to me, "Breakfast was supposed to be at 8 am. Indian Time. Grrumph". But she is very pretty, so it hard to take offense.
We have Khambit (round loaves of thick bread baked over ashes), apricot jam, scrambled eggs. Not even the men in the group can finish a whole Khambit. It's a farmer's breakfast.
Enroute, the celebrity in our group is ambushed by jawans. Tall, swarthy, well-spoken men who surround her excitedly and request snaps. While she obliges, we giggle and nudge.
Now we are driving towards Khardung La. Built in 1976, Khardung La is at a height of 5,359 m (17,582 ft) and the world's highest motorable pass.
While we climb to it, it gets hot and stuffy. I remove my sweater. The car goes round and round, scaling circuitous route. We see a few cyclists traveling with us and marvel at their fortitude. Their faces and calves are purple-red. We squirm in our comfortable seats, then look away.
Now we are at 17,582 feet. At Khardung La. And you know what? It is SNOWING! Stuffy to hot to warm to so-so to cold to chilly to frozen, and now snow! All of this in an hour.
We run out of our cars, teeth chattering, bodies shivering, but we don't care. We grab at the white flakes. Dance around all smiles.
Hot tea is another treat we have. At the café up in Khardung La village. Then we top it up with hot Maggi and stuffed parathas with a pickle. Our appetites are voracious. But like every place in Ladakh, we wait for almost an hour before being served.
Dawa entertains us for rest of the way.
"Dawa, you were in the army?"
"Haan, modom" (Yes, madam)
"So, what happened?"
"Kya bole, modom. Hum gun dekkhe dorr goya" (what to say, madam, I saw a gun and got frightened). He raises his arms in mock fear.
We contemplate this. After five minutes,
"Soch both bathau, modom?" (Shall I tell you the truth, madam?)
"Yes?"
"Hum Sikkim regiment mein tha na. Nepal mein shomon shostha hai na. Woh laya mein na. Toh ek bar pokod liya" (I was in the Sikkim regiment. I used to bring cheap goods from Nepal to Ladakh. One time they caught me)
Hmmm… a smuggler! Dawa! Our Dawa. This man never ceases to amaze us.
Soon we reach Nubra Valley. We see, and we gape. Really, what was God thinking? Mountains, brooks, oases, desert. You've got to be kidding me! All of it together? In one place?
We scramble down from our cars. Droplets of rain scatter on our shoulders. Then they stop.
And then another treat from His magic box. Voila! A RAINBOW! We run out and point in glee. Again!
Fifteen minutes atop a double-humped Bactrian camel. Di yells as mine lovingly nibbles on his camel's butt. I hold on for dear life.
We are staying overnight at the Snow Leopard guest house, Hunder. Chef Sohan dishes out double-egg spicy omelets as soon as we are back. Everyone discovers the wonders of whiskey and warm water, introduced by yours truly. We gossip till late.
---
Day 5: Nubra Valley to Leh
Today is an easy day. We are driving back to Leh from Hunder and visiting some monasteries on the way.
The Diskit monastery is on the way, which Dawa tells us is 'future' Buddha—don't know why it's called 'future'… future reincarnation maybe. It's a gigantic monument, 32m high, and can be even viewed from the plains below. There are very few tourists around, so one can actually feel some peace. The monastery faces the idol; I'm assuming that's how the monks then pray, facing the idol. Neat concept.
We don't want to leave and occasionally look around in fear of Dawa, worrying he may come charging down at us. But he seems to be busy with the other drivers, sharing a fag. So we continue staring at the mountains around us. An elderly gentleman next to me points to a random peak and whispers conspiratorially, "that's Pakistan."
We get stuck in an awful traffic jam on our way back. The road is being rebuilt and vehicles are queueing up in a single file behind half dug trenches. It's hot and stuffy inside the car. We play Jab We Met songs which is fun for a while. Soon I get tired and climb out to see what's happening. We have been stuck for two hours.
An army officer is standing a few vehicles away. He is old but distinguished and well spoken. I am smitten. I inspect his finely-trimmed mustache, which I normally abhor. But on him, as he speaks, it embellishes each word like a gilded frame. He tells me he is posted in Ladakh for three years and his wife and son are visiting for summer. He points to a car far behind. I see nothing. Then two soldiers under his command sprint past. To clear the road ahead, they shout as they salute. He salutes back. My admiration solidifies.
It's an hour before we can resume our journey back to Leh. Dawa waves at every third driver he passes by. I ask him, do you know everyone? He says, only the ones from Tibet. He adds sadly, Tibet would be a great nation when formed. Tibetans have scattered all over the world but when they come together one day, they'll amalgamate the cultures of so many lands.
Tibet is mentioned often in Ladakh. It's talked about like a magical land. Elysium. I ask Dawa how he expects Tibet to come together again. It has been over 50 years since the Chinese invasion. He says, "Dalai Lama hai na, mogeeek korega" (Dalai Lama is there, no? He will do some magic!)
At night I am too tired to go to the market to eat with the others. Seljam, our sweet little helper prepares green dal, cabbage, and rice. I request Soldja. It turns out to be scrumptious. Like salty, buttery soup. I feel sudden vitality now.
Oh, the signboards—have I told you about them yet?
While you spend half of your time on Ladakh's roads, going from one gasp-worthy site to another, Ladakh's Border Road Organization (or BRO) has taken upon itself the onerous task of providing entertainment and has done very well indeed. So, as you navigate each precarious turn on the mountain-way, go right ahead, laugh away. Here are some signs that dot the paths:
Drive slowly and live long
Always Alert Accident Avert
Peep peep don't sleep
Better Mr. Late than Late Mr
Test your nerves, on my curves
Be gentle on my curves
Love your neighbour, but not while you drive
I love you darling, but not so fast
If married, divorce speed
Don't be a gama, in the land of lama
And my favorite:
Don't be silly, on the hilly
BRO is naughty, he is!
---
Day 6: Leh to Pangong Tso
I had a good night's sleep. The others aren't so lucky. Most complain of headaches and nausea. The thin mountain air has unleashed its suffering. Slowly, but surely.
We are visiting Pangong Lake today.
it is khambit, apricot jam, and bhurji for breakfast again. Two cups of steaming hot ginger tea. I like how the day begins here.
We visit the Shey palace monastery first. It has the largest gold stupa in the region.
When I come back to the car, Dawa is helping a lady set up jewelry for sale. I compliment him on his generosity and linger over the seller's wares. Soon my co-travelers gather. Haggling begins, exchange of cash and turquoise earrings, pali bracelets, rotating bells. I notice Dawa chuckling happily.
Next, we visit the Thikse monastery. Bright yellow, freshly painted.
After we leave Thikse, disaster strikes. The second car breaks down. The drivers ask us to take a break while they arrange for a replacement car. But why wait idly when we can eat? We notice a shanty serving questionable food and trudge inside. We pack ourselves on wobbly steel chairs and tables. And have the yummiest mutton noodles and momos. Gulnawaz serves us.
After lunch, we take six more hours to reach Pangong Lake. We stop at many places in between. Random tea tents, grazing shepherds, yak chases, Mammuts. Though, I strongly insist we reach Pangong by sunset. I want to photograph it.
At around 7 PM we reach Pangong Lake. I'm all excited, I dump my bags in the car, snatch my camera and run to the lake. It's all I'd dreamt of and more. The setting rays of the sun change the lake to a lustrous Prussian blue, slowly turning it to black. Wild geese fly out, spreading their urgent wings over the stark blue sky. It is surreal.
We have Bon King rum mixed with warm water at night. The cafe plays songs of 3 Idiots ad nauseam. The lights go out at 10:30. We chat and chatter in the freezing wind. We are forced to call it an early night to go curl up in the warm tents. I need to catch the sunrise tomorrow. Umm.. too ambitious? I think that happens at 4:30 AM! 

---
Day 7: Pangong Lake to Leh
My eyes flicker open at 4:50 in the morning. It's bright around the tent walls. Is the sun already up? I toss back to sleep. Tad guilty, but the sun rises too early in these parts. I am only human. And I'm sure it'd be as gorgeous even an hour later.
Suddenly R & R call from outside my tent. "Are you coming?" I jump up on my bed (FOMO, you see) and scramble to get my clothes and camera. "Yes, yes," I say hurriedly. I rush to the attached bathroom (which is cute, a zip opens up to reveal a makeshift bathroom. Clean and functional though), put on warm clothes and run out. Just one day here… might as well make the most of it.
All worth my efforts it is. We take many, many lovely pictures. The water changes color every minute.
I am sad to leave Pangong.
Another long, long drive back.
Closer to Leh, we stop at probably the most visited monastery in Ladakh, the Hemis monastery. We are lucky to catch the monks preparing for the festival that happens in July.
How happy are these monks? Cheerful, teasing, polite, playful. Despite a confined life, riddled with protocols. Still happy. Like we should be.
---
Day 8: Leh
Today, I have Leh and the day to myself. Everyone else leaves. I start with doing what I'd been avoiding for the past seven days. I stand in the long winding queue at the only ATM in Ladakh. Luckily there are separate lines for men and women. Still, it takes 30 minutes and much shoving and yelling to get my money.
I start my lone tour of Leh at 11 in the morning; just to be sure everything is open by the time I reach. It is an easy 20 min downhill walk to the market. The uphill climb later in the afternoon though gives me a headache. My shopping list is short. The first tranche of shopping includes rotating wheels, turquoise jewelry, thangka paintings, shawls, apricot cream, wood crafted tables. None by any means cheap. DVDs of Samsara and Kundun. Did I say short? Yes, money depletes fast. Hence, the ATM. Every shopkeeper is friendly, willing to talk, bargain till you drop. It's a no-plastic zone, so carry a bag. I highly recommend Amdos Café. The kahwa and chicken thentuk are scrumptious. Cheap too.
Ming suggests Bon Appetit. It turns out to be a lovely place where I spend my last few hours in the city.
I watch as the setting sun bathes the clouds in orange. There is a cool nip in the air. The poplars sway from side to side; as people nodding in unison. Dogs bark in the distance. Streams gurgle past hastily. Children call out to each other as they play. Prayer flags flutter in the sky. The orange disintegrates into the breeze as the clouds turn gray. Dusk descends.
I munch on my dim-sums and sip tea.
Inner peace.
Ladakhis repeat a few phrases often—Schon chan—which means one who angers easily. Apparently, this is the worst insult you can hurl on them. And Chi choen—what is the point—which encapsulates their attitude. Their attitude to life stands out in the smiles on their faces. They always seem happy. Smiling. At peace. It's the Ladhaki attitude to life—and death—based on an intuitive understanding of impermanence and a consequent lack of attachment.
Maybe I will understand it someday.