48 hours in Copenhagen; the best way to see the city
A city of the best looking men and women; of the best tasting coffee and sandwiches; of colours and cakes; that's how I'll summarize cute Copenhagen. And if you're travelling solo, it's absolutely okay too. People are super friendly, most can speak English, and there's plenty to occupy your time with. Not for a second will you be bored.
And just so you know, Copenhagen is also the capital of the country credited with inventing Hygge. Pronounced hue-guh, the concept encourages inculcating elements of contentment and well-being in every day lives. Think candles, cakes, warm socks, blankets, and coffee. Board games with friends and family. Basically, all things cosy. It's about self-care and appreciating the simple pleasures in life. This feeling of contentment and well-being is regarded as a defining characteristic of Danish culture.
If you're in Copenhagen for a quick work-trip or a weekend away, here's the list of things you must absolutely do and what you'll land up spending on them.
Exchange rate: 1 Danish Krone equals €0.13. Divide the listed Kr. costs by ~8 to get the corresponding EUR € and by 7 to get the corresponding USD.
About Copenhagen
Copenhagen is the capital and largest city of Demark by population. Originally a Viking fishing village (thus, Havn or harbour), the city was founded by Bishop Absalon and fortified with a stone wall during the 13th century. In 1416, Copenhagen became the capital of not just Denmark, but of Norway and Sweden as well. The three countries together formed the Kalmar Union, which lasted for 150 years as an alliance against German expansion until 1523, when Sweden decided to break away. King Christian IV ruled Denmark and Norway from 1588 to 1648 and is credited with building the most iconic structures in Copenhagen, including the stock exchange Børsen, the Church of Holmen, and the Rosenborg Castle. After a bubonic plague outbreak and a fire in the 18th century, the city of Copenhagen underwent a period of redevelopment. It was also impacted by World War II, but since then, it has been fairly peaceful.
Today, the city is the cultural, economic and governmental centre of Denmark, a major financial centre in North Europe, with a population of 800,000 people. Approximately, 10 million tourists visit the city each year. It was rated as Europe's Most Livable City by the ECA International report of 2019. It regularly ranks among the top 3 in the UN's Happiness Index and the Earth Institute's World Happiness Report, among others.
Do before
For a period of two days, I recommend getting the unlimited City Transport Pass that costs 80 Kr. for 1 day and 150 Kr. for 2 days. An alternative is to get the Copenhagen Card for 48 hours (Costs 569 Kr. or €76). It will give you free access to more than 70 different attractions, as well as all forms of local transportation. But I thought option 1 was good enough to start with, especially if you are just visiting for the weekend
Book an Airbnb or a hotel in the city centre, preferably at Nyhavn
Book flight or train tickets to Copenhagen. I took the overnight Flixbus from Hamburg to Copenhagen which was surprisingly comfortable. Cost me about €30. I returned via an overnight train from Copenhagen to Hamburg. The overnight journey is 7 to 8 hours long.
Day 1
The Day 1 itinerary in Copenhagen
10 a.m.: Do a free walking tour
Go for a 3-hour free walking tour covering Copenhagen's top attractions, including the Royal Palace and the picturesque Nyhavn street. In summer (between the months of May and September) several walking tours runs through the day in English, German, and Spanish. The tour takes 2.5 – 3 hours, usually including a break, starts from the city centre square or Rådhuspladsen and ends at the Christiansborg Palace.
Explore the Nyhavn Neighbourhood after you are done. There are plenty of options to eat and swig a cold Carlsberg in. On weekends, little markets spring up everywhere. Perhaps, take a canal cruise whose cost is covered by the Copenhagen Card. The canal cruises in summer are jam-packed with camera-toting tourists, but it's a good way to see the city from the waterways.
Cost of the walking tour: 75 Kr. or ~€10 in tips
3 p.m.: Visit the Christiansborg Palace
The Christiansborg Palace complex contains the Danish Parliament Folketinget, the Supreme Court, and the Ministry of State. Along with these, several parts of the palace continue to be used by the Danish monarch, including the Royal Reception Rooms, the Palace Chapel and the Royal Stables. Through our walking tour guide, we also learned how beloved the monarch was, especially the 80 years old queen, Margrethe II.
Consider joining one of the daily tours at the Christiansborg Palace. More information here.
Timings: April – October: Daily 09:00 – 17:00
November – March: Tuesday – Sunday 10:00 – 17:00 (closed Mondays)
Cost: 160 Kr. or ~€22 to see the Royal Reception Rooms, The Royal Kitchen, the Ruins and the Royal Stables with the same ticket. The ticket is valid for one month.
6 p.m.: Visit the Tivoli Gardens
Tivoli is an amusement park and pleasure garden in Copenhagen. The park opened on 15 August 1843 and is the second-oldest operating amusement park in the world (the first-oldest is in Denmark as well). It gets close to 5 million tourists each year. Tivoli includes a variety of attractions: buildings in the exotic style of an imaginary Orient: a theatre, bandstands, restaurants and cafés, flower gardens, and mechanical amusement rides. The park is best known for its wooden roller coaster, Rutschebanen, built-in 1914. It is one of the world's oldest roller coasters that is still operating today. There are other fun rides as well, as well as several cafes and restaurants to while away time in.
Each ride cost between 30 Kr. to 90 Kr. (1*30 Kr coupon, 2*30 Kr., 3*30 Kr., the more fun rides are more expensive, obviously). Queues can get long on weekends. In summer, on Saturdays, there are fireworks at 11:45 p.m. which can be pretty darn spectacular.
Timings: 11 a.m. to 12 a.m.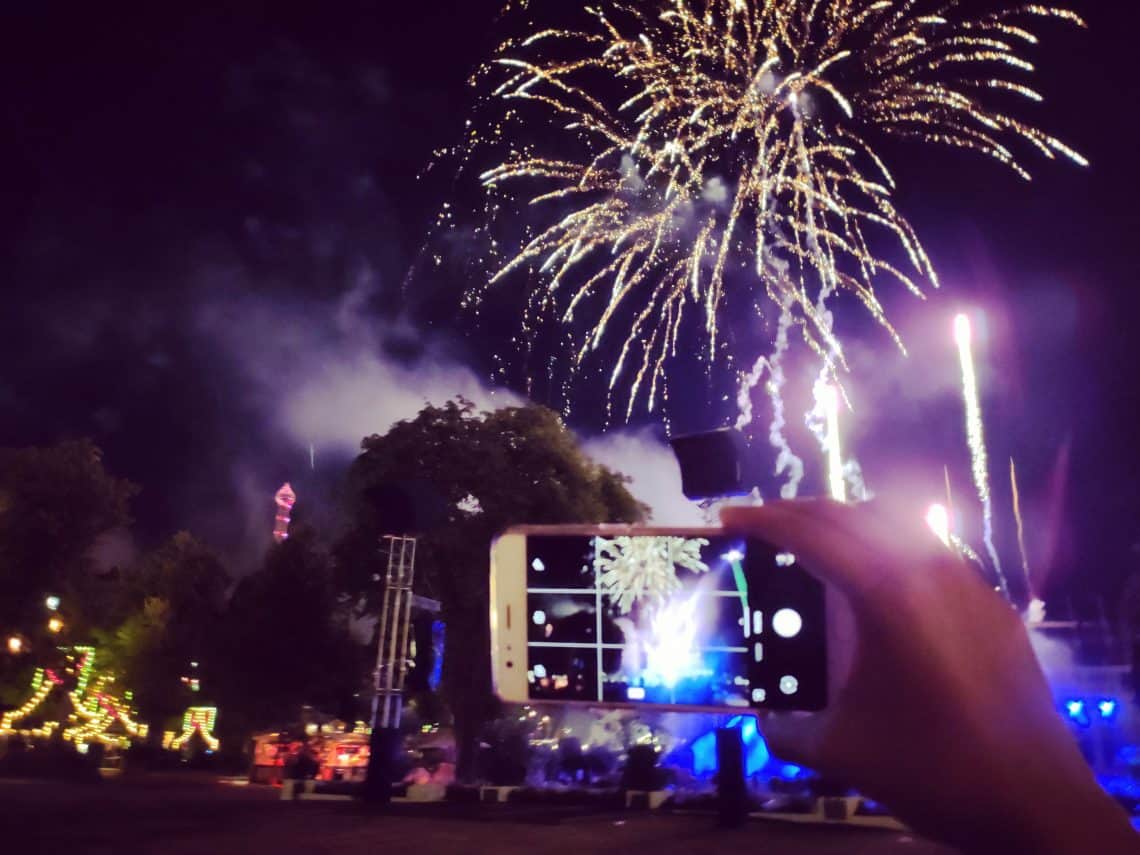 Cost to enter and ride: 140 Kr. to enter on Sat-Sun and 130 Kr to enter rest of the week; optional additions: 270 Kr. (90*3) for 2 rides; altogether around €60 per person for 2-3 hours of entertainment
Day 2
The Day 2 itinerary in Copenhagen
10 a.m.: Visit the Free State of Christiania
Freetown Christiania is an intentional community and commune of about 1,000 residents, covering 20 acres in the former military barracks of Bådsmandsstræde in Copenhagen. After the military moved out in the 1970s, a trope of free spirits moved in: young squatters, artists, and the homeless. And made this area quite something else.
Christiania is like a city within a city. The people living inside have developed their own set of rules, independent of the Danish government. To enter it you pass under a sign that reads: "You Are Now Leaving the European Union." The people of Christiania fly their own flag and use their own currency. The mini-city has a marketplace, cafes, theatres, interesting murals, grubby toilets. Cannabis is sold freely and openly on Pusher Street which is the main draw today. Though hard drugs are prohibited. The Gay House (Bøssehuset), one of Christiania's autonomous institutions, had been a centre for gay activism, parties, and theatre since the 1970s.
No private cars are allowed inside. Photography is not allowed on many of the streets. Spend 2-3 hours roaming its precincts and eating a hearty meal afterwards. If lucky, you might catch a stage performance.
Alternately, also consider a visit to other grungy areas of town, viz.
Nokken (Islands Brygge): A self-built community located on the north-west coast of Amager, just south of Islands Brygge, with charming self-built houses and a laid back vibe
Bolsjefabrikken (at Ragnhildgade 1), a volunteer-run, graffiti-covered cultural institution housed in a rustic old warehouse
Cost: Free to visit
3 p.m.: Eat at Torvehallerne
Spread over a large area and housing close to a 100 stalls selling everything from local wines, cheeses, chocolates, coffee, veggies, spices, and other organic produce, Torvehallerne is a collection of everything to sample in Copenhagen under one roof.
Timing: 10 a.m. to 8 p.m. daily
What it costs to eat in Copenhagen: On average, coffee costs 40 Kr. or €5. Bars charge around 30 Kr. for a bottle of Carlsberg or Tuborg. A sandwich, pizza, or Smørrebrød will set you back by 100 Kr. or €14-15. Thus, lunch or dinner is a total of €20; a little more in upscale places, such as inside the Tivoli Gardens.
6 p.m.: See the Little Mermaid
If you didn't already know, the Little Mermaid is a fairy tale written by the Danish author Hans Christian Andersen. The story follows the journey of a young mermaid who is willing to give up her life in the sea as a mermaid to gain a human soul. The statue of the Little Mermaid is iconic to the city, much like the Eiffel Tower is for Paris and the Statue of Liberty is for New York . The statue was commissioned in 1909 by Carl Jacobsen, son of the founder of Carlsberg. It is displayed on a rock by the waterside at the Langelinie promenade.
The place is always crowded. So go as early as you can, best during the golden hour (4 – 5 a.m. in summer) or later in the evening, when the big bus tours are ending.
How to go? Take bus #26 or #27 to the 'Søndre Frihavn' stop. From the stop, it's a short walk down Langelinie to the sculpture.
After you're done wondering about the minuscule statue and the power it holds over everyone, walk down to a curious spoof a few meters away—to the genetically modified Little Mermaid at Langelinie Allé 17. The funny little sculpture is located at a 'Genetically Modified Paradise', a square of granite stone with a 400-square-meter fountain. In the fountain, the creator, Danish professor Bjørn Nørgaard, gives a  sarcastic perspective of the postmodern society through its many figurines. It's an amusing detour.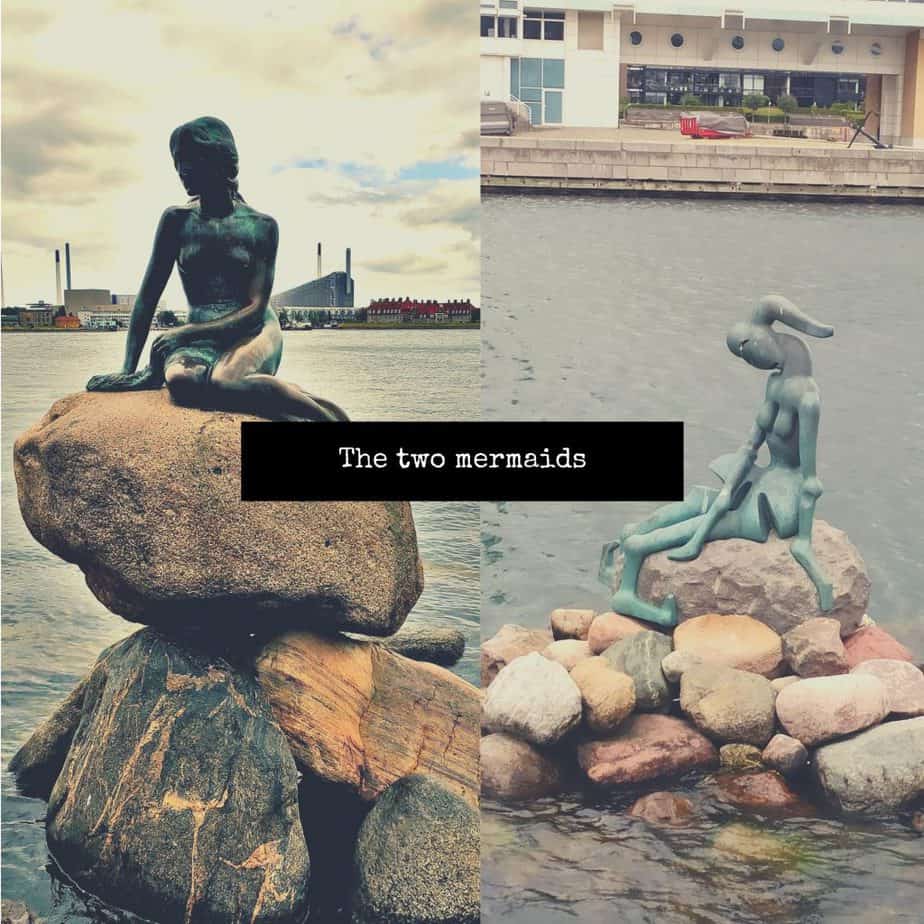 Another interesting detour is a visit to the nearby Kastellet, one of the best-preserved fortresses in Northern Europe. A number of buildings are located within the grounds of Kastellet, including a church and a windmill.
Things to eat
Rarely any meal disappointed. My palate was astounded each time by Copenhagen's curious delicacies and flavorful coffees.
A few foods to try:
Smørrebrød: Open-Faced Sandwiches
Rugbrød: a highly nutritious dark rye bread
Rød pølse: red sausage
Pølse: Danish hotdog
Grød: Porridge
Frikadeller: Danish meatballs
Fiskefrikadeller: Fish cakes
Hindbærsnitter: Raspberry Bars
A few places to try them in:
Homemade pizza at Gorm's
Smørrebrød at Domhusets (Kattesundet 18, 1458 København) or Hallernes (Rømersgade 18, 1360 København)
At the local market: Torvehallerne. Eat artisanal cheese. Craft beer. Smoked fish. Desserts.
Coffee at the cult-favourite Coffee Collective, a speciality micro-roaster with creative coffees such as Kaffe Kombucha; or coffee at Espresso House; Joe and the Juice
At Rub & Stub, the surplus-food restaurant
Also, try the AFC fried chicken at Broaden & Build a craft beer brewery owned by a former head chef of Noma if you can. Yum.
What it costs to eat in Copenhagen: On average, coffee costs 40 Kr. or €5. Bars charge around 30 Kr. for a bottle of Carlsberg or Tuborg. A sandwich, pizza, or Smørrebrød will set you back by 100 Kr. or €14-15. Thus, lunch or dinner is a total of €20; a little more in upscale places, such as inside the Tivoli Gardens.
Where to stay
Stay in the Nyhavn Neighbourhood to make the best of your two days. Some good options are:
Generator Hostel: Excellently reviewed, the Generator Hostel is located at the centre of the city, just off the Kongens Nytorv Square. Hostel beds start at 175 Kr. or €16 while doubles are at 890 Kr. or €85 per night.
Bedwood Hostel: Central hotel. Doubles at 750 Kr. or €71 per night.
Airbnb is a good option as well, which is what we used. Check this out.
Optional excursions
Visit the National Gallery of Denmark (Statens Museum for Kunst) with its 35,000 artworks covering a period of 700 years of Danish and European art (Tuesday – Sunday 10:00 – 18:00; Wednesday 10:00 – 20:00; Monday Closed)
See bottled body parts at the Medical Museion (Saturday & Sunday 12 p.m. - 4 p.m., other days, 10 a.m. - 4 p.m.)
Visit a beautiful cemetery—Assistens Kirkegaard—where Hans Christian Andersen was buried
Attend the Alternative Tour Copenhagen, run by Sandeman every day at 3 p.m. or a guided food tour, again by Sandeman
Use one of the local transport options: Ride a bicycle along the 375 kilometres of cycle tracks in the city, take a segway tour, or swing along the roads in an e-scooter (The scooters cost 10 Kr. to unlock and 2 Kr. per minute to ride). Funnily enough, you can drink and ride these—apparently tolerated since you will be more of a nuisance to yourself than anyone else.
The daily costs in a summary
Stay: 175 Kr. for a bed in a hostel i.e. ~€16; doubles at ~€40 per person per night
Eat: At 150 Kr. per meal, it comes to ~450 Kr. for three meals or ~€60 per day
Transport: A city transport pass costs 80 Kr. or ~€10 per day
Sightseeing: 75 Kr. for a walking tour (in tips) and about 140-160 Kr. for entry to the castle OR to Tivoli. Between €30 – €60 per day
Miscellaneous: Souvenirs (7 Kr. for a magnet); 5 Kr. for a visit to the toilet; on an average 50 Kr. or ~€7-10
Total spend: About 1000 Kr. or €95 per person per day if staying basic. About 1300 Kr. or €120 per person per day if staying a tad more comfortable.
Quite a lot, but that's the Nordics for you.

Heading to Copenhagen in winter? Here's what you can do.