If you have 3 days in Sibiu, what can you do? As it follows, far too much!

After a while, your head will reel unable to deal with the beauty in front of you, making your eyes look much like the attic air vents on Sibiu's roofs. Seen them yet? Scroll down below.
About Sibiu
Sibiu is a city from the 12th century, built by German settlers. It is located in central Transylvania and has a population of 400,00 people. The Cibin River flows by it. The city is divided into two parts: (1) the Upper Town is home to most of the main sights and the main town squares (Piaţa Mare, Piaţa Mică, and Piaţa Huet). The Passage of Stairs or Pasajul Scărilor leads from the Upper Town down to the Lower Town. In the Lower Town are more Sibiu-special topsy-turvy houses, flanked by quaint parks, and cobblestone streets. Once upon a time, it used to be full of workmen, i.e. the working class.
Here's a 3-day itinerary for Sibiu. This is not an itinerary that just covers Sibiu. It is more of what you can do in Sibiu and easy to do day trips.
Do before
Download the quite useful 'Sibiu City App' for things to do in the city, events happening, and where to eat and drink. There are also self-guided tour suggestions.
Day 1: A DIY tour of Sibiu
Unfortunately, I could not find a free walking tour in Sibiu. It's a small compact town, so a 'Do it Yourself' tour was easy to do. In any case, by now, I had walked in many Transylvanian cities and knew something of their history already.
Here are some of the sights to check out in the city.
Start from Big Square (Piata Mare) which is Sibiu's main town square. It is surrounded by cafes and restaurants, as well as the Brukenthal Museum and Turnul Sfatului or the Council Tower.  The tower is open for visiting and you can get a view of the city from the top.
In the summer and autumn months, the square hosts several markets and musical events. It's a wonderful, central place for all people to congregate.
I loved how open and expansive the square feels. At the centre, fountains spurt water every now and then, and toddlers and pigeons flap about vying for attention. On the benches around, indulgent parents sit and keep an eye on their wards; teenagers lick icecreams, eyes glued on their phones; while the older folk lounge around, legs spread, backs bent, exchanging gossips of the day. The main square in Sibiu is like a constant reality show, where slices of Sibiu life have been brought together to one place, as if by a centrifugal force.
The week I was there, there was a musical event at Piata Mare almost daily. Mostly new age pop. With flowing delicious beer, chattering public, and heart-thumping music, it was fun!
Other places to check out in Piata Mare: Brukenthal Museum, Holy Trinity Roman Catholic Parochial House, and The Blue House.
An offshoot of Piata Mare on the left is Strada Nicolae Balcescu where there are eateries, gelato shops, bookstores, and buskers aplenty. Many of my evenings were spent coursing down this crowded pedestrian-only street, to the park at the end of it, where I sat munching my ice cream and reading a book.
From Piata Mare use the arch on the right to go to Piata Mica or the Small Square. Once, it was a centre of trade in Sibiu. Today, it's a great place to grab some coffee and food and do some souvenir shopping. Occasionally, there are book and food fests happening. As was when I visited.
From Piata Mica walk over to the Bridge of Lies, Romania's first cast-iron bridge, connecting the old town to the new. There are several myths and urban legends connected to the odd name, but the real reason it is called Bridge of Lies is that the bridge had no pillars and was simply said to be 'lying': the German word lugenmarchen means 'lie' and thus the name stuck with the locals.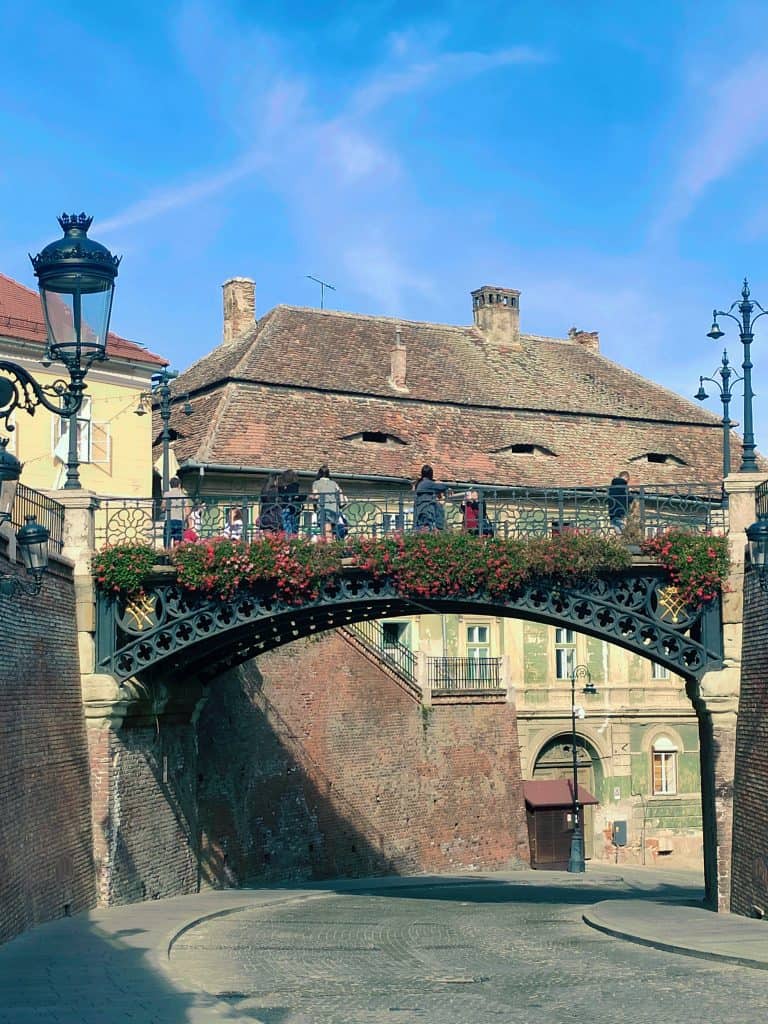 Notice the eyes on the roof yet? On the roof of the green-house behind the bridge? You will see a lot many of them in your time in Sibiu. Apparently, in the old days, they were built to function as cooling vents in the attics where grains and cereals were stored. I guess they all used the same architect and continue doing so.

Creepy or cute?
Next go to the Lutheran Cathedral of Saint Mary, at Piața Albert Huet
The 14th-century Lutheran Cathedral of Saint Mary is a Gothic-style church that looms over the city of Sibiu. It has a 73.34 m high steeple which makes it the tallest in Transylvania. The four additional towers on the corner are indicative that the city had the right to award the death penalty (once upon a time

).
A fun thing to do is to climb the tower and get a good look at the city from the top. You need to climb about 200 steep stairs to get to the top and the windows upstairs are shut but they have glass on them, so you get a good enough view (at least on the ones where the pigeons haven't done their deed yet). See my photo below. When I went, I was the only one. So it was fun for me.
The interiors of the church are currently (as of Sept 2019) under renovation, and thus not open for visitors. You can visit the tower though.
Timings: 10 a.m. to 6 p.m. (summer); 11 a.m. and 4 p.m. (rest of the year)
Entry: 5 lei to enter the tower.
Walk down the Stairs Passage or Pasajul Scărilor
The 13th-century stairs passage connects the upper town (home to most historical buildings of Sibiu, used to be the commercial centre) to the lower town (used to be the manufacturing centre of Sibiu, less wealthy than the upper town)
The Goldsmith Alley starts at no. 24, located in the Upper Town and ends at the lower square. This entire gangway dates from 1567 when goldsmiths had shops in this area. Now the area has restaurants and souvenir shops but is a pleasant colourful walk.
End your walk at The Holy Trinity Cathedral, Strada Mitropoliei 33. It has the most gorgeous interiors I have seen in a  church. Immediately, I thought of Hagia Sophia ( Istanbul ) and indeed, I learnt later that it was inspired by it and was built in the style of a Byzantine basilica.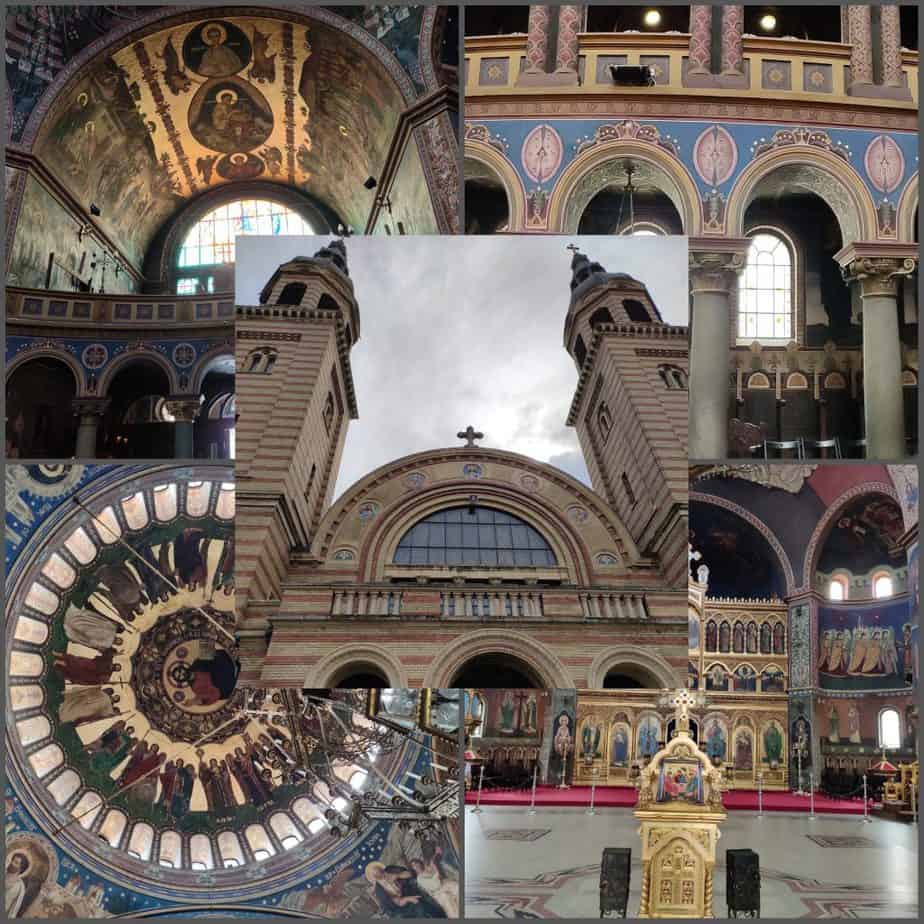 Sibiu city also holds plenty of activities through the months of August and September. For example, when I arrived on the 8th of September, the Autumn Harvest Festival was on. It was plenty of fun with delicious food, clambering children, and a musical event in the night to cap it all.
And as I write this, the stage at Piata Mare is resounding with guitar and drums, and a merry audience is singing along with a popular local band.
Other attractions to visit are the old city walls, its various towers, and 7 kms away, the Astra National Museum.
Day 2: A Transfăgărășan road trip
'Transfăgărășan' literally means crossing over the Făgăraș (pronounced 'fugurash') mountains. The road, built in the 1970s, connects Wallachia and Transylvania and is considered one of the best and the most picturesque roads in the world. Many thanks 'Top Gear' 2009.
The road climbs to a height of 6,699 ft and provides access to the beautiful Balea Lake. The winding nature of the roads also makes for drop-dead pictures. It takes three hours to drive the road, end to end.
The road is usually closed between October to June because of snow.
Quick trivia: The road was built on the orders of (who else but) Nicolae Ceausescu who wanted the road to ferry soldiers to the North if Romania were to be invaded by Russia. Urban legend or truth?
On your way back, you could also stop at
(1) The Cistercian Abbey of Carta, located 43 km away from Sibiu, was established by a French order of monks in 1098. It is the oldest gothic style structure in Romania. Some also consider it haunted?!
We were only about 4 people in the beautiful, ancient monastery, and it was a calming, meditative experience. The church was later renovated by the Saxons and is still operational as an Evangelical Lutheran church.
Entry: 5 lei
and
(2) Clay Castle of the Valley of Fairies or Castelul de Lut Valea Zanelor (costs 5 lei to enter; open from 10:30 a.m. to 5:30 p.m.). The quirky house was conceived in his dreams by a rich Bucharest couple who started building this house but had so many people coming to visit and gawk, they decided to turn it into a business. It is a totally natural building made of organic clay, straw and sand. Only the outside facade is worth a visit. There's nothing to see inside.
How: Email tour operators asking to join existing tours; no fixed departure tours were running when I was there. Or better still, hire a car.
My tour was organized by Romanian Friend. They may be running a few guaranteed departure tours in high season. Or email Marius at [email protected] to inquire if you can join an existing tour. Check the price before though because it changes based on group size.
Cost: 60 euros per person; If travelling solo, ask to join an existing group to avoid paying the two people price of 120 – 150 euros
Duration: 8 hours
Day 3: Day trip to Sighisoara
A well-preserved dreamy medieval town, Sighisoara is best done from Sibiu because it is closer (95 km vs. 120 from Brasov) Sighiaosara is located by the Târnava Mare River in Mureș County, Romania. It is a small town, with a population less than 30,000, and you can cover it in less than half a day.
What to do: 
(1) Land at the Central Square or Piața Cetății. It is a 15-minute walk from the train station.
(2) Walk to the birthplace of Vlad the Impaler. It's a yellow colour house. I am not sure if it is worth paying 10 lei to enter the place. Reviews online didn't seem to think so. I skipped it. There is also a well-reviewed restaurant inside you might want to check out.
(3) Next, do some hard work. Walk straight on ahead to the Scholar's Stairs or Scara Scolarilor. The flight of about 180 stairs were built in 1642 to facilitate students and townsfolk to climb up to the school and church respectively, especially during snow-covered winters. It is made of wood.
(4) Climb the steps to reach St. Nicholas Church. Walk around the grounds, to the cemetery and to the high school. Entry into the church itself is 8 lei.
(5) Climb back down to the main square, and head to the Clock Tower or Torre do Relogio. Entry is 15 lei. Open 10 a.m. to 5 p.m. Be amazed at how much noise feet can make on wooden floors. But more seriously, the Clock Tower houses some interesting artefacts (a special mention to the pharmacy floor with the physician's briefcase–positively scary), and the view from the top is great too.
The clock tower was built in the 13th century. It was the main entry point of the citadel. It is 64 meters high and a good orientation point for the city.
Also, if you walk around, you will see the old city fortifications along with its many towers.
Torre do Relogio or the Clock Tower of Sighisoara(5) Have lunch and a coffee at the International Cafe at Piața Cetății. Lovely food, great hosts, and a great outside area to laze in
(6) To avoid falling asleep afterwards, walk down to Art & Craft (below the International cafe) to buy some unique gifts for your home.
Other options to eat: Alforno 5 minutes away, next to Bean Specialty Coffee which has some great coffee.
How to go to Sighisoara
Option 1: Take the minibus to and fro from Sibiu (earliest from Sibiu starts at 9 a.m., the latest from Sighisoara starts at 3:30 p.m., costs 95 lei each way. Link) Travel time: 2 – 3 hours
Option 2: Trains which offer more flexible timings but might need changing. Check link. Travel time: 3 hours with changes.
Option 3: Hire a car or a taxi. This also allows flexibility to stop at Biertan and Medias on the way. Takes 1 hour 30 minutes, costs about 200+ lei for the car to drop to Sighisoara (1 way)
Where to eat in Sibiu
Cafes
There are plenty of amazing cafes in the big and small square. I particularly liked The Nod Cafe (fantastic coffee and very friendly staff), and Refresh, right next to my hotel. Here's Culture Trip's list of best coffee shops in Sibiu. Also, Local, right at the bottom of the stairs was great.
Traditional Food
Look no further than Crama Sibiana. Try the Mămăligă and sarmale. The waiters can be grumpy though. The beautifully located Cafe Wien is another good option. The view is great and it also has live music!
Also, do what the locals do. Grab one of the pieces of bread from the 'hole in the wall' shops along the road. They are cheap (3 to 4 lei apiece) and delicious. As you walk along the streets, you'll notice serpentine queues either in front of one of these bread stores or in front of the numerous ice cream shops and gelaterias.

No healthy food can be had here.

Or head over to the Sibin Market for some fresh fruits, cheese, meats, and vegetables. It can get chaotic in there though, but the locals shop at the Sibin Market and thus, no better place to get the authentic local shopping experience. At: Piața Cibin; From 7 a.m. to 8 p.m.
How to get to Sibiu
Sibiu has its own airport but with limited flights. The closest large airport is Cluj Napoca. For other transportation options and how to check what's best for you, go here.
Other travel itineraries for Romania: Bucharest, Brasov, Cluj Napoca, and Timisoara.
Where to stay in Romania
These are the hotels/ hostels I stayed in. They are tried and tested, and I loved them all. In Sibiu, I have given an alternative, based on local suggestion, because I didn't quite like the B&B I stayed in. All the places were $25 – $45 per night, for single rooms or whole apartments. Cheaper options were also available.
Bucharest: Central Guesthouse Bucharest
Brasov: Jugendstube Hostel or my Airbnb right at the centre
Sibiu: Casa Luxemburg at Piata Mica
Cluj Napoca: Cool Terrace close to everything worth seeing
Timisoara: Hostel Cornel, close to the main square