An easy Varkala itinerary
About Varkala
Varkala is a coastal town about an hour and a half's drive from Thiruvananthapuram in Kerala, with relatively unharmed beaches, and cliffs that stand adjacent to the Arabian Sea. The town is also famous for a 2,000-year-old Janardana Swami Temple, located close to a beach that's called Papanasam i.e. the beach to wash away sins. Varkala is a popular backpacker stop, the choppy waters making for good surfing, and there's plenty of pristine coastline and cool cafes dotted alongside to fill your days and nights. It's no Goa, but close enough. Consider it a rural relative. It's safe for a single girl to travel about without getting hassled, and that was what made the decision for me. I could indeed walk on the unlit roads at any time of the night without feeling unsafe. Foreigners are aplenty, and the town is used to tourists.
At Varkala, I had plenty of alone thinking time, and I came to the conclusion that…wait for it…yes…drumrolls now…
…that….
….well…
….here it comes…
….that…
…the thinking mind is the cause of all misery.
And this I learned during a visit to the intriguingly horrifying Thaipusam festival at the outskirts of Varkala.
Thaipusam is a festival celebrated to honor Lord Murugan, the Hindu god of war and a son of Shiva. Usually, it's celebrated on a full moon day though I'm not sure when exactly (for example, the Tamils celebrate it in Jan or Feb, depending on the lunar calendar but the one I went to was on March 31).
So what happens in Thaipusam?
Worshipers pierce their bodies! That's what. The ritual is some sort of religious penance or coming of age ritual. And they're not just simple, benign needle pricks. Their faces and bodies are impaled and drilled with swords, skewers, and hooks. It's gruesome to watch. And you'd think the roads and temple grounds will be filled with blood and shrieks, but no! The worshipers who pierce their body parts hardly bleed and report feeling very little pain! Many claim that their wounds heal nearly immediately and don't produce scars. I could see these boys/ men were in a drunk like trance (no, they weren't drunk or high, I checked many times). This trance is further worked up by communal chanting, music from loudspeakers and loud drumming.
While the piercing ceremony is done mostly by men, women carry kavadis (burdens) which are heavy, artistic shrines attached to them with sharp skewers. Sometimes the devices are so heavy that assistance is sought. In fact, every devotee undergoing the (brutality) seemed to be tagged with a companion, encouraging them, holding them, mollifying their wounds.
Then, I saw some of them walk on fire later in the night. Literally, walk on fire.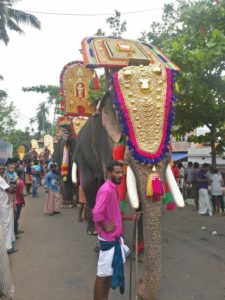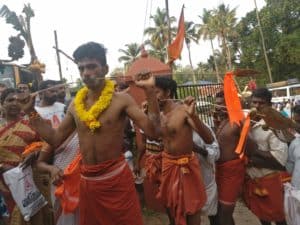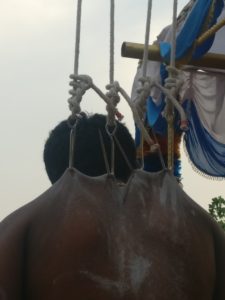 So, why do they do it? Because they believe it will bring them good luck. Prosperity. Long life and health. The devotees believe, and thus they receive or think they do. They don't know any other way. They're not drunk, not drugged, they simply believe. They've been made to believe since they were very young. This belief runs in their bloodstream, intermingled with their being.
Conclusion: It's natural to delve over miseries, the thinking mind loves it, but what if we were to believe (or train ourselves to believe) every incident is happy. Love, loss, death, success, like metals piercing in the body, they prick and prod, but cannot break. Like a lovely piece I read in a book I am very addicted to right now, The Secret History by Donna Tartt — "What if you had never seen the sea before? What if the only thing you'd ever seen was a child's picture–blue crayon, choppy waves? Would you know the real sea if you only knew the picture? Would you be able to recognize the real thing if you saw it? We're talking about God here. God is serious business."
Would you know misery if you did not know how to recognize it?
Stay at Varkala
I stayed at Kaiya – delightful gem located 15 minutes away from North cliff. Debra (the owner) and her guests were lovely and I had a good time in her one single room 'Nepal'. Each room is beautifully done up in her B&B, following a country theme, and replete with interesting art and artifacts. Debra herself had many tips on what to see and where to go, and since I was traveling alone, both her company and guidance was helpful. While I'd prefer to stay by the beach next time, I'd recommend her place to anyone looking for some calm and interesting company. Note though, there is no facility for dining in (except the complimentary breakfast).
Alternately, I checked out a few other places with a view to the beach. The Hill View Beach Resort (North cliff), Om Sam and Soul & Surf (south) seemed particularly attractive.
Do at Varkala
Chill at North Cliff
I made café Del Mar my second home and hung with their smoothies and my Kindle often, but there are other popular options such as Himalaya Café, Trattoria, and Little Tibet. Beer and wine can be provided on request (discreetly wrapped in newspaper, since liquor is banned in Kerala). Indulge in the many healthy smoothies and juice options. North cliff lights up with twinkling bulbs at night, and as dusk falls, the panoramic view to the infinite sea on one side is quite magical.
Ayurveda treatment or massage
It was a hit and miss for me. After a few lackluster and expensive massages (options start from INR 500 and go to INR 2000 on North Cliff) I went to Mathruthwam which did a good job. But don't expect to have your mind blown.
Yoga
INR 350-500 for a drop-in hour-long class which usually happens along the North cliff at set times during the day – 8 or 8:30 am and 4 or 6 PM. I didn't try one, just saw the boards. Choose carefully. I believe the Sivanada classes are good but I've heard people complain about the quality of a few others.
Temples and culture
You may be lucky to witness a few festivals as I did, else take a trip to the Janardana Swami Temple or Sivagiri Mutt.
Surfing
Surfers should consider staying at Soul & Surf. They provide in-house yoga classes, surfing lessons and seemed like a great place to stay. Residents seemed to be volunteering, so you could also get a free stay/ lessons, I guess. The perfect place for the single, active holiday seeker. By the way, the turmeric honey cake I had there (albeit cold, since I'd gone during their set breakfast time) was yum yum.
Shopping
Boutique and Himalaya cosmetics are available aplenty – attractive for foreign buyers. There are handmade soaps, spices, and chocolates available, but nothing spectacular. You could pick up a few natural oils from the Ayurveda spas or natural fabrics/clothes from Asparagus (call in advance if staying for less than 3 days) Asparagus creates made-to-measure clothes with lovely khadi, cotton or linen fabrics.
How to get to Varkala
Take a flight to Thiruvananthapuram. It is one and half hour long taxi ride. Request the hotel to arrange for a taxi pick up. Costs around INR 1200 one way.