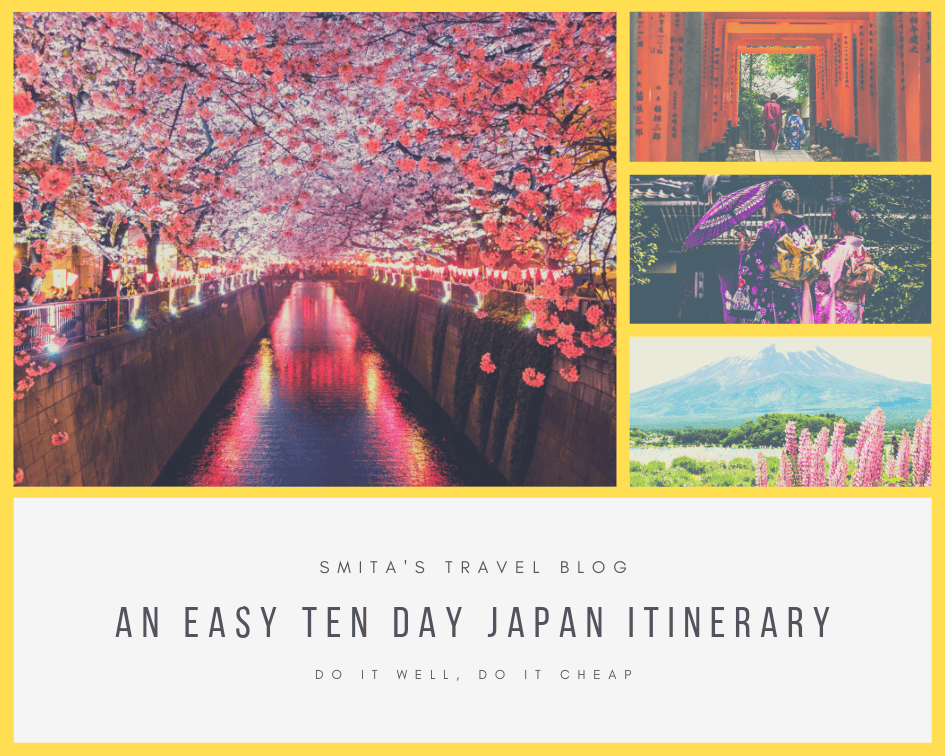 A ten days Japan itinerary for solo travelers
Here is a ten-day Japan itinerary for solo travelers. Find out how to do Tokyo, Kyoto, Osaka, and Nagano in the easiest and the most efficient way.
I admit I didn't do enough in Japan. Mere ten days in Japan was an impossible time to. It's a fairly homogenous country but every city and region has a quirky, special character, and Japan as a whole was unique, unlike any other country I'd been too. Everything was new: the food, the language, the landscapes, the religious norms, the traditions, pop culture, the rights, and wrongs. The cities are impossibly large, and the stimuli all around were exhausting. The small towns were quaint and comfy: you'll want to sit in your wooden porch all day and stare at Mt. Fuji, a steaming cup of Matcha in your hands. Yes, all day!
Yet, I did enough to LOVE what I saw and did. The highlights. If you can't help but have only nine or ten days for Japan, here's an itinerary you can do easily. You can flip around the cities, but I found this route optimal since it's totally covered by the JR Pass and ticks all the essentials.
Remember to check the April Blossoms Calendar before. Get the JR Pass before. Other MUST DO tips here.
Exchange rate: 111 Japanese yen is about 1 US Dollar.
The plan is to do Tokyo, Kyoto, Osaka, Nagano solo.
Day 1-2: NAGANO: Zenko-ji, Takato Castle, Jigokudani Monkey Park
About Nagano
I started with Nagano because the cherry blossoms were in full bloom the day my trip started. It is an absolutely unmissable phenomenon. Nagano is a cute little city even otherwise and makes a good stop between Tokyo and Kyoto. Also, it is the ideal starting location to do the Tateyama Kurobe Alpine Route.
Nagano is located in the Chūbu region of Japan with a population of close to 4 lakh people. Surrounded by tall mountains, the town is also knowns as the 'Roof of Japan'. 20% of the Nagano Prefecture area is designated as Natural Parks and it is also home to several natural hot springs. In 1998, Nagano hosted the Winter Olympics and Paralympics. More info on Nagano. Nagano City is located in the northwestern part of Nagano prefecture.
How to go: Nagano and Tokyo are connected by the Hokuriku Shinkansen (JR). The trip takes about 90 minutes, costs about ¥8000 or $72 and is fully covered by the Japan Rail Pass.
From Narita airport, go to Tokyo station to catch the Hokuriku Shinkansen to Nagano. To do this, you need to collect the JR pass before (in exchange for the vouchers you must already have purchased) in the airport and get it stamped at the station to kick-start the JR pass duration (7, 10, 14)
Other passes you can consider investing in if staying longer in Nagano.
Top things to do
Zenko-ji Temple
The Zenko-ji Temple is 1400-years-old and belongs to the Edo Era (1603 – 1868). The temple's main hall is the 3rd largest in all of Japan. The main Buddhist image is a hibutsu (secret Buddha) i.e. a hidden Buddha statue, not shown to the public. This hibutsu is rumoured to be the first Buddha statue to ever be brought to Japan. The temple is best seen early morning when the crowds are lesser. You can spot locals (school children, office goers) dropping by to pray for a happy day ahead. On your way back, stop to shop in the stone-paved Zenko-ji Nakamise Shopping Street dotted with quaint wooden shops.
How to go: Zenkoji is a ten-minute bus ride from the JR Nagano Station: take the bus headed for Zenkoji-guchi on stop no.1 and get off at Zenkoji Daimon. Costs ¥150. Alternately, it's a 25-minute walk which I had to do on my way back since the return buses seemed less frequent. Keep aside 2 hours for the experience.
Local parks for cherry blossoms
During the month of April, cherry blossoms in Nagano come to life. The best places to see them in full bloom are
(In the city) Jouyama Park: located on the east side of Zenko-ji Temple, the park is the oldest in Nagano city. When the trees are in full bloom, it's a cool place to be. Otherwise, passable. Zenkoji itself has an array of cherry blossom trees that's quite pretty
(Outside Nagano city) Takato castle park: regular tours run from Nagano city to Takato castle park to see the cherry blossoms when in full bloom. The park is located on a hill in Ina City of Nagano Prefecture, and has close to 1500 trees! Illuminations are held every night from sunset to 22:00 in April. There's an entry of 500 yen during the cherry blossom season
(Outside Nagano city) Matsushiro castle park: Located in the northern Nagano Prefecture and from the Edo period, the Matsushiro castle area is a worthwhile visit only during the cherry blossom season. Free admission, about a 30-minute bus journey from JR Nagano station
More information on where to see cherry blossoms while in Nagano.
Nightlife
Nagano city sleeps early. Enjoy a drink or two with the locals at Red Dragon.
Jigokudani Monkey Park
This is a half-day trip. Keep Day 2 for it.
Jigokudani means Hell Valley, referring to the steam and boiling water residing in the mountains. The Monkey Park is located in Yokoyugawa Valley in northern Nagano Prefecture and opened to the public in 1964.  The park houses the Japanese Macaque species which is native to northern Japan. They have brown-grey fur, a red face, hands and bottom, and a short tail.
How to go: From JR Nagano Station, take the Nagano Dentetsu (Nagaden) train line which will bring you to Yudanaka Station, the nearest station to the monkey park. The limited express train covered by JR pass takes 50 minutes. The train also stops at Suzaka and Obuse on the way, so you can plan a quick detour if you want. From Yudanaka Station, take a bus or taxi to Kanbayashi Onsen (10 min, ¥310). From there, it's a 30-minute walk to the park's entrance. Keep aside 4-5 hours for the whole experience. Access and fare details here.
Buy the pass at Nagano station (at the Dentetsu Line side) / Gondo / Suzaka / Obuse. Costs ¥3,500 or $31 and allow unlimited use of the Nagano Dentetsu Train Line and unlimited use of the Nagaden Express bus (Nagano station – Snow Monkey Park). And of course, free admission to the Snow Monkey Park.
Places you can go
Shibu Onsen
Shibu Onsen is a 1,300 years old hot spring resort. Walk alongside traditional wooden ryokans and on cobblestone streets and be transported back into time.  The Onsen has nine public baths and you can tour it or "Kyu-to meguri" (the tour of the nine bathhouses for purification) before moving further to the Snow Monkey Park which is 2.5 km away.
The Tateyama Kurobe Alpine Route
This is where you get to see the looming snow corridor, a wall that rises up to 20 meters!
The Tateyama Kurobe Alpine Route is a snowy mountain route between Tateyama, Toyama and Ōmachi, Nagano, Japan. The route spans 90-kilometer and is split into nine sections that include rides on cable railways, a highland bus, a cable car, and a trolley bus. It starts in Toyama and finishes at Shinano-omachi (it is also possible to do a trip in the reverse direction). It stops at Kurobe Dam in between. The entire journey costs about ¥11,000. The route opens on April 15 and closes in November.
If starting from Nagano and moving to other cities northwards, it is possible to send off your luggage to the next hotel.
How to do: Read about how to do the route on the official website.
A day trip to Matsumoto, Takayama, Shirakawa-go, or Kanazawa
Matsumoto, the city with the famous wood black castle (nicknamed "Crow Castle" for its distinctive black walls), is one hour away from Nagano. In cherry blossom season, the castle park if gorgeous and a sight to behold. From Matsumoto, you can take a bus and go to Takayama,  Admire its beautiful town center, sake breweries, old shops, and shrines. From Takayama, you can visit Shirakawa-go, a UNESCO listed small, traditional village with gassho-zukuri farmhouses, centuries old. Gassho-zukuri means constructed like hands in prayer, as the roofs look like hands of Buddhist monks held together in prayer. Lastly, you could visit Kanazawa, also known as little Kyoto. The capital of Ishikawa Prefecture, Kanazawa has well kept Edo-era districts and an imposing castle built in the 1580s.
All four towns are sort-of hidden gems and present to tourists the rural charm of ancient Japan.
Organized tours
Snow Money Resorts seemed to run the highest rated trips and they had multiple options. And also a lot of information on Nagano. Check them out here.
Where to stay
Among the highest rated and central hotels are the following:
Dormy Inn (where I stayed. Fantastic location, great price for a single room)
Ten days solo in Japan: How to do Tokyo, Kyoto, Osaka, Nagano.
Day 3: OSAKA: Free walking tour, Kuromon, Dotonbori, Osaka Castle
About Osaka
Thirty minutes away by Shinkansen from Kyoto, Osaka is Japan's third largest city (after Tokyo and Yokohama). It has a culture and temperament quite different from its larger more popular counterparts: Tokyo, Yokohama, and Kyoto. People there talk to strangers, for example, and are somewhat less disciplined

(for instance, there were food scraps on the streets!)
Osaka literally means 'large slope'. It's the central city of the Kansai region and often known as the 'Kitchen of Japan'. It has a population of about 30 lakh people.
How to go
Shin-Osaka is on the JR line and covered by the JR pass. Osaka station is 15 minutes from Shin-Osaka and reachable by limited express trains (covered by JR pass) or the subway (Midosiji – red line, not covered by JR). I reached Shin Osaka late at night and decided to stay at the capsule hotel – Nine Hours close to it because it was too late to head to Osaka and the trains had stopped running.
What to do
Start your journey in Osaka with the Osaka free walking tour. The tour starts from Namba (the main areas of the city are Umeda in the north; Shinsaibashi and Namba in the south), then takes you through the colourful 120-year old Kuromon Ichiba Market, followed by the anime hub-Nipponbashi and the old, crumbling neighbourhood of Shinsekai with its iconic Tsutenkaku Tower. The 2.5-hour walk is an entertaining one with a guide who is passionate about Osaka. You will leave with warm memories and a new found affection for the city. I certainly thought Osaka was the best of the Japanese cities I went to after my day here, and thanks to the free walking tour.
Later, visit the Shitennoji Temple, one of the oldest in Japan, built over 1,400 years ago. The outer temple grounds are free to enter, but admission to the inner precinct, the Gokuraku-jodo Garden and the treasure house is paid. The Gokuraku-jodo Garden was designed based on descriptions of the Western Paradise of the Amida Buddha and is quite pretty. Open 8:30 a.m. to 4:30 p.m. (until 4 p.m. from October through March)
Just before sunset, visit the Osaka Castle (timings: 9 a.m. to 5 p.m.) A good idea is to go here at 4 p.m. when the crowds are beginning to recede. See the castle in an hour before closing time (5 p.m.) Stay for another hour afterwards—walk up and down the Gokurakubashi bridge or sit on the benches outside. Watch the dusk fall gently and the castle light up like magic.
Spend the night at Dotonbori. Eat on the street or swing over to Giraffe for a whiff of nightlife. Giraffe opens at 8 p.m. but closing time and entry fees vary from day-to-day. Four floors of different music, an array of drinks to choose from, and you will scarcely be bored.
What to eat
Osaka is a foodie's dream. There's so much to eat! What you should definitely try in either Kuromon market or Dotonbori:
Kushikatsu: deep-fried skewers of meat
Fugu or blowfish (Eat in Zuboraya in Dotonbori). Fugu is poisonous unless prepared by an expert and only a few places in Japan are licensed to make this dish
Yakiniku or barbecued beef
Okonomiyaki or savoury pancake (Eat in Mizuno in Dotonbori). Birthed in Osaka and my favourite
Takoyaki or fried octopus balls (Eat in Dotonbori Konamon Museum)
Kobe beef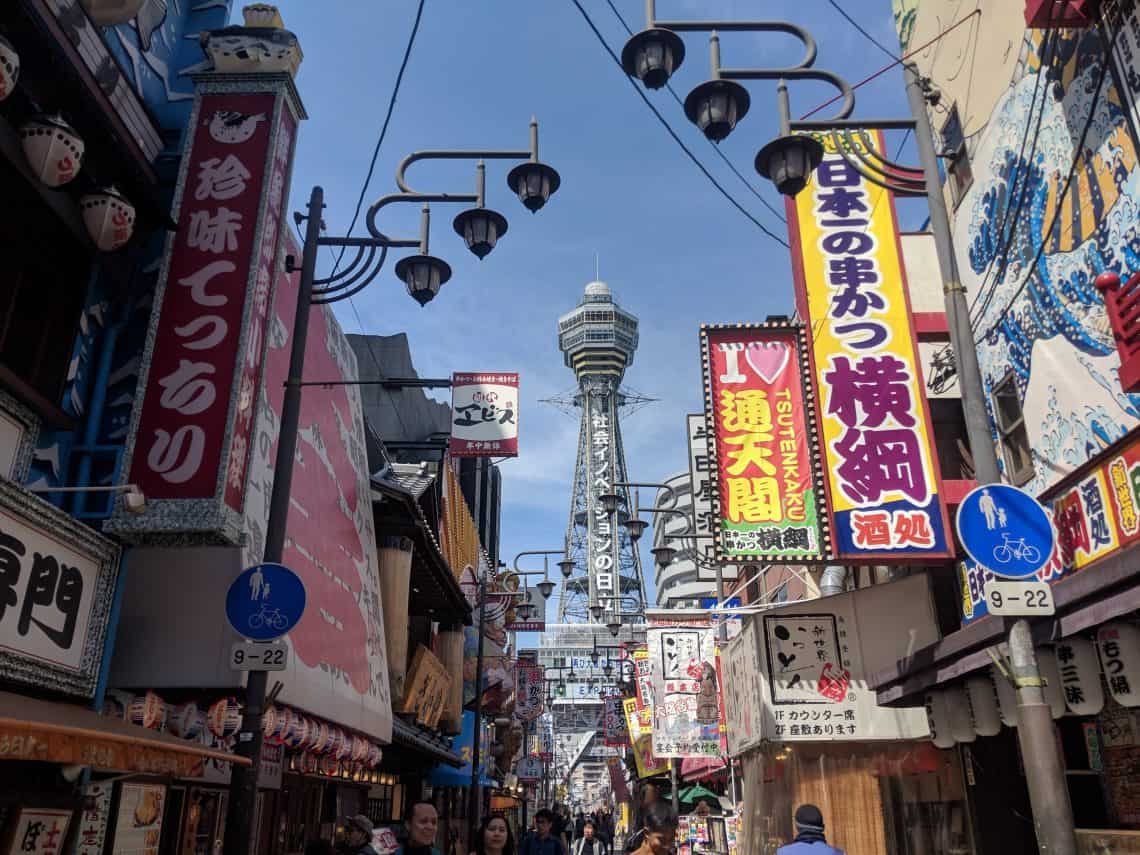 Where to stay
If looking for a night's stay, look no further than nine hours which is five minutes from the Shin Osaka station on the JR line. There is also another one at Namba in Osaka. Both are perfect for a night's comfortable sleep. Costs about $35 per capsule per night. If looking for a mid-range more comfortable option, try the excellently reviewed Cross Hotel.
Optional activities
Climb the Umeda tower for a gorgeous view to the city (Hours. 9:30 a.m. to 10:30 p.m. Last entry at 10 p.m.)
See a variety of fish and mammals at the Osaka Aquarium, the world's largest public aquarium (Hours vary by season. Usually, open from 10 a.m. to 8 p.m.)
Rent a bike through Global Wheels and bike around
Visit the cult-fav Standard Books in Shinsaibashi and pick up a rare book. Have a yummy coffee while at it
Ten days solo in Japan: How to do Tokyo, Kyoto, Osaka, Nagano.
Day 4-6: KYOTO: Free walking tour, Arashiyama, Kinkaku-ji, geisha show, tea ceremony, Fushimi Inari, Gion
About Kyoto
Kyoto was the capital of Japan before Tokyo, for about a thousand years. Funnily, kyo + to, both mean "capital", but safeguarding the city with self-confident duplicates obviously did not work. To this day though, Kyoto remains the cultural hub of the country with many of the ancient traditions alive and thriving; the likes of Kabuki, butoh, kaiseki, tea houses, okiyas with geishas and maikos, Shinto shrines looking like they were trapped in the 18th century.
Kyoto is located in the Kansai region of Japan and has a population of about 15 lakh people.
How to go
Tokyo, Kyoto, and Osaka are connected with by the Tokaido Shinkansen line, covered by the Japan Rail Pass.
From Shin Osaka station. The Shinkansen (JR train) takes about 15 minutes and is covered by the JR pass.
From Osaka station, special rapids or the Limited Express Thunderbird run to Kyoto which takes about 30 minutes and is covered by the JR pass.
From Tokyo, take the Shinkansen from Tokyo Station or Shinagawa Station to reach Kyoto in 2 hours 40 minutes (Hikari). Note that the Nozomi trains are not covered by the JR pass. Choose between the Hikari or Kodama trains, preferring the former which makes lesser stops.
What to do
Day 1
Morning
Start your journey with the Kyoto free walking tour (2.5 hours, starting times of 11 a.m. and 1 p.m.) The tour takes you through the temples of Higashiyama and the Gion district and gives you a lot of interesting history alongside them. I think we covered a large part of the Philosopher's Walk too i.e. the walk along the pedestrian path between the Ginkaku-ji and Nanzen-ji temples, named after the famous Japanese philosopher Nishida Kitaro who used the path for his daily (I presume, walking) meditation.
By the way, the Starbucks on Ninen-zaka is the prettiest I have seen.
Have lunch at Nishiki Market (Opening hours: 09:00 – 17:00), also known as Kyoto's kitchen. This noisy, busy market has many live food counters and sells cookware, coffee beans, seafood, Matcha, sweets, pickles, among other exotic things. Dating from the 14th century, the market is a gastronomical delight. It is five minutes' walk away from the Shijo Station on the Karasuma Subway Line.
Evening
In the evening, attend a tea ceremony at Camellia. A tea ceremony is a lovely, meditative experience which provides a glimpse of traditional Kyoto. It takes about 30 minutes in all for the experience and costs ~$27. You get to taste traditional sweetmeats and make your own Matcha Tea. Be sure to book beforehand. In peak season, the slots get filled quickly. A group ceremony has around 6 attendees but it is possible to do a private session as well.
Spend the night at Pontocho in Gion district. Pontocho is home to many geiko okiyas and traditional tea houses. It is also Kyoto's prime dining and nightlife centre.
You may be lucky enough to catch a geisha or a maiko here. Kyoto culture is steeped in stories of geisha and spotting one is both an act of adventure and achievement. You might see a posse of businessmen arriving in the dark of the night and a maiko hurrying to greet them, then proceeding to whisk them into the nearest okiya. It happens in a jiffy, stealthily, yet with a certain practiced grace, and for a brief moment, you are transported to a world that once was.
There are several options to eat in Shimbashi Street and Hanami-koji Street. In cherry blossom season, these streets are sights to behold.
Wagyu and Kobe beef is a delicacy to try in Gion, especially in the cramped but delicious eatery, aptly and starkly named, steak and Wine.
Day 2
Morning
Start early and go to Arashiyama close to sunrise (the earliest train is around 5:30 am). At 10 a.m. the crowds from the bus tours come in, so it gets very crowded. VERY. If you reach early enough, you will be left amazed by the swaying bamboo trees minus the selfie sticks.
By train (or bus) arrive at JR Saga-Arashiyama stop and visit the Tenryu-ji Temple first. Walk for a few minutes to reach the Arashiyama Bamboo Grove. See the Togetsukyo Bridge. At the top of the hill, you will come to Okochi-Sanso Villa. Walk back to JR Saga-Arashiyama Station, and take Sagano-San-in Line local back to JR Kyoto Station. If hungry, stop for lunch at Saga Tofu Ine. A vegetarian's delight. Finally!
Evening
Go to the Minami-za theatre for whatever's on. Book tickets before.
I was lucky to be in Kyoto when Miyako Odori was running. A homage to cherry blossoms, the hour-long series of performances is a collection of dance, music, awe-inspiring costumes, backdrops, and choreography. Do not forget to rent an audio guide at the gate since the performance is in Japanese.
Minami-za is the primary kabuki theatre in Kyoto, founded in the year 1610. It was founded by a woman, no less. Izumo no Okuni's statue stands today at the banks of the Kamogawa River in Kyoto, a reminder to passers-by of her contribution to the art.
Day 3
Morning
Go to JR Inari Station and visit Fushimi Inari Shrine next to it. The Fushimi Inari shrine sits at the base of the Inari Mountain which is 233 meters above sea level. You can walk up the mountain through a 4 km trail that takes 2 hours. While Inari is the kami (spirit) of rice, the shrine is also considered as patron for success in business. Each of the over 10,000 toriis in the tunnel leading to the mountain has been donated by a Japanese businessman.
I visited Fushimi Inari at night. There were two other people in the whole shrine complex, and I walked the line of vermilion toriis in deadly quiet, enjoying the meditative bliss, a bit worried about the monkeys, praying they'd be asleep. It was an eerie, yet memorable experience.
Visit the Kinkaku-ji Temple later in the day. The Temple of the Golden Pavilion also known as Rokuon-ji or deer garden temple attracts a lot of visitors and can get crowded by afternoon. It makes a pretty picture though, floating amidst a lovely mirror pond (Kyōko-chi) and surrounded by a lush garden with bonsai and creative rock compositions. A one hour stop. Open 9:00 a.m. to 5:00 p.m. Adult entry, ¥400.
Evening
For dinner, head back to Gion. Can never get enough of the place.
Where to stay
The best areas to stay in Kyoto are Gion, downtown (tourist-fav), and Kyoto station. Try staying close to the station if taking day trips. A few options are
Monterey (Where I stayed): Located in downtown and minutes away from Nishiki market, Monterey is part of a 4-star chain hotel in Japan. The location in Kyoto was awesome-only minutes away from all major attractions. Nightly per room rate ~$150-250
Dormy Inn: The part of the Dormy Inn Chain is very well-reviewed and at an awesome location (A 7-minute walk from Kyoto train station). There is also a rooftop onsen! Their breakfast also is sumptuous and service well talked of. Free ramen at night. Nightly per room rate ~$250 per room
Cross Hotel Kyoto: A new hotel which is well located and gets sold out fast. Nightly per room rate ~$130 per room
The Millennials: A well-reviewed, full-amenity capsule hotel at an attractive location. I almost booked this until I felt flush with money and opted for Monterey. Nightly rate per person ~$40-60
Optional activities
Visit the Kyoto International Manga Museum
See the view of the city from Kyoto tower
Watch a Butoh performance. Butoh is a form of Japanese dance theatre which literally means 'Dance of Darkness'
Participate in a Samurai class
Watch the show at Gion corner (6 p.m. and 7 p.m. A 50 min performance. Not highly rated, but can do if looking for a quick cultural immersion)
Visit the quaint Kyoto bookstore—Keibunsya
Kyoto is a bicycle-friendly city. You could consider renting a cycle for 2 days from the likes of J-Cycle if comfortable cycling around a strange city
Try Klook (the best tour aggregator in Japan, in my view) for options.
Ten days solo in Japan: How to do Tokyo, Kyoto, Osaka, Nagano.
Day 7-10: TOKYO: Free walking tour, Shinjuku, Shibuya, Roppongi, Asakusa, Harajuku, Fuji
About Tokyo
Tokyo is the capital of Japan. Has been since 1869. The greater Tokyo area has a population of 4 crores (30% of Japan's population) and is thus, considered the most densely populated city in the world. Tokyo used to be called Edo, a name derived from the Edo Period of the Tokugawa Shogunate (1603 to 1868). In fact, Edo and Meiji are terms you will hear often while in Tokyo. The Edo period was when Japan passed the 'closed country edict of 1635' which was followed by 200 years of seclusion from the rest of the world. The edict closed Japan to foreigners and prevented the Japanese from leaving the country. Paradoxically, this period also saw huge economic growth in the country, the proliferation of arts and culture, and the construction of the many major temples and shrines. The Edo period ended with the Meiji restoration or revolution of 1868. This resulted in the opening up of Japanese ports to trade and 'western' influence.
Tokyo today symbolizes all the contradictions that Japan is known for: religious shrines only a few miles away from seedy love hotels; stark, basic homes next to garish pachinko slots; the mess of sidewalks inserted into the orderly way of lives with was too many instructions; porn magazines in flagrante in departmental stores in what is a fairly conservative country, so on and so forth.
How to go
Take the Shinkansen to Tokyo Station (or to Shinagawa). The line to use is Tokaido Shinkansen's Hikari and Kodama, preferring the former which makes lesser stops. The JR pass does not work on the Nozomi line. If you have to go to any other station in Tokyo, climb aboard a train on the Yamanote, Chuo, Keihin-Tohoku, Sobu, Saikyo lines where the JR pass is valid.
To go to and from Tokyo to Narita Airport: The Narita Express or N'EX connects the Narita Airport to Tokyo Station, Shinjuku, and Yokohama (60 minutes to Tokyo Station, around ¥3000 or $27, covered by JR pass). Or take the Keisei Skyliner from the airport to Nippori or Ueno Station (about 40 minutes, ¥2470 or $22, not covered by JR pass) and transfer to the JR Yamanote Line or JR Keihin-Tohoku Line to get to Tokyo Station (10 minutes, ¥160 or $1.5). Both NEX & Skyliner require reservations; a reservation is free for Narita but paid for Skyliner. More information and options here.
What to do
Day 1
West Tokyo: Shinjuku-Shibuya, Harajuku, Meiji Jingu, Yoyogi Park
As soon as you come to Tokyo, if you have come on a weekday, take the free tour at Tocho or the Tokyo Metropolitan Government Buildings (Open 9:30 a.m. to 6:45 p.m.) The tour takes place at two times. 10 a.m. and 1 p.m. The observatory on the 45th floor provides city views. For FREE! Otherwise, you will need to pay for a view at Tokyo Skytree (the world's tallest tower, costs ¥1,100 or $10 for Tembo Galleria on weekends), Tokyo Tower (costs ¥900 or $8 for the main observation deck), or Roppongi Mori Tower Observation Deck (costs ¥500 or $4.5 for the sky deck)
Next, go to Shibuya crossing and photograph the busiest crossing in the world. A good position to get a photograph is from Starbucks (Shibuya Tsutaya). Enjoy rush hour, photograph yourself in the crowd, and gawk at the Hachiko statue afterwards. It is a very busy area, so prepare to be trampled.
Go to Shinjuku Gyoen to enjoy the cherry blossoms. It is one of the best spots in Tokyo to partake in some Sakura Hanami.
Join the Tokyo Localized Free Tour that takes you to Meiji Jingu & Harajuku (Daily: 09:30 – 12:00 & 13:30 – 16:00) Spend the afternoon at Harajuku and enjoy the quirkiness of Kawaii culture. Try to glimpse a Harajuku girl. Afterwards, walk to cat street Harajuku, a hipster paradise. Shop to your heart's content.
Enjoy the fall of dusk with a stroll along the pretty and busy Yoyogi-koen Park, located between Harajuku and Shibuya. During the weekend, the park is buzzing with families, buskers, and picnic makers. From the park, the Meiji Shrine is a 15-minute walk through a verdant pathway. The sake barrels at Meiji were an interesting prop, donated by the rice-wine brewers, praying for a good harvest. Works for me too.
In the night, I recommend taking another free Tour from Tokyo localized: The Shinjuku Night Free Walking Tour (Daily: 19:00 – 21:00). Plenty of fun was had when the guide took us through the bylanes of Shinjuku, showing us spots we would have most definitely missed: the love hotels, information centres that promised to help fulfill all possible 'love' needs, the questionable billboards with hosts and hostesses listed at Kabuki-Cho, the izakayas at Golden Gai.
Eat at a Maid café or Robot Restaurant or go to Karaoke Kan at Shinjuku. Be sure to buy a ticket to the Robot restaurant much in advance if you are planning on going. Despite how the quality has fallen over the years, because of its uniqueness quotient, tickets get sold out pretty soon.
Day 2
Traditional Tokyo: East Side: Akhibhara, Ueno Park, Asakusa, Imperial Palace
Today you can choose from the following free tours:
Tokyo Localized's flagship tour that gives an overview to manga mecca of Akihabara, the shrine of Kanda Myojin, Ameyoko Street, and Ueno Park. A lot of culture and history accompany the nearly 3-hour walk through old Tokyo
The Imperial Palace free tour to see the East Gardens of the Imperial Palace Tour (a different tour each day, depending on when you are there; usually takes place on a Saturday or Sunday). No reservation needed, just show up
Or the Asakusa Area free Tour, a 90-minute guided walking tour of Asakusa Kannon Temple (i.e. Sensō-ji) and its neighborhood that takes place every Monday, Saturday and Sunday. The tour departs twice a day at 10:30 am and 13:15 pm. To participate, just show up at the Asakusa Culture Tourist Information Center 10 minutes before each scheduled starting time
A list of all free tours in Tokyo.
Or DIY by starting at Akhibhara. Walk through the street and admire the passion of the Otaku (Japanese geeks), the manga, the gadgets, and the crazily creative toys. Then walk to Ueno Park (15 minutes), and if lucky, admire the Sakura trees in full bloom. After that, take the train and head to Kōkyo Higashi-Gyoen. See the remains of the Imperial Palace. Lastly, go to Asakusa, and visit Sensō-ji, one of the most important temples in Tokyo. Maybe end your tour at Kappanbashi, a foodie haven, not far from the temple (a 12 min walk).
In the evening, go to the south side of Tokyo, to Roppongi Hills. Visit a cat café or Hedgehog cafe and then proceed to bar hop. Roppongi is modern Tokyo, with an array of fancy cafes, shopping choices, and buzzing nightlife. There's a lot to do.
If in Tokyo during the month of April, do not forget to admire the Sakura blossoms at Sumida Park or see night Sakura at Meguro. Over 800 cherry trees grow on a stretch flanking the Meguro River and is a sight to see when all lit up in the night.
Day 3
A day trip to Mount Fuji
Japan's mountain ranges are imposing and glorious. The country is almost fully surrounded by mountains, and for tourists, two ranges are of importance:
The Japanese Alps: Three mountain chains, the Hida, Kiso, and Akaishi Mountains, converge in Central Japan to form the Japanese Alps
Japan's highest mountain Mount Fuji with an elevation of 12,388 feet, located on Honshu Island
Mount Fuji is obviously the most famous mountain peak in Japan. It has a perfectly symmetrical conical shape, and as it hovers over pristine lakes and fields of flowers, you know why it's perfect for Instagram and postcards. Snow-clad and fogbound, Fuji is the stuff of folklore and legends. It is also a holy mountain and many thousands of pilgrims scale the summit each year.
The most optimum way to visit Mount Fuji is to go on a day trip to Hakone from Tokyo. Or DIY by taking a train from Tokyo Station or Shinjuku to Kamakura (around 1 hour). If you want to use your JR pass, take the Tokaido-Sanyo Shinkansen, from Tokyo Station to Odawara. On reaching, get on the local Hakonetozan Line, which will take you to Hakone Yumoto station (14 minutes and 4 stops). Hakone has several famous spots to check out: Lake Ashi and the 1200-year-old Hakone Shrine, the Hakone open air museum, Owakudani, etc.
Another way is to go to Kawaguchiko. Take the highway bus from Shinjuku Station (Tokyo) to Kawaguchiko Station. It takes about 2 hours to reach Kawaguchiko station from Shinjuku. You can also stay overnight too. I stayed at the Kawaguchiko Country Cottage Ban which was scenic and inexpensive, although you'll need to carry your own food supplies.
Don't take the trouble if its a misty, cold day. You will be better off spotting Fuji from the Tokyo Tower's Observatory.
Where to drink
Izakaya alleys: Your choices are Omoide Yokocho at Shinjuku (Piss alley), Nonbei Yokocho ('Drunkard Alley'), Golden Gai at Shinjuku, Ameyoko at Ueno, Nonbei Yokocho at Shibuya, Hoppy Dori at Asakusa
Karaoke bars: Your choices are H2 International Bar, Karaoke Kan, Lovenet, Shidax, Shinjuku 8bit Café, Polka Dots, Kagaya, DropKicks, Butlers
Kujira Entertainment at Shinjuku is rated well and worth a visit
Where to shop
100 yen shops where you can buy snacks, cosmetics, kitchenware, stationery, clothes, all for 100 yen or less than $1. The biggest chains are Daiso, Seria, and Can-Do (love the name)
Harajuku and Takeshita Street for quirky and affordable clothes
The quirky Don Quijote to stock up on souvenirs. The biggest store is in Shibuya- a 7 story building is located near the Station, open for 24 hours. But the store is also present in Shinjuku, Ginza, Akihabara, and Roppongi. It can get crowded and overwhelming, but soldier on. Get all your Kitkats and liquor from here. To get them duty-free, do not forget to carry your passport along
Best bookstores: Tsutaya In Ginza Six and Cow Books In Naka-Meguro
Where to stay
The best areas to stay are Shinjuku (tourist-fav), Shibuya, and Ginza. Try Citadines at Shinjuku. It is a centrally located hotel equipped with every amenity to suit your needs. Costs $100 per room per night. A cheaper option is Mokkoan, a ryokan slightly away from the center in the Kita ward, but cute and an authentic ryokan. Good and affordable capsule hotel options are nine hours and the Millennials Shibuya.
Optional activities
Get a quick overview of the city through a cycling tour ($90, good reviews, starts at 8:50 a.m., 6 hours long)
Visit TeamLab Borderless, a digital art museum, to take back unforgettable pictures from Tokyo. Located at Aomi Station, Odaiba, the museum is open from 10 a.m. to 9 p.m. on weekends and holidays, and until 7 p.m. otherwise. Tickets cost ¥32,000 or $28 for adults and get sold out pretty quickly
Other cafes to explore: Kawaii Monster Cafe, Cat Cafe, Rabbit Cafe, Hedgehog Cafe, and Owl Café
List of free tours in Tokyo: All Tokyo free walking tours
Visit the Tsukiji market for the tuna auction experience. Combine it with a sumo wrestling practice visit. Try Klook for options
Tourradar has some amazing longer duration guided tour options. If you want to leave the planning to experts, book through them.
The entire itinerary in a map
Ten days solo in Japan: How to do Tokyo, Kyoto, Osaka, Nagano.
Hotel suggestions based on my own experience. Just be sure to book early, particularly during the cherry blossom months. And be warned, the rooms are small and prices vary greatly based on the season.
At Tokyo: The best areas to stay are Shinjuku (tourist-fav), Shibuya, and Ginza. Try Citadines at Shinjuku. It is a centrally located hotel equipped with every amenity to suit your needs. Costs $100 per room per night. A cheaper option is Mokkoan, a ryokan slightly away from the center in the Kita ward, but cute and authentic. Good and affordable capsule hotel options are nine hours and the Millennials Shibuya.
At Kyoto: The best areas to stay in are Gion, Downtown, and Kyoto station. Try Hotel Monterey located at Downtown Kyoto, close to the Nishiki market and a few minutes walk from the Karasuma Oike Station. Costs about $70-80 per room per night.
At Osaka: Try the upscale capsule hotel, nine hours which is five minutes from the Shin Osaka station on the JR line. There is also another one at Namba in Osaka. Both are perfect for a night's comfortable sleep. Costs about $35 per capsule per night. If looking for a mid-range more comfortable option, try the excellently reviewed Cross Hotel located at Midosuji Street in Osaka.
At Nagano: Try Dormy Inn. Small rooms, but inexpensive, with free ramen and free onsen use. Also, located centrally. Costs $60-70 per single room per night and just a bit more for the doubles. The room sizes for the single and double are not so different though.
At Fujikawaguchiko: Try Kawaguchiko Country Cottage Ban. Be sure to carry your own grocery with you if you're staying here. The cottages are lovely though with a clear view of Mount Fuji on a sunny day.
For essential planning tips to Japan—things I learned the hard way and you should definitely know before—read this.
*Since I was only a tourist in Japan, I might have gotten a few facts incorrect. Please forgive me, if so, and let me know in the comments. Apart from the unintended slip, this article is a result of painstaking research and real experience. Arigatou gozaimasu. *