Why Morocco?
They say "You're welcome," even before you've said thank you.
Shah Rukh Khan, Kajol, Bhaiyya, Namaste, the clichés follow you.
But I hope it wouldn't be too much of a cliché to say Morocco was unlike any other country I've visited before.
The mayhem of the medinas with its spice sellers, craftsmen, auctioneers, and (I kid you not) snake charmers, and the feeling of being transported to an ancient world within its fortified walls; the men in the long striped robes and peaked caps upfront about what they want to say to you (or ask of you); the women in hijab-hardly discernible; the gorgeous Islamic/ Moorish/ Berber designs ready as a backdrop to any photo; the arid landscapes with the sudden bursts of vegetation; the endless sun-washed Sahara desert; the looming, hard Atlas mountains you sigh at as you lean out of your 4WD's window…
A sweet assault on the senses; that's what it was.
A few things to know, before you go
Medina: Every city in Morocco has a Medina (Think of them like old town areas in Europe). Typically these are within towering walls with multiple entry gates (bab), with narrow, maze-like streets, a bustling marketplace, and err…loads of people who'd want to 'help' you in exchange for money. The word Medina means city in Arabic. But often a medina is adjacent to a French-built new town (such as Gueliz in Marrakech), so in effect, there are two parts to a city – old and new.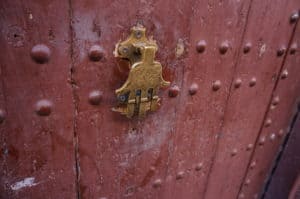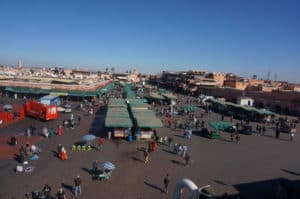 "There is a good deal of frustration involved in the process of enjoying Fez," Paul Bowles wrote in an essay on the medina and as quoted in this New York Times article. "The street goes down and down, always unpaved, nearly always hidden from the sky. Sometimes it is so narrow as to permit only one-way foot traffic; here the beasts of burden scrape their flanks on each side as they squeeze through, and you have to back up or step quickly into a doorway while they pass, the drivers intoning, 'Balak, balak, balak …'" ("Watch out, watch out watch out!")
Well, after all, the Fes Medina has over 9400 lanes!
Kasbah: (What we gathered was) these are living quarters within a Medina. In the earlier days, African migrant laborers set up camp here. The Arabic word translates to the central part of a town or citadel.
An interesting incident happened while at the Kasbah des Oudaias in Rabat. The first day in Morocco, and we had been forewarned about unsolicited 'guides'.  So ducking a few we managed to walk through unharmed through the Kasbah, taking in the patchy blue and white walls, the view over the Bou Regreg River, clicking pictures, reveling in the first-day travel happiness.
On our way back we turned to a corner and exchanged smiles with the lady of a house dusting outside. She spoke good English and we got talking. She told us about her family, her children, her husband, her neighbors. She invited us inside. She had a lovely house. It was located at the mouth of the Bou Regreg River overlooking it. Beautiful, ornate upholstery, many pictures of her family, a small kitchen cooking couscous (it was a Friday, she explained, and she cooked couscous on holy days), the mandatory portrait of King Mohammed VI. I thought to myself then, how lovely are these people. How warm and friendly. She invited us to her house. She is now offering us tea…
But we had to leave. We didn't have much time. So at the door, I took a picture with her. As a souvenir. All smiles.
Then just as we were turning to go…
Ah, well, she asked for money.
For her children, she said.
My heart broke into a million pieces.
Riads: Traditional homes and palaces in Morocco (and usually located inside a Medina) are called Riads. Typically, they have a courtyard in the center, with windows from surrounding rooms opening out to it. Courtyards are often decorated with a fountain and orange or lemon trees. Depending on the family's wealth, the Riad may also be decorated with zellige (Moroccan mosaic tilework made from individually chiseled geometric tiles set into a plaster base and stucco work).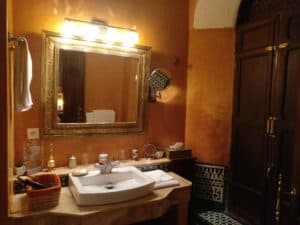 Book a room in a riad. It is a great experience. But be sure to get the directions right. Call the riad before to have someone guide you on the first day. Else, you're sure to get lost. As we did. Every single time.
Souks: In Arabic, it translates to an open-air marketplace. In the Medina, a souk refers to a patch of the market specializing in a particular good. For example, there is a spice souk with shops that sell spices, or a leather souk, or a souk for household goods, or silver etc. Frequently, first and second-hand merchandises are auctioned in these souks and that is quite a sight to watch.
Tajine or tagine is a local cuisine (and pronounced to rhyme) which is named after the earthenware pot in which it is cooked. It is a slow-cooked dish with savory stews, made with sliced meat, poultry or fish together with vegetables or fruit. All in one wholesome, though often too bland for the Indian palate. Kefta Tajine with Omelet Berber was our favorite. We also had a Tajine with slow cooked lamb with pomegranate seeds and almonds at Riad 72 (Marrakesh) which was delicious.
A meal for two (A Tajine or Couscous dish, Moroccan pastries or fruits as dessert, mint tea, complimentary bread, complimentary pickled olive starters) costs 100-120 Moroccan dirhams or 11-14 dollars. Cheap, eh?
One of our most interesting eating experiences was in Chefchaouen, at a restaurant that cannot be named. The owner, who cannot be named either, wearing a T-shirt that screamed 'Cannabis' was serving us, and so the companion asked him for some. Which was eagerly provided. They smoked together some. The rest of the trip was less stressful after that.
A lot many people offered to sell us hash. Apparently, cannabis is smoked quite widely in Morocco, and all of the production can be found in the Rif Mountains, which stretch from the Mediterranean Sea to the port city of Tangier. Morocco produces anywhere from one third to almost half of all hashish sold around the world. Chefchaouen's proximity to the epicenter of hash production in Morocco makes the drug readily available and dealers abound. More here.
Berber or Amazighs are an ethnic group indigenous to North Africa and have apparently been around since 10,000 BC. The community has its own language and culture which they continue to retain and propagate. They used to be pagans before the Muslims came in and then the French. Eventually, they adopted Islam as their religion (Sunni) and French as their second language.  The Berber identity is usually wider than language and ethnicity and encompasses the entire history and geography of North Africa
Drinking: Very few restaurants offer alcoholic drinks. The numbers were a bit more at Rabat, Casablanca, and Marrakesh. Wine and local beer are available in fine dining places and also on request at the riads. Else, if you're traveling best to carry your own poison. Or drink the mint tea, also known as Berber whiskey.
By the way, the pulp laden orange juice totally rocks, and I replaced both coffee and wine often with it, which if you know me, is quite uncharacteristic.
Cafe culture is quite strong. You'll see rows and rows of cafes with Moroccan men (never women) sitting outside, together or alone, puffing on a cigarette (which you can smoke bloody anywhere) and sipping from a glass of coffee, watching the world go by. Very relaxing, even seeing that.
Language: Everyone speaks French, which is the language of official business. I jumped out of my skin when a garbage collector riding a donkey came galloping by my side and then acknowledging me said softly, "Pardon." (Pronounced the French way)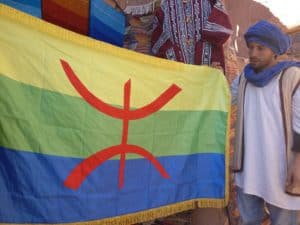 Taxis and getting around: Uber works in Casablanca and Rabat but is very patchy. In Rabat, there have been instances of Uber drivers getting beaten up by the local taxi guys, so their car numbers are masked. Local taxis rarely run by meter, so haggle hard or insist on the meter. The best way is to ask your riad to get you a taxi or know the actual rate before you head out. The rates are about 5 dirhams per km for the petit taxi. More for the big taxis.
When a taxi slows down, be sure there is a police checkpoint ahead, which are quite a lot. Wear your seatbelt at all times.
Currency: Most places accept Euro, so that is the best currency to take along on your visit. Exchange rates were the best in the hotels and riads we stayed. Remember to keep some euro/ Dirhams handy to pay the city tax every time you check out of a riad
Tour guides: There's really not much difference in the tour operators in Morocco. We had much better luck taking local guides for walking tours. The multi-day tour operators coordinate with each other and are interchangeable. I'd say they are more like a taxi service – stopping at a few important landmarks along the way, and occasionally asking if you were enjoying yourself. Most don't even speak good English. Remember to clarify all the nuances of the trip before you take one – is it a shared or private trip, what are the stops, what are the inclusions and exclusions. Insist on no shopping, else you'll land up going to places (restaurants, stores) where the tour operators get commissions from.
Shopping: What is typically Moroccan and useful to take back as gifts? Traditional Berber jewellery and merchandise like bags, locally handcrafted Kilims, Argan oil, and leather goodies. we made the mistake of initially buying a lot of stuff from Fez and the occasional pit stops, but Marrakesh seemed to have a lot of options, inexpensive too, though the quality was often suspect. While the main shopping street in the Medina at Marrakesh was well stocked, the side lanes were cheaper (The main shopping street branches out like a fishbone; come back to the main lane to again branch out to another souk) Gueliz or the French part of Marrakesh had more fashionable options, albeit expensive.
Ouarzazate was another good shopping spot – a lot of good stuff in one place.
Bargain hard. Start with half the price. Don't feel bad about it. The locals enjoy (and expect) it.
I found Journey Beyond Travel to be a fantastic source for trip ideas and to learn more about the country.
Now enough rambling. Get the perfect Morocco itinerary below.
The seven-day Morocco itinerary
Day 1: Fes
Fes is a sleepy city in the North of Morocco. It is the second largest in the country (pop: 1.5 mn), yet has a distinct small-town feel. It's also largely Arab influenced (unlike Marrakesh, which is predominantly Berber). Fes was the capital city of Morocco until 1912. Fes is also believed to be one of the world's largest urban pedestrian zones (car-free areas).
The Fes Medina is a madhouse and littered with many gems. It was the best (and most authentic) of the medinas we visited. Founded in the 9th century, the medina is home to the oldest operating university in the world (Al Quaraouiyine), the Bou Inania Madrasa, and people who've actually been living here for decades. The city has been called the "Mecca of the West" and the "Athens of Africa" and continues to be the spiritual capital of the country.
Stay: At Riad Le Calife, which was delightful with the most enthusiastic Frenchman (Alex) describing the many vagaries of the city along with his very beautiful and poised (Moroccan) wife Yasmin. The rooms were gorgeous too – especially the bathroom

. The attendants were traditionally attired which added to the place's charm. It's well located, though not quite central. It has a cool rooftop bar with a great view of the Fes Medina. Per night at USD 100 for a double.
Or
Riad Alya. An equally beautiful Riad, with a lovely, restored two-century courtyard and live music every night. Each of their rooms was fitted-out as per Moroccan cities (a red room for Marrakesh, a yellow one for Tiznit, blue for Chefchaouen etc.) Per night at USD 100 for a double but plenty of discounts available on travel sites.
Eat at Café Clock, which also doubles as a cooking school. It is a beautiful multi-story café with much to be explored, but we were really exhausted and hungry when we visited and landed up eating a lot and resting our tired legs. The place is young, hip, and quirky with events happening every evening. As it says on its website, "Clock fuses and celebrates the rich traditions and playful manifestations of modern Moroccan culture." Truly so. The 7alwa platter we had was amazing. Located both in Marrakesh and Fes. Do check this place out. Also, the menu.
Fes would be our base for the next two days.
A way to do day trips out of Fes is to contact local travel agents. We used Fes desert tours, who were good, but there's really not much difference in the tour operators. We had much better luck taking local guides for walking tours. The multi-day tour operators coordinate with each other and are interchangeable. So take any – no difference. Remember to clarify all the nuances of the trip before though: is it a shared or private trip, what are the stops, what are the inclusions and exclusions. Insist on no shopping, or you'll land up going to places (restaurants, stores) where the tour operators get commissions from.
Day 2: Chefchaouen
The blue city, the city you've probably seen in Moroccan postcards. What can I say? It looks as beautiful as it promises in those postcards.
There are several theories as to why the walls are painted blue. One popular theory is that the blue keeps mosquitos away, another is that Jews introduced the blue when they took refuge from Hitler in the 1930s. The blue is said to symbolize the sky and heaven and serve as a reminder to lead a spiritual life (Wikipedia)
Narrow lanes, half blue, half white, derelict walls, yet oddly enchanting.  Steep cobbled roads laden with goodies for sale – baskets, kilims, leather, scarves, wool garments and woven blankets. Also lined with men approaching you with, "Indian brother, want some?"
Kif they mean. Hashish. After all, Chefchaouen is located in the Rif Mountains and the region is one of the main producers of cannabis in Morocco (and the world). Random men at cafes offered to share their hash with us.
And when we left, they asked us to "Love each other more and more." Aww. Cannabis can make you so generous.
Day 3: Volubilis, Meknes, Moulay Idriss
Oh, how I love Roman ruins. Volubilis is a partly excavated Roman city situated near the city of Meknes. It used to be the ancient capital of the Roman-Berber kingdom of Mauretania. It covers about 42 hectares (100 acres) with a 2.6 km (1.6 mi) circuit of walls. Like all Roman ruins, the city has a basilica, temple, and triumphal arch. We saw plenty of baths (the Romans seemed to love them), mini arenas/amphitheatres, olive oil presses and ornate tiled floors to occupy us for a few hours. Entry is 20 dirhams, a guide costs 200 dirhams, but the latter can be bargained down.
Meknes and Moulay Idriss were the most authentic small towns we visited. The market square at Meknes was only just warming up when we arrived; musicians were starting to set up, the tenor on the hawkers' calls grew louder as dusk approached, odd games were being played, odder wares were being plied as possible (and suspect) food. It was all quite fascinating.
At the Moulay Idriss market square,  we were possibly having the best meal until then in Morocco (pickled olives, tangy kefta…you see, we need spice!) but I was more occupied by the hotelkeeper on the other side of the road. He was waving for patrons to come in to eat something at his shop and he did this for the entire hour we were there, but no one went in. I watched as he finally gave up and sat down. The road had quite a few eateries, and most of them were empty. Moulay Idriss is a fairly small town and not top of a tourist's itinerary, and I wondered how these guys made ends meet. Our restaurant was teeming with people. We saw people, decided it must be a good place to eat and went in. I guess that was true for the others there as well. Reviews beget reviews, after all.
If you want to make a day of Volubilis and Moulay Idriss, which I totally recommend, find a detailed itinerary here.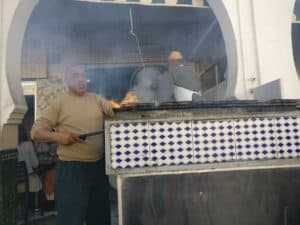 We used Authentic Sahara shared desert tour for the next three days. But there are plenty equally good. Write to them and bargain for the best price.
Day 4: Fes, Ifran, Cedar Forest, Midelt, Ziz Valley, Merzouga
Day 5: Erfoud, Rissani, Todra Gorges, Dades Gorges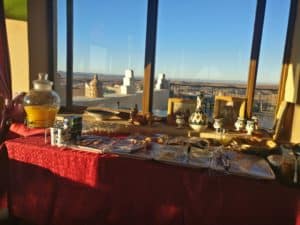 Day 6: Ouarzazate, Ait Benhaddou Marrakech, via the High Atlas Mountains, the night at Marrakesh
Ifrane was a really pretty town. The Todra gorge was breathtaking, although full of tourists. We stayed overnight in Hotel Chez Talout at the Dades Gorge, which was pretty cool too. But what stood out in our two nights, three days trek through the almost 1000 km drive from Fes to Marrakesh were:
The landscapes: We sat cooped up in a 4WD most of the day, and so, the small towns we passed, alternating with the High Atlas mountains with the occasional patches of green shrubbery and yellow mud-brick homes, were bound to be the highlights. Luckily, there was enough variation to keep us entertained and gasp out in awe, pointing our discoveries to each other.
Ouarzazate and Ait Benhaddou:
Ouarzazate is a city in south-central Morocco, chiefly inhabited by Berber-speakers, who constructed many of the prominent kasbahs and buildings for which the area is known. The fortified village (ksar) of Ait Benhaddou west of the city is a UNESCO World Heritage Site.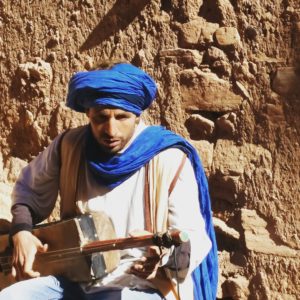 The Ouarzazate area is a noted film-making location. Some examples are below. Located here is also Atlas Studios, one of the largest movie studios in the world in terms of land area.
1961 – Sodom and Gomor
1962 – Lawrence of Arabia
1988 – The Last Temptation of Christ
1999 – The Mummy
2000 – Gladiator
2005 – Kingdom of Heaven
2006 – The Hills Have Eyes
2008 – Body of Lies
2013 – Game of Thrones
And finally (drumrolls)
The Sahara desert
It was a dream come true. Trekking through the Sahara on camels, camping overnight, watching the sunset and sunrise while shivering in the frosty winter cold and soaking in the orange glow of the sun. I did feel bad for the camels once in a while: the poor, utterly domesticated creatures, tied to each other with ropes, ferrying fat-asses like us on and on and on. But they had been trained to be quiet, gentle, and subservient. I relied on the grip of their large feet on the downward slope of the soft, powdery desert sand, while fervently telling my quivering heart, "They're trained. Worry not. You'll come to no harm." (But that's not wholly true. A friend of mine, on a later trip, was severely injured when a camel threw her to the ground, and unfortunately for her, they were still on –err quite literally – rocky ground) Getting up and down the camels is the hardest. I was struggling a bit to hold on, but once your bodies attune to the rhythm of their movement, you're golden.
As you leave this narrative, picture this, because I want you to see what I did. How ethereal this experience actually is.
Imagine…
…A vast expanse of orange-yellow powder, soft as
…On it, rows and rows of camels, undulating in uniform waves
…Bedouins in blue, leading them
…At one end, white and black tents, warm and cosy inside
…Bonfire at night. Berber drums. Hot mint tea.
…Sleeping under a million stars in the inky blue sky visible through the translucent tent's roof
Day 7: Marrakesh
And now the most famous city of them all.
Marrakesh.
Also known as, Red City or Rose City or Mad House, or More Cash (coz, everyone is always asking for more money, you see). The walls of the city are made of a distinct orange-red clay and chalk, giving the city its nickname as the 'red city'.
Marrakesh is a lot of sights, sounds, smells, and colours. It's a lot like India (minus the roadside garbage and beggars) and similarly overpowering. Though the people we met were relaxed and friendly. Chilled. My fondest memory is of drinking sweet cinnamon coffee sitting on a pavement while a dozen old men got up from a nearby bench to offer me their place. Another memory is of buying a bunch of postcards and sitting in the spacious Post Maroc office to send them to beloved friends. A third is of sitting on the terrace of Café de France and watching the market below come alive. Fruit sellers, snake charmers, sunglass peddlers, tajine sellers…a fable straight out of the Arabian Nights, unfolding right in front of our eyes.
The next day we went past the dusty orange-red clay walls over to Gueliz, the French part of town. It was fancier, cleaner, done up in pristine French yellow and white, a noteworthy contrast to the old city. Things to see here are: the Majorelle Gardens, The Berber museum, and the Yves St Laurent museum. The area is quite a good place to hang out and party at night. Top things to do in Gueliz.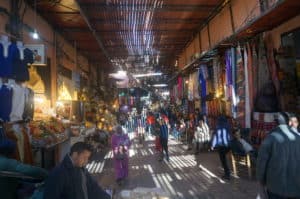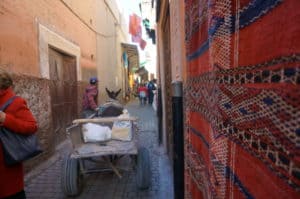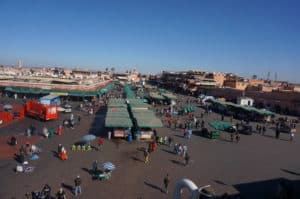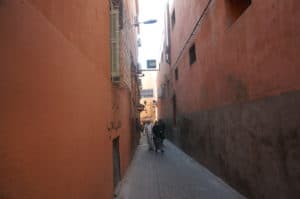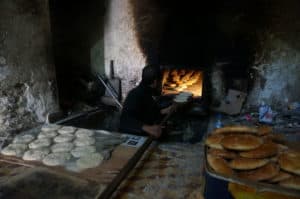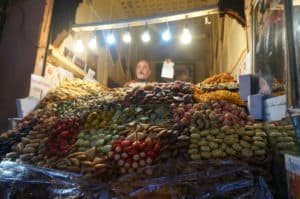 Stay at: Riad Abaca Badra. Run by a charming old French couple – Gilles and Dominique – the riad is well located and cosy. It was the cheapest of the places we stayed in Morocco and comparable or better in quality to most. And Gilles does make some killer cocktails! Night stay for a double: USD 60
Take a walking tour: I can say with a fair degree of confidence that if not for Saeed, our walking tour guide in Marrakesh, we would've gone home mostly ignorant about the city (and the country). Guides in Morocco are more travel organizers; they ferry you from place to place but rarely tell you about what you're seeing. Not so him. Saeed spoke excellent English, went to great lengths to take us through the history (both real and purported) of every place we were seeing and patiently answered our naïve questions. Most importantly, he gave us an orientation to the medina, which even though we are from India and used to chaos, was extremely helpful. Marrakesh by Locals
You may need to stay more than a night at Marrakesh. There is a lot to see and savour. Stay as long as you like. Then fly back to where you started. Weep a few tears as you leave.
Merhaba. You were good to us.
You can't go wrong with riads in Morocco. We loved each one we stayed at.
Fez: we stayed at Riad Le Calife and Riad Alya. Both were warm and exquisite.
Dades Gorge: We stayed at Chez Talout. Beautiful property with amazing views.
Marrakesh: We stayed at Riad Abaca Badra. Central and the best!