48 hours in Cluj Napoca: A comprehensive travel itinerary
Have 48 hours in Cluj Napoca and wondering how to spend it best you can? Look no further. I have a tried and tested itinerary which proved to be optimal and awesome! By the way, I totally loved the city.
About Cluj Napoca
Cluj Napoca, often called the 'Heart of Transylvania', is Romania's third-largest city and Transylvania's largest. The city is over 2000 years old! It is not a quaint medieval town like Brasov or Sibiu; I'll call it a trendy, cool crossover between Bucharest and Sibiu. Actually, Cluj was my fav city in Romania, and there's a lot to do in two or more days if you want to really soak it in.
And if you want to be sold some more, check out the city's new Youtube video.
Book your stay at Cool Terrace. It overlooks the National Opera and is central to everything. I couldn't believe my luck when I saw how good it was. The view from the balcony was to die for. One of the best places I have stayed in.
Now, here's the 48-hour itinerary to Cluj Napoca.
Day 1
Morning: Free walking tour
The free walking tour is conducted by Cluj Guided Tours and takes place at 11 a.m. and 6 p.m. every day.
The walk is two hours long and takes place in the area surrounding the old town; there will be plenty of stories about Matthias Corvinus. It ends at the Orthodox Metropolitan Cathedral at Avram Iancu Square next to the National Opera house; both magnificent buildings. I was lucky to be doing the tour on a Saturday which is when most weddings in Romania take place and I witnessed one ongoing. The insides of the cathedral were beautiful too and smelled heavily of thimiato, the holy incense. The weekend market was on outside the church as well; it pops up on the occasional Saturday in good weather and during autumn.
When: 11 a.m. and 6 p.m.
Website: Cluj Guided Tours
Where: Tours start from Matthias Corvinus Statue, Unirii Square, Cluj-Napoca. It moves in a 2 km radius of it
Cost: In tips
Afternoon: Ethnographic Museum and Hoia Baciu haunted forest
Okay, to be honest, while I spent a pleasant evening doing both, it is passable if you have other activities planned (read about optional evening plans below). The open-air ethnographic museum and the haunted forest are next to each other and will take you around 4 hours to do yourself. It is a nice-enough off-beat activity.
Start with the Ethnographic Park Romulus Vuia at Strada Nicolae Pătrașcu 1. The Ethnographic Park is the first open-air museum in Romania, founded in 1929. The area is home to farmstead replicas, 3 old churches, a vineyard, bee houses, animal barns, and other rural installations. It thus recreates the homes and lives of village folk around Cluj and the Maramures regions. I was glad to at least have seen what the beautiful houses and churches of Maramures might have looked like had I gone there.
Next, go to the Hoia Baciu Forest. The forest has several urban legends associated with it, including how it got its name: after a shepherd that went missing in it along with his 200 sheep. In the year 1968, a military technician called Emil Barnea claimed to have seen a UFO there. Several people have since then claimed time warp experiences, erratic GPS or magnetic field activities, and seeing ghostly spectres amidst the trees. In summer, it looks pretty benign, but just walking amidst the trees gives you a spooky feeling, like that of being watched. Maybe it was all in my mind, but I'm usually not one to be scared easily… yet these trees… gave me jitters.
The Hoia Baciu Forest has been called the creepiest forest in the world. The BBC+CNN documentary 'The Hoia–Baciu Forest – Truth or Legend' made it famous worldwide.
There is a small gate which leads to the forest next to the 'old cemetery gate' inside the ethnographic park. Take right and start walking. The walk to the actual spooky forest area takes about 30 – 40 minutes from the park. (GPS: 46.771417, 23.534807)
When: The ethnographic park is open 10 a.m. – 6 p.m. most of the year (winter 9 a.m. – 4.p.m.)
Where: Strada Nicolae Pătrașcu 1, Cluj-Napoca 400000
Cost: A guided tour to both costs around 100 lei (check TripAdvisor or Airbnb experiences) but if you do it on your own it costs 6 lei to enter (+ 5 lei to take photos inside) the ethnographic site
The forest is free to roam around. I saw many people hike, run, cycle and picnic around spots in the forest.
Night: Hang in the old town square
The main town squares of Cluj are Piaţa Unirii, Piaţa Mihai Viteazul, and Piaţa Avram Iancu. All three are vibrant at night but Museum Square next to Piaţa Unirii is quite literally so as you can see in my photo below. There are lots of high-quality cafes, bars, and restaurants around the area to spend a pleasant evening in. My favourite cafe in Cluj was Sisters, my favourite breakfast was at Eggcetera, and my favourite restaurant was Varzarie, where I ate the Cluj special dish of Varză à la Cluj (costs 20 lei, made of cabbage and meat, so delicious and so fatty, as all of the Romanian food!)
Or Night: Watch a show at Opera Națională Română
If you can do it, watch a show at the Romanian National Opera in Cluj-Napoca. Unfortunately, the month I travelled nothing was going on, but I suggest putting watching a show in the National Opera top of your list because it was on top of every local's I asked. Website.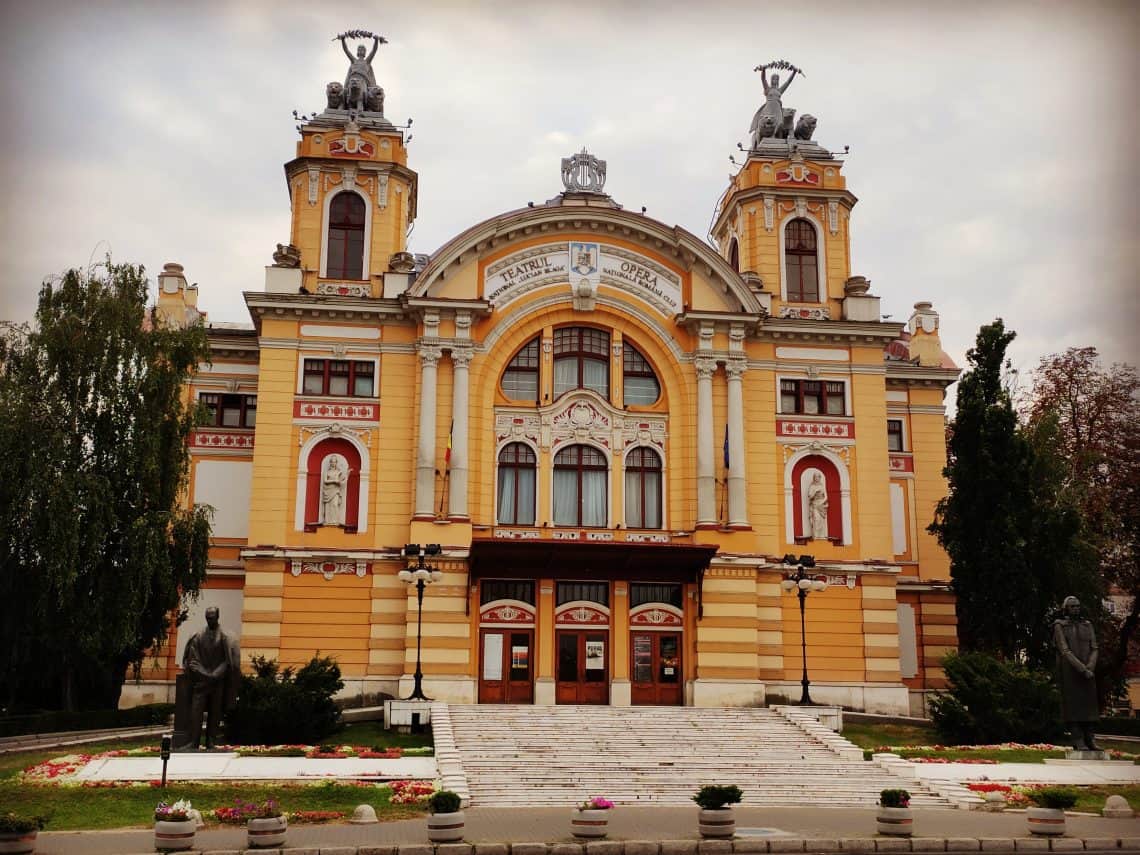 Day 2
A visit to Salina Turda and Alba Iulia
You could opt to do this in the reverse order too but I went to Salina Turda first and then to Alba Iulia. The whole trip takes about 8-10 hours.
Salina Turda is a salt mine in Turda town, Cluj County. It was opened to the public in 1992 and more than 6 million visitors visit it every year now. The mine has been operational since 1075 to the early 20th century (1932). Inside, not only will you see how salt was extracted and transported along with the equipment used, but there is also an area to indulge in games (mini-golf, bowling alley, ping pong etc.) and boat rides at the lower levels. Locals invest in passes to come here and partake in the healthy salt air. The ionized air, combined with the natural humidity and pressure of the mine, act as a natural antidote to various diseases (source)
I can tell you when I left, I indeed felt fresher. My pores felt open and rejuvenated. Hope it helped shave some years off my life.

How to go to Salina Turda from Cluj Napoca: Go to Piața Mihai Viteazu 11. Keeping Cinema Florin Piersic in front of you walk to its left side. There will be a bunch of people standing there, next to a sad-looking underground river/canal. Ask them for Turda. But do not go to Campia Turzii Turda. Wait for the Alisgrup.ro bus to show up, a small white van and look for a board or ask the driver for Salina Turda.
The bus will take 25-30 minutes, depending on the traffic, and it will drop you next to a small grocery store at an intersection. Walk upwards from there for about 20 minutes to reach entrance 1 of Salina Turda.
The earlier you go the better it is. Be warned there are elevators to take you up and down the mine which takes a long time to board because of long queues. You can alternately take the staircases too, but they are narrow and get claustrophobic. I took the staircase down and the elevator up, the queues making me miss the closest connection to my next destination: Alba Iulia.
Entry charge for Salina Turda: 40 Lei for adults
Cost of the Alisgrup bus from Cluj to Salina Turda: 9 Lei
Timings: Monday – Sunday; 09:00  – 18:00
Alba Iulia has been the seat of Transylvania's Roman Catholic diocese since the High Middle Ages. The main citadel is called Alba Carolina Citadel and is one of the most well preserved and gorgeous I have seen in Romania. The citadel is a star-shaped fortress, built during the during Habsburg rule in Transylvania. Inside, there are Baroque gates, a Catholic Cathedral, an Orthodox Cathedral, the Union Museum and Hall, a few ancient and medieval fortifications as well as Roman Ruins. (More)
This citadel is also the place where Transylvania, Wallachia, and Moldova became one–December 1st, 1918–the National Day of the country.
Since the area is quite large, consider taking the electric bus tour or rent a bicycle.
How to go to Alba Iulia from Turda town: I took a Dacos operated bus from Turda Autogara (it's a 30 min walk to the bus station in town from the salt mine; alternatively take a local bus for 2.5 lei to reach the Autogara from Turda). The Dacos bus to Alba Iulia left at 2 p.m. and arrived at 3:20 p.m. (bad traffic, Friday afternoon). Fare: 10 lei. The Alba Iulia citadel was a further 20-minute walk away.
All bus information can be found on Autogari website.
But buses are better avoided. It takes longer and stops at several places on the way. Try booking a ride through Blablacar, a carpooling service that works efficiently in Romania. I used it to return from Alba Iulia to Cluj. Took 2 hours and cost me 20 lei. Sweet, no?
Entry charge for Alba Iulia: None
Timings: 9 a.m. to 11 p.m.
Website: http://www.visitalbaiulia.com/
Optional activities
Hike the Turda Gorge, a natural reserve situated 6 km west of Turda and about 15 km south-east of Cluj-Napoca.
Visit Rimetea, considered one of the most beautiful villages in Romania.
Time your visit with one of the music festivals that takes place in Cluj-Napoca: Untold or Electric castle
How to get to Cluj Napoca
Cluj Napoca has the second busiest airport in Romania after Bucharest. Several full-fare and low-cost airlines fly here. For other transportation options, read this to choose what's best for you.
Other travel itineraries for Romania: Bucharest, Brasov, Sibiu, and Timisoara. The full 9-day comprehensive Romania travel itinerary is here.
Where to stay in Romania
These are the hotels/ hostels I stayed in. They are tried and tested, and I loved them all. In Sibiu, I have given an alternative, based on local suggestion, because I didn't quite like the B&B I stayed in. All the places were $25 – $45 per night, for single rooms or whole apartments. Cheaper options were also available.
Bucharest: Central Guesthouse Bucharest
Brasov: Jugendstube Hostel or my Airbnb right at the centre
Sibiu: Casa Luxemburg at Piata Mica
Cluj Napoca: Cool Terrace close to everything worth seeing
Timisoara: Hostel Cornel, close to the main square