Stark and gorgeous, minimalist and resplendent, that's Iceland in a nutshell. My father said
it best when I handed over the bottle of Reyka Vodka to him.
"Did you see how simple the packaging is? Only black and white. What matters is the Vodka within (divine by the way, smooth as water)."
That's basically everything in Iceland: stark … minimalist, blending in with the backdrop … the gorgeous natural backdrop. Man hasn't tried to overpower nature here, and that's what makes it special. And the 'nature' is and deserves to be the towering feature: volcanoes, glaciers, caves, waterfalls, mountains, geysers, fjords… there's a bit of everything … the wonders of the world in a nutshell.
The people are kind, generous too, I think as yet unaccustomed to pesky tourists, and that makes it even more enjoyable. What's more? Iceland is one of the best places for a woman to live and work in—the country where the wage gap is the least, and women the safest. Good enough reason to visit for me.
A typical south-coast itinerary for the first timer:
Day 1: Pick up a car for the tour near the airport. We took one from Geysir car rental.
Go to Reykjavik and explore. Small town, easily done in a day.
Day 2: Drive to Selfoss, with potential stops at: Þingvellir National Park, Geysir Geothermal Area, Gullfoss Waterfall, Kerið Crater, Reykjadalaur hot springs (a hike)
Day 3: Drive along the south coast, with potential stops at: Seljalandsfoss Waterfall, Skógafoss Waterfall, Reynisfjara Beach, Fjaðrárgljúfur Canyon
Day 4: More South coast sightseeing: Skaftafell, Vatnajökull Glacier, Svartifoss Waterfall, Jökulsárlón Glacier Lagoon
Day 5: Blue Lagoon. Be sure to spend a long, long time here. It's crowded yes, sort of touristy yes, but totally worth the hype.
Day 6: Snaefellsnes Peninsula. Hopefully, you will get a better weather day than we did. I was never more thankful for my weight and the power of gravity than the time when I was (quite literally, I swear) blown away. The wind can be merciless here.
What can you absolutely not miss.
Geysirs and Kerið
Hikes to find secret springs, like this one for example
Nightlife at Reykjavik. We loved Den Danske Kro but there are more options
Food! Lots of Vegan options at Reykjavik (surprising eh?) though I am no Vegan. I mention that only because we were shit scared we might not find anything non-gross (i.e. non-fermented-meat) to eat. But fret not, there's plenty of normal, yummy stuff. I loved the food at Café Loki and the endless fish I devoured at Sægreifinn. A must do experience is the shark and Brennevin tasting at just about anywhere.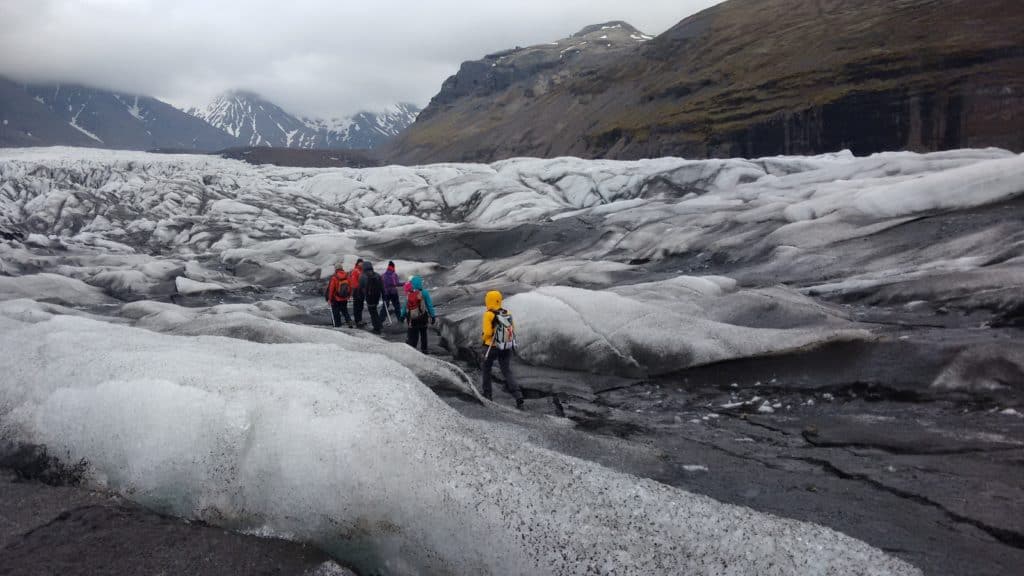 We went in the month of May, so we didn't plan for the Northern Lights, which is okay because we got low tourist season and days of splendid sun.
Nothing to shop for, sorry. Everything was prohibitively expensive. If you really want to take home something, go to one of the 'Hand knitting Association of Iceland' stores or Icewear and get one of the hand-knit yoke sweaters, also called lopapeysa—costs a bomb, but if you live in a cold country, is worth the money.
For more on planning for Iceland, check out these music videos

. They serve some purpose after all. Justin Bieber's I'll Show You (If you want to entertain yourself some more, read what you shouldn't do in Iceland) And Shah Rukh Khan's Gerua