24 hours in Thessaloniki solo | What to do, see, eat, and where to stay
To tell you the truth, Thessaloniki was really an afterthought. I was in Sofia and was looking for a place to go next, and lo presto, Thessaoloki was easy to go to. Buses by Ardatur run three shuttles a day at a cost of 20 euros and travel time of 6 hours. But once I was there, I wished I had planned for more than a day.
It was a whirlwind trip for me, but I did quite a lot and enjoyed every minute. Here's my idea of how you can do 24 hours in Thessaloniki solo and make the most of it.
24 hours in Thessaloniki solo
About Thessaloniki
Thessaloniki is the second-largest city in Greece, located in the North, with a population of 1.2 million. It is a port city on the Thermaic Gulf of the Aegean Sea. Like many cities in Greece, this one too is ancient, and its buildings display the rich influence of its Roman, Byzantine and Ottoman pasts. Plenty of students and young professionals from various parts of the world live here. As our guide put it, everyone has a home in Thessaloniki. I think some poet said it, but I can't recall who. The sentiment is bang on though, as I was to realize soon.
Do before
Here is a list of things I prefer doing after I land in a place anyway. They helped me immensely in Thessaloniki and Greece.
I got a local SIM card for 10 euros and 5 days. I prefer Vodafone in Europe.
Next, I downloaded the BEAT mobile app. This app works pretty much like Uber but hails taxis instead of private cars. Rates are quite low (about 6 euros for 8 km) and I used them when I had to ferry luggage from my B&B to the train station.
Buses are a common mode of transport in Thessaloniki. They are frequent, connect to most places, and are cheap. A ticket costs 1 euro (For 70 minutes, unlimited travel). You can also get 2 and 3 single tickets at the machine inside the bus. I believe there is also a 24-hour option which is available at the kiosks in the city centre. Don't forget to validate after you buy the ticket.
Download MOOVIT to know the public transport connections. In cities which use Cyrillic or Greek alphabets, I have found it enormously useful. Google fails to help.
Now for the 24-hour Thessaloniki itinerary.
Morning: A DIY walking tour
All the major points to see are within a 2 km radius of the city centre. If you have the energy and a working GPS on your phone, you can do it all on your own. And as you walk, much like any other ancient city, you'll see several unnamed ruins and crumbling monuments pop all around you. Stop at them.
The top sights to see are:
Aristotle Square
Start from the main square of the city designed by French architect Ernest Hébrard in 1918 and still the location for meetups and protests. The square is symbolic of Thessaloniki. The square is also where the Christmas market is set up in December. Upscale cafes and shops line the streets and it can get very busy during the summer months. From the square, the seafront is only a few minutes away and makes for a wonderful stroll.
The Cathedral Church of Hagia Sophia
The church of Hagia Sophia is one of the oldest in the city. It was built in the 8th century, based on the Hagia Sophia in Istanbul (then Constantinople).  Hagia Sophia was converted into the cathedral during the fourth crusade and later under Ottoman Sultan Murad II it functioned briefly as a mosque. It re-converted to a church in 1912 after the liberation of Thessaloniki.
Entry fee: None
Timing: 7 a.m. to 8 p.m.
Bey Hamam
Take a quick detour to see Bey Hamam, if it's open. It is one of the city's oldest Ottoman baths, constructed by Sultan Murad II in 1444. There is a beautiful cafe alongside you can stop at to refresh.
Entry fee: None
Timing: 8 a.m. to 3 p.m.
The Roman Agora
Located at the upper side of Aristotelous Square, the Roman Agora boasts an amphitheatre, two Roman baths, leftover Corinthian columns and mosaic floors—parts of an erstwhile covered walkway, some shops. It was discovered by accident in 1960 and is believed to be from the late 1st century A.D.
Entry fee: None
Timing: Anytime
The Ataturk Museum
Mustafa Kemal Atatürk is one of my heroes and, it delighted me to no end, to learn that he was born in Thessaloniki at this very house, in 1881. His home has been converted to a museum now and it is a popular place for visitors. It is a three-floor house which hosts some of his furniture, personal effects and photographs. The house is located alongside the Turkish Consulate in Thessaloniki and to enter you will need to sign on a register. The museum cafe is worth a mention too.
Note: Mustafa Kemal Atatürk was the founder of the Republic of Turkey and the country's first president from 1923 to 1938.
Entry fee: None
Timing: 10 a.m. to 5 p.m. (Closed Mondays)
The Rotunda and the Arch of Galerias 
Created by the Roman Emperor Galerius in the 4th century AD, the arch of Galerias and the rotunda stand next to each other. The Rotunda was intended to be a mausoleum, later converted to a church by Constantinople in 326 AD (Thessaloniki's first church!), and later still, to an Ottoman mosque. The rotunda inside is quite impressive with imposing thicks walls, sunny windows, a high dome, and gorgeous restored mosaics. When I visited, an exhibition of Byzantine mosaics was ongoing and it was drop-dead beautiful. A 30-min visit.
Entry fee: 2 euros
Timing: 8 a.m. to 4 p.m. (Mondays closed)
The White Tower
The White Tower is arguably Thessaloniki's most famous monument. It is right at the waterfront surrounded by busy parks and promenades. The tower used to be a prison and a spot for mass executions during the Ottoman rule. It was whitewashed after Greece gained control of the city in 1912. I didn't go inside. I understand it's not worth it.
Entry fee: 4 euros
Timing: 8:30 a.m. to 3:30 p.m.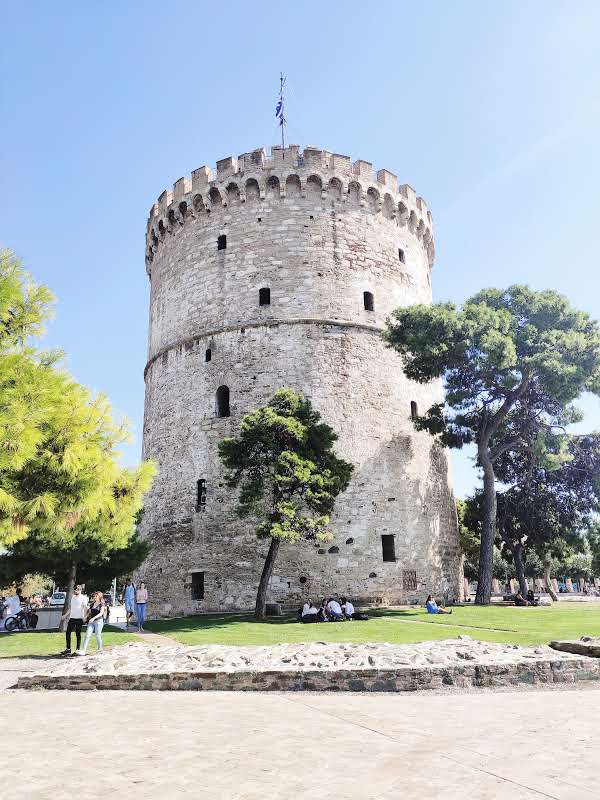 Afternoon: Shop at Tsimiski street and eat an amazing Greek lunch
Tsimiski is Thessaloniki's bustling shopping street and its largest. Here you will find hip cafes, chic stores, bookstores, and boutiques. It is very, very busy, so take care of your belongings. A beautiful (though expensive) shop to get souvenirs from is Hello from Thessaloniki. About 8-10 minutes away, a nice place to get a wholesome cheap meal is in Kanoula, but you may need to wait for your table.  Or head to the Judah Club. Then walk some more to work it all out as you admire the curious streets and their inescapable graffiti.
Evening: Do the Upper Town walking tour
Ano Poli or Upper Town was a revelation. I did not know anything about it before I went there, because obviously, Thessaonloli was a last-minute decision, and zero research had been undertaken. Anyway, I joined this tour only because I wanted to so SOME tour which talked me through the city's history and this tour came highly recommended at Tripadvisor.
My oh my! It was such a good tour. Giorgio was such fun! It was clear at the very outset how much he loved the city.  We started at the church of Elijah the Prophet, and then he took us uphill to the upper town, through old houses, giving us the history of how the town remained undestroyed through a major fire (along with Laddadika) which destroyed the rest of the city. We saw a Turkish mausoleum and learnt about the Greek Turkish feud. Then we saw the church of David while he passionately spoke about its old caretaker and the mural on the church's roof. (Alas I never saw it because it was shut and I had to leave the next day, darn!). We saw the old city walls and ended at the Acropolis. Giorgio even played us a few Rebetico melodies on his Bazouzka. It was a memorable evening. Truly, a guide can change your outlook on a city and infect you with his enthusiasm.
Night: Hang in the Upper Town
As dusk falls, and the lower town lights up, the eateries around upper town begin to fill up with locals and the parks, with rambunctious (and slowly getting drunk) college students. In balmy weather, more so. We (me and three other girls I met at the upper town walking tour) ate some delicious food at which set us back by 10 euros per head, including a glass of red wine. There were plenty of vegetarian options too. Come to think of it, all we ate was vegetarian and we were ooh'ing and ah'ing at every bite. Greeks can ever go wrong with their food, can they?
Where to stay
I stayed at an Airbnb (passable) but my new-found Thessaloniki friends suggested their hostel located in the Upper Town. With daily events and a quirky fun vibe, the Crossroads comes highly recommended, even on Tripadvisor. Beds in 6-bed dorms start at about 25 euros a night. There are single rooms too.
To Athens next
If your next destination is Athens, there are convenient fast trains that run every day from the Thessaloniki main station. A ticket costs 45 euros. The IC takes about 5 hours through very nice sceneries. Top-quality train too. Thessaloniki main station, not so much.
Get the detailed Athens itinerary here.