What to do in Berlin
Why Berlin?
"She blamed the city. She imagined Berlin to be like her, wearing its chequered past like a throbbing muscle, camouflaged with dark overcoats and strong beer, newly sunken in its discoveries of graffiti and hip-hop, glamour, and grit, yet knowing full well it can never totally be happy. Berlin was a city of old people like young and young people like old. She'd often felt one among the brooding, mysterious, purposefully aimless inhabitants who flitted past her like shadows. Like the city, she enjoyed the discontentment that came with forever looking, never feeling complete, and not even aspiring for it. Because, it was a delicious feeling, that." – Nevermore and Always.
And that's Berlin for you. Beautiful, confusing, conflicted, simmering at the edges. In a moment of indiscretion (or maybe not) I called it a new age Paris or even more controversially—a male Paris. Not as haughty—not looking down from its lofty heights on the fawnings tourists below sorts—but more a grungy equivalent to Paris' chic avatar. To be honest, I was more relaxed in Berlin; it seemed more accepting.
And I think Christmas, though bone-numbingly cold, is about the best time to visit. The Christmas markets in Germany are quite something else. No other country compares. And the best place to begin is Berlin.
For those who want to visit, and experience a wonderfully sparkly white Christmas, here's what we did:
Day 1
Join a walking tour to orient yourself in the city
I'd recommend doing both the Sandeman's free tour and the Alternative tour. We did both and though parts of them overlapped, the entertaining guides made it worth our while.
The Sandeman free tour takes you through:
Brandenburg Tor
The site of Hitler's bunker
Memorial to the Murdered Jews
Checkpoint Charlie
Gendarmenmarkt
The Berlin Wall
Pariser Platz
Luftwaffe HQ
Bebelplatz
TV Tower
Book burning memorial
Humboldt University
The Alternative Tour shows you:
Artist squats and multicultural neighbourhoods
Street art, graffiti, mural art
Cultural icons including The Bethanien house & YAAM beach
One of Europe´s largest indoor skateparks & alternative entertainment facilities in a bombed-out train depot
Urban art projects, urban farms & autonomous initiatives
Take a leisurely walk down the East Side Gallery
The 1.3 km long East Side Gallery is located on the Spree River near the Oberbaumbrücke that separates the hip neighbourhoods of Kreuzberg (formerly part of West Berlin) and Friedrichshain (formerly part of East Berlin). It is accessible through the S-Bahn; start at Warschauer and end at Ostbahnhof. There are over 100 murals along the wall created by 118 artists from 21 countries. It is a great experience to walk along the wall to see iconic and thought-provoking images by artists from across the world. The graffiti is frequently updated and new ones added. An easy 2-hour exercise.
The most famous mural on the wall is by Dmitri Vrubel of Leonid Brezhnev (the former General Secretary of the Communist Party of the Soviet Union), and Erich Honecker (the former General Secretary of the Socialist Unity Party) kissing. The kissing mural is titled "Mein Gott, hilf mir, diese tödliche Liebe zu überleben", which translates to 'My God help me to survive this deadly love'.
Well…haven't we all been there?
Contiki US_London to Berlin: 20% off all Summer departures (May-Sept) when booked by 1st April 2019 – Book Your Adventure with Contiki Today!
Visit the Kreuzberg neighbourhood
Kreuzberg, formerly a part of West Berlin, has transformed from being one of the poorest quarters in the late 1970s to one of the city's cultural hotspots today. It is home to a large migrant population and also to the city's hippest clubs and restaurants. The area is covered in graffiti and street art and also home to Checkpoint Charlie, one of the points of crossing between East and West Berlin during the Cold War (1947–1991).
Eat at Curry 66 on your way—best currywurst ever. Or go to the Currywurst museum for a tutorial on the invention of the city's favourite dish and learn about its evolution over the years. Culture trip has a few more dinner recommendations.
If you are seeking a very unique experience, two clubs come recommended:
Principal Kreuzberg (Oranienstrasse 178): A burlesque bar with a jazzy vibe and old-fashioned feels
Madame Claude (Lübbener Str. 19): An upside down (!) bar in a former brothel
Start walking from the Christmas market at Alexanderplatz and end at Gendarmenmarkt
As the sun sets, head over to Alexanderplatz and walk around. It's sparkling with lights and people during Christmas and there's never a dull moment. The Alexanderplatz TV tower or Fernsehturm is obviously the most famous landmark in Berlin. It is the tallest structure in Germany at 1200 ft built by the communists of East Berlin to show the West their superiority. The silver ball on top functions partly as a radio and television broadcaster and partly as a revolving restaurant, and the ring underneath is the observation deck. The ball is a reference to the Sputnik, the first man-made satellite in space from 1957, launched by the Soviet Union.
From Alexanderplatz, walk to the gorgeous Berliner Dom or the Berlin Cathedral across the river. It was built in 1905 by William II, the last emperor of Germany but was heavily damaged in World War I, then rebuilt. While most of Germany claims to be atheist, the rest is largely protestant and Berliner Dom is the city's most important Protestant church and also its largest church. Take some pictures by its side, in the falling light, by the river. The Dome is open to the public every day from 9 am to 8 pm. There is an admission fee of EUR 7.00.
From Berliner Dom starts Museumsinsel or the "Museum Island".  There are 5 museums on this so-called island, built between 1830 and 1930:
Altes Museum (Old Museum) with its collection of antiques
Neues Museum (New Museum) with an Egyptian collection including Nefertiti's bust
Alte Nationalgalerie (Old National Gallery) with 19-20th-century art
Bodemuseum with its Byzantine art and sculptures
Pergamonmuseum – the best, with its collection from Greece, Rome, Babylon and the Middle East.
Walk for about ten minutes more and you reach a big yellow building—the Humboldt University—Berlin's oldest university and dating back to 1810. The university was established in 1809 and is considered one of the best universities in Europe. It has been associated with 55 Nobel Prize winners.
Very close to the university is WeihnachtsZauber Gendarmenmarkt, arguably the best Christmas market in Berlin.
It's a party in these Christmas markets, I swear. They charge €1 or €2 to get in, but inside the revelry is infectious, especially after a glass or two of Glühwein or Eierpunsch, the glasses which you can keep as a souvenir. Then pick up currywurst or bratwurst and watch a choir perform on stage or a group of people dance madly or buy a locally handmade goodie from the stores which look like straight out of a fairy tale.
Here my companion fell in love with a hunky currywurst vendor and insisted on going again the next day.
"He made eyes at me," she informed me.
"No way," I said, "And in any case, you know nothing about him. He sells currywurst," with some scorn in my voice. I knew how much she liked the 'good things' in life.
"He works part-time," she protested.
"How do you know that?"
"He's an out-of-work actor," she replied smugly. "Look how handsome he is! He must be." and before I could interject, "He needs the support of my shoulders until he finds his feet."

"No one needs to find any body parts," I said sharply, pulling her away.
No, I did not let her visit Gendarmenmarkt again. Solo travel in winter and Christmas can get depressing, plus I didn't want to spend it mending a broken heart.
Although, the list keeps changing, here are the top 5 Christmas markets in Berlin:
Note: Only a few of the good Christmas markets are open after the 25th of December so make sure to catch them early. A list of all Christmas markets in 2018.
Contiki US_Berlin to Budapest: 20% off all Summer departures (May-Sept) when booked by 1st April 2019 – Book Your Adventure with Contiki Today!
Day 2
See some Abandoned Berlin
Berlin has several abandoned structures and they get eerier in winter. Walking among the mossy remains of what was once filled with chatter and laughter, running feet and life, now spookily quiet, is quite an experience.
Three easy ones to do in and around Berlin are (source: thelocal.de)
Teufelsberg: Teufelsberg—literally translated as the "Devil's Mountain"—is an enormous tower of debris which extends 120 meters

above sea level. 

Perched atop piles of rubble that was once a Nazi college, there's also a former listening and intelligence station which the Allies used during the Cold War to spy on Soviet-controlled East Germany.
Spreepark: Lying abandoned since 2001, this deserted theme park was known as Kulturpark Plänterwald before the fall of the Wall and then revamped under the name Spreepark after 1989. At one time, the park was flooded with around 1.5 million visitors per year. Now you can see abandoned game parks and rides.
Beelitzer Sanatorium (slightly more difficult): A former military hospital where Adolf Hitler was treated during the First World War, and also Erich Honecker, the leader of the GDR, following his forced dismissal from the leadership of the Socialist Unity Party.
A great resource to check out is Abandoned Berlin, a gold mine of information on abandoned sites in and around Berlin, regularly updated.
Get a 360-degree view of the city
The TV tower offers a great view but head over to the Deutscher Bundestag for an equally amazing vantage point and orientation to the city. Doing this is free! But advance online registration is required.
The Reichstag, designed by Paul Wallot in 1894, is the seat of the constitutional and legislative body of Germany, the Bundestag. The dome and rooftop terrace of the Reichstag building is not only designed to offer visitors spectacular views across the city while they circle their way around it, but its energy-efficient structure funnels natural light via numerous mirrors as well as fresh air into the parliamentary chamber. The Reichstag Building is located on the western end of Berlin's city centre, just south of Hauptbanhof and north of Tiergarten and the Brandenburg Gate. (Source: Free Tours by Foot)
It is open daily from 8.00 to 12.00 Hrs. The rooftop terrace and the dome are closed all day on 24 December and from 16.00 hrs onwards on 31 December.
Check out the punky Friedrichshain neighbourhood
Formerly part of East Berlin, the Friedrichshain neighbourhood today is a hub of the alternative lifestyle. The area is named after the Volkspark Friedrichshain, a vast green park at the northern border with Prenzlauer Berg. There are several designs and media companies located here including MTV Central Europe and its also home to hip bars, clubs, pubs, and cafes in the localities of Simon-Dach-Straße and Boxhagener Platz.
Friedrichshain is also home to the famous (or infamous if you will) Berghain, a techno nightclub, where getting an entry is considered a sport in itself. There are articles upon articles dedicated to how to get inside the nightclub, what to wear, how to speak, how not to behave etc. etc. Makes for interesting reading.
Berghain: how to get into Berlin's most exclusive nightclub
10 Reasons You Won't Get Into Berghain – Culture Trip
But where you can hang without fear of judgment is Antje Øklesund one of Berlin's truly underground music and art scene hubs and representative of Pop-Kultur Berlin.
Culture Trip has a well-curated list of places to hang in Friedrichshain.
Go to Mauerpark, Arkonplatz and do the Bearpit karaoke
If you are in Berlin on a Sunday.
Mauerpark is located close to station Eberswalder Straße in the north of Berlin. There is a festive atmosphere every Sunday where a large fleamarket pops up, along with live bands and food stalls. But the best activity is the Bearpit Karaoke that takes place in the stone amphitheatre. Thousands of people watch and participate in it and the experience is quite something else. More info here.
In the recent past, Mauerpark has been thought to have become very touristy, so Arkonplatz is a good alternative. A small and cosy alternative to Mauerpark, the stalls in the market sell antiques, books and records, furniture, handicraft, clothes, and other vintage stuff. This market is a short walking distance from Mauerpark.
An additional tip on Berlin: Free Tours by Foot had some great self-walk itinerary. Check them out.
Where else from Berlin?
A day trip to Potsdam
We used Sandeman for a day trip to Potsdam and loved it and not least because we started the tour with warm cups of gluhwein! (
Gotta love the Germans) No, the tour itself was quite nice. I promise.
Potsdam is the capital and largest city of the German federal state of Brandenburg. Potsdam was a residence of the Prussian kings and the German Kaiser until 1918 and there are several mansions and summer houses of the nouveau rich located here even today. But the 18th century Sanssouci Palace—once the summer home of Frederick the Great, King of Prussia—is the biggest attraction. Sanssouci literally translates to "carefree" so take your time to discover the palace and its resplendent gardens. Also go to Babelsberg, in the south-eastern part of Potsdam, which was a major film production studio before the 1930s.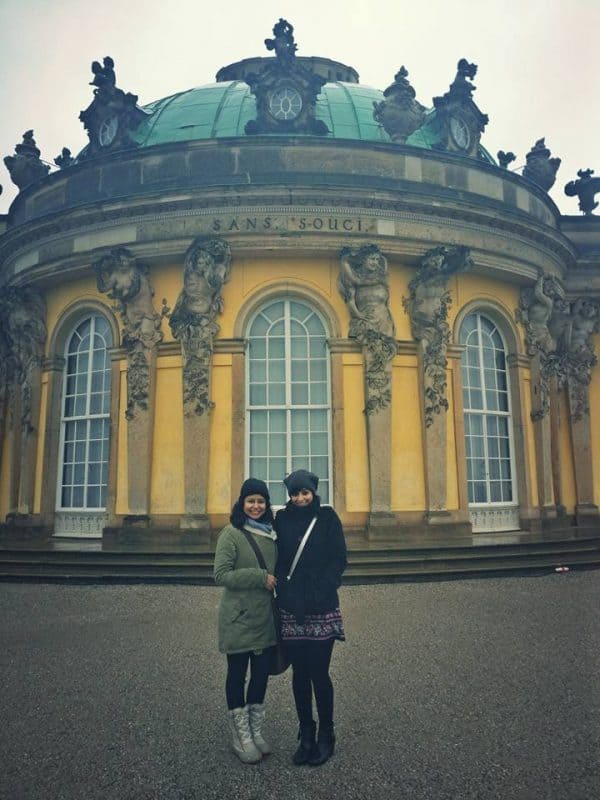 It takes about an hour to reach Potsdam from Berlin. If you want to do it yourself and stay overnight, here is a 48-hour itinerary by Independent.
A day trip to Dresden
It was definitely the coldest day on earth I visited Dresden. I walked around the city half dead and frozen as the winter rain fell all over my body. Only the warmth from the Christmas markets saved me and the walking tour I did with Dresden Walks (daily at 12 PM, €12 /person, starts at Schlossplatz square). Dresden is a very beautiful city, a lot of gothic architecture to see and savour. It also has one of Germany's best and the oldest Christmas market (started 1434)—Striezelmarkt—if you manage to make it on time (open usually 27 Nov-24 Dec).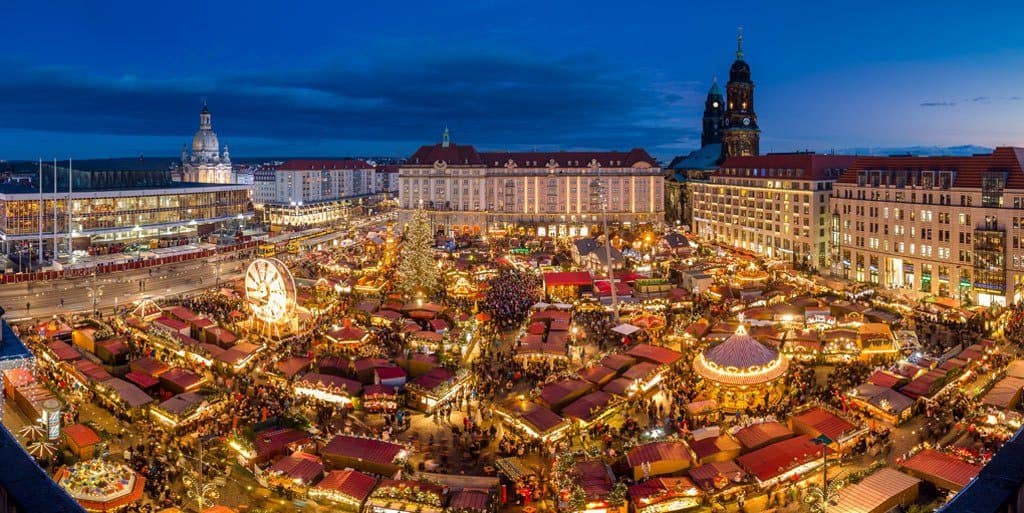 Dresden is the capital of Saxony and the third-largest city in eastern Germany after Berlin and Leipzig. The Elbe River flows through it and the city is often called the Florence of Elbe. Dresden was completely destroyed between 13 and 15 February 1945, when Allied air raids bombed it, killing 25,000 civilians. Post-war Saxony came under communist rule and its capital, Dresden, began rebuilding. By 1990s, the city had returned to its former glory and reinstated as Germany's cultural capital.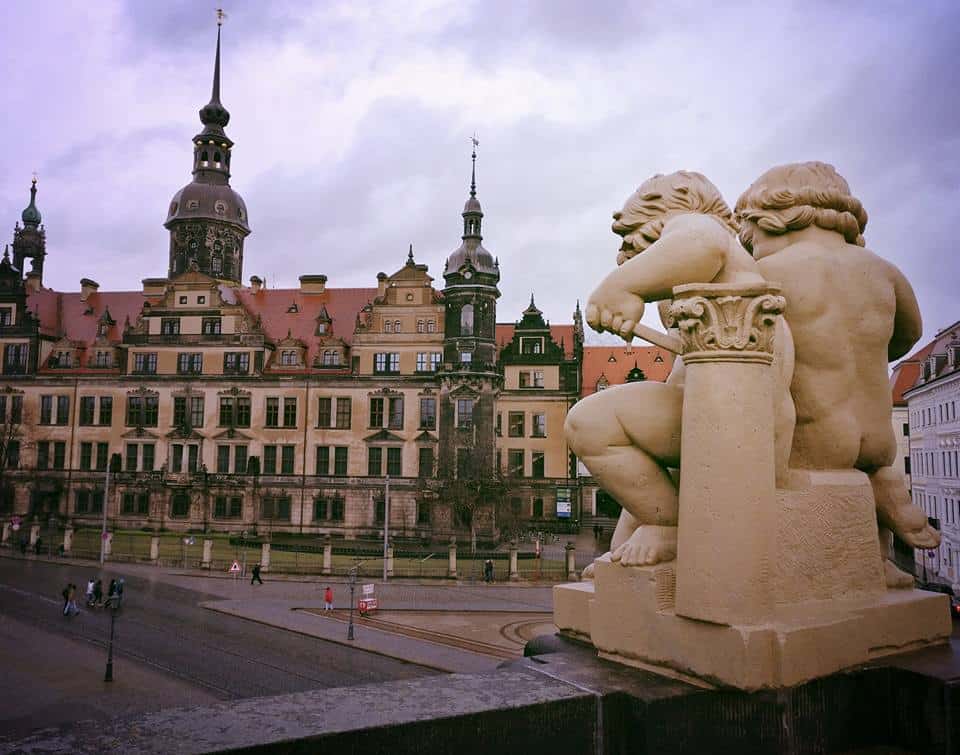 It takes about 3 hours to get to Dresden from Berlin by bus or train.